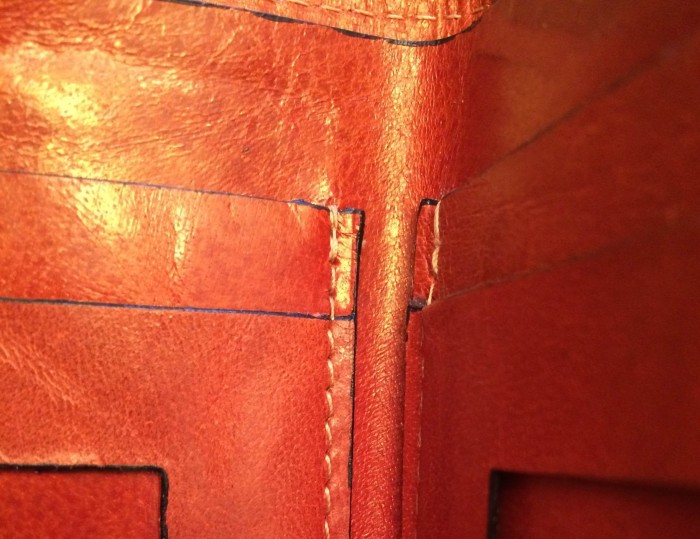 Ulterior Motive Review: A Gorgeous Wallet And Trendy Ties
A few weeks ago, a Sweden-based company named Ulterior Motive contacted me.
He promised me some of the most sleek, trendy mens accessories and the best wallets money could buy at that price range.
In the following review I'd like to give you a sneak peek into this exciting new company, Ulterior Motive, and whether or not their products are worth your attention.
Let's start with the wallet.
The Ulterior Motive Terracotta Wallet
In terms of wallets (and card cases to slim it down even further), Ulterior Motive focus on well-designed, functional pieces that give you enough space for the things you need, while excluding the things you really don't need.
You probably know by now that wallets are one of the WORST places to carry your belongings. The dreaded "wallet bulge" is a horrible look.
If you want to look good, you have to look streamlined.
It's important to keep things nice and tight.
That said, let's get into some of the specifics of this particular wallet.
The Aesthetics
As you can see, this wallet is bursting with a rich, orange-brown color (they call it red/brown, but it's much more of a burnt orange than red). I like that it's not completely uniform in color. They die the leather in a way that allows for some subtle variances in hues, which adds some character to the wallet. After carrying it around for a few weeks, I also noticed that it begins to give its own unique lines within the leather – similar to a pair of raw denim jeans.
Personally, I love the color because it's unique. Most guys carry deep brown, or black, wallets. What I noticed (and love) about the colors they use is that they're just a little different and bold.
That means they get attention.
I've taken it out several times to various bars in our area. When I sit at a bar with my wife, I tend to pull out my wallet and phone, putting them on the bar in front of me. Here's what I noticed.
People who know nothing about fashion tended not to like it, saying it was "too much".
People who were dressed well loved it.
(Hint: That's a good thing)
If you don't like this color, they do offer similar wallets in both black and white. The white is a bit more classy and traditional. It stands out just as much as this burnt orange color.
That said, let's move onto…
The Material And Construction
I've only had this wallet for about 6 weeks, so I can't say anything about the longevity of the leather. However as you can see, the stitching is done beautifully. It's made from high-quality genuine leather which is soft to the touch (a good sign as it should not be rough) and flexible so it easily bends as you put your cards in it.
Here's one thing I liked about it.
It came to me a little TIGHT in the spots where it holds your cards.
For the first week, it was a little hard to get my cards in and out of it.
I emailed the owner about this and he said they do this because as the leather loosens up, it gives just enough wiggle room to hold your cards without letting them fall out like an old wallet might do.
Turns out, he was spot on. After a week or so it softened up "just enough".
I also very much admired the design of each individual section of the wallet.
As you can see, it's an open-concept design. This allows you to slide your cards out using your thumb. It's a simple, yet kind of unique feature that I love.
The Price
For a price in the mid $30 range, this is a no brainer. There's not much more to say about that.
Selection Of Other Wallets
To be honest I was a little disappointed in the selection of wallets that Ulterior Motive has. With only 3 different designs, there is not much to choose from.
However, they have many more card case designs (17 at the time of this writing), which is what most of you should be using anyway. As a husband and father, I have a few more things I need to carry in my wallet. If you're single, I'd highly recommend using a card case over a wallet.
Once again they stick to the modern, sleek design with a variety of colors and shapes you can choose from.
Overall Thoughts
Personally I love it. The color is bright and engaging. It captures attention without being flashy. If you're wearing a casual outfit along with this wallet, it gives you that "little extra" we all look for to get noticed.
According to their "about us" page, this is exactly what they strive for, and they hit it on the head.
Next, let's review the ties they sent me.
Are Ulterior Motive Ties Worth The Price?
When they originally contacted me I was only going to do a review on the Terracotta wallet. However when I opened the package I noticed that they also included two ties.
Since they did, I figured I'd show you what they sent.
The two ties they sent are the Curacao Sling and Vintage Stripes.
The Vintage Stripes Tie
Here's a picture of me matching the tie with a light blue shirt and blazer that's a grey/blue color.
Two things to note about this picture.
The light blue is hard to match to blue shirts. I tried my best, to show you something close. Feel free to experiment with other colors. My wife and I are about to go for dinner. I actually might change the shirt.
See the indented folds just above my right hip? That's due to the blazer being a little big. It's new (I'm testing it from Perry Ellis) AND I've lost some weight recently, so the size is a bit off.
Anyway, the tie is made of woven microfiber and, as you can tell, is predominantly white with colored stripes of very light blue, black, rust and orange.
The microfiber is similar to silk in terms of both look (most people couldn't tell the difference) and the way it effortlessly hangs down without the need for too much adjustment. It also takes on dyes better so you can get these more rich, vibrant colors. Plus they're stain resistant and don't wrinkle easily.
What I like about this tie is that since it's made mostly of a neutral color with a few others mixed in, it matches with a variety of shirts.
You can wear it with a solid, white oxford shirt to add just a little extra subtle touch that makes you stand out…
You can match it with a gingham or lightly striped shirt…
You can also wear it with one of the striped colors to contrast the whiteness of the tie, yet still match your shirt with the striped color.
Since there are 4 colors in the stripes, you have a total of 5 unique combinations from a single tie. The key is to experiment and see what looks good on you.
The Curacao Sling Tie
I'm not much of a pink kinda guy. Not that it's a bad color. It's just not a color that works well for me. My skin is too light and I have too much of a baby face for it to be congruent.
However, my neighbor Pat loves it, and can pull it off.
(I just hope he straightened his collar before his meeting… 🙂
I had him model this one which is madras pattern of pink, white, light blue, purple and orange.
Made with woven cotton, this is a GREAT, light tie for the summer months. Since the soft cotton is a more relaxed style, you can easily put this over a pastel-colored oxford (light blue, light pink, light purple, etc.) for a neighborhood BBQ or a night out at a local bar.
Although the typical golden standard of ties is silk, the light cotton fabric because it gives it a unique matte finish. This, again, makes it stand out.
Since it's a madras pattern, it's going to make a bold statement. If you want to tone it down a bit, wear it with a checked shirt.
Overall Impressions Of Ulterior Motive
Overall I think they are a solid company. The owner was very easy to work with and the wallets are an absolute no-brainer.
Hovering around the $60 range (USD), the ties were a good medium-range value. They're constructed well, and feel very REAL (some lower end ties can feel a bit "plastic-like"). The bar tack (which helps hold the two sides together, maintaining its shape & durability) and slip stitch (a hidden stitching pattern which helps maintain flexibility), both signs of a high quality tie, helped bump up the value.
However, they do need to do a better job of explaining these details on their website. They don't explain how the ties are made, what's involved, or why they are more expensive than low-end ties.
You can check out the Ulterior Motive website here.
But my opinion doesn't matter…
What Do You Think?
Let me know if you're a fan.
Bruce, from Ulterior Motive, will be here to answer any questions anybody has. Just put them in the comments below!