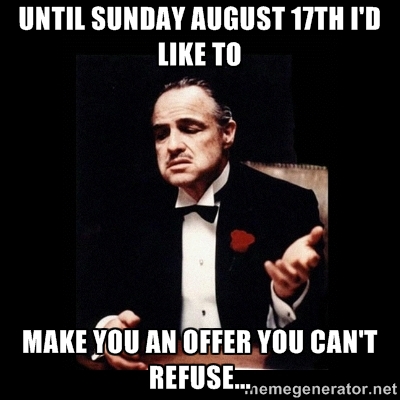 Limited Time Kinowear Bible/Video Sale
We're quickly coming up on what most guys consider to be the most fashionable part of the year.
Fall.
It's already almost the middle of August. That means you really only have about a month left before the weather starts cooling and you start thinking about wearing more layers and heavier materials.
So I've decided to hold a LIMITED TIME sale on the Kinowear Bible and Kinowear Video Course.
That way you'll have everything you need to get ready for this upcoming fall and winter.
And since both programs show you how to save money, you'll even be able to spend less money when you do so 🙂
Go here to get the details and see everything you get.
Here's How It Works
If you are not yet a customer, you can get BOTH the Kinowear Bible and the Kinowear Video course for $97.
(The Kinowear Bible normally sells for $27. The video course sells for $147. You get both for $97.)
If you already own the Kinowear Bible, I made an option for you to purchase the Kinowear Video Course for $70. That way you aren't double-paying for the Kinowear Bible.
It Is
THIS

Week Only

I'm holding this sale from Sunday August 10th to Sunday August 17th at midnight, EST.

That gives you an entire week to take advantage of it.

No excuses.
If you have any questions, feel free to email me.
If you have any ordering problems, please email me.
If there is ANYTHING that impedes your chance to get this, email me.
But don't pass this up.
(Note: I'm currently traveling and my availability will be limited tomorrow – Monday August 11th – but I WILL get back to you as soon as possible.)
Also please know that the deadline is very strict. My web developer created a script so that at midnight, the page automatically gets deleted and redirects to a "sale has ended" page.
If you email me at 12:01 a.m. asking me to make an exception, I will not. In fact I literally can't, since the page will be taken down. If you are unsure of how your timezone equates to the sale ending at midnight, EST… buy it now. Stop procrastinating!
I need to make it fair for everyone who takes action quickly instead of letting it go until the last possible second.
(On a side note, I seriously don't understand why people do that. It's an enormous pet peeve of mine.)
Go here to get both products now.
Questions?
Feel free to put them in the comments below, or email me privately if it's something you don't want to share. Sometimes you guys send me pretty personal details, and that's totally fine. And appreciated! I love the trust.
Good luck and please let me know any questions you have!