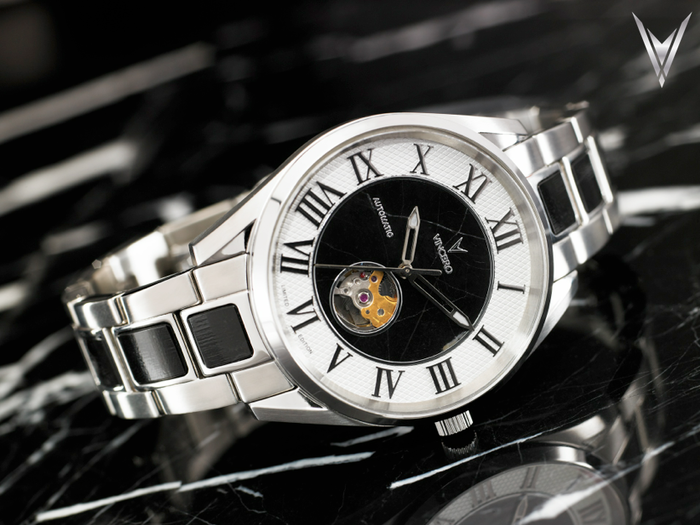 Interview With Aaron From Vincero Watches
In anticipation of his second watch brand's Kickstarter launch, we sat down with Aaron from Vincero Watches to discuss watches, the most important specs and what to consider when purchasing one. I think you'll find it helpful if you're in the process of shopping for a watch.
If you are, consider checking out these new Vincero watches that are now live on Kickstarter. They are absolutely stunning and a FANTASTIC bang for the buck.
Here are the 3 new watches they are launching…
Kinowear (K)
Aaron from Vincero (A)
K: So let's get right to it: What makes choosing a watch so difficult?
A: Whether via physical retail or sifting through the never ending world of options online, buying a watch simply isn't an easy process. I think there are two main reasons for that:
Lots to consider: There are so many questions you need to answer: Do I want a leather band or a bracelet? A Quartz or Mechanical Movement? Does it need to be water resistant? How water resistant to I need and how do I know? What about Lume? A Warranty? The list goes on. The fact is that a nice watch is the compilation of tons of moving parts that differ from watch to watch.
It's Personal: A watch is in general the most important and often the only accessory guys have. This makes your watch that much more important. Your watch become a part of who you are. It's been said a million times that the watch a man wears says a lot about himself and this couldn't be more true. This only puts more pressure into picking the right one!
K: Let's tackle a few of these questions. What is the watch's movement and what are the main options?
A: The movement is literally the heart of the watch. It's the mechanism inside that keeps the hands moving so you know whether it's time to work, eat or sleep. The two most common are Quartz and Automatic (also called Mechanical but actually just one kind of the broader Mechanical types of movements).
K: So what exactly is the difference between a Quartz movement and an Automatic or Mechanical Movement?
A: Quartz movements are battery powered and generally are considered to be very accurate and durable, as well as cheap. Watch making is truly an art and many watch enthusiasts believe that because these are cheaper to make and they simplify the precision of the timepiece, that they are taking away from the great history and culture of watch making. That said, they are extremely reliable and thus very popular.
Automatic. No battery needed! Automatic movements wind itself with the movement of your wrist. Therefore, if you take off your watch for a few days you will most likely need to manual wind it back into place (via the crown) or give it a few shakes. Different types of automatic movements are seen in traditionally more expensive watches. All of its bells and whistles to keep the watch moving is what makes these movements so great! On many watches, you will even see an "open heart" feature which is an opening on the dial that allows you to see the movement working in action, which is pretty cool.
K: Other than the watch movement what are the 3 most important things to consider when a man buys a watch?
A: While there is a TON to consider, from the quality of glass, clasp, water resistance, etc. I would say the 3 most important aspects in general you should consider after the movement are the band, functionality and voice:
Band – Band choices really come down to a man's preference, thus there isn't really a good or bad between the two. Some people like the feel of a little heavier stainless steel band while some like the feel of leather. If you haven't felt both I suggest getting into a shop and trying things on. If you are getting a stainless steel band you may want to ask about the grade of steel (316 is top grade) but other than that, just try the watches on or even get both kinds of bands. Watch bands can be switched out by any jeweler very easily and thus having both options is something many watch wearers choose to do.
Functionality – You need to determine the true reason you are buying the watch. Thinking about this has a huge impact on the type of watch you will buy. If you are looking for a fashionable watch to show off to friends you will want to buy a different watch then the guy who wants much more functionality. Functionality can be simple things such as wanting a date function, luminescent hands or a scratch resistant glass to more in depth aspects such as chronographs, extreme water resistant (made for divers), etc.If you care more about the latter, make sure to look into these things when you buy! If you just want a good looking watch then go with your gut!
Voice – Arguably the most important aspect when shopping for a watch. The watch really has to speak to you and you have to be extremely comfortable with your decision! Trust me you don't want to make the decision to save a few dollars to buy a watch that was your second favorite choice, I've made that mistake. Especially if you don't plan on having more than 1 or 2 watches, this is something you will consistently be wearing, probably on a daily basis and you need to pick a watch that your happy with. Again, go with your gut!
K: Regarding these aspects, what does your new luxury line offer in regards to these specs?
A: Our watches are extremely unique and offer very high quality specs as can be seen on our campaign page. We have a Miyota 90s5 Automatic movement with the open heart feature. We offer our watches with both stainless steel and genuine leather band options and even offer a leather band/spring bar tool kit so that customers have the tools to switch out bands if they want to have both!
On top of that our watches have Sapphire Crystal glass, which is scratch resistant and 316L grade of steel, which are both the highest quality available.
Putting Vincero Watches On Kickstarter
K: Now let's switch gears and talk about your upcoming launch. Why did you use Kickstarter as your platform?
A: Kickstarter allows us to eliminate waste in the supply chain and bring our small batch limited release watches direct to the consumer. We believe that every man should have the ability to own a luxury, limited edition watch without breaking the bank. We wanted to remove all barriers to provide people with a way to buy a truly special watch at an affordable price.
Kickstarter was the best way to start this and we look forward to offering further collections on our website after Kickstarter. We have a lot of development and ideas in the works!
K: What do you mean by "Small Batch" limited release?
A: Our first collection of watches include premium Italian marble dials and marble bracelet inlay. We have imported Italian marble for these watches and due to the extremely intricate process that goes into making each individual watch, these watches can't be efficiently mass produced. They take lots of time to craft and therefore we will be making as many as we can with the marble we have available.
K: Lastly, how did you get into watch making and what does Vincero have lined up after Kickstarter?
Our team at Vincero has overseen the production of thousands of watches in the past for previous companies. Our experience lies in development and manufacturing and Vincero is essentially the end result of that.
We wanted to finally bring a true luxury and limited edition watch to market that the majority of men could afford. At the moment almost all watches in this category have price tags that normally include 5+ digits in them. Those watches are only available for a small number of men. We took our experience in manufacturing to create incredibly unique timepieces with top notch specs that we could offer direct to customers at an amazing value. That's essentially what Vincero is about.
After Kickstarter, we will continue to develop further collections and are extremely excited for what lies ahead.
Interested?
You can get more information about the new watch collection at his Kickstarter page. One thing to note if you're a little hesitant about the whole "Kickstarter" thing is that Vincero already has a collection of watches. This is round #2 for them, so quality should stay similar between the Kickstarter run and their full production run.
And as always, let me know your thoughts in the comments below 😉