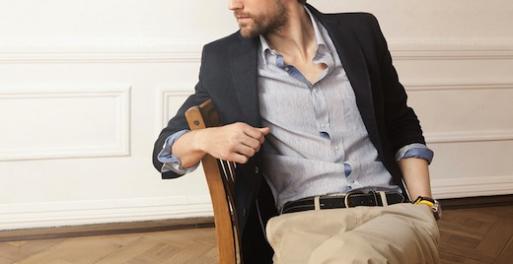 The progress of a reader who is a lot like you
Disclaimer – in this article, I present you with the testimony of Fabrice. A reader of the blog for a long time now, Fabrice has become a friend of the team over the years. His progression is enormous, as can be seen in the photos that you'll find in his article. This article has not been modified so is the exact testimony of Fabrice.
He's come a long way and his example teaches us three lessons:
The 3 lessons to remember when learning to dress well
1. It isn't more expensive to dress well. Same budget of 600 dollars per year. No change.
2. You can't rely on those around you if you want to make progress. You're the only one responsible for your own image.
3. Anybody can do it! It's simply a question of learning.
So, we won't hang around…
Fabrice's Testimony
When Nicolas asked me to describe what Kinowear gave to me, I said 'bingo!'. I spotted the opportunity to give something back for the knowledge, teaching and eventually pleasure that the blog gave to me.
I discovered the blog thanks to…my job
December 2010, I'm 28, I get a job in the commercial industry and my Armand Thierry suits aren't cutting it. Neither am I, for that matter, when I'm wearing them. After a few tips from my colleagues, I look for good brands and made-to-measure suits. Yes, because for me at the time, there's no halfway point between Armand Thierry and Hugo Boss. These brands were my only points of reference, between the 'too cheap' and the 'too expensive'.
An internet search leads me to the Kinowear Crash Course. The first shock is in the photos: how can a silhouette be so right, masculine and distinguished? Up until then I had never met anyone so well-dressed, and I liked it.
I really got into the Crash Course and I discovered an approach that I now use a lot: the articles obviously talk about brands but also about fabrication and the reasons why the look works so well.
This tone is a signature for the blog and can be found in all their articles. I liked it, too.
On a day to day basis, I think of myself as being really picky with my clothes: Hugo Boss jeans, V neck sweaters from H&M, Adidas sneakers…for me, that's just great.
I even discovered another brand (Addict for the adventurous amongst you) which was everything I loved (at the time)…Nobody complimented me on my outfits but nobody threw stones at me, so I had no reason to doubt myself. I should add that my education has absolutely nothing to do with clothes and my friends dressed like I did. At the time, I also thought it was expensive to dress like that.
And yes, buying 2 or 3 pairs of jeans from H&M per year, 2 or 3 jumpers from Armand Thierry and Rip Curl and Quiksilver T-shirts…that costs an arm and a leg. Every year I was buying 600 dollars worth of clothing, easily.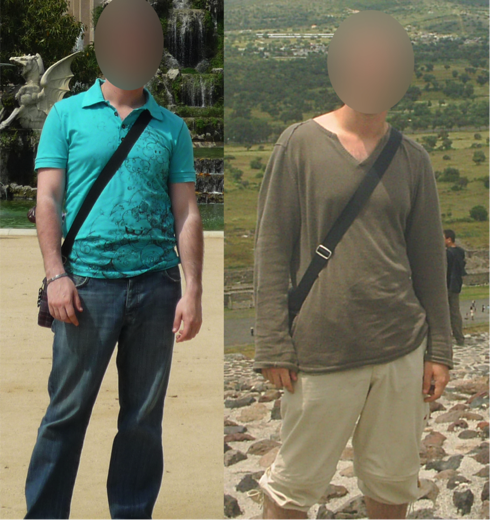 BEFORE: the style isn't fantastic. If nothing shocks you, I advise you to read the Kinowear Bible!
In the article on suits, I appreciated the economic approach: knowing how to wait for the sales, finding the best deal within a price range, it seemed real to me and appealed to me. Especially for my everyday clothes.
That's when I started looking around the blog like an addict looking for a fix.
I found a lot of ideas that I was clueless about at the time, followed by my opinions at the time:
The right choice of size: Before 'why bother? I wear an M in all brands!'
Brands other than those found in shopping malls. Before 'wait, if it's sold everywhere, it must be good, right?'
Maintenance: before 'jeans should be washed once a week to tighten them up'
Retouches: before I just didn't know that existed
[Edit by Nicolas: I've added links to different articles to help you master these points]
In short, I won't go into details about all that I learned because I learned it all through the forum and blog. What's interesting is that beyond the items themselves, I'm learning to be at ease with the people selling them, to not feel guilty for trying something on and not buying it, for finding really good deals. My job helped a bit but Kinowear showed me the right path.
Now…time to apply
Obviously, with all this info, you feel powerful. I started with three big mistakes: a pair of Lodings that were too big (thanks to listening to the seller!) a jacket from Zara that was too big (thanks to myself!) and Renhsen jeans (300 dollars for my first high-end pair of jeans without having the basics to go with it: definitely wasn't a priority!). Not forgetting a Sandro shirt that cost 120 dollars (three figures for a shirt, seriously?) It'd be fine if the quality were great but there are no holes in the body from wear…
The bad news is that I've made tons of mistakes and that I'll make more in the future.
The good news is that it's all part of the learning process. It doesn't stop you making progress but rather helps you to do so.
Getting back on track
I start collecting basics: T-shirts, cardigans, American Apparel hoodie…and I kept my Adidas sneakers…because the brand is important in my environment.
However, I wasn't satisfied. Something was missing between the coherence of the items, the image I wanted to communicate and the quality of the items. Almost at the same time, I won an invitation to the press sales of a brand that nobody knew of…Melinda Gloss.
In parentheses, on the forum, I'm the brand whore of Melinda Gloss. I think it's for a reason that my first real introduction to quality items was with them.
At my first visit I really was not at ease in the environment, with guys I deemed to be super stylish. OK, they had jackets, cardigans, chinos…and weren't wearing Adidas. So they were super stylish.
Then I tried on a jacket, attracted by the price of 150 dollars, It's no longer the price that's talking. It's something inside saying 'you've got class, dude'. It's new, it's good and I look great: I'm starting to like it!
And then my environment changed: people looked at me, chicks smiled at me when they didn't before. I could think it was about the jacket but it wasn't just that. My posture changed because the shoulders made me stand tall, I was confident in myself, the image was what I wanted to communicate.
And that's what I look for today, items that express who I am.
Finally…onwards and upward
The process of the last three years is too long to go into detail about it here. To illustrate, I had 3 styles before Kinowear and I kept them:
 Outfit 1. The work suit: you'll see the evolution of the sizing, the fit and the benefits of retouching…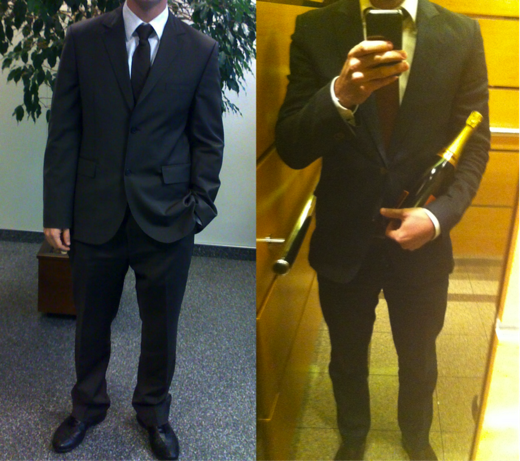 Before/After: apart from the shoes, how much difference in the price? 50 dollars. 25 for the champagne. How many bonus points for the evolution of style? You decide.
Blue marine suit Melinda Gloss (private sales)
Tie by Ugo Baldini in prune (sales)
Opalona shirt (one free after a certain number bought)
Shoes from 7ème Largeur (cream polish and shoetrees free)
Outfit 2: the street look

Before/After: the little girl shouldn't be taken into account
Varsity Sandro (a killer, look in private ads)
COS T-shirt (sales)
Renhsen jeans (I spoke about them…)
Barely worn Gats, second-hand 30 dollars
Outfit 3: club/bar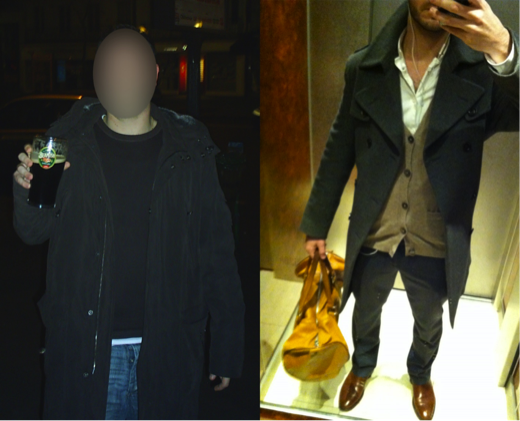 Before/after: I lost no weight between the photos. It's just that the clothes fit now.
Melinda Gloss shirt (private sales)
Supermarket brand cardigan
Melinda Gloss linen trousers (private sales)
Markowski boots (sales)
Vintage bag
What I learned from Kinowear
Today, what I bear in mind from Kinowear is all the ideas for helping you to progress: between the blog, forum and especially the Kinowear Bible, I discovered loads of brands, concepts and styles that help me think about what I'm looking for.
My latest outfits are going in this direction:
 The question everyone asks: the budget
And the worst thing about it is that I don't spend more than before. After a peak (logically speaking, you'll need to replace the stuff you put yourself in for years before the process began), today I spend the same amount on clothes as I did before Kinowear (600 dollars a year).
But I buy better and more wisely and you know what I hear the most: 'no but it's normal that you're stylish cos you spend all your money on it'. But that's a load of crap.
To conclude, I still make lots of mistakes and the styles shown from 'after' are far from perfect. But bit by bit my style is evolving, gaining in definition and I'm getting closer to my goal: to show my personality through all of my outfits. Bit by bit, what I communicate is who I am, and who I am is evolving thanks to what I communicate.
And being completely honest, I'll never be able to thank Kinowear enough for giving me all of that.
[End of testimony]
And where do you come into that?
The cards are in your hand, the best articles are here. I've also added the articles referred to by Fabrice.
Fabrice was clear: learning to dress well is a journey. Not something that can be done overnight but a pleasure that you learn about over several months and that lasts forever…

There is only one way you can get there
You need to invest in yourself.
That's it.
The Kinowear Bible teaches you how to do that.
Do you have any story about style journey to share? When did you notice some real progress?