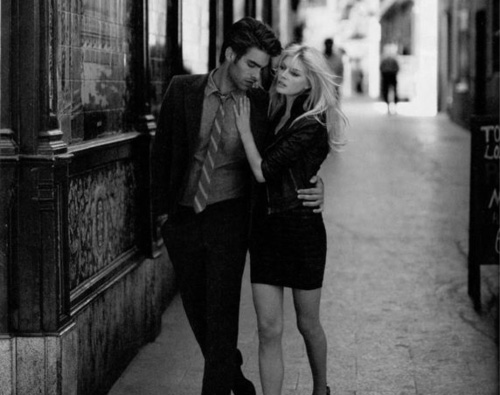 Science of Style: Introducing the Highly Awaited Series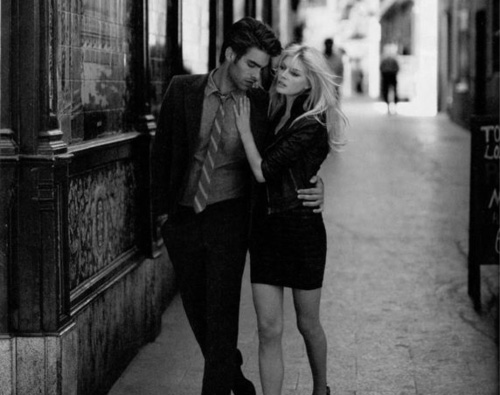 Wow, 2011 is more than halfway through! Life is flying by, and Kinowear is going to amp things up.
First, I have to apologize to every devoted reader of this blog for not posting as frequently as I used to. I've actually been working on editing a whole new series of articles called the "Science of Style."
THIS IS HUGE.
I've been working with a team of people to make sure all this content is at the HIGHEST quality, and that the information will not only be super helpful but completely change the way you view style and how to develop your own.
Through all my years of being out in the field of working with people on looking and feeling their best, I've broken down the process of how a guy can go from having no style to making an amazing impression.
There's a lot of "what to wear" and "what not to wear" type of advice out there, but nobody is talking about a method on how to really develop your own unique sense of style.
What makes a man stylish?

Is it the clothing he wears? Is it the way he wears it? Does the man define his image? or does the image define the man? How is it that one man comes off as attractive, while another, wearing the same outfit, comes off as "try-hard" and awkward?
Why is it that some guys can follow all the "style laws" to the tee yet still look bland, while others can break all the rules and still look stunning?
These are just a few examples from the mountain of questions that overwhelm the average guy when it comes to style.
On the surface, men's fashion seems to be full of rules, contradictions, and vague complexities.
This is because style is more of an art than an exact science. It's really more about a personal expression than following a set of rules set out by some style expert.
We chose to call this series the "Science of Style" because we believe that by distilling the "art" form into as much of a "science" as possible, we'll be able to guide you in becoming an artist of your own image – cultivating one that ultimately fits your personality and goals.
Not Your Typical Men's Style Guide
The majority of style advice out there is about what you can fix on the outside. Now you may ask, "Uhm, isn't that the point?"
Yes and no. It's just a part of it. You can read tips on how to shop for a suit, or what type of shoes you should wear to the office, but within the larger goal of achieving your ultimate sense of style, isolated bits of advice become pretty useless.
This series will take a very different approach by giving you a system that will bring to the surface the most raw and attractive version of yourself by working from the inside-out, and ground- up.

Real Life-Exercises for Lasting Change
In the same way you can't fix your love life by simply reading a bunch of romance novels or self-help books, I'll tell you right not that just reading the content will not help you.
This new series was strictly designed to teach you the much harder, much more demanding science of totally transforming your image from the ground-up.
It's going to be an action guide with straight-forward and high-yield exercises for you to get your hands dirty with. Many of these exercises are the very exercises given to our consultation clients to dramatically transform their style!
In other words, if you do the exercises, we guarantee you will see some serious results. At the end of the day, that's all that we care to bring you. Results.
Like anything in life, you will only get out what you put in.
The 4 Stages Model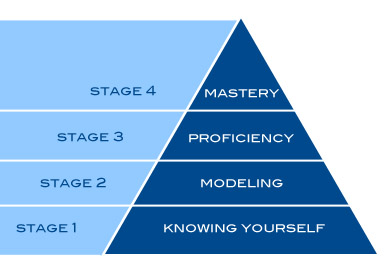 The 4 Stages Model is the system at the heart of the "Science of Style."
Distilled out of over thousands of hours of live consultations, it is Kinowear's proven system for building a unique, attractive sense of style from the ground up.
The 4 Stages Model breaks down the style development journey into four different stages:
Stage 1: Knowing Yourself
This is the first, and foundational level of your style journey. A highly attractive style only comes from having clarity in who you are. All the exercises in this stage are designed to bring out and articulate your personality. Learning style is like learning a language, and in stage 1 you are building the ideas to express in the subsequent stages. This information will be integral when it comes down to expressing yourself congruently and authentically through your image.
Stage 2: Modeling
Next comes the Modeling stage. In this stage you are now beginning to practice speaking the language of style through imitation. Through a series of exercises, we will guide you through the art of copying looks. As you get deeper into this stage, you'll begin to see patterns, as well as begin to expand your "style vocabulary."
Stage 3: Building Proficiency
Once you can imitate other complete looks with ease, you're ready to work on your proficiency. In this stage, you'll begin to dive deep into the fundamentals of style–such as understanding what makes something attractive or unattractive. As you have a clear understanding of why the looks you copied in the modeling stage "worked," you'll begin to develop your own unique sense of style.
Stage 4: Mastery
This is the stage of style fluency. This marks a stage where you not only have a complete grasp of all the fundamentals behind an attractive style, but understand how to convey any message, down to the smallest of details. In this final stage, you will also be able to make statements by "breaking the rules."
We've also included benchmarks at the end of each stage to help you gauge whether you're ready for the next stage. As you read this, you may find that you're already at one of the later stages. Honesty is key here. The stages are designed so that without a proper completion of each level, you'll find yourself susceptible to fall into many of the style blunders such as incongruence. This is why we recommend all our clients to go through the entire process from the beginning, even if you think you're a Stage 4.
Starting next week, you'll see a part of the series go up every week or so, giving you enough time to read, process, and to go out and implement what you're learning.
If this sounds like a series that you're excited about, make sure you subscribe to our RSS email feed to receive updates straight to your email.