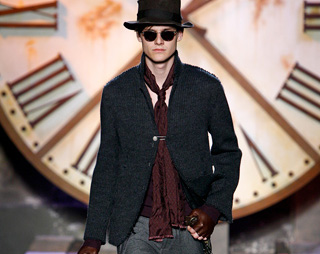 Kinowear Style Pick: Killer Varvatos Accessories
Photo: Monica Feudi / GoRunway.com
Curse you John Varvatos. You've done it again. I was looking through this Fall 2011 collection and I instantly wanted every accessory seen here – the burgundy high-top boots, leather duffel bag, leather cut-off gloves (especially), silk burgundy scarf, sunglasses, funky hat, even the damn furry key-chain. It reminds me once again, that accessories can make your entire look.
Another thing I love here is the use of burgundy. Seeing a lot more use of this color on the runway, I have to say it's one of my new favorite colors. Burgundy has the potential to look great on just about anybody – it always has a classy, confident, and warmly bold vibe to it.
With all this new inspiration in mind, time to go accessory shopping.
For more outfit inspirations from John Varvatos, check out the rest of his Fall '11 collection.