The jean is probably the item of clothing that gets worn the most by men in the Western world… but it is definitely also the one that gets worn the worst.
That's because buying jeans is more complicated than it sounds. The average guy's jeans are too big for him and made from poor-quality, cheap-looking denim. Color, wash, seams, cut, pockets… these are all aspects you need to check carefully before you invest in a new pair.
Looking after your jeans properly is also not be forgotten, a point which I'll come to later. It's an important one, given the number of times you see jeans that have been completely massacred thanks to careless washing.
In this post, I'll aim to provide as comprehensive a guide as possible, covering everything from how to choose a pair of jeans that will look good on you, to how to keep your jeans looking good for longer. Links to other posts will be provided in the text, where relevant.
Choosing the color and wash
Normally, the color and wash are the first things we notice on jeans, and determine whether or not we like them.
First of all, forget light-colored jeans – they almost always look cheap and ugly.
Hypothesis: the darker the jeans, the better.
On the one hand, dark jeans are much classier; on the other, contrary to what you might think, blue jeans are harder to find, often more expensive, and therefore less commonly worn.
However, there are an infinite number of shades of blue, many of which look really cheap. So go for a midnight blue fabric, one that reflects in the light, if possible. High quality fabrics have a slightly reflective, almost metallic quality, but it takes a bit of observation to notice it.
Once you've chosen the color of your jeans, the next important thing is the wash.
Nothing is more elegant than a pair of untreated denim jeans. You can let them fade naturally according to your body shape and movements, giving them a unique, authentic touch.
If there is a faded wash, it should be subtle and graduated. Avoid buying jeans that have been treated in fits and starts with a litre of bleach – the effect is too much. The only exception to this is when it comes to very complex washes designed by premium jean brands.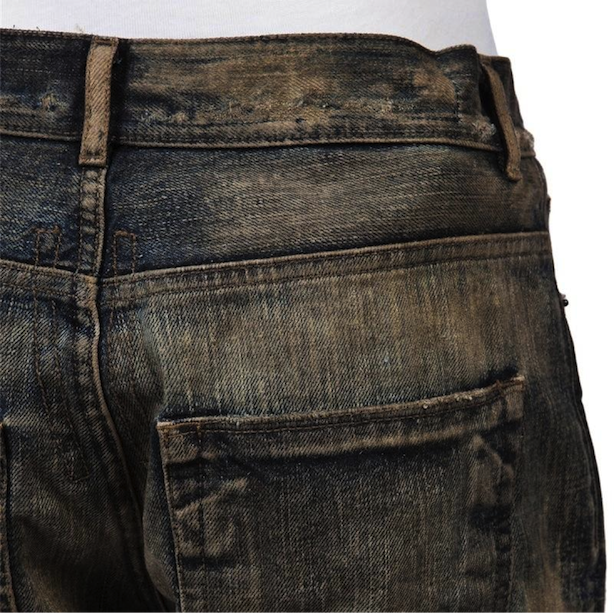 A high-quality, complex wash on a pair of DRKSHDW jeans by Rick Owens…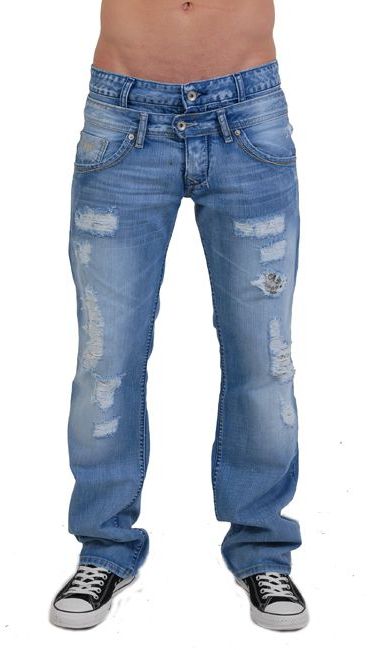 … and, at the opposite end of the spectrum, a pair of faded light blue jeans by Jean Kaporal: there's no contest.
Unfortunately, you'll be hard pushed to find an attractive pair of faded jeans at less than $200. Even Diesel struggles to bring out faded jeans that don't look too artificial. So if you opt for a faded wash, it's probably going to cost you.
Checking the details
Once you've picked out a pair of jeans you like the look of, you're going to need to check the crucial details that allow you to separate the wheat from the chaff.
It's important to know what makes a pair of jeans look cheap, or high-quality.
Let's start with the seams. The stitches should be tight, as well as equally sized and spaced. The majority of low-priced jeans are badly sewn, with stitches all over the place and numerous loose threads.
Seam mediocrity is like a silent plague that infects even top designers like Kohzo (luxury Japanese brand), where my friend bought a pair of jeans from once. The fabric and cut were perfect, no doubt about that, but the threads came undone every once in a while.
The color of the seams is also of utmost importance. It needs to be well-matched to the color and wash of the denim. There's nothing worse than a brown thread that clashes with the rest of the jeans (those who have seen Walmart jeans before will know what I mean…).
One of my pairs of Chevignon jeans has three different-colored seams along the side: the first one red, the second dark orange and the third dark yellow. Multiple threads of different colors are a reliable indication of high quality.
In terms of details to look for in the fabric, the mesh of the denim should be as fine as possible. The tighter the mesh, the more the jeans will look like they're high-quality.
What's more, the mesh of the denim should also be regular, so that the surface is as smooth and uniform as possible. It's the uniformity of the fabric that makes the jeans look attractive. Beware of cheap denim constructed from threads of irregular thickness.
The best of the best jeans remain those made from selvedge denim, recognizable by their red trim on the inside and manufactured by brands such as Naked & Famous and A.P.C. Other brands I recommend you check out: Unbranded Brand, Gustin, Nudie Jeans, Acne, Rick Owens, Paul Rose and Rogue Territory.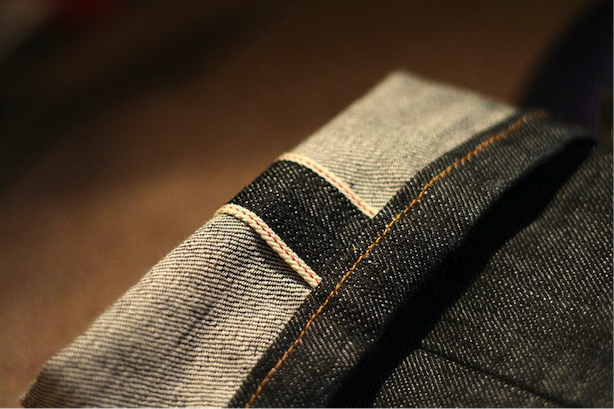 Japanese denim: the quality speaks for itself.
Choosing the right cut
Now that you've chosen a pair of high-quality, attractive jeans, you need to make sure they're the right cut for the shape of your body.
The basic cuts on offer are: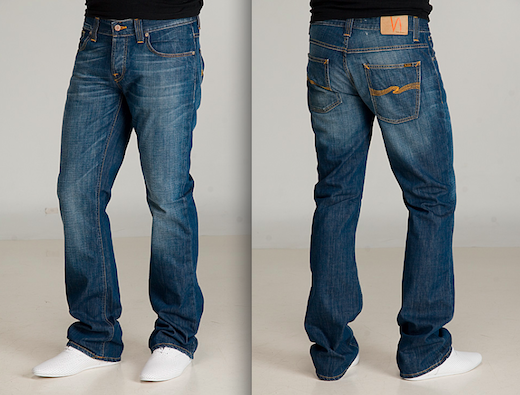 Bootcut:  the jeans are slightly wider at the ankles.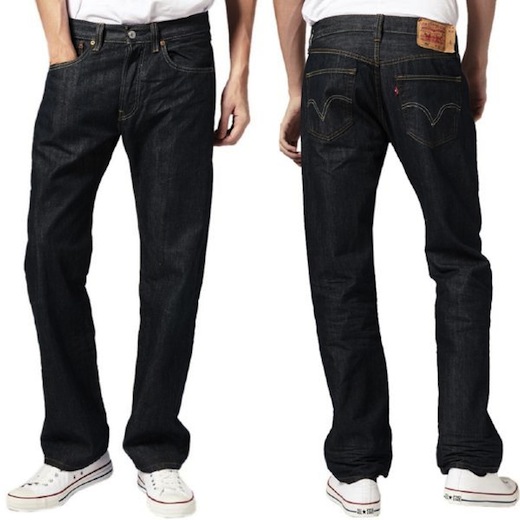 Straight: the jeans are of equal width all the way down the legs. Those of you with a very solid build will be able to pull off this cut. For everyone else, I'd suggest…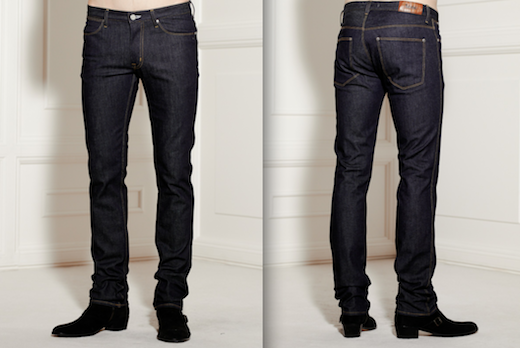 Semi-slim: a style that's been in vogue for a while now. The jeans are slightly narrower at the thighs and ankles, making this the optimum cut to create a balanced silhouette on the average body shape. Choose a pair that feel a bit tight when you try them on in the shop, because they're going to stretch fast. (See also this post on the semi-slim jean).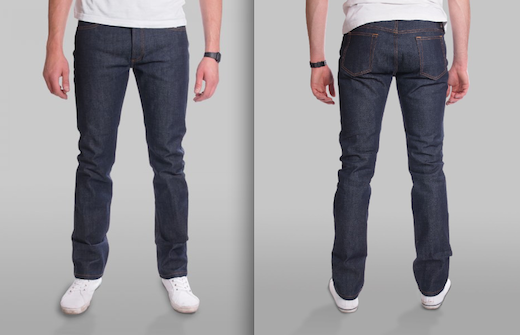 Slim: not to be confused with semi-slim. The jeans are very narrow all the way down the legs, and make you look like you're wearing pantyhose rather than pants. They've gone out of fashion now, and long may it stay that way.
Cuts are categorized in different ways or given different names depending on the brand of the jeans. I'm thinking particularly of Diesel, here, who have made a speciality out of giving their jeans exotic names. But the infinite styles of jeans that exist are all based on one of the four basic cuts listed above.
Which to choose? As with a balanced diet, you need a bit of everything in your wardrobe. Rather than sticking to one cut every time you buy a pair of jeans, the ideal is to invest in multiple cuts, so that you always have a variety to choose from, even if you stick to wearing one staple pair of jeans most of the time.
Once you have the color, wash, and cut down, all that's left to do before you buy your jeans is select the right size. And it's going to be the hardest part of the whole process…
Why I always go for the semi-slim cut
As you've probably gathered, I'm a fervent believer in the semi-slim cut. Here's why:
It's fitted at the thighs, which means that it slims your figure without making it look like you have matchsticks for legs.
It shapes your butt without clinging to it.
It suits a wide range of body shapes. If you're slim, it shows off your figure without swamping you or making you look skinnier. If you're of small stature, it lengthens your figure. And, if you're on the heavy side, it has a considerable slimming effect.
I know, it seems completely counter-intuitive to wear a semi-slim cut if you're slim! But try it, and you'll find that the effect is a much more balanced silhouette than you would have with a pair of bootcut jeans.
Again, when you've been wearing jeans that float around your ankles all your life, the idea of trying on (and buying) a pair of semi-slim jeans might seem unthinkable. However, remember that dressing well is above all about choosing the right cuts. That's exactly why I get my clients to try on more than one cut. That way, they learn how, and feel able, to pick out cuts that suit their body shape.
To give you a tangible idea of what the semi-slim cut is like, have a look at (and try on) the mythical pair of jeans that is the Dior 19 cm, with its laser cut thighs and butt. These jeans have a leg opening of between 20 and 21 cm (at this scale, one or two centimeters can change everything), giving them the advantage of being able to be worn with quite slender shoes, impossible with jeans with a leg opening of 19 cm.
That said, jeans with a leg opening of 19 cm will go excellently with high-tops or boots.
The long-term goal is therefore to own:
A pair of jeans with a leg opening of 21 cm to wear with slender or more formal shoes
A pair of jeans with a leg opening of 19 cm to accessorize with sneakers, boots, etc.
Any good salesperson will tell you the leg opening of the model if you ask.
Remember that whatever the leg opening, the fit of the jeans at the thighs and butt must be perfect, meaning no excess fabric.
Choosing the right size
As I mentioned above, properly-fitting jeans should feel a bit tight when you try them on in the shop, especially around the butt and thighs. Why? Because denim stretches a lot in a short space of time. You might want to try the size below your "official" measurements.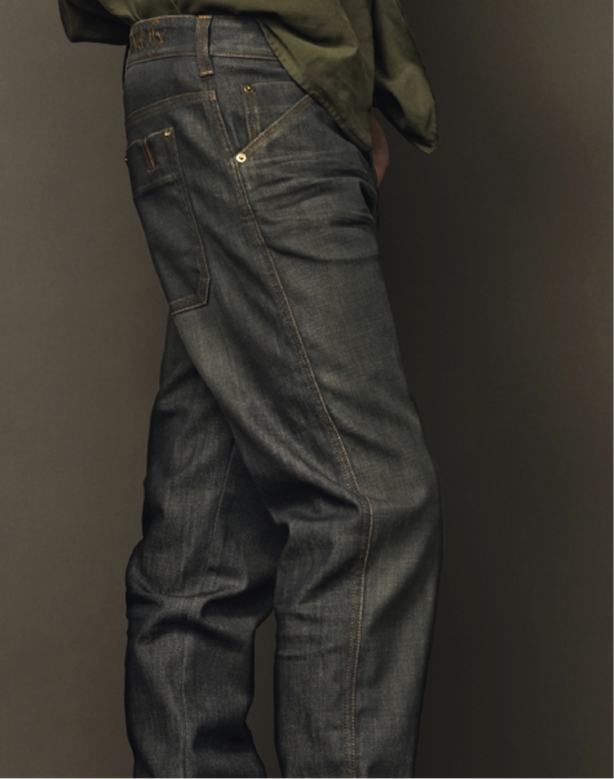 As you can see, at the thighs, these jeans are about as narrow as a pair of tree trunks.
In terms of waist size, you should barely be able to fit your thumb between the waistband of the jeans and your hips. The jeans should stay up perfectly without a belt (the sole function of a belt is to dress up an outfit).
In terms of length, there should be some stacking of the fabric at the ankles, almost enough that we can't see your socks when you sit down.
Taking care of your jeans
Warning: in spite of what jean manufacturers may tell you, your jeans will become less and less attractive every time you wash them (although they will become more attractive with wear). So, for starters, wash them inside-out at a cool temperature, as seldom as possible. Change your jeans often: put on a new pair every couple of days, hang up the old pair and wear it again in a few days' time.
I know it's hard not to wash your jeans more than once every few months, but, trust me: airing them out overnight is enough. They're not that dirty, as studies conducted on untreated denim jeans have demonstrated.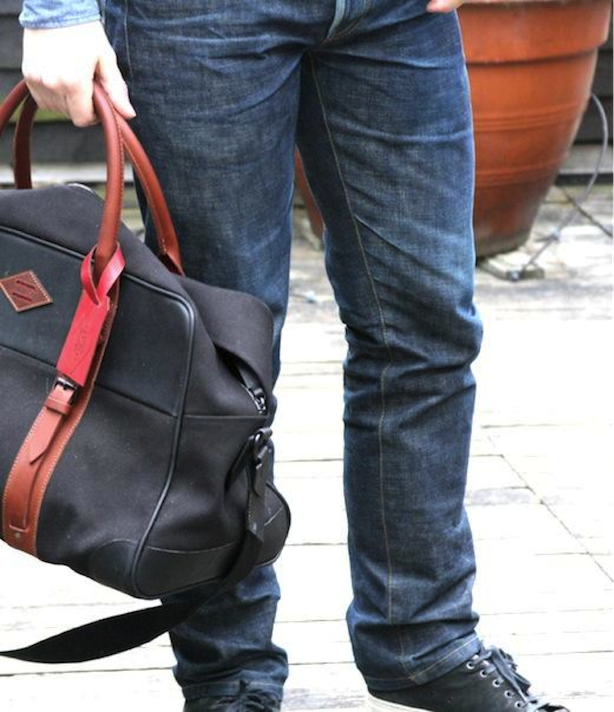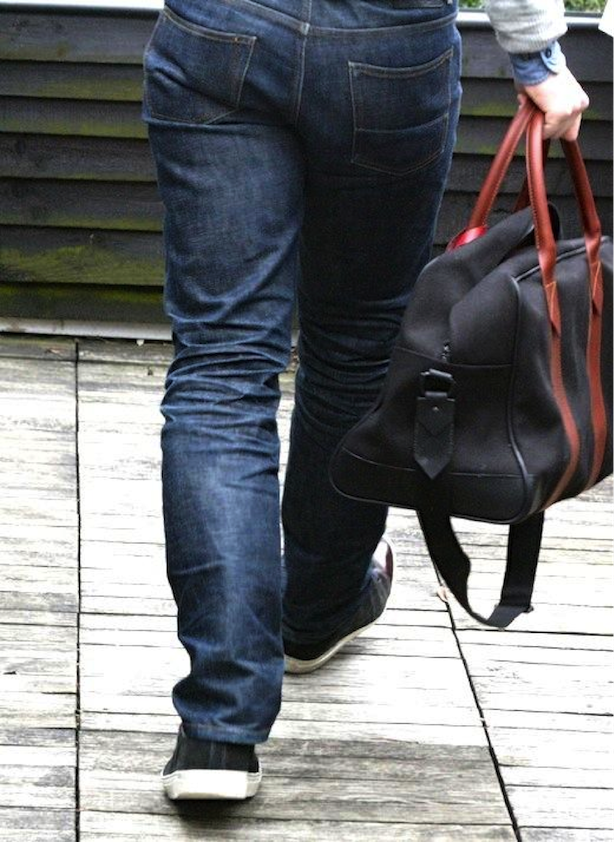 Some final words of advice
No one can reproduce the "perfection" of the outfits you see in magazines in the real world. In fact, more often than not, what looks perfect and awesome in a professional photo just doesn't look good in real life.
When it comes to jeans, focus on getting the basics down first: buying attractive, high-quality denim, in the right cut and size for your body, and wearing it properly. As you gain more experience, you can start to experiment more with your look (maybe even bending some of the rules in this post) and develop a style that conforms to your own creative vision.
>>  Read this article if you want to discover the crazy world of denim connoisseurs.
What are your favorite brands of jeans ?
Which one are you earing today ?
Tell me in the comments 🙂