Alexandre. F., who used to be an image advisor (and now works in a bank in London), gives us a particularly incisive and personal article on his vision of the suit, as well as paying homage to English tailoring. To be read without moderation to (finally) learn how to wear a suit.
Not long ago, I was on a little shopping trip in Saville Row, on the phone to Benoît, who I was keeping up-to-date on my discoveries and who I was chatting to about the size of collars and the height of the notch (we're talking about jacket collars). And then the idea cropped up to write an article on suits for Kinowear. Or rather, Ben suggested it to me…and I immediately said yes, eager to share a bit of this knowledge dedicated to a guy's elegance with you.
Only, sitting in front of my PC shortly afterwards, it seemed to me to be pretty difficult to deal with the topic in one article. Competent people have written whole books on the matter; it would be ridiculous for me to be pretentious enough to claim to give you the A to Z of the suit in a few pages of a Word document. I then started thinking about the biggest mistakes that I spot on a daily basis that are made by 99% of men wearing a full suit. I will now give you some details and my opinions on them.
Here's a preamble and disclaimer nonetheless: like lots of readers of this blog and members of style message boards, I'm a fashion fanatic. But when it comes to suits, I couldn't give a frickin' damn about the latest fashion, or the thing with having the notch too low, or the ambition to popularize the (hideous) 4-buttoned suit jacket. A suit is all about the proportions, about the fabrication and comfort, and about colors. Elegance, unlike the latest trend, is timeless (or almost).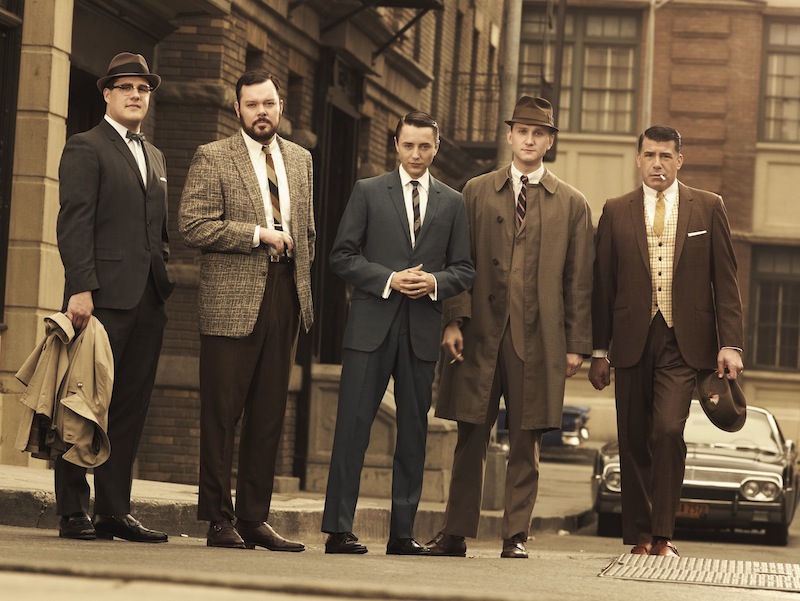 Avoid combinations that over-complicate the matter, for example the second and fifth people from the left, but take the example of Campbell (in the middle). NB: the shirt ties everything elegantly together by peeking out from under the sleeves of the jacket.
First article: the size
I think it's the biggest mistake I see guys making when it comes to suits. 99.9% of men I see in London or Paris wear suits that are too big. A suit is not a costume, it isn't a piece of cloth that you throw over your shoulders to stop yourself feeling the cold, or to avoid getting a dressing-down from the boss. A suit serves to flatter your silhouette, to make you look elegant.
Thinking about it like 99.9% of men do, i.e. as a piece of material that your workplace forces you to wear, leads you already away from the realm of elegance ('but I don't give two hoots about elegance' -> if this is the case, don't bother reading further). The origins of this constant, hideous over-sizing don't really interest me (some people think it all started with the 80s power suit)…the bottom line is that it's ridiculous.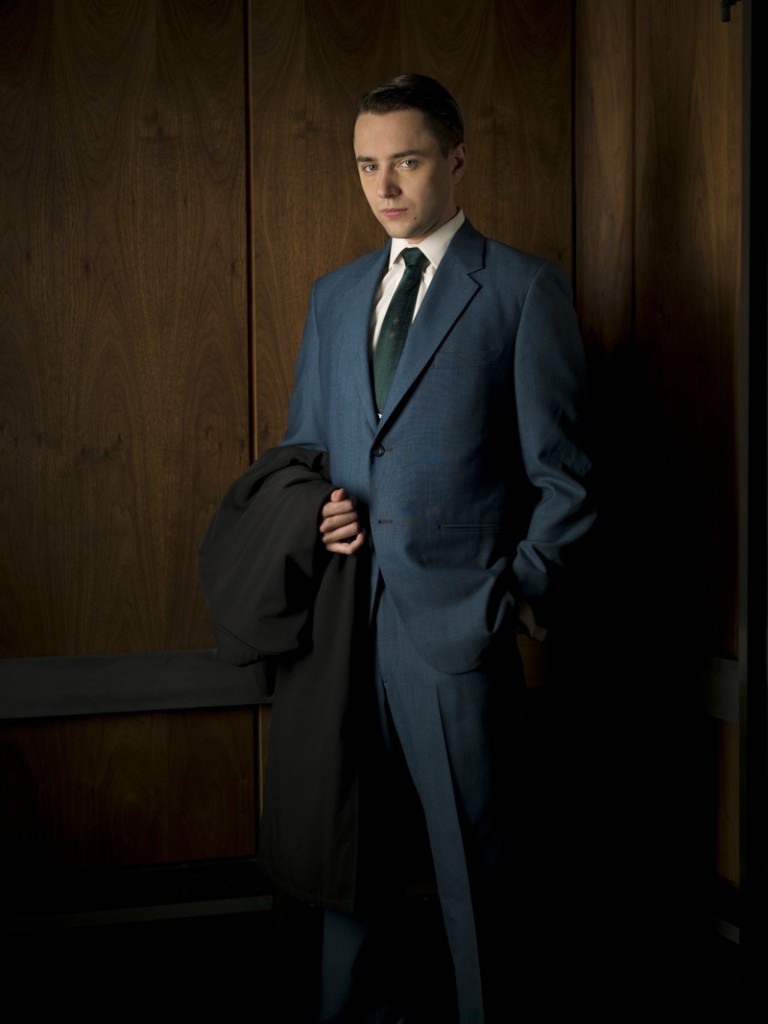 A jacket of a decent length, that hangs well, with perfect shoulders.
Second article: pay attention to the shoulders
With a suit that has shoulders that fall off your own and a waist a million light-years away from your waist itself, you massacre your silhouette and immediately remind people of the spotty teenager who borrowed his dad's suit for a night out. It should be forbidden.
How do you remedy it? The most essential part of the suit is the shoulders. When you try on a suit, you should make sure that the cut and the fall of the shoulders perfectly coincide with the end of your own shoulders. That means that the cut should be ON the edge of the shoulder and not above the emptiness of its drop. If you don't pay attention, you'll just keep falling into the same pitfall when it comes to your suit. And no, this doesn't make a suit 'less comfy', as many guys try to argue. There's nothing nicer to wear than a jacket that fits you perfectly. If you find that an item of clothing that's your size isn't comfy, there are three possible answers:
The clothing is poorly-cut
The clothing isn't cut for you
You've got a weird morphology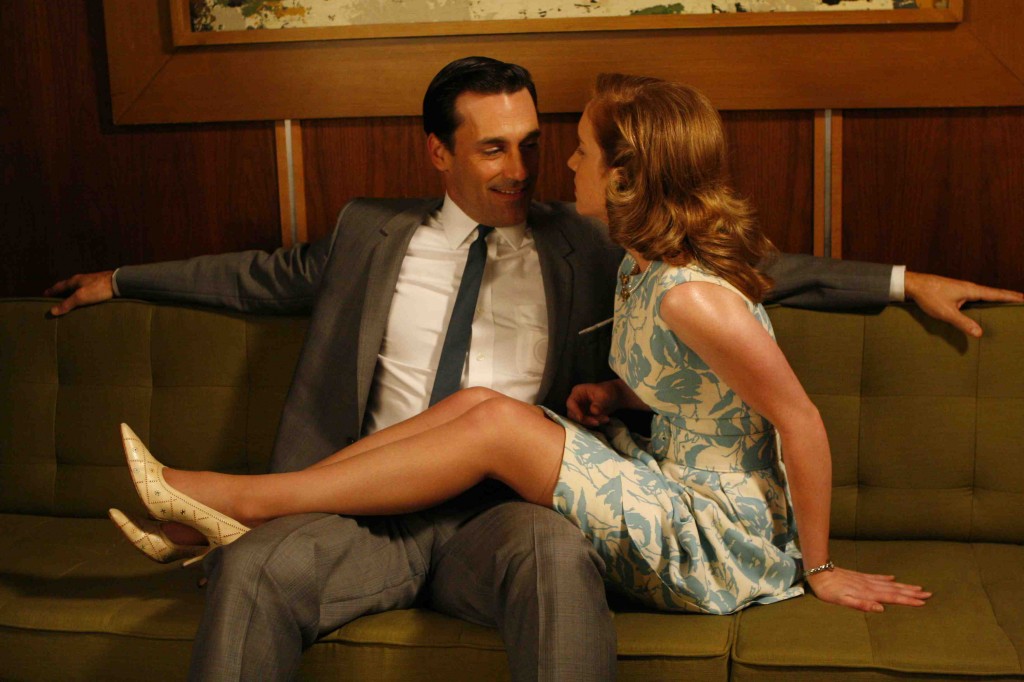 Obviously, if you still think that a great suit is one that's bill-boarded at $700 by Hugo Boss, then one in your size will clearly be less comfy than wearing your pajamas. But in that case, the problem lies in the fabrication.
Third article: the fitting
After the shoulders, there's a third point to mention: the fitting.
We're far from all having the same morphology. On top of that, not all suits are well-cut (far from that, too.) You find yourself, therefore, with a plethora of morphology/cut combinations and the vast majority of them inevitably tend towards the incompatibility of the cut and morphology…and therefore towards a ridiculous silhouette. A jacket can be the right size for you on your shoulders and, from the first button downwards, have no substance at all, simply because of this incompatibility of cut/morphology.
Some guys, for example, have very broad hips. If, in this case, they wear a jacket that's too fitted at the waist, there'll be a drastic increase in breadth at the top of the hips, killing the harmony of the silhouette and creating an ungraceful 'bumpy' effect around the level of the pockets.
Others (like me) have a significant difference between the breadth of the shoulders and the circumference of the waist (in other words, a slim waist). In this case, if the jacket isn't fitted tightly enough, you'll look like you're floating around in it, which isn't particularly elegant…even if the jacket fits well at the shoulders.
There's always the option of retouching, but refitting (the adjustment of the fitted seams) is limited in that at some point or other the jacket will crease around the button and will look ungraceful.
If you're struggling with your body type, read this : The Best Suit For Your Body Type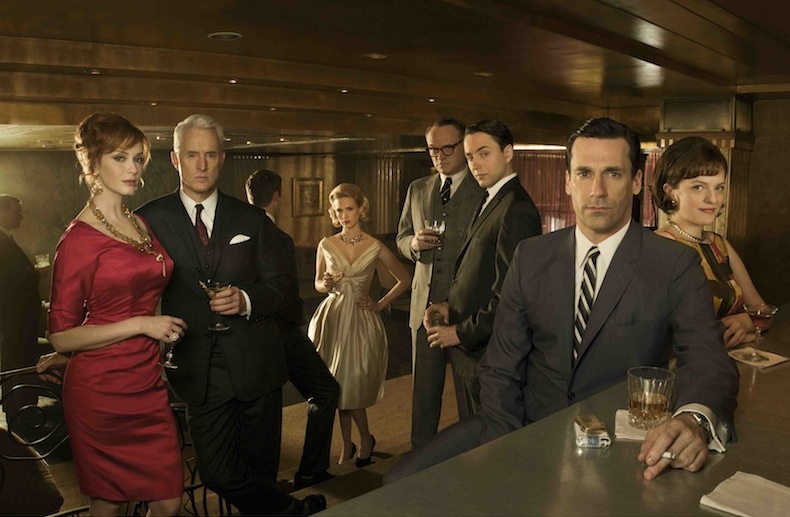 With such a suit, you'll look sober, whatever the situation
Getting to know and accept your morphology and starting, progressively, to ask yourself the above questions when you try on a suit is something that's really important to do if you want to stop looking like a bag of potatoes when you go to work.
Let's take a look at what's on offer when it comes to the cut and your choice. In my view there are two kinds of fashion house: those that inspire others and those that copy others. In Savile Row, most of the houses on the right hand side when you come from Vigo Street are the 'old' houses, the youngest of them must already have been around longer than a century. This century's sole obsession was masculine elegance, so we're talking about experience and knowledge that can't be found at…well, at our friends', the designers'. When you go to Huntsman & Sons, you're dealing with people who know why the back of the jacket is at a certain height, why it's a certain breadth, and why the buttons are where they are. On the other hand, there are people like Ozwald Boateng (very interesting but a whole other story).
Canvassed suits
You're dealing with a completely **fitted** jacket, which, as well as being extremely, extremely rare in PAP stores, offers an enormous difference in terms of the movement and comfort of the item of clothing that's a million miles away from what you'll find on the billboards. When you go to Hugo Boss to buy a suit, you check out bill-boarded suits that are cut to fit everyone. I'm talking about Hugo Boss but you can put pretty much all 'designers' in the same bag.
As I was saying at the beginning of the article, a suit is all about the proportions. If the collar of the jacket is too narrow (or too broad), if the waist is too high, too low, too fitted or not fitted enough, if a button is poorly-positioned, if the jacket is too long or the trousers too baggy, etc… all these details subtly, but dramatically alter your silhouette. When it comes to suits, as when it comes to a lot of things, common belief is often a million miles away from the exact truth or even from anything close to the truth.
So please, if you want a great suit, go and pay a visit to someone who knows what they're doing. For the addresses, I'll leave you to consult this excellent blog: Parisian Gentleman. We did an amazing interview with Hugo a few months ago that you can still watch here : Interview Parisian Gentleman.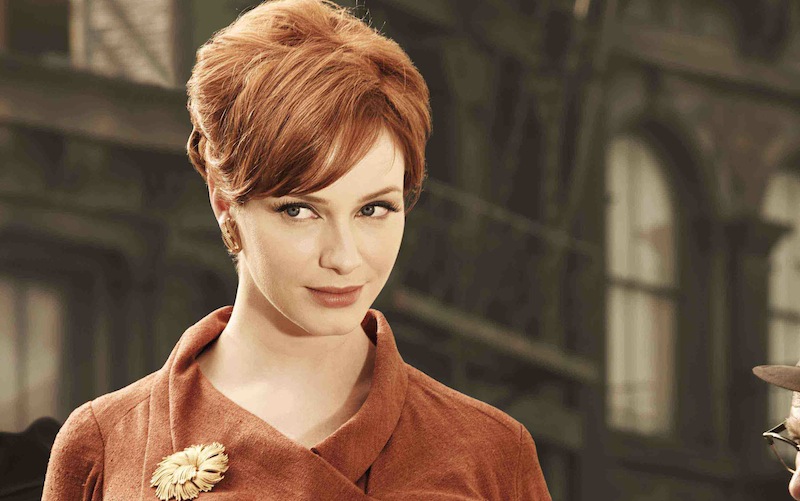 Enough of over-sized suits: Joan is watching you!
Put a smile on the pretty redhead's face?
This is the same Alexandre F. as the one who wrote all of the guide on suits in the Kinowear Bible. And if you liked the article, you can learn even more about it with our method to improve your style. I hope these thoughts were helpful. If you need a more practical piece of advice read the article How to Find the Perfect Suit.
At the end of the day, the Kinowear team has worked (in long lost times) in banking, marketing and sales advising: we could therefore give you the perfect advice when it comes to a guy's makeover.
Alexandre decided to illustrate this post with photos from Mad Men but… In my opinion Mad Men characters aren't the best dressed man on TV… Can you guess which TV Show I may be thinking of ?
Answer in the comments 🙂