In my previous article "How Thailand fucked up my style" I was determined to get rid of my bad habits, but I realized that I was confronting total disorder.
Just when I wanted to tackle things head on, I didn't know where to start. Everything seemed complicated; I was paying the price for a whole year in off-mode.
I promised I'd give you the basic advice for 'playing things safe' and working from solid foundations.
That's because it's the easiest and cheapest way to get back on track.
What's the importance of basic items of clothing ?
(Items which, as the name suggests, are at the base of your outfit and which you can wear daily without making an awful mistake in taste).
The basics are a bit like the ham sandwich of your wardrobe. Or your girlfriend's Glamour mag. Or the TV series watched by Aunty Jean. Or the amber light that everyone ignores at the crossroads.
Essential, classic…but all too often, under-estimated. Thrown on in a hurry. In a superficial way.
It's a real shame that they aren't paid more attention. You wear them every day, and they sometimes count for 50% of an outfit's success: but nobody talks about them. Or, clearly, nobody has the desire to share what they know about the subject.
One thing, though, is easy to say: how many of the clothes in your entire wardrobe do you actually wear? That jacket you fell in love with two years ago – where is it now? What can be said of the pair of shoes placed on a shelf at Barneys with a reduction of 60%, which were just crying out for a warm place in your home…but are now starting to feel a little lonely in comparison to your Nikes that get to see the light of day?
And what about your T-shirts? And the shirts that you wash every day?
From now on, you'll know where to make a saving.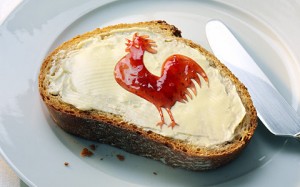 A French basic for breakfast 😉
Now, let's get to the heart of things.
One of the first positive aspects of the basics: you can be well-dressed without looking like someone who's made a lot of effort trying to be a stud (such charmers)…while at the same time avoiding the blandness of Tecktonik's style, which will turn you into asexual creatures straight out of a certain High School Musical.
Contrary to the myth propagated on the internet: no! it isn't difficult to know how to choose or even understand the principles of the basics. And yes: EVERYONE can quickly acquire the necessary minimum for starting a decent wardrobe that will be enriched little by little from thereon.
The aim is, quite clearly, to get you to re-use these basic items of clothing mixed with other, bolder items (jacket, coat, reefer)…which need to be bought as often as there is a rainy season in the Sahara: that is, sparingly (due to their substantial price tag). And after a great deal of thought (you risk of doing the same thing as many 'experienced' fashion fanatics do: selling them on having worn them 'only once' because a better version of the item has been released a year on – *often mentioned in the adverts*)
It is through the acquisition of good standards that you will progress little by little and you'll start thinking about the 'why' rather than the 'how'. Think about it a second. If you like Burger King, why would you go to McDonalds?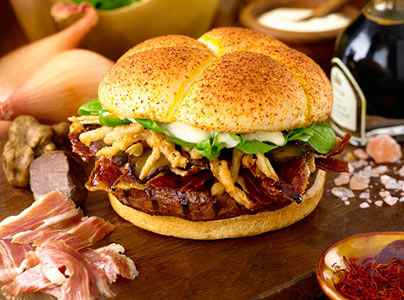 Just keep in mind that I'm not trying to go into 'hardcore fashion', but simply look at what's 'practical', that is that which allows for an outfit to be stylish but at the same time to fit into your daily life (without turning you into a pretentious 'wannabe fashionista').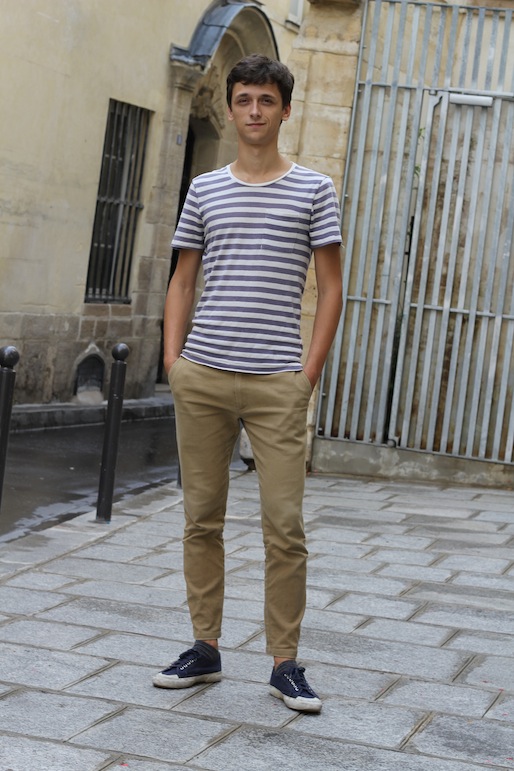 Simples piece of clothes to bring together a simple outfit. Those who read the piece about Thailand can spot the too short trousers I was talking about.
When the idea of Back to Basics came to me, I had forgotten that a simple and effective outfit can be created if you put together the basics.
A pair of raw jeans, a white T-shirt and a grey jacket is not at all original but saves you from making a bad impression, if everything is the right size for you.
The aim of my guide is simply to give you concrete bases, to avoid the word 'fundamental' (anything but that…), and to help you avoid making mistakes
But it's down to you to play the game: try out these addresses; I'm not giving them to you so you can read them, but well and truly so that you can really progress and realize that there are certain standards out there when it comes to the material of clothing.
What you're about to read is simply based on my experience: your impressions and responses are more than welcome (as are any good deals you know of!)
A – T-shirts and shirts
T-shirts
For T-shirts, I recommend simply two criteria: the shape of the collar and the cut at the back. Personally, I'm a fan of the subtle round collar. Too close to your neck and you'll look like you've been hanged. Too loose, you'll look like a dancer out of one of Madonna's videos.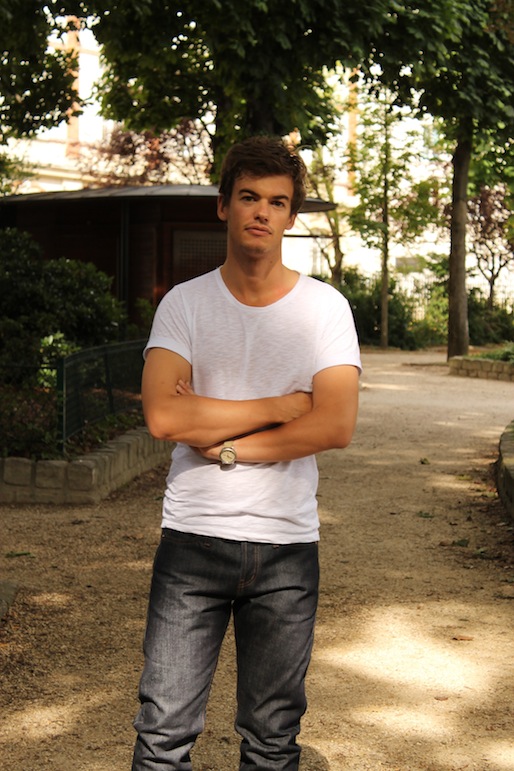 Basic, efficient, simple and versatile well-cut white tee-shirt (Geoffrey)
Worn alone, I like sleeves that aren't 'too' baggy (unless that's what's being aimed for, for a laidback style).
A nice T-shirt forms the perfect marriage with a jacket. It's simple, looks good and is contagious. Choose mainly whites (or beiges) as well as grays. They're no-fail colors that will be infinitely re-used.
Of course, there are other T-shirts that are more HE (high-end) like those by Rick Owens or Damir Doma. The latter play with effects of superposition (twists, creases and markings emphasized by the material from which they're made) and have an aesthetic 'raison d'être'. Even if they don't bring a lot to an outfit (a creased or faded T-shirt is still a T-shirt until proven otherwise…and is worn in the same way as the cheapest out there.) The prices also show an assumption of status: but you're free to choose what you like.
Here are the brands I recommend (with links):
You just have to try them on, then you'll find the cut/ price that suits you. You can buy a few in white and heather grey.
Alternative Apparel: Yes, you read rightly, Alternative Apparel, and not American Apparel (which I don't recommend as they're over-priced). Their 'destroy' range is good…and has a really nice vintage side to it.
Uniqlo: despite the rather small collars, the quality is faultless. They'll be around as long as 'Friends'
J-Crew: All you would expect from a basic tee-shirt, nice cut and comfy fabrics.
Gap / Banana Republic / Old Navy : As you may know already all brands are owned by same company and each cut is slightly different.
The shirt
When it comes to shirts, I'll be honest: I don't like wearing them (unless it's for work). This isn't to say that I never wear them. The collar, the cut at the back and on the shoulders are the essential elements to take into account when buying a shirt.
These 3 criteria are my triggers to buy (or not to buy). Without going into soporific technical details, suitable only for a history or geography exposition, you'll need to choose:
A collar proportional to your face

Seams that fit correctly to your shoulders

And, in particular, a nice cut at the back once the shirt's on (avoid bulges that make you look like a hot air balloon or like you have a parachute hidden up the back of your shirt).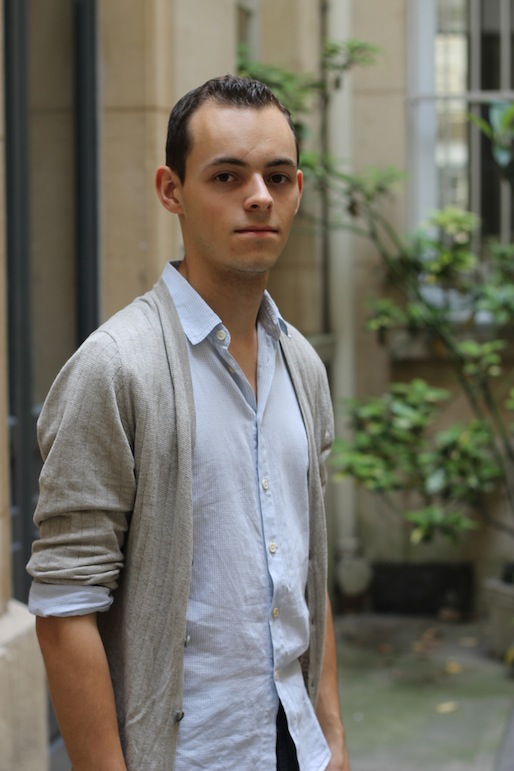 A blue shirt …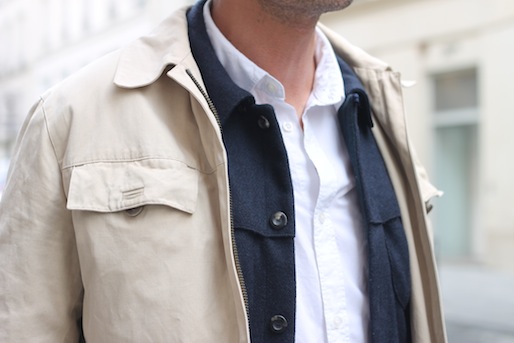 and a white shirt are absolute must-have
Take a look at…(the links are there):
Uniqlo: for the cuts, simplicity and quality.
Zara: we don't need to spend too much time on this one. Let's just says that the quality/price ratio is bang on if you don't want to spend more than $60.
GAP: is also a serious competitor (their items are decent and their materials very good)…and I'd recommend going there some time to check it out.
APC: this seems quite obvious to me in spite of the price (have a look in the sales): the quality and cut are perfect. You can't go wrong with the patterns and colors. Have a look if you're not quite sure what you should be searching for.
J-Crew: let's say that it's at a higher level than other ready to wear brands. But watch out: the cut isn't suitable for all body types. They do have, nevertheless, a nice selection of shirts. Be careful with the checked shirts though –  some are quite agressive in terms of colors.
Charles Tyrwhitt: typical English shirts, you'll get your white poplin and blue Oxford shirt with no fuss at a great price. $100-200, actually on sale with shirts starting from $35
For more advice see the dedicated post How to choose a men's shirt
B – Jeans/Trousers
When it comes to jeans and trousers (one is often in cotton, the other wool), look out for three key things:
The fit around your waist (which should be slightly tight as a jean stretches over time, but not so for trousers – you shouldn't be able to fit more than your thumb between the jean and your waist = the right size)
The inseam, that is, the length of the crotch, which should be slightly baggy (which lengthens your silhouette and contributes an enormous amount to the image. To give you an idea, imagine tight boxers and you'll know what you're trying to avoid).
And lastly, the fit around your ankles (in general, 18 or 19cm is ideal. More than that and you'll look like a village of dwarves has moved in at your feet.)
These two items are without a doubt the most important in your wardrobe.
You should mainly look at semi-slim cuts, or 'fitted' jeans (simply because a boot-cut is too classic…and at the other end of the scale, skinny jeans make it look like you've stolen your jeans from a college student). Benoît has written a complete guide on the subject that I invite you to take a look at:
Go for blues and grays. I don't recommend black if you're just starting out (unless the material's worth it) because it creates stark contrasts between the top and bottom half of the outfit. Generally, black is a perfect choice when your entire outfit is black… because it's a color that, more than any other, emphasizes the peculiarities of the items you're wearing.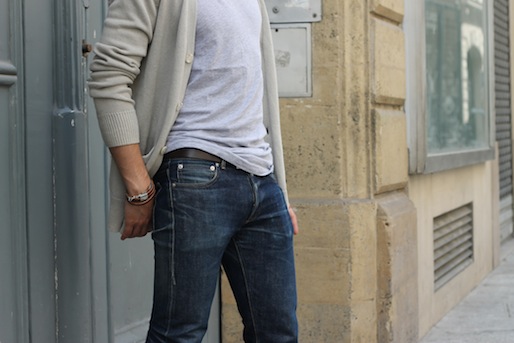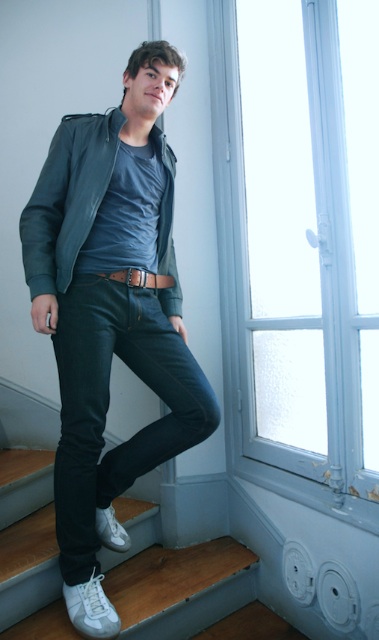 Semi-slim cut at its best
I recommend (click on the links):
APC: the new standard is the cut that inspired Slimane for his Dior jeans. His legend has, even today, still not been matched…
Acne (MIC cut): the price is reasonable ($200). The cut is very fine and the care put into the details is perfect (without mentioning the material: very soft cotton and not carbon paper).

Naked and Famous : don't be intimidated by the 'rock' side to the brand. Indeed, the cuts are quite slim, but believe me, their quality and fitted cut work miracles. Oh yeah, I forgot, their price is without a doubt one of the best in relation to their quality ($130). The semi-slim cut is the "weird guy" one.

Nudies Jeans: around $150. The diversity of cuts and the regularity of the stitch make them an equally good choice. For the moment, avoid those which are TOO faded (they look too cheap and require a bit of experience if you're really going to pull them off) and choose pure brut which you'll fade yourself over the course of time.
Wanna more ? Discover the world of denim conoisseurs
C – Shoes/ Sneakers
As for shoes, I've not got a lot to say on the topic. It's one of the few items that are difficult to 'cheat' on when it comes to the price. Be ready to spend a bit…because no! There are no 'cheap and quality' shoes out there. For a decent pair, bank on spending $300.
Boots that'll dress up any kind of outfit without dragging to much attention towards your feet
Brands like Premiata, CostumeNational, or even Dolce&Gabbana and Gucci are really good (both in terms of the aesthetic and of wearability – they're not 'too much'). I don't particularly stick to any specific brand. And I think that the simpler the shoes are, the better (with the minimum amount of detail).
Avoid shoes with pointed toes that do nothing, or the stitched goodyears which look awkward when the rim of the sole is too large…and too-complicated colors. LESS IS MORE.
Look out for:
The cap of the shoe which should be slightly round and pretty
The number of lace holes, which should be kept to a minimum
The general look, which should remain fairly classic
The sole, which should be fine enough as to not throw the proportions of the whole shoe out of balance
I've never really taken a liking to shoes that are too 'fancy' and my pairs from of desert boots and their minimalist look are, on the whole, good enough when I'm trying to pull together a much more 'formal' look.
As far as sneakers are concerned, I think the standard look imposed by brands like Lavin or Common Projects are very good as a starting point.
If your budget doesn't allow you to splash out too much, try:
Nike: the Vandals, SB and Dunk models. It's almost impossible to go wrong with these models. Just note that you'll want to opt for a size larger than you usually wear.
GAT (German Army Trainers): these are no-fails, at $30 (for the cheapest).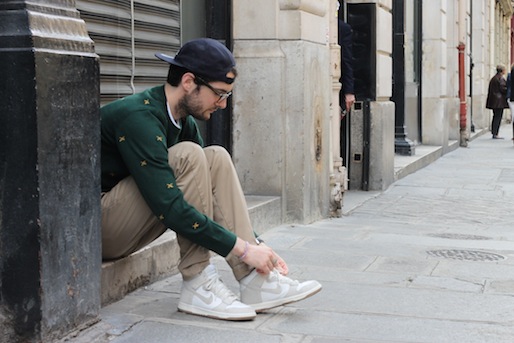 Very easy to wear and understated pair of Dunks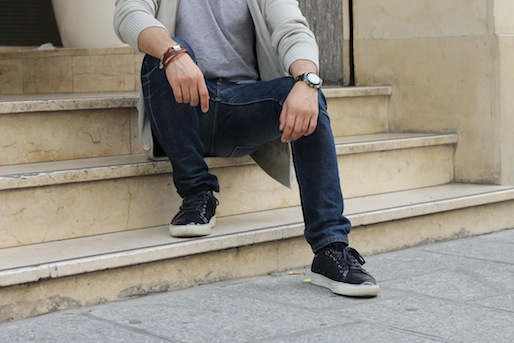 High-end sneakers from Lanvin. A basic, if you can afford it.
To infinity and beyond…
To be honest, you were worse-dressed than others and now you're dressed as well as them.
In the norm.
Normal.
That's the limit of things with basics.
Now we're going to see how to dress better than others and really make yourself stand out from the crowd.
Use your imagination: you arrive at an evening with the mates, everyone's looking at you. You're proud because you know you're the most stylish person there.
It will take courage and audacity, taste and elegance, but you're lucky cos we've done all the work for you.
More about that in the next article!
Right now, it's time to join our style letter and receive our Shopping Memo. Fill the form below.