So winter is in full swing, and in many places, especially the northeast, wardrobes are becoming more about function to combat weather like the picture above. In this article, I'll show you how to stay stylish, and alive, with proper winter footwear. The last thing you want is to slip on your ass in front of your date.If there is snow on the ground where you are, it's pretty silly to be walking around in non-winter shoes. Our stylish female counterparts know the deal, they're all wearing sexy winter boots – not sneakers. If you're a stylish guy, it doesn't matter if you're wearing your best sneakers – there is a time and a place.
Dress With Purpose
A lot of men forget that women can tell what kind of man you are by the purpose of your clothing.
If you're a guy who's still wearing his windbreaker out in the frigid winter, she'll probably assume you don't get out of the house much, which probably means you have a minimal social life. It could mean that you don't have enough money to get yourself a warm winter coat, which probably means you're not successful, which probably means you don't have the resources to take care of her… er, you get the point.
… so guys, if you don't own a pair of winter boots, get a quality pair, they'll last you many winters and it'll be worth the investment – not to mention show women you're a man who lives on purpose.
Always keep in mind when you're picking out something to wear that the purpose of clothing is just as important as the way it looks on you. So think about what the weather is like outside, or what activities you are going to participate in for the day. You always want to be dressed appropriately for whatever occasion.
Simple enough right? Look around the mall next time you are there, you'd be surprised at all the inappropriate things people are wearing. Most people are just late with transitioning into the new season. They don't break out the winter stuff unless they start getting frostbite.
Wear the right things at the right time. If you're wearing shorts out in freezing weather, you probably have bigger problems we won't get into.
That's why every man should own at least one pair of quality men's winter boots to protect their feet from the harsh cold and prevent slipping. If you live in sunny California, lucky you.
There are many boot choices out there, so remember to choose with purpose. If you're out in wet conditions you want to get yourself some waterproof boots. If you're working or playing in the snow – get yourself some extreme snow boots.
It's all about quality, don't cut yourself short, you're feet might have to pay for it. Get a good pair and it could last you a lifetime.
But more than anything else, what we're really concerned about is standing out from the bland this winter.
Here are some great boots that have both purpose and style:
Most guys shy away from UGGs – but they make more boots than just the signature ones you see all the boring women wearing.
These boots are great because they have a practical design, but they ooze with style.
Sometimes you want a winter boot that doesn't look like a winter boot. The Timberland "Torrance Chelsea" is perfect for this.
With classic casual styling, these boots look good, and can easily take the place of shoes in any non-suit situations, while the waterproof leather uppers will still help keep you dry on wet days.
If conditions are icy or extremely cold however, you'll want to stick with one of the more rugged, snow boot styles.
Demand attention in these boots by Marc Jacobs. Accented with buckles, straps, and grommets. These boots have a hint of military and scream bad boy. These boots will pair well with a leather jacket for that tough guy look.
The military look is in this season, and this military style boot is both style and comfort. You can wear it with anything from suits to jeans. I love it because it's rugged and manly with very bold style.
Cole haan Air Mosby Lace Boots
You could wear these boots under a classic pair of blue jeans and a blazer and you're good to go.
Looking like a cross between hiking boots, trainers, and winter boots, these big, bad boots from Oakley feature thermolite insulation that is meant to keep you warm in temperatures to 10 below zero — and if you like a manly boot, these are pretty good looking too.
These sneaker looking boots are way sporty and would go well for the guy who loves to snowboard in the wintertime.
For those of you who work or play in extreme conditions: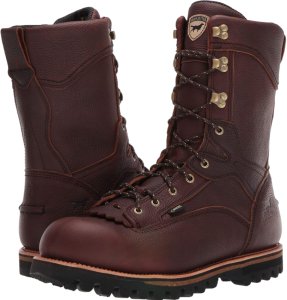 The men who own these tough looking boots say they are very comfortable. They keep your feet dry all day even in the worst weather conditions. If you find yourself outside a lot, these are definitely worth the investment, they'll serve you well for a long time.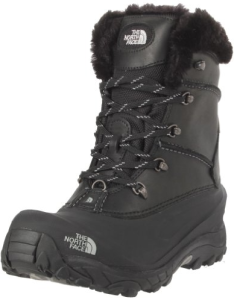 These boots from The North Face offer crazy cool styling and unique good looks. These are great waterproof snow boots. With gripping soles for added traction and tough insulation, these boots are practical as well.
Getting The Best Fit
Good fit is a very important factor when buying new footwear. There is no reason to buy shoes that are going to be uncomfortable all day. They can permanently damage your feet and your overall posture. So make that extra effort to get a pair of shoes that feel great on your feet.
When shopping for your winter boots, always remember to bring along the thick socks you could be wearing with them. If you forget, stores will most likely have spare pairs of socks hanging around if you need them. The slight difference in thickness can affect the fit substantially. You should be able to wiggle your toes and fit one finger between the shoe's heel and your heel with little force. If your finger can't fit it's too small, if your finger has too much room, the shoes are too big.
Always try on both shoes and take your time to buckle or lace them up like you normally would and walk around the store for a good minute. You should feel comfortable during your entire tryout.
Tip: Try on your shoes towards the end of the day because your feet tend to slightly swell up from all the walking and standing throughout the day. So it can effect the fit and comfort of your shoes.
Don't fall for the salesperson telling you that you can break in the shoes, it's most likely not going to become comfortable if it isn't already in the store.
Another Note: I'm not saying you should only wear boots this entire winter, only if there is snow on the ground. On any other clear and sunny winter day, it's fine to wear other shoes. Wearing boots on snowy days just show women you are a man who wears things on purpose.