There is nothing that will make you look more stylish and give you a confidence boost like a nice pair of shoes.
Every man needs a few pairs of great dress shoes for the unavoidable occasions that will call for them. If you're a man who knows how important quality dress shoes are, then you probably don't need to read further. But for everyone else, this may be one of the most important fashion articles you read.
What you have on your feet can make or break any look. It doesn't matter if you have the most amazing suit in the world, if you have bad shoes, you might as well roll around in a puddle of mud.
Shoes can get expensive, but if you're smart about your choice, you'll be able to wear them for years. Not only that, but the confidence you get every time you put them on will be well worth the price.
Whether for business or for that hot date, nothing will make you look more successful or sexy. Get yourself a pair of high-quality shoes and tell me if you don't get compliments.
How Much Should I Spend on Shoes?
With shoes, you really get what you pay for. The minimum you should be spending is around $200-300.
If that's too much for you, just remember the rule of "cost per use." The shoes will last you years, if not decades, and the amount of use you'll get out of them will exceed the price. If you need dress shoes for work everyday or you go out on the weekends a lot, then a good pair of dress shoes is of monumental importance to your outfit.
If money is an issue when shopping but you still want to look good, check out our article on how to look good on a budget.
What to Look For
With shoes, it's all about quality, quality, quality. It's better to have two or three pairs of good shoes that will last a long time than to have fifteen pairs of generic-looking bargain brands.
How do you know what's quality?
High-quality shoes are all about construction, and there are few basic things to look for:
Your shoes should be made of real leather and have leather soles as well. (If you buy quality leather shoes, they can be refurbished a number of times and will last forever, which is ultimately going to be less expensive than having to replace crappy, poorly made shoes every few months.)
The soles of well-made shoes will be stitched, not glued, to the bottom of the shoes.
Also, the lining in better shoes is made of high-quality calfskin or natural leather, not synthetic materials.
Finally, check out the stitching. It should be neat and should be barely noticeable.
Here is a great diagram and rundown of the basic construction of a quality dress shoe from our good friends at Details:
Shoe Basics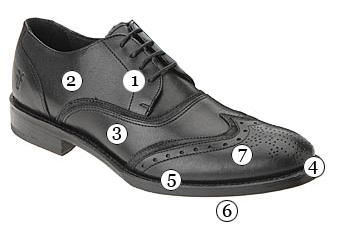 1 The Laces
It's an inescapable fact that a lace-up still looks better with a suit than a slip-on.
2 The Color
Black will always be dressier than brown. If you're suiting up for a board meeting or a formal event, go with the former. If necessary, however, you can pair brown lace-ups with suits – especially navy or charcoal – as long as they're scuff-free.
3 The Material
Glossy leather is the fail-safe choice, but you should feel free to experiment with suede – starting with a pair of classic bucks and progressing to exotic materials like alligator and ostrich or the growing number of antiqued leathers.
4 The Toe
An elongated toe is unequivocally classier than a square. That doesn't mean all your lace-ups should be pointy – lots of elegant cap toes have squared-off tips – but unless you're aiming for mid-nineties nostalgia, no shoes you wear should have a blunt, squared-off toe. I suggest staying away from them.
5 The Welt
Well-made lace-ups should have a close welt – the seam where the upper meets the sole and creates the outer edge of the shoe. It should be visible, but it shouldn't extend so far past the edge of the shoe that it creates a ledge.
6 The Sole
A thin sole is the hallmark of a cheap shoe – plus, it not only looks cut-rate, it wears out more quickly. Yours should be at least a quarter-of-an-inch thick and preferably leather, not rubber.
7 The Broguing
Traditionalists will tell you that the more broguing – decorative stitching and perforated and serrated edges – a shoe has, the less dressy it is. But while it's true that heavily embellished bucks look better with sport jackets and tweed than with pinstripe suits, this rule is flexible.
Dress Shoes for Business or Dressy Occasions
Cap-toe oxford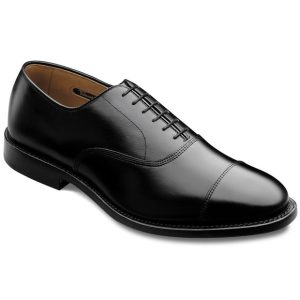 The cap-toe is the dressiest and most popular of all the business shoe styles. It looks best when worn with the more serious suit fabrics and styles. If you get one in brown, wear with navy suit, or an earth-toned suit of olive, brown or tan. Black is fine with all of the serious dark colors of gray and navy but not at all with any of the earth tones. Cordovan is the one color that seems to go with everything except black – and is understood everywhere. If you want more information on choosing a suit to fit you, read our article on finding the perfect one for you.
Wing-Tip Oxford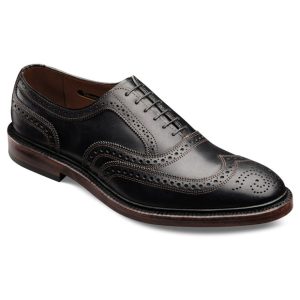 Because of its texture and heft, the wing-tip can be worn successfully with the more textured and heavier fabrics like tweed and flannel. They're too formal for khakis or jeans, so avoid the mismatch.
Plain-toe Oxford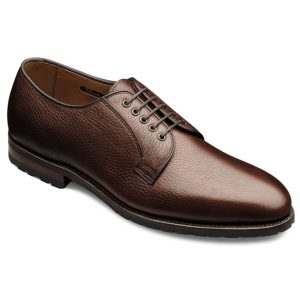 The plain-toe is less dressy and more simple. It's appropriate for all business settings. If you'd like to read more on dressing for work and office attire, read our article here.
Monk Strap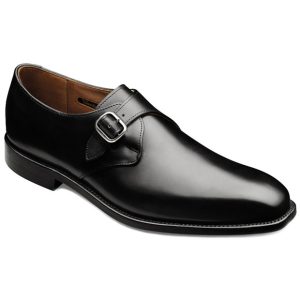 The Monk Strap is a European classic which has a buckle on the side. It is most commonly made of calfskin, but brown suede leather is very popular with the man who would like a touch of uniqueness in his dress footwear. The suede leather version is seen as casual and a very elegant alternative to the loafer.
Dress Shoes For Casual Wear
Loafers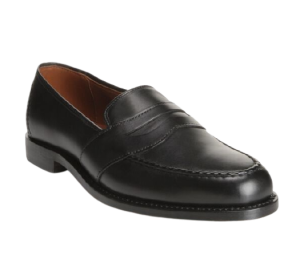 The loafer has moved beyond its preppy roots. Wear this basic with any casual look involving jeans or trousers.
Slip-On Dress Shoe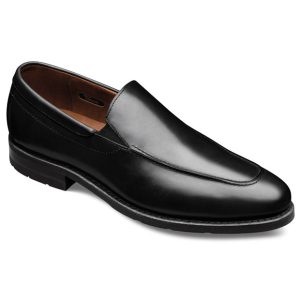 If you're looking for a dress shoe that will always look good with a pair of jeans, go for a slip-on instead of one with laces.
Driving Moc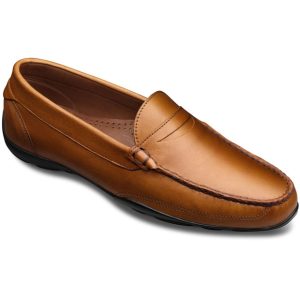 The driving moc was invented to let you feel a car's pedals better. Now it's an alternative to wearing slippers in public. You can find upgraded ones like this one that are more elegant. Best worn with khaki shorts in the summer with no socks. Check out our article on dressing for summer here.
Dress boots
Dress boots look fantastic with dressy and casual clothes, such as a great-fitting pair of dark colored designer jeans, a pair of dress trousers, or a casual suit.
Boat Shoes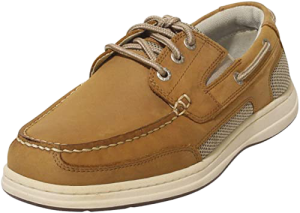 These once strictly functional piece of footwear has become very popular to wear casually with khakis or even jeans.
Cowboy Boots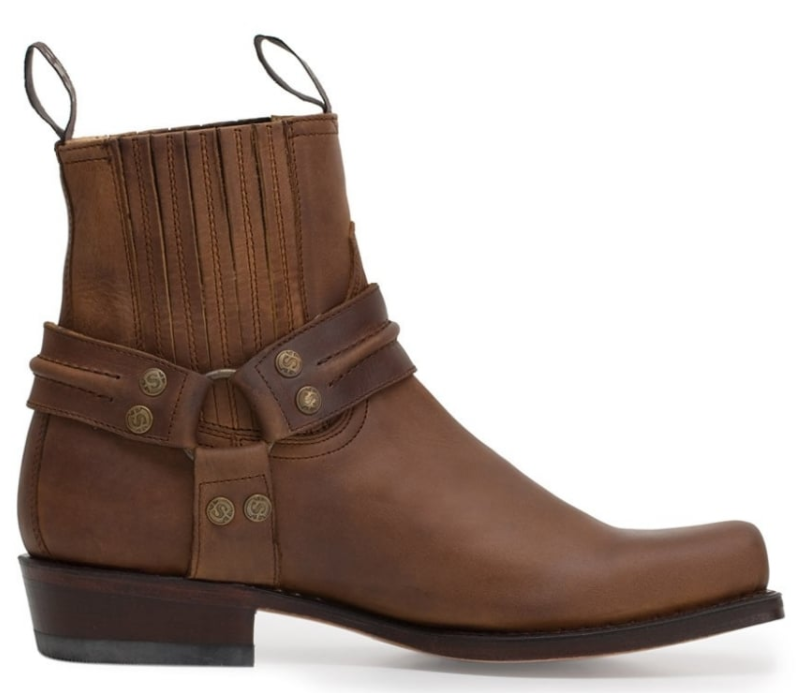 Classic version of American's contribution to footwear. The perfect combination to the other American casual standby – the blue jean. Can be plain and simple or elaborately tooled leather or made from the exotic skins of ostrich or reptile.
Desert boots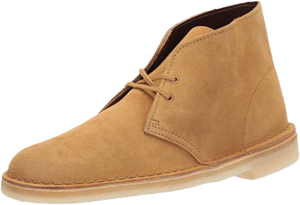 This is a high-cut shoe usually made of calfskin or suede and always seems to remain in fashion. Has a cushy rubber sole making it a great walking shoe for uneven terrain. Goes very well with a pair of khakis or jeans.
Bucks
An old standby among lace-up shoes for summer wear, the white buck comes with a red rubber sole or can be worn in shades of brown, tan or buff.
8 Fit Tips for Shoes:
1. Shop after you have been out and about a bit, since feet do swell. This way you will get the most realistic measurement.
2. Shop only at a store that uses a Brannock foot measuring device for determining your exact foot size.
3. Almost everyone has one foot larger than the other, usually it is the right foot; fit the shoes to the larger right foot. Do not rely soley on the size you have always worn. Different makes can vary significantly from each other, even though the numeric size is the same. Always try them both on, walk around in them, and buy them by how they feel on your feet – not just by the size.
4. Allow a half-inch between the tips of your toes and your shoes. If the toes of the shoes are pointed, be certain there is enough room for your toes to move comfortably. Shoes should never be tight over the instep of ball of the foot. You should be able to stick your index finger in the back for wiggle room.
5. When considering an oxford-style shoe, you should not be able to tie the laces so tightly that the two edges of the shoe meet. If you can, then a narrower size is probably better for you.
6. Buy leather shoes. Though more expensive, because it is porous, leather is the best for the health and comfort of your feet. In leather shoes the foot can breathe, discouraging the build-up of bacteria.
7. Shoes should fit from the moment you try them on. Do not accept the salesperson's, "Once you break them in they will be fine." The man-made materials used today do not stretch significantly, but leather adapts to your foot shape quite well.
8. When shopping, wear the same type of sock you will use with the dress or sports shoes. Too heavy or too thin socks will distort the fit.
Shoe Care Tips

If you want to extend the life of your shoes, a professional shoe shine is worth much more than what you pay for it.
If you're after a winner's style and you've invested good money in your shoes, it's really unbecoming to be shy about a professional shine.
If you're nervous about getting a professional shine for the first time, take it from me, the men shining shoes in hotels, airports, train stations or street corners are some of the friendliest people I've ever met. From the minute you sit down in the chair they will take care of everything with gentle, knowing taps or touches. Just be friendly and enjoy the experience.
If you're the do-it-yourself type, here's a great how to video that I've found by a mustachioed Englishman: [youtube=http://www.youtube.com/watch?v=IeScJ_Hemno]
The Value of Shoe Trees
The average man produces up to a half pint of perspiration per day and most of it is absorbed by the leather lining and uppers of the shoe. Shoe trees draw the moisture away from the leather allowing them to dry more efficiently and to retain their shape. Also, by discouraging bacterial build-up, shoe odor is kept in check.
Many experts claim that the average man would double the life of his favorite pair of shoes by simply putting a pair of shoe trees into them as soon as he took them off at the end of the day.
Shoe Shopping Tips
For the best fit and selection, go to specialty dress shoe stores.
For the best deals, visit department stores, wholesalers, and outlet malls. Don't shy away from buying shoes on clearance, either. The only thing these shoes are usually guilty of is being a season or two "out of style." But honestly, when you get out on the street, nobody can tell the difference between a 2005 Kenneth Cole oxford and a 2007 Kenneth Cole oxford.
If you are going to buy shoes online, a good trick is to try on the same pair in a store to ensure a comfortable fit, and then go online for the best deal. But if you have previous experience with a particular brand, then ther's no need to worry about purchasing shoes online without trying the on first. IN any case, most reputable online retailers offer full refunds.
Visit shoe stores on Sunday mornings, or late on weeknights. Chances are you will be the only customer in the store, and the sales-person will be able to concentrate on you. The result? Knowledgeable, one-on-one service.
Conclusion
The next time you put on your pair of dress shoes to go out, take a good look at what you're wearing. Are they a quality pair of shoes? Is it fit for the occasion? Is it scuffed up? Does it need repairing or shining? Is it out of style? (Boxy, square shoes look good on nobody)
Your shoes will make or break any look. Next time, give the attention to your shoes first, before anything else.
In your opinion, how important are shoes to a look? Share with us in the comments!
If you liked this article, please share it on digg or give it a thumbs up on Stumbleupon! Thanks!
Everything about shoes and much more…