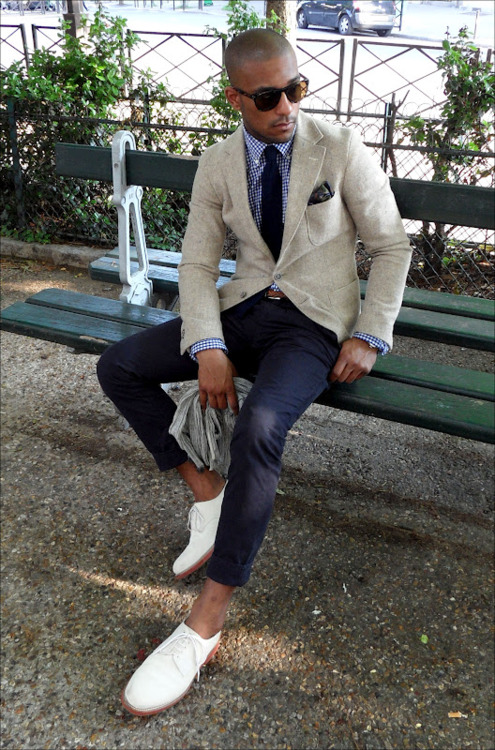 What you'll need to put together a similar look: 
1. Smith Optics Gibson Havana Sunglasses
2. Polo Ralph Lauren Custom Fit Sport Shirt
4. Ted Baker London Linen Blazer
or ASOS Slim Fit Linen Suit Jacket
5. Zara Smocked Trousers
6. Johnston & Murphy White Nubuck
Breakdown: 
This smart outfit is a must-have for lovers of classic menswear.
If you're the type of guy who normally loves to dress up in a tie and blazer – you'll feel extra confident in this ensemble. Rock it on a hot date, a dinner party, or a hip lounge – and prepare yourself for some serious attention.
Sunglasses are important here, to give you that fashion-forward touch rather than looking overdressed. The smooth tortoise shell frame and brown lenses will balance out the vibe of your structured blazer.
The gingham button-down shirt is one of the most versatile patterns you can own. It's a great choice for any event – from barbecues to a formal dinner. Go with a more casual button-down collar and add a black knit tie (which blends well with the rest of your casual yet classy outfit).
As a side note: If this feels "too dressed up" for most settings you'll find yourself in, you can simply omit the extra accessories (i.e. the pocket square, tie) and adjust to your liking.
With the blazer, make sure to get yourself one in linen. Linen is a very breathable fabric, and will help you stay cool in the summer heat.
The trousers here are unique. Make sure to get a pair that fits as well as the rest of your outfit. It's recommended that you get your trousers cropped higher, or to cuff them, so to show off your sockless ankles. This is done not only to showcase your white Nubucks, but to keep your outfit from looking "all business" to fashionably relaxed.
Lastly, these pieces are lasting investments that you can wear in countless other combinations, so have fun with them! For example, if it's too hot for pants, switch them out for shorts and you're good to go.
Think you can pull this off? Share your thoughts with us below.
Found this article helpful? Please share it on Facebook, or RT on twitter. Also, become our friend and chat with us on facebook and twitter!