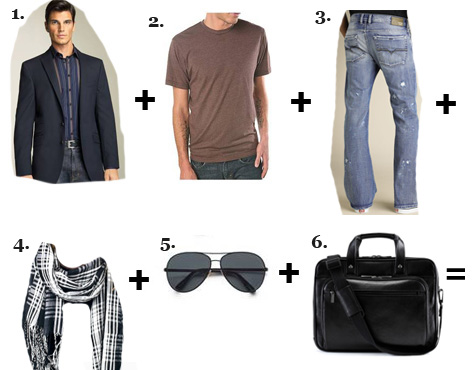 Kinowear Lookbook: #1
Weekly style inspiration posts!
A lot of guys loved the last style inspiration article, so we decided to do a continuing series of these.  Since one of the most effective ways to develop your style is to model the best, the Kinowear team will work to bring you some of the most stylish (and practical) looks from around the web (and the streets).
We'll also take it a step further by breaking down the look and analyzing the message it conveys. This way, if you think it vibes with your personality, you can easily take it, revise it, and make it your own.
Alright, let's get to it.
Look #1
This is a practical, yet head-turning look that you can easily put together to stand out in any casual setting: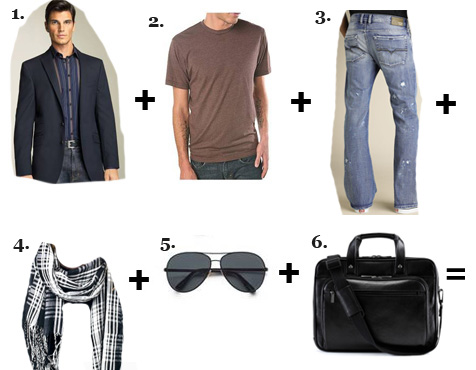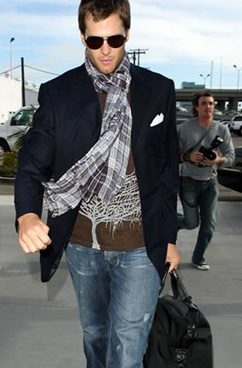 Here's what you'll need to replicate this look:
1. Well-fitting navy dress blazer
2. Brown t-shirt
3. Light blue distressed jeans
4. Black and white plaid scarf
5. Black brief bag
Additional pieces:
8. Brown Chelsea boots

First impression: 
This guy is making big moves. Perhaps he's returning from a commercial shoot, heading to meet his gorgeous girlfriend for an early dinner date.
The breakdown: 
What I love about this look is that it's something very practical that any guy could feel confident wearing. It's perfectly balanced in both dressy and casual pieces, making it adaptable to any occasion (e.g., a casual business lunch, or a hot date).
The navy dress blazer is the most commanding piece of this outfit. Its tailored fit carries with it the presence of a successful man, and the pocket square is an elegant touch of extra poise —  something that only a polished man would wear.
The brown t-shirt complements the model's hair color and lets the blazer shine against the muted backdrop. This balances out his look to give him a less formal feel and reveals his laid-back side.
His light blue distressed jeans confirm this care-free attitude, and the weathered signs seem to speak of a man who doesn't care to get roughed up at times. This casually loaded piece blends very well with his dressy blazer. The blazer displays his high stature, while his jeans are humbling.
The fact that his black and white plaid scarf is neutral in color prevents it from clashing with any part of the outfit, but complements it with its eye-catching pattern.
The aviator sunglasses give power to his face and draws intrigue from onlookers.
The black brief bag makes him look like he's got business to attend to but wherever he's going it's not a long stay. The way he carries his bag instead of strapping over his shoulder means where he's going is close, and not a long trip.
Extra Tips:
The picture doesn't show a pair of shoes, but if you were to replicate this look I recommend wearing a pair of brown Chelsea boots to match the color of the t-shirt and to really complete the outfit. Chelsea boots are great because it can be worn to the office and cross over into any casual setting. Plus it just looks damn cool. You could wear a stylish pair of sneakers with this outfit, but a blazer always looks more coherent with dressier shoes.
Also, most guys can't imagine wearing a pocket square, but it's a great way to set yourself apart from all the other men wearing blazers out there. Try it one day — It'll boost your confidence and get noticed.
Hopefully this look has been both informative and inspirational! Your opinion will matter in whether we'll keep these articles up so please share your thoughts in the comments!