A lot of guys think they need a lot of money to own a wardrobe that turns heads, but you'd be surprised to find that a lot of stylish guys out there don't spend that much.
By shopping smart you could look just as good, if not better, than the guy wearing expensive labels from head to toe.
Don't get me wrong, most of the time you get what you pay for — but the common person can't tell whether you're wearing a $300 cashmere sweater or a $90 one. As long as you know how to pick out a $90 one that could pass for $300.
Unless you hang around people who really know fashion, it's unnecessary to spend this much except for your own pleasure.
In this article, I want to talk about how you can look designer, at the fraction of the costs.
Think in Outfits
If you want to create killer outfits than you have to be a smart shopper, and a smart shopper will always think in outfits. Before you buy something, you should always ask yourself, "What can I wear with this?"
Our natural inclination is to judge a piece by itself. Too many times I'll find a client's closet full of busy pieces — so much that any possible outfit combination would look a mess.
If you come across a solid colored shirt, imagine how it would balance well with your patterned blazer or your leather jacket with all the pockets and zippers. Or if you find a dress shirt with patterns on it, the next piece you would need is something that would compliment it instead of clash with it, like a simple jacket.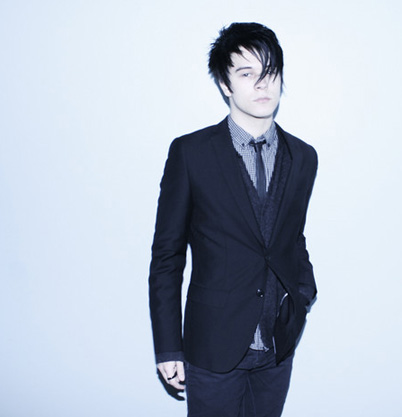 Here's a look from lookbook.nu of a guy wearing a blazer and shirt from H&M, a cardigan from Tiger of Sweden, "drkshdw" coated jeans from rick owens, and a vintage leather skinny tie. Everything is fairly cheap from these places except for the jeans – which you could probably find on sale online. Regardless, it's clear that it doesn't take a lot of money to put together an outfit like this.
Don't judge a single garment by how much it costs, but more on how it will look in combination with other pieces.
Which girl is more attractive to you?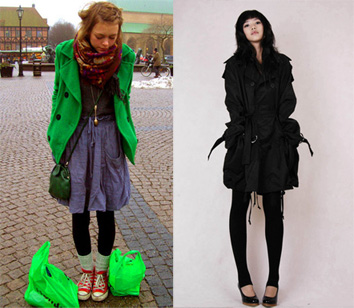 Quality Wins Every Time
Both of these women could have very well spent the same amount of money on their respective outfits. Except the one on the right looks like she does better for herself than the other.
I think both of these women are attractive in their own way, and I like both of their styles. But both of these looks can be achieved without spending a lot of money. Especially the girl on the left. So if nobody can tell, why spend?
When it comes to attractiveness, no matter who you are, the majority of our modern society will judge you on money, status, and how well-dressed and groomed you are.  The better you fair in these areas, the more influence you have. This doesn't mean you have to dress up like a wealthy businessman to be highly attractive. You may like wearing skinny jeans and a t-shirt, or a sweater with slacks — whatever you wear, the key is that the pieces should look high quality.
The good news is that they don't have to cost you a lot of money. The trick is to find inexpensive pieces that look just as good as the expensive pieces.
1. Find the best fit you can, and then get the details tailored

I've said this about a hundred times and I'm sure I'll say it a hundred times more: FIT IS KING.
By now, you should know that nothing will more "money" than a great fit. Keep this in mind when shopping, first and foremost. Rarely will you find anything that fits perfectly off the rack, so buy the best fit that you can find, and then get it tailored. It's smarter to get a cheaper piece tailored to fit you perfectly than get a fancy piece that's mediocre in fit.
2. Try a dark pair of raw jeans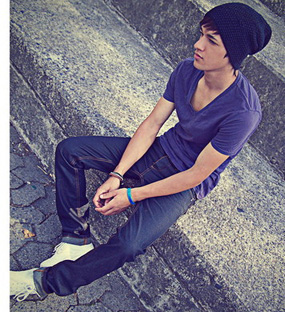 Avoid the distressed jeans and go for a solid pair like raw denim. Crazy back pocket graphics are now out of style — so keep it simple.
So why darker jeans? Generally darker jeans look more classy and higher quality than most light-colored jeans – especially ones with no wash like raw denim. Most of the time, jeans that are machine washed and given that faded look come out cheesy and looking cheap. When in doubt, go for a solid pair of jeans.
I'm not saying you should go buy the cheapest pair of dark jeans out there. Jeans are something that guys wear almost everyday, so you should definitely invest in a quality pair for great comfort and fit. But hunt around and you could find a pair that look just as good as a designer pair for less.
3. Check the details, such as the buttons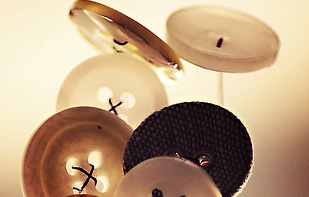 The quality of all your clothing is spoken through the details. Hard plastic is the most common material for buttons nowadays, and natural materials such as bone, ivory, or shell are used in premium apparel.
When buying a shirt or a jacket, check if the buttons looks cheap. Do they look thin and brittle? Sometimes buttons will be poorly sewn on and look like they're going to fall off at any moment.
For button down shirts, try too look for strong buttons that look have a shine to them like mother of pearl or that resemble the natural materials. A simple detail to make a shirt look more "designer." 
4. Examine the stitching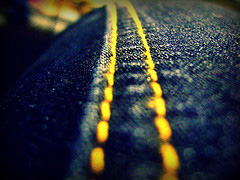 The stitching is another detail that reveals signs of quality. The stitching should be uniform and even throughout the garment. If stitches have been dropped, then the quality of work done is very poor. You should definitely not see threads hanging out where the seams are – it should be clean and unnoticeable.
5. Choose your fabric with care

A lot of clothing makers will copy the popular trends of the runway. For example, in a high-end designer store you may see a lot of patent leather clothing. You'll see patent leather jackets, patent leather shoes, etc. Even if you bought these type of shoes for way less at a cheaper store, the common person won't be able to perceive the difference.
So before you buy a shirt or a pair of jeans, ask yourself, "If I saw this on someone else, would I think it was cheap or expensive?"
Some people buy very expensive pieces but they look horrible – nobody would know they spent a lot of money on it. Others look great, and it seems like everything they have on is high quality; but the truth is they didn't spend a lot of money at all.
6. Infuse some color into your outfits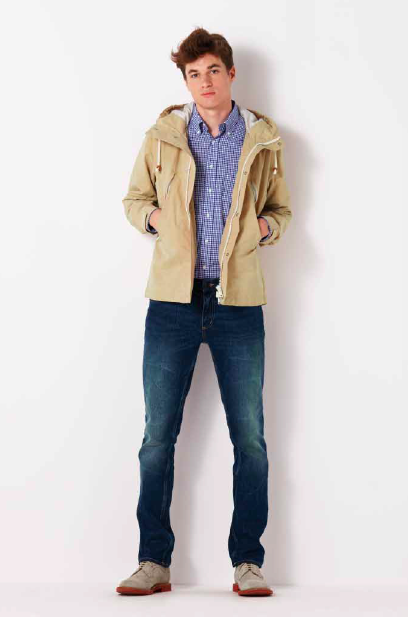 Few things make you look more confident than picking clothes with color. Either go for bold colors such as red and purple, or subtle colors such as pastel blue or icy pink.
Pink is a color that is flattering on all skin types, yet so many men avoid it. Everyone is wearing black, gray, white, and blue — so why not stand out with that pink shirt underneath your blazer with confidence?
Another thing you should do is to find out what colors are best for your skin type. Many guys walk around wearing all the wrong colors for them, and they don't know how much of a difference it would make in their appearance if they wore the right ones.
There are colors that generally work for light, medium, and dark-skinned people, but I highly recommend getting a color analysis done to find what your best colors are according to your specific hair color, eye color, and skin tone.
7. Add the right accessories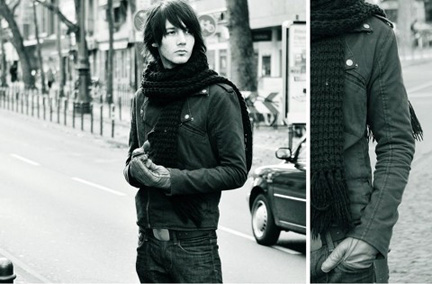 The right accents to your outfit will really take it to a higher level. For example, you could buy a fairly inexpensive french cuff shirt and add a snazzy pair of cuff links, and the shirt will look a lot more expensive than it is.
Or add a skinny tie and a knit scarf to any outfit and it'll give it more class.
8. Patterns make things more interesting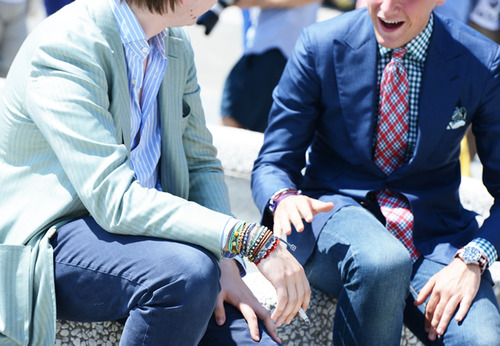 Most designer shirts have small patterns on them. The guys who usually purchase these type of shirts are either gay, or really confident. If you wear a shirt like this, you'll get a lot of compliments. Even if it's not an expensive shirt people it'll look a lot more stylish than a solid shirt.
9. Your outfit is only as good as your weakest link
The quality of your outfit is affected by the piece that looks the worst. Notice I didn't say "cheapest" but "looks the worst." You could be wearing a great pair of shoes, jeans, and shirt, but then wear a cap that cheapens the entire outfit.
10. Spend on the most important pieces, save on the rest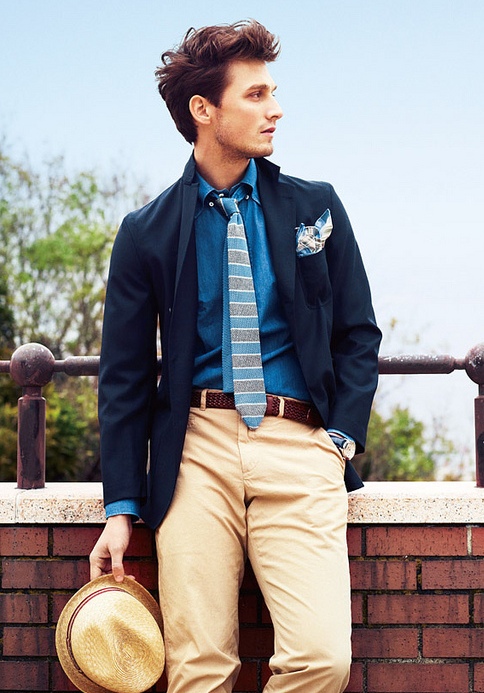 You should at least have one really nice part of your outfit that is the main attraction of your outfit. For example it may have been those really nice shoes you splurged on for your birthday, or that designer pair of jeans that your girlfriend bought you.
Or you may have found a jacket that you couldn't pass on – so you decided to buy that while saving money on everything else. Just make sure that if you're going to splurge on a pricey and really nice piece that it covers a big part of your body, and it's not an accessory that nobody will notice. For example, splurge on a jacket or a pair of pants first before you splurge on a watch!
Conclusion
In conclusion, remember that to be your most attractive self you don't have to look "wealthy," but what you wear should look quality. When shopping, don't just go for the most expensive individual pieces, but think in outfits and think about how a cheaper item may be mixed with other items to create a quality outfit combination.
Want a stylist to help you take your style to the next level? E-mail [email protected] now for a free phone call and to inquire about our consulting services.
Enjoyed this article? Get weekly articles on style development delivered straight to you by subscribing below :