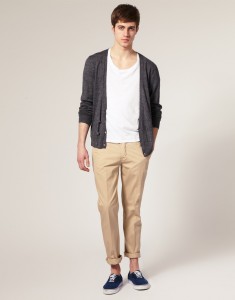 For most of the world, summer is now here in full swing.
Most guys use summer as a time to "relax" with their style and opt for less formal, less flattering clothing.
(Perfect time for you to dress properly and stand out!)
So let's cover one of the easiest ways to upgrade your style this summer…
Chino pants.
Mens chinos are light (very important, given the current temperatures), supple, ultra-comfy and, for the little effort that has gone into the cut, really elegant. You can also buy chino pants as well as chino shorts, which gives you extra outfit combinations.
They're a solid alternative to jeans, allowing you to keep a masculine look without making you sweat enough to fill an aquarium.
Another thing I personally LOVE about them?
They weren't created just for style. They were created with practical use in mind, too.
The History Of Chinos (And Why They're Different Than Jeans)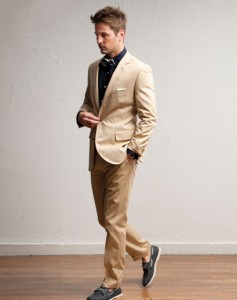 Jeans were tough trousers, created in the harsh West American climate and designed to stand up to the rubbing of cowboys' thighs against the sides of their horses as well as grains of sand and dust. It was an item of clothing that made it possible to maintain the same body temperature whether it was hot or cold.
Chinos originate in India around the same time jeans were invented and for almost the same reasons: to provide an item of clothing adapted to the local climate for the English soldiers posted in Punjabi who weren't used to the Indian temperatures.
Originally called khaki due to their sandy color, they became chinos when they were exported by Americans during the Korean war when Asian immigrants moved in their masses to the USA wearing trousers they had inherited from the GIs.
Today, with particular thanks to Ralph Lauren and brands like Dockers, these trousers have become the symbol of all things preppy. While they symbolize the superior American who frequents Ivy League schools during the week and his yacht club at the weekend, jeans are the symbol of the rocker.
At least the was the original symbolize created.
Somewhere along the line, jeans became associated with the 'cool dude' whereas students in chinos were relegated to hiding behind their round shades and sociology books for the whole of the latter half of the 20th century.
Then they regained their former glory when designers like Dries Van Noten and Stella McCartney put them back on trend on their models for the season Spring-Summer 2010. In the crowds they can be spotted just about anywhere, worn by celebs from Jennifer Aniston to Johnny Depp (who, at heart, never stopped being one of their biggest fans).
More recently, one of my all-time favorites actors, Leonardo di Caprio has even taken a liking to them.
Wearing Well-Cut Chinos Like A Boss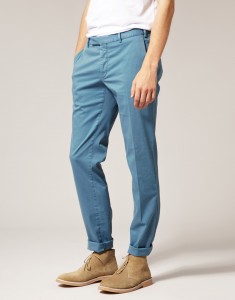 Chinos are making a huge comeback and that's in all collections by all brands, from the most preppy like Dockers or APC to the most rock like Surface to Air and Acne.
They can be worn rolled up, with a pair of desert boots for the rockers amongst you or with espadrilles or low-rise sneakers for the wise guys out there.
I love them because they're versatile and allow you to craft your own unique look.
It's actually pretty easy to look good in chino pants (or chino shorts).
Just follow these steps…
Choose a pair that fits naturally around your waist
Make sure they're not too tight around your ass
They should be a little long if they're seamless (if you roll them up once, they should be just touching your shoe. See pictures.)
Unlike most other pants, they can and should be worn a little baggy in summer. Your "package" will thank you 🙂
How To Choose Your Chinos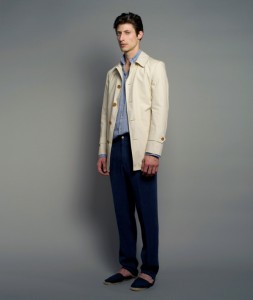 Choosing your Chinos is actually fairly easy compared to other pieces of clothing. In the Kinowear Bible we discuss what pieces to focus your money on, and what things don't require as much attention.
Chinos are one of those pieces that you can get away with slightly lower quality, if you're on a budget and looking for the best place to spend your money.
(Please note that this does NOT mean you should buy the cheapest available. It simply means you can allocate more funds to other, more important items.)
That said, here are a few great choices you can find on from a variety of locations…
How Will You Wear Your Chinos?
I'd love to hear what kind of outfits you're thinking of putting together.
I'm sure everyone would love to hear about your favorite outfit you're putting together with your chinos. They're very flexible and can be used for both formal and informal occasions.
Leave your thoughts below and let us know what you're planning!