If you've ever enjoyed a refreshing craft beer you know how life-altering the right can be, especially if you find the right one that makes your taste buds sing. But have you ever tried cigar pairing?
If you've never smoked a top-notch stogie with a pint of your favorite microbrew you're in for a real treat.
Here's the cool part, you need to know your way around a Maduro or a chilled porter.
In fact, you don't have to be a cigar or beer fanatic to enjoy this luxurious combination of relaxation.
See, since 'backyard' brewing has come on the scene, cigars aren't just for whiskey anymore.
So you ready to kick up your leisure several notches?
Let's get you on the right path to enjoying a good smoke…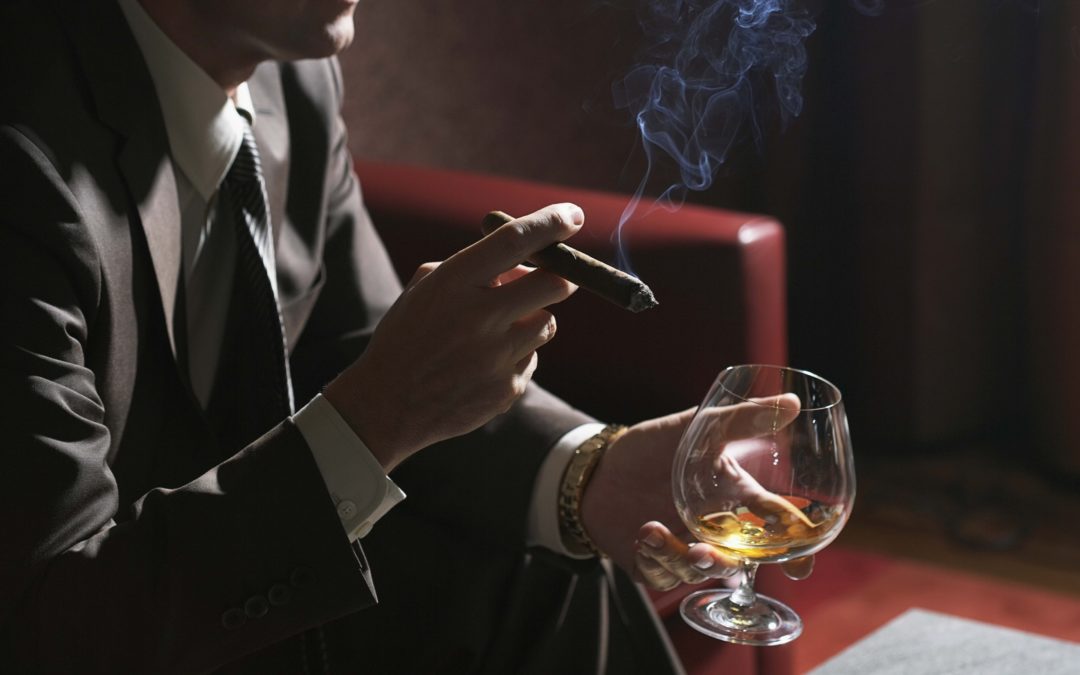 For Beginners: 
If you've ever lit up a tall, dark stogie and took a long hard draw you know the effect can be intoxicating. But if you're new to the game there are a few rules to the game you must know if you want to want to enjoy your smoke time instead of feeling sick.
Here are a few pointers to help you choose the right cigar:
The width of the cigar usually affects smoke flavor. So if you toke on a skinnier cigar you're going to get a more intense flavor, while smoke from a fat, stubby Maduro will give you a milder more flavor filled experience.
Most of a cigar's flavor is stored in its leafy wrapper. So it's a common practice to match the color of you stogie to the color of your glass of suds. So a claro would probably be the perfect partner to a nice wheat ale.
The cigar will also probably start to taste different the longer you smoke it. In fact, cigars are usually reviewed in three parts, with a beginning, middle, and end.
Remember you don't have to get the most expensive stick for a pleasurable experience. If you're sure what to buy, head to your local smoke shop and have the owner walk you through some of his medium or beginner cigars.
If all else fail… Get a mild sampler pack!
First Time Smoking Mistakes: 
If you've ever inhaled a huge puff of cigar smoke deep into your lungs you know how fast it can make you feel queasy. This section will help you avoid embarrassing yourself.
You're not smoking a cigarette. Enough said
What's the Hurry? Cigars were made to be pleasurable so take your time. Find a comfortable chair and plan on spending up to an hour or more smoking your stogie. Also when you puff too fast, the ends will start to burn too hot and if you're not careful you'll ruin the entire experience.
Don't smoke too slowly either. If you let your cigar burn out and you have to relight, more than likely the taste won't be the same. But if your cigar does go out, just relight. You'll figure out the right balance of puff and pause.
For Pete's sake DON'T INHALE! Cigar smoke can make you loopy and cause you to get sick. Trust me I know.You want to savor the flavor and aroma through your mouth and nose. So take a smooth puff, swish it around in your mouth, then gently blow it out.
So now that you know a few of the basics to enjoy a good cigar it's time to talk about how to properly add the right beer to the mix.
The Trick To Pairing:
Most guys think they can light up any ol' stick and crack the top on miller lite and have the experience of a lifetime. But I gotta tell you that ain't gonna happen if you don't match the right cigar with the right draft.These tips will help you get maximum flavor out of both.
Don't let your cigar stomp out the sensitivity of your taste buds. Lighter beers can hide delicious undertones and delicate notes, but if you smoke up a dark cigar you'll miss'em.
New Cigar? If you're unfamiliar with cigar the rule of thumb is to go with a lighter beer. Once you "get" the cigar then you can experiment with different beers until you get the tasted honed to perfection.
Match intensity – most of the time you'll be smoking a full-bodied cigar with a darker beer like a frothy Guinness. Or you'll be sipping on a Pale ale while you savor a mellow Robusto.
Ask for recommendations – ask friends and other cigar enthusiasts for their favorite beer and cigar combinations. You might be surprised what you dig up.
Keep a stash of "beginner cigars" on hand as your go-to beer drinking cigars. Stick to a pack of milds. In fact, sample packs would work great and they fit any budget.
Clean that Palate… you're going to be blown away by how much more sophisticated everything will taste once you're not masking the flavor. Every sip and every puff will taste like an orchestra of flavor. Here are a few recommendations – water, cheese, unsalted crackers (club crackers work too), lemon sorbet, cucumbers, and avoid spicy food, when all else fails do what works for you.
Forget all the rules! Look it's super easy to fall into the category of "I'm a Pale Drinker" or "I'm a Full-bodied cigar smoker." Don't be the snotty connoisseur!
Now that you've got a good idea of how to mate a good smoke with good beer, it's time to learn the intricacies of enjoying the full range of flavor a cigar can offer.
How A Pro Savors His Stogie…
There are 3 parts to a cigar that gives each one it's unique flavor. In fact, in most magazines, you'll see reviews talking about smell, taste and finish. To get to the top of the game you MUST learn to master these 3 tools if you want to experience everything a cigar can offer.
Let's get started…
Tongue (taste) – here's the 5 distinct flavors.

Bitter – Can also include coffee, citrus, and chocolate.
Sour – You probably won't find a cigar in this category.
Sweet – Usually felt on the tip of the tongue, but hard to find when smoking a cigar.
Salty – This is why Cuban cigars are so famous. The ground contains high concentrations of Lithium which activates a salty taste.
Umami – this means meaty or savory. Usually found in cheese and meat.
Smell – this is how you SMOKE a cigar. All the experts agree the key to a pleasurable smoke is to teach yourself how to exhale smoke through your nose. This is how you unlock all the complexity and fascinating flavors.
Finish or Aftertaste – this is the lingering flavor that stays in your mouth after you've exhaled your last puff of smoke. In a great cigar, you'll enjoy a pleasurable taste which can taste like coffee, cocoa, and even licorice.
How to light a cigar:
Cigar Etiquette (How not to look like a rookie):
Always ask for permission BEFORE lighting up.
Always bring enough to share – A proper gentleman just opens his case and lets the other party choose his own stick.
Never light another man's cigar!
Never ask for a light!
Know when to remove the band – Don't tear it off like a savage. If your cigar is more expensive than those around you, remove it. If others smokers remove their band, remove yours. To properly remove the band, let the cigar heat up the glue for roughly one minute then gently ease it off.
Always hold between thumb and index finger. Not between the index and middle finger like you would a cigarette.
Never chew on your cigar!
Only smoke when relaxing. You can walk and smoke, but most people like to find a comfortable chair and just enjoy their smoke.
Take your time, remember it's a leisure activity.
Don't chain smoke your cigars. Wait at least 30 minutes between cigars.
Don't crush your cigar in the ashtray!
How to train your palate:
Become familiar with the various tastes you'll find in beers. To help you get started check out this video from Gary V, he teaches you how to "taste test" flavors so you know what to look for. Enjoy.
Don't drink and taste – Yes, your tongue can become intoxicated. So if you're sipping on a $10 IPA don't waste its aroma on a buzz.
Drink two different beers at the same time. Look for the subtle difference in flavor and the way your taste buds react to each one.
If you're stuck and need somewhere to start, here's a few pairing you might want to consider:
Beer: Chai-spiced Imperial Russian Stout

Cigar: La Flor Dominicana Double Ligero Digger
Cigar: Padron Aniversario
Cigar: Illusione MJ12 Maduro

Beer: Sierra Nevada Porter – Cigar: Rocky Patel Vintage 1990
Beer: Rouge Shakespeare Stout – Cigar: Ashton VSG Sorcerer
Beer: Leffe Blonde Ale – Cigar: Romeo y Julieta Reserve Maduro
Beer: Great Divide Titan IPA – Cigar: Don Pepin Garcia Black Label 1979
Beer: Firestone Walker Union Jack IPA – Cigar: Camacho Criollo Robusto
Beer: Dogfish Head 90 Minute Imperial IPA – Cigar: Rocky Patel Fusion Churchill
Beer: Rogue HazelNut Brown Nectar – Cigar: Romeo y Julieta Havoc Fat Churchill
Beer: Samuel Smith's Nut Brown Ale – Cigar: Oliva Serie G Toro
Beer: Affligem's Blonde Ale – Cigar: Perdomo Reserve Champagne Figurado
Beer: Cali-Belgique from Stone Brewing – Cigar: H. Upmann Legacy Toro.
Beer: Allagash Brewing Company's Dubbel Reserve – Cigar: Oliva Serie V Melanio Torpedo
Beer: Ballast Point Dead Ringer Oktoberfest – Cigar: Camacho Ecuador Robusto
Beer: Ayinger Celebrator Doppelbock – Cigar: Kristoff Ligero Criollo Torpedo
Beer: Drew Estate's Smoking Monk Hefeweizen/ 5 Vegas Gold with a German-style Hefeweizen – Cigar: Macanudo Café Baron de Rothschild
Beer: Deschutes Black Butte Porter – Cigar: Perdomo Lot 23 Maduro
Beer: Meantime Porter – Cigar: Partagas Black Label Pyramid
Beer: North Coast Old Rasputin Imperial Stout – Cigar: Undercrown Double Corona
Beer: Guinness Draught/Smithwicks Ale – Cigar: Joya de Nicaragua Cabinetta No. 4
If you're the type of guy who can't still long enough to enjoy a good smoke, adding a craft beer (or two) might be one thing you've been missing. It definitely helps me slow down and become much more reflective.
And finally, just enjoy yourself.
After all, isn't that want life is all about?
So raise your glass and let's toast…  here's to a good life, a good stogie, a great beer!