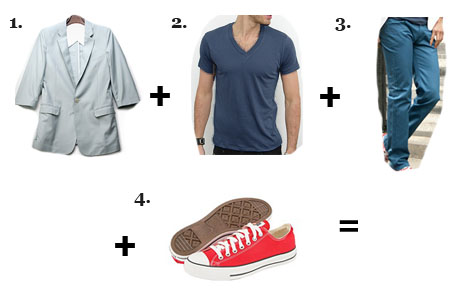 Kinowear Lookbook: #14

What you'll need to put together this look:
1. White blazer
3. Blue pants
4. Red converse Chuck Taylors
First impression:
Double-take status. Makes me curious about who he is.
The breakdown:
Parts of this outfit instantly stand out, but it's perfectly balanced and not over the top. If you master "balancing" your outfit, you can wear anything in almost any setting.
To key to always looking your best is to think about where you're going to be, and aim to dress one notch above every other guy there.
The goal is not to overdress or underdress, yet still look the best, so "one notch above everyone else" is the perfect place to be.
The easiest way to always hit this mark is by mixing dressy pieces with the casual, until you feel like you're going to be a notch above the rest.
This particular look is perfect for a day spent in a fashionable city. My favorite part of this outfit is the white blazer. Personally, I love to make a blazer more casual by pushing the sleeves up.
The blazer is the dressiest piece of this outfit, so you can balance the outfit with a casual deep v-neck tee, like the one shown above. The deeper v-neck reveals more skin which adds some sensuality – perfect for an evening date or a night at the bar.
Khaki chinos here would be a bit dressy (we already have the dressy blazer), and jeans would be the obvious choice, so why not try something that will really get noticed? Try a pair of blue chinos – it has the casual look of jeans yet is very fashion-forward.
Now that we have another semi-dressy piece, you can dress it down with a pair of sneakers. The red converses here really add that final punch and really shows the bold personality of the wearer.
So the key is to keep mixing (or "balancing") dressy pieces with the casual until you're one notch above what may be normal for the setting you're going to be in. Is the look too much for where you're going? Then switch out the pants for jeans or the red shoes for something more tame.
Share your ratings and thoughts on the outfit below!
[ratings]