Ba-bup-ba-bup. Your pulse is racing. You can hear your heartbeat in your throat. A million thoughts race through your head: What is the meaning of life? Wow, gas went up three cents today. How long could I hold my breath if I absolutely needed to burp? Forget all of that. This is more important… it's Date Night.
Let's back up a bit.
Our diagnosis concludes that your elevated heartbeat is most likely because of a lack of preparation for your date. Fear not, we are here to help you. We know, we know, if your name is Rico Suave, champion of the dating scene, you need not read further. But just humour us.
Before you continue to read on, you must understand this is not a guide to dating. This is a style guide illustrating the art of gentlemen's clothing, with the purpose of maximizing your appearance. We do not tell you how to talk to your date or if you should hold hands after dinner. That comes from confidence and unfortunately, they do not sell confidence in packs of twelve at Costco. Thus, the next best thing we can do is to teach you how to dress well and with that, rest assured you are in good hands. Soon your confidence will come from realizing how damn good looking you can be. Follow our advice and your date will have trouble keeping their eyes on the menu. Tonight's dinner special: You.
As your quartermaster, we have assembled four style templates from which you will fashion your evening outfit. A dress code may be determined by the establishment that you will be dining in, so if you show up at a five-star establishment with jeans and a leather vest, forget even making it past the valet. Ensure that your preferred dress style suits the restaurant and if not, adjust accordingly. You want to blend in as much as you want to stand out.
Ensemble 1: Skinny Jeans and Kale Smoothies
Opening Line…
"How bad do I want to be mistaken for Ryan Gosling in public? Real bad."
Hipsters have unofficially adopted the style of patterned shirts and slim pants as their own, but you can rock the style even if you aren't vegan or boogie down to indie music.
In order to avoid hipster backlash, we have stayed mainstream and dubbed this look as new-age preppy: A refreshing take on 60s men's casual wear, it's a trimmer version of something Don Draper would wear to a Saturday afternoon barbeque.
Stimulate the senses by bringing some patterned shirts into the mix, including an assortment of plaid, checkered, flannel, and the Hail Mary of patterns: Spotted. Avoid vertical stripes as they exude too much of a business aura. Relax. You're on a date!
Either dark-wash jeans or khakis would be a reliable choice in order to balance whatever colour your shirt would be. Based on your personal preference, you can opt for a slim fit or rolled-up cuff at the bottom of the pant leg for a tidier look.
Footwear should be something leather whether they are Desert boots (I'm going on an adventure!) or Oxfords Wingtips (dress shoes with attitude).
Socks are optional and going Team Barefoot will draw more attention to your footwear but beware as your feet and shoes will stink afterwards. Tip: Put some dryer sheets in the shoes after you take them off to soak up some stench. If you do go Team Socks, go with either a solid colour or simple patterns. That means no ducks or smiley faces, as fun as they are.
Craving a hint of international flair? Add a dash of British sophistication with a bow-tie and Wingtip Brogues. Layer on a cashmere cardigan and wrap it up with a cigar-brown belt. The cherry on top? Pack a punch with a steel chronograph watch for that Brit-cool charisma.
Perhaps some Parisian elegance? Swap the bow-tie for a patterned cashmere scarf and the Wingtips for a sleek pair of cap-toed Oxfords. Make sure something in your outfit is navy blue, because France. And now, la piece de resistance: A rose-gold, leather band watch. Don't forget your baguette on the way out.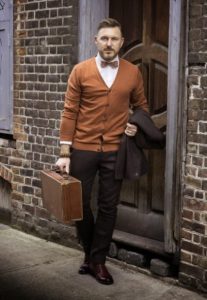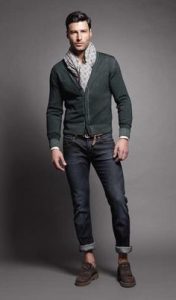 Ensemble 2: Fifty Shades of Black
Opening Line…
"I am justice. I am the night. I am Batman"
More of a colour scheme that an outfit template, the goal is to ace a sober, no-nonsense look with the easiest colour to master: Black. Simple is sexy, my friends.
A one-colour look featuring black will require some gray tonal accessories to have both colours playing off each other. Use slight variations of the alternate colour's shades as you may risk a uniform look if you match everything too perfectly.
Don't be afraid if you may seem unapproachable with all the dark clothing, as people will notice that the pieces of your outfit are intentionally put well together to make a fashion statement.
We would recommend staying away from "formalizing" this outfit too much (i.e. ties, bow-ties, waistcoats, etc.) as all-black formal wear is reserved for either funerals or The Matrix marathons. If you do decide to go blackout formal and someone says "I'm sorry for your loss", just reply with "Yeah, last poker night was real rough".
So you want to dress nice in black but avoid looking like a hitman? Smart casual is your best friend. A versatile template with a lot of wiggle room in terms of options, it's a perfect match for a robust colour such as black.
With this many dark colours, don't be mistaken for a Goth by keeping everything else tidy. Maintain a clean, styled head of hair and tailored clothes so you don't look like you just woke up for grunge band practice.
Spoil your inner military brat and sub in a leather jacket with tattered, acid-wash jeans for a badass look. When we say tattered, we mean a few holes around the knee and lower thighs. Not "Hmm, I do need a new chew toy for my pit bull…" Make sure, for the love of God, no holes within three inches of your nether-regions. One hamstring stretch and you just bought yourself a ticket to the public indecency show. Finish off the rebel look with the only thing you can: Army boots. Blackout.
No need to stay with just black as well. Try different colours and as a real challenge, mix in as many shades of the one colour as possible (Let's cap it at six shades. Don't want to be mistaken for an interior decorating book).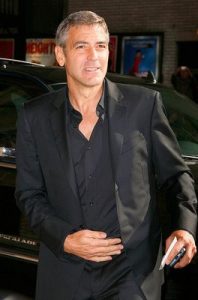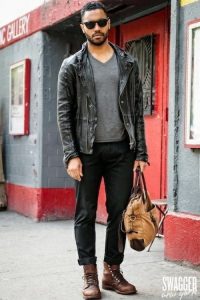 Ensemble 3: The After-Hours Businessman
Opening line…
"Would you like a tour of my yacht or my mansion first?"
Essentially a three-piece suit minus the blazer, contestant number three enters the fashion arena with a "less is more" approach.
A suit is a welcome addition to any dinner table, but you should hang the blazer on your chair as it prevents you from looking all business. Plus, it can be your ace in the hole if your date gets a bit chilly on the way home.
The transition from business to a more approachable appearance is more than just taking off your blazer. All the optional accessories are now necessary, most importantly the waistcoat. Commonly left as an afterthought, it suddenly becomes the main attraction. Traditionalists will claim that a waistcoat without a blazer looks incomplete. A fair point, but one that can be disproven with the proper accessories. Time for the bench players to become superstars.
o The waistcoat should hug the torso and the two bottom peaks should be just covering your waist. Aim to pair a patterned shirt with a solid tie or even a subtle patterned tie with a banker shirt (coloured/striped shirt with a white contrast collar). Don't be intimidated by the name, they had to settle for "banker" because they couldn't publicly state "like a boss".
o Although your waistcoat will keep your from diving into food, you will also need a tie bar to anchor the ship. Think of the vest as the zipper on a pair of jeans and a tie bar as the top button. Unless you just finished going to town at all-you-can-eat ribs, neither the button on your jeans or your tie bar should be undone.
o A sleek-faced leather-strap watch oozes class in a way that nothing else in your outfit will. Roll up your shirt sleeves to let your wristwear really stand out. Plus, this will leave your arms free to catch your date when you sweep them off their feet.
Some will call "foul!" due to a perceived lack of effort in your outfit preparation. Well son, it ain't cheating if it looks good. Tell your date you haven't changed since work because you want to spend as much time with them as possible. Smooth.
"Why can't I just wear a shirt and tie?" I don't know, why can't you have your anniversary dinner at McDonalds? Because there are better options. A shirt and tie is truly the no-man's land of fashion, the epitome of half-assing your appearance. Sure, if you're at work and need to loosen up in order to focus, strip down to the essentials: Dress shirt and pants. Yes, you must keep your pants on. But you aren't at work, so there's no excuse to not look sharp. We dress to impress, and in that endeavour, in the words of the late, great Robin Williams, laziness will not do.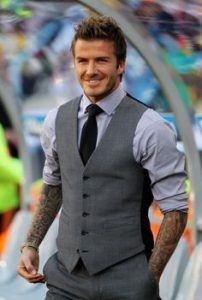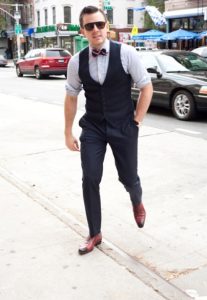 Ensemble 4: Hip-Hop Mogul
Opening Line…
"Street style can only be measured on a scale of 1 to Jay-Z"
Your secret desire of dressing as a rap king has finally arrived. With confidence and the right selections, this look can wow even the most conservative of fashion experts.
If your parents ask why you are trying to dress like Vanilla Ice, describe it as clean-cut street-wear. Clean cut, meaning no pants hanging down to your knees. Pants always at the waist, like how pants should be.
Slim (read: fitted, not painted on) pants: jeans, cargo pants, and cuffed sweatpants (yes, you read that correctly. Sweatpants. More on that later.)
The way of life for hip hop streetwear is all about the layers. If your lasagna game is strong, this is the outfit for you.
o Layers are just as important in streetwear as they are in suits. Go with long tees poking out under short sweaters/jackets and sleeves past the wrists.
o Make sure the layers show underneath your outerwear. Hip-cut bomber jackets and Mid-thigh parkas would be your best options as they are both functional, versatile, and can open up wide to show your layers.
o Don't worry about looking sloppy, any excess clothing will be held together by the above layer, keeping everything in check. There is a method to the madness.
If you prefer keeping things simple instead of layering up, rock a crewneck sweater with a unique design or the logo of a brand you connect with. So if you have a shirt with a big TenTree logo on it, make sure you're not a lumberjack.
Mix it up with sneakers (Converse, New Balance) to boast a nostalgic swagger, or trainers (Nike, Adidas) for an on-the-go, sportier look.
Yes, the bonus for selecting the streetwear outfit is that wearing cuffed sweatpants in public becomes a viable option. In turn, the line between loungewear and streetwear becomes blurred and requires a fine balancing act. Tip the scales with accessories, whether they are purely representations of wealth or a family heirloom. We would warn you against going all Flava-Flav on us, but you know better than that. Any gold chains the size of your face should be registered as a weapon anyways.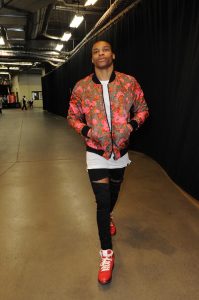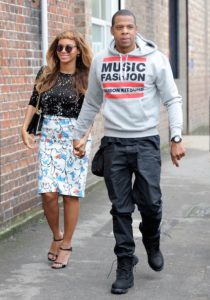 Well there you have it: The power to own the night. Think of these as fluid style templates allowing you to tailor a customized look. Although everyone should be comfortable with their own style, we hope that the knowledge provided will embolden you to win your date over, until (plot twist) you realize you had the confidence all along! Have fun. Remember to smile. Oh, and breathe. Breathing is important. OK off you go! Sigh… they grow up so fast.
About Edward Fung: He lives in Toronto and no they don't have igloos. Currently, he works at a well-known menswear company and aspires to become a serious contender in the fashion world. In his spare time, he volunteers at a children's hospital. His brands of choice are Nike, Ralph Lauren Black Label, Burberry, Tom Ford, and Thom Browne.