We often hear it being said that the first thing women see in a men's outfit is his shoes, therefore you must learn how to choose them well.
Buying a pair of shoes is far from easy. Firstly, shoes don't come cheap, often the most expensive item above your coat or suit.
Plus, there are many things to consider: the style, the fabrication, the leather and the quality.
Dress shoes for men: Two mistakes to avoid
In this article I want to warn you about the two mistakes that men make far too often:
Not investing enough money: Short of $250, it's absolutely out of the question to find a good quality pair of shoes. On the other hand, it's quite easy for big brands to produce shoes, which look great when they are new on the shop shelves; yet, very quickly (sometimes after only ten or so wears) you can see the sole coming apart or the leather forming large, unpleasant creases. Each year you have to buy a new pair that in a few months won't look great.
Forgetting the big picture: Not considering where you will wear them. A well-defined pair of shoes gives a great sense of general style to an outfit. It's particularly true with casual looks, where the choice of a pair of sneakers or a pair of brogues will completely change your intended image of the look. Don't buy a nice pair of shoes that you don't know how to wear.
For more advice, read our guide in detail here: A simple guide to dress shoes. (An older article from 2008 yet is full of great tips).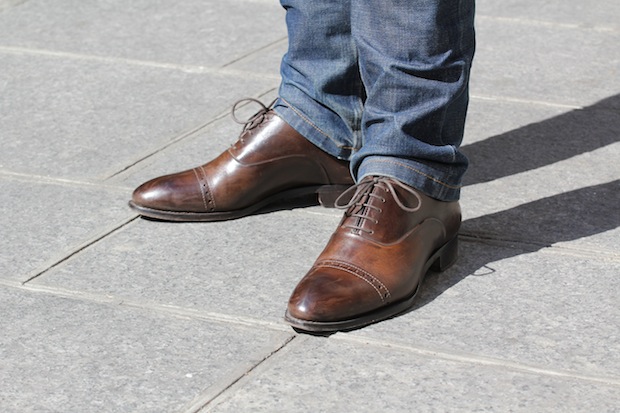 With a pair of jeans…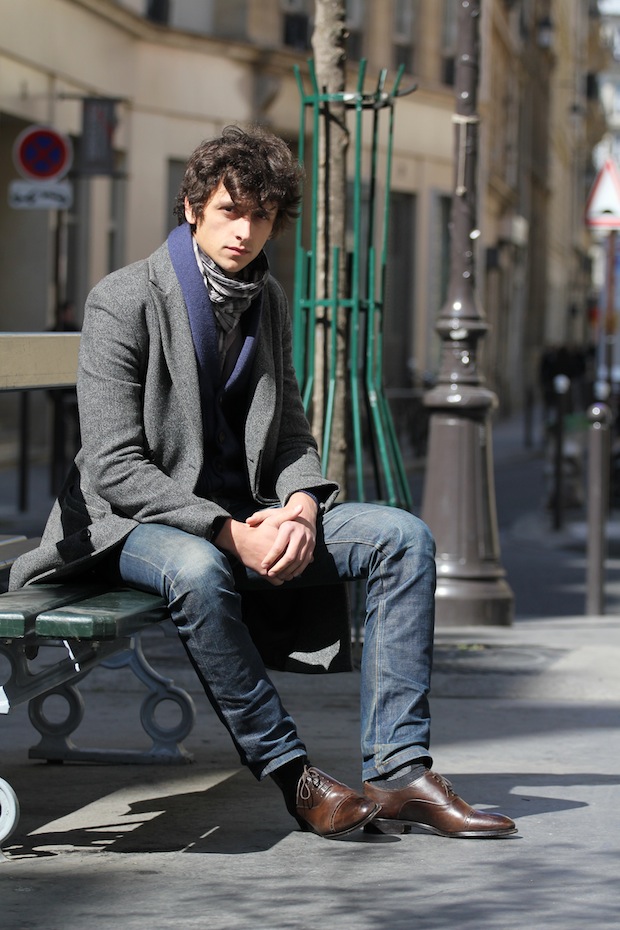 In a more casual look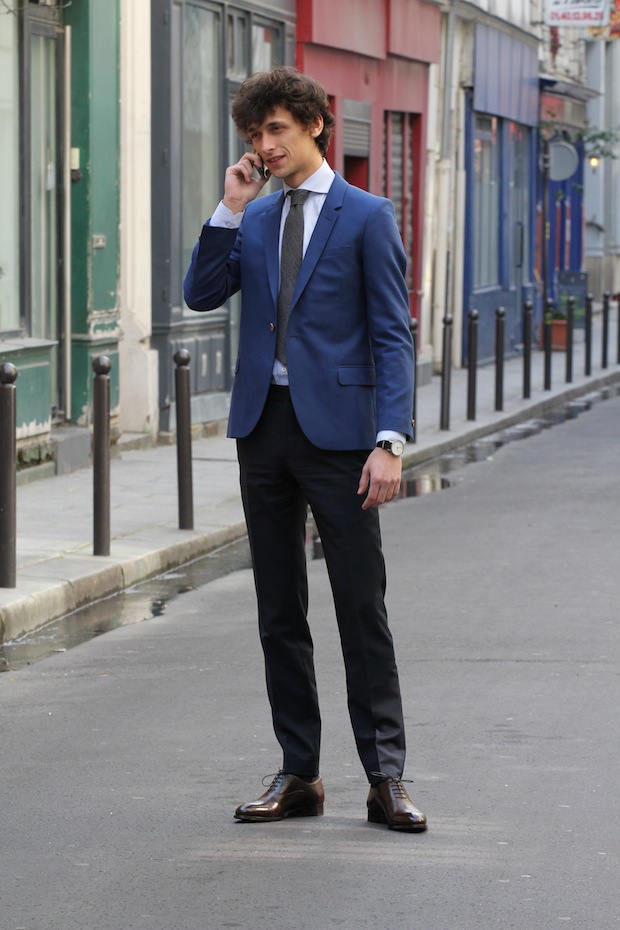 In a more formal look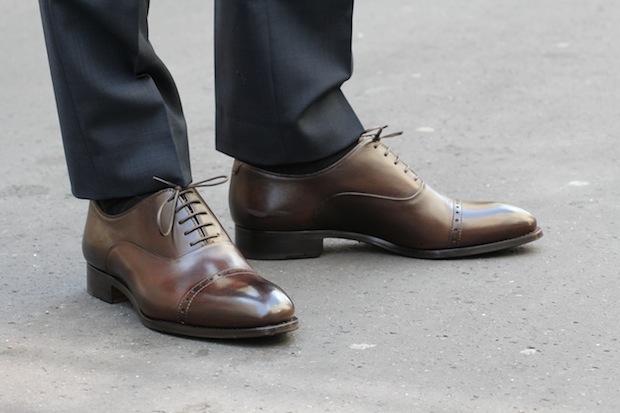 With a suit…
Men's Italian dress shoe has style
What hits me in particular about the model "The Grant" is the hidden seams. It gives a really modern edge to the shoe. The type of details that change are found rarely with more traditional shoes in the same price range, such as Meermin or Allen Edmonds.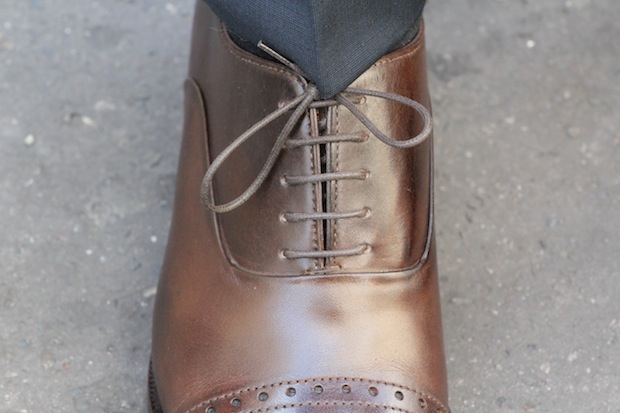 Nice, hidden seams
Discrete pinholes relax the shoe a little (the more holes the more casual it is). On the other side, hidden seams are a more common detail.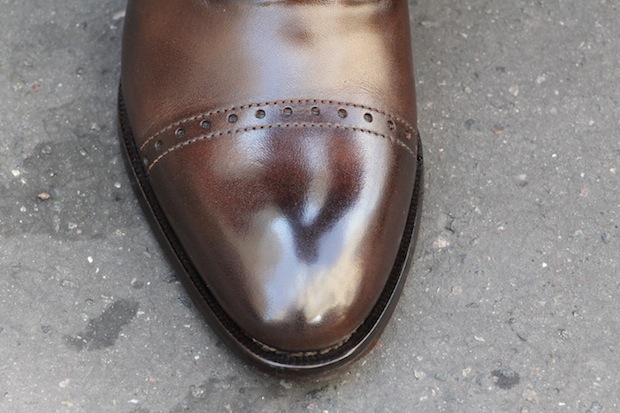 Small holes (or perforations), but not too many
Outside of these details, the line of the shoe itself very successful and svelte, which is remarkable given that the edge of the sole is quite thick. This success in terms of style is largely due to the dense contours of the shoe. The bend of the leather on the edges and on the top is well defined.
On the other hand, the patined effect is rich in colour and you can see it under the sun. With more classic brands, the colours often seem dull even when the shoe is new.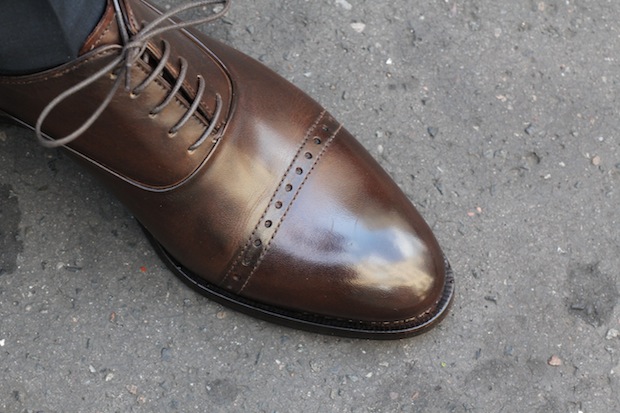 A colour rich in tones and hues
For me in terms of style it's really beautiful shoes that mean business but without being boring.
Quality men's shoes need to be well built
The fabrication of these shoes is a blake canvas however the edge of the sole is quite large, well protected and assuring a sense of solidity.
I prefer rather a Goodyear seam for reasons of legitimacy but I was pleasantly surprised to find here the Blake fabrication really robust.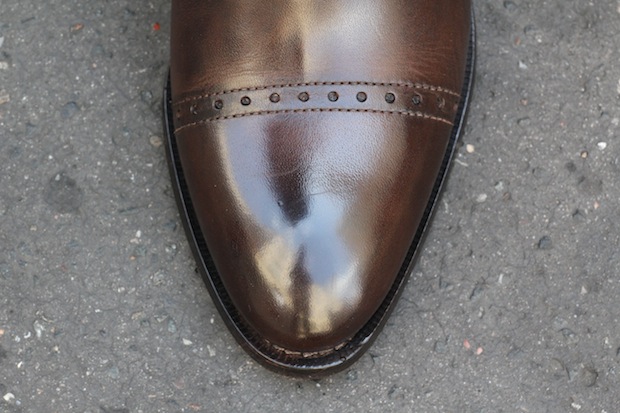 You can see the edge of the sole is quite large here
The inner leather sole is a little more rugged than that of my other shoes however it doesn't cause any discomfort. The leather quickly softened, and after wearing them all day I felt very comfortable. I would say that it's about finding a comfortable pair of shoes however I must warn you that the curve of a shoe is very defined as there is a heel.
Finally, Paul Evans shoes are made in Italy or in Spain – two European countries well known for their shoes.
The Brand
Paul Evans is a young brand, which intends to eliminate the middle ground by offering an excellent price/quality ratio. It's of course possible to cross through a unique online distribution (as a first step). The business model of online brands is approached more in detail in the article Frank and Oak clothing review.
The brand started with only three Oxford models; today expanding what's available and enlarging their range with loafers, boots and even the single monk strap.
Benedict's opinion on Paul Evans
Benedict, co-founder of Kinowear has been wearing a pair of Paul Evans for a while, same model but in a different color, he wanted to add a few words to this post…
Over to you Ben:
The Oxblood version of these shoes is even more handsome than its espresso counterpart. The color is a deep and rich oxblood red that is brown enough to wear like brown oxfords, but with a subtle shade of red that ever so catches the eye, especially when out in the sun.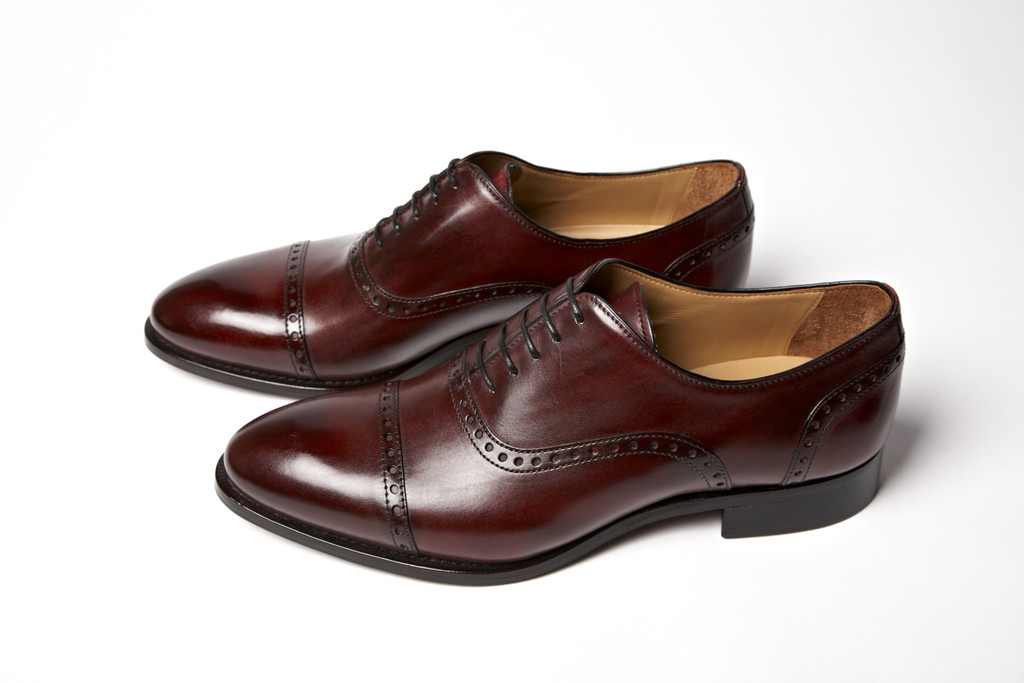 Every time I rock these with a nicely tailored suit in the streets of New York City, I get plenty of head-to-toe looks.
The wrap-up
It's a good choice if you're looking for a quality, formal shoe with details that are out of the ordinary.
What is your favorite color for dress shoes ? Answer in the comments 🙂