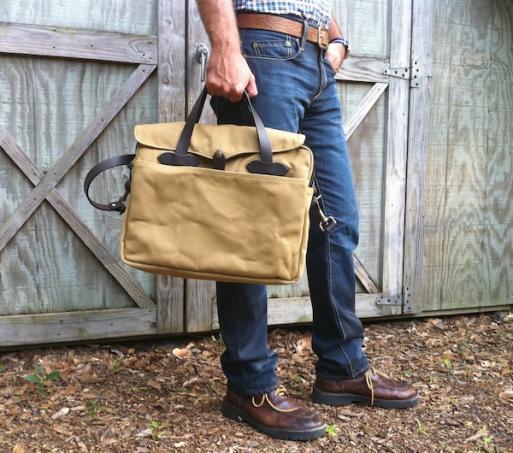 Bag + Y chromosome = How to choose a man-bag?
A bag…for guys? And what next? Mascara?
A guy, a bag. A guy, a bag. Yep, I get it – for a lot of you (and I'll be the first to admit I'm included here, too) it seems weird to find the two words in the same sentence.
It's not that I've got nothing to carry around with me but rather that I tend to associate stylish bags with women or with the kind of guy who carries out an extensive beauty routine in front of the mirror every morning.
The fact is, it's been a while now that I've been facing the dilemma of the bag: how do I carry my laptop, a bottle of water, a magazine or a weekend's worth of stuff around with me without looking like a metrosexual bobo?
Faced with such a question I found myself clueless and I used to carry an awful laptop bag (the only one capable of protecting my MacBook from day-to-day bumps and scratches) or my sports bag (the same one that I put my actual sports gear in…you get the picture?).
Or, alternatively, I cut down what I was carrying with me to a minimum: a little wallet that didn't deform my pockets, a sufficiently flat mobile, no bottle of water anymore, I'd drink in the public toilets instead…don't look at me like that…I'm joking really…
You know what? Kinowear's top secret center of Research and Development has put some thought into it, and here are the results from the BonneGueule Lab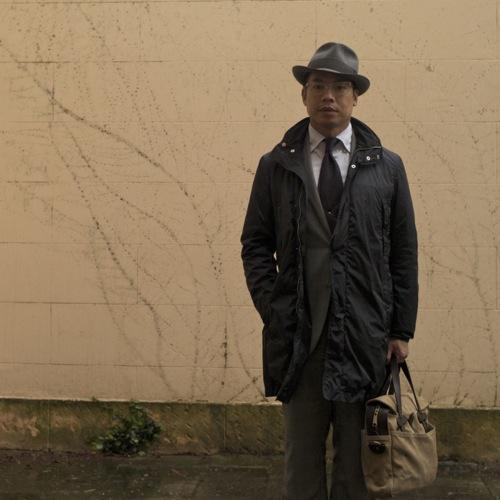 Man-bags: what you should stop doing now
Let's put the cards on the table and be really open about this. A bag for a man should be:
Big enough to fit our stuff in it, whether that be work stuff, stuff for class or for going away for the weekend. Not too much though…otherwise you're talking more along the lines of a suitcase. And suitcases are heavy.
Robust cos we're not always as careful as girls and we want to be able to put it down anywhere…on grass, sand, even where it's been raining.
Manly. Yes, manly. But, having said that, taking away nothing of its elegance. And on that note let's just say that a document file is a work accessory and not a bag. And that every time you put on your Jan Sport rucksack (after you've done studying): God kills a kitten (and at Kinowear, we like kittens…).
We can, then, immediately exclude: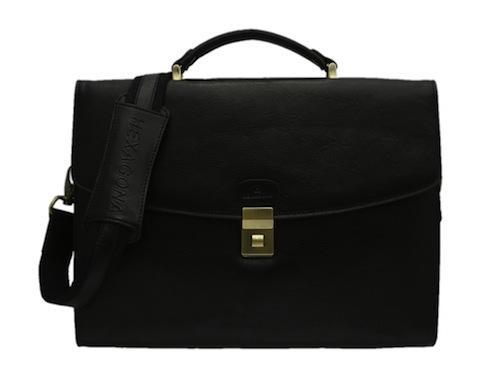 The work bag.
It goes to work 5 days a week…leave it in peace at the weekend.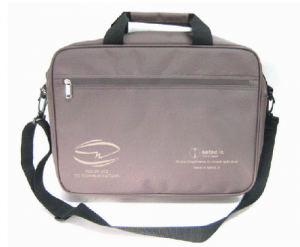 The little bag that makes you look like you're off to the job center. (For this, God kills three kittens).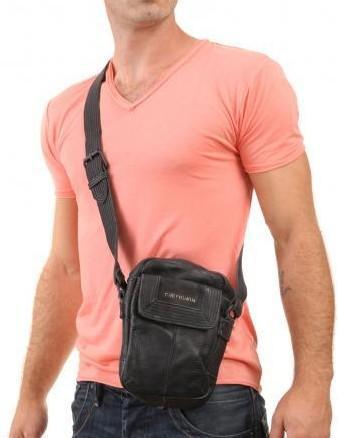 The over-the-shoulder micro-bag (practical but really inelegant when it comes to the proportions, too small and not manly – and there's an added penalty for the skin-tight salmon-pink T-shirt…)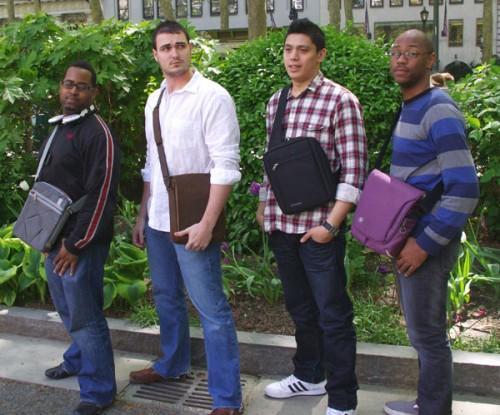 Whether they admit it or not, these dudes are wearing handbags.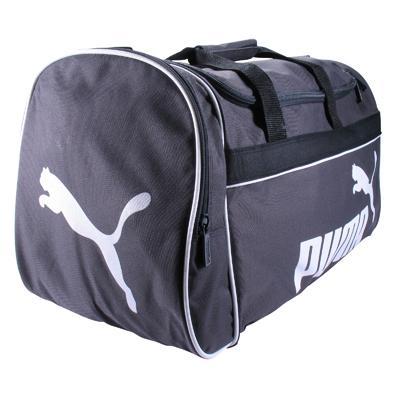 The sports bag: it's a shame to wear a nice outfit to then go and wear that with it. Not to mention the poor hygiene. 
The biggest trap is buying bags that cost around $130 from Asos or chains like Zara: the quality is really poor…but you can always re-use them once they're full of holes to make a house for your cat. Did we mention that we really like cats?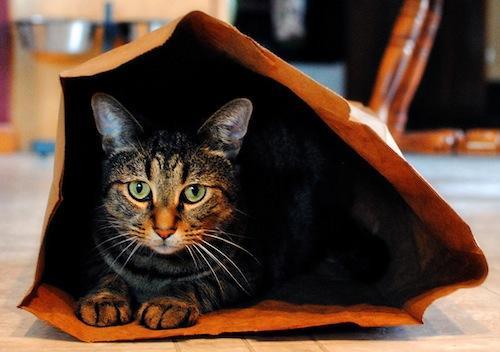 Alright then, but what should I look for if I want a bag worth buying?
Weekend bags
For me, it's THE most suitable bag (sometimes called the 48hour bag). A reasonable size without being too bulky: it doesn't interfere with your look as a whole…and you won't struggle to put your laptop and books in it when the bell rings at the end of Friday.
Here are a few models that meet all of our criteria:
My top choice: Filson. Big American hardware in indestructible cotton. It's what you'd wear to hunt down bears with your bare hands or to write articles on the living conditions of cats in Libya under Khadafi.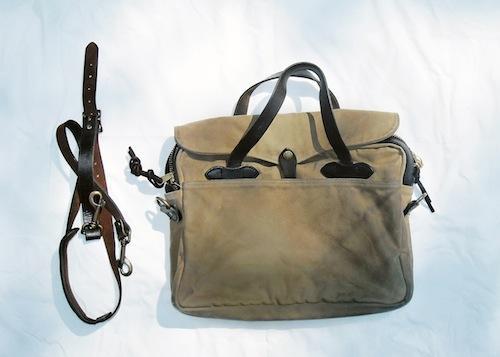 Filson: Great hardware from Seattle (model 257)
The great thing about this bag is that, like a good pair of jeans, it shows wear over time but at the same time stays in decent condition. Me and Benoît both have one and it's the best buy possible if you like the design.
Have a look on ebay…you'll often find some real bargains, at less than $330 dollars sometimes! And don't worry about going for the ones that aren't quite new as these bags last around 15 years (that's like 75 cat-years!!)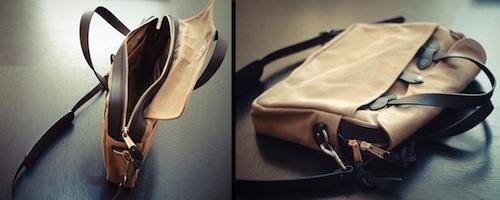 Filson, indestructible
Go for model 256 if 257 is too chunky
If you have more urban tastes then go and have a look at the tanner's – let's forget bags from Zara (far too expensive for their quality) or at those by small designers. Prices can go up to $500 or $600 depending on the materials used. But for an item that's going to last you, it might be a price worth paying.
Stick to simple designs. Choosing a good design for a bag is like choosing a good design for a pair of sneakers: stay away from items that look like works of art on the shelf but overwhelm an outfit once you wear them due to their intense detail. Does it look too sophisticated? If so, forget it!
The last on the matter: the color. Unless you're the kind of guy who's into street wear (we have no problem with that, peace out), stick to simple and natural tones: brown or black leather, beige, gray, khaki or blue canvas…
The word of the day: SIMPLICITY! (relax, here are a few illustrations of what we're talking about)
Swedish brand Sandqvist (they ship in the EU)
Stanley & Sons an artisan product made like it would have been in the olden days – $160 (different colors available)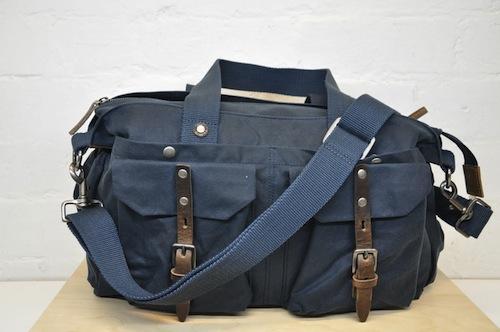 Ally Capellino (around $330)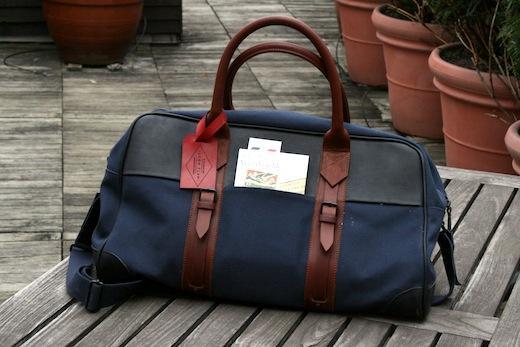 Leon Flam, inspired by the great aviation era.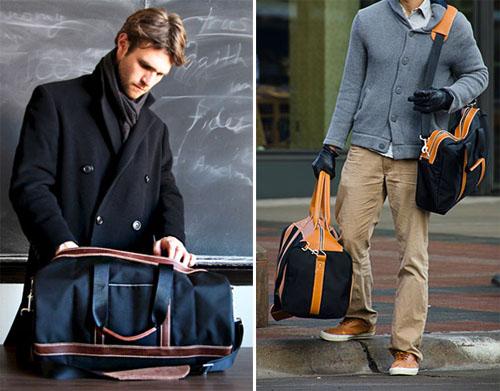 Blue Claw Co made in America satchel and weekend bags. (from 200$)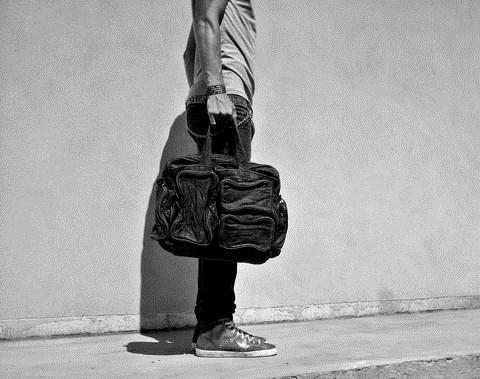 There's All Saints, too, for heavier looks…
Even if none of their range is particularly interesting this season.
And there are some cheaper but less stylish solutions out there:
Recycled canvas bags
Lots of brands have given this a go: making bags by recycling the canvas used to cover lorries. It's economical and resistant but is easier to blend into a street wear or student look than an outfit with a city vibe.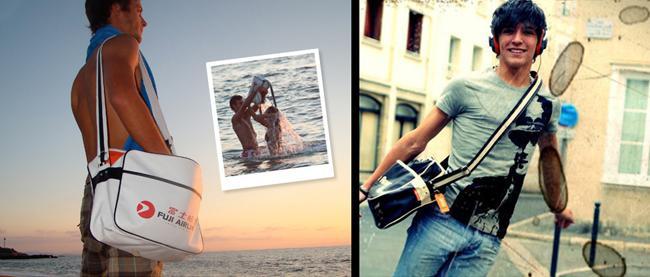 Airlines Originals bag, sold at around $80.
Messenger bags
There are a lot of little bags that go by this name. Worn with a strap, they're mainly associated with 'youths' but it's still a decent choice.
Choose an understated messenger bag that's big enough for what you need it for. Great example by Stanley & Sons, around $520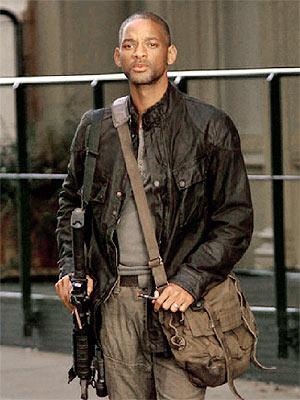 here's one by Belstaff that's not very understated but looks fine in this outfit.
Beggar's bags
There are some fairly cheap adapted versions in military stores. Since it's quite a small bag it's really important to choose a VERY manly one of the right size: big canvasses and leather straps are therefore what you should look out for. Tartan patterns or bags with leather that's too shiny are to be avoided…far too feminine!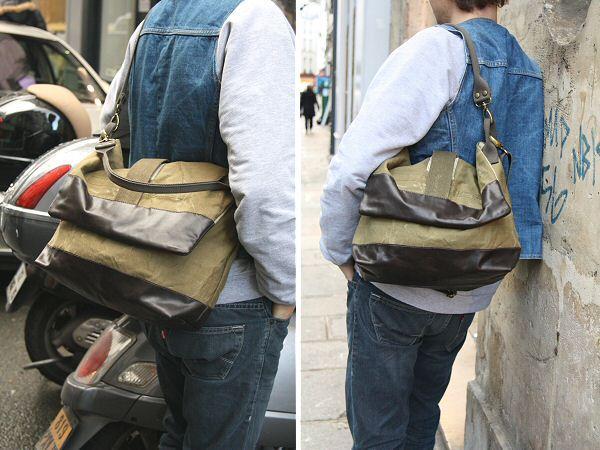 Big enough and the design's rough enough.
Model in French military canvas by L'Atelier Matière à Réflexion
And now, how should you wear your man-bag?
Well in your hand or over your shoulder. Personally I find that wearing it with the shoulder strap (with the strap going diagonally across your chest) looks too student-y, or feminine if the bag's too small (even if you don't have much choice in the latter when it comes to messenger bags or beggar's bags).
Here are a few examples of bags integrated into outfits: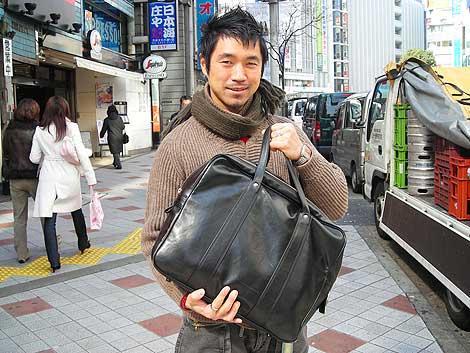 Bag by an unknown brand but it works well.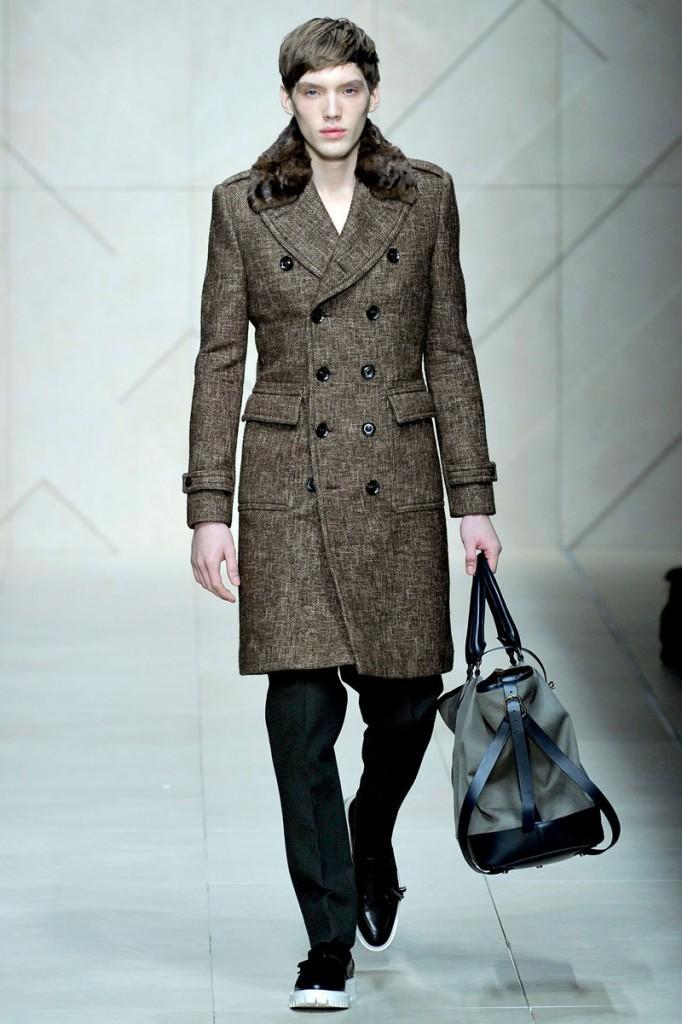 Burberry Prorsum
(way out of topic: A man recently stole a Burberry $130,000 alligator trench coat by putting it on and walking out of Hong Kong store)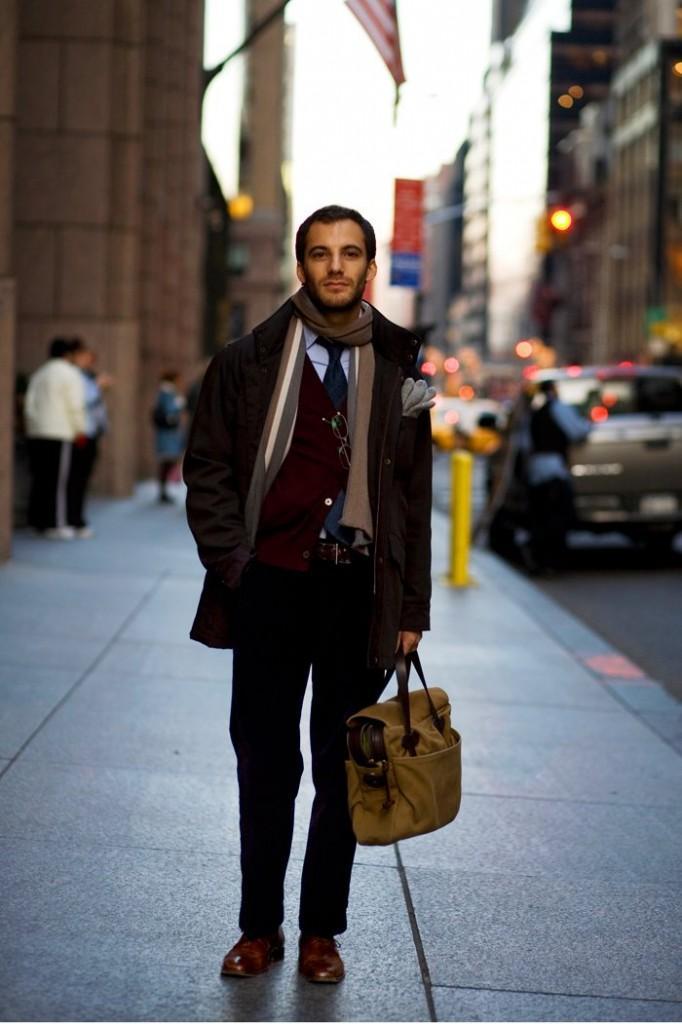 And the return of the good old Filson
One more thing… The guys on Reddit at r/malefashionadvice (which I recommend you visit) has wrote avery extensive piece on man-bags. You absolutely have to check it out, here is the link: MFA Bag Guide 2.0. They basically provide for each type of bags discussed above much more pictures and brand recommandations including pricing info.
See for instance this album of messenger bags they've put together
I can't say I love all the bags featured out there (there are so many). On the other hand, in this post, I only featured bags I really liked and would recommend.
There you go, I think that's enough to start you off. It's true that the man-bag is no easy topic cos it's not 'accepted' everywhere (even the most manly bags can come across as effeminate for those not tuned into fashion).
But it's clearly a practice that's going to become more popular as men become more conscious of their appearance. Start looking for a nice manly bag now: your look will become more elegant and your lifestyle much easier!
I'll leave you there, it's 8.23am: I'm going to have to go to bed…I've got to go and see to my pony later…