Imagine you're walking down a busy NYC street. You see 100 guys all dressed in nice suits, polished shoes and haircuts trimmed to perfection.
And then you see a man strolling through with a beautiful briefcase that catches your eye.
In your mind, who is the most powerful, dominate,
The guy with the briefcase!
If you're in a profession where appearance matters, getting a high quality, leather briefcase is absolutely critical to maintaining your status and standing out from the crowd.
And that's why I'm proud to introduce you to a gorgeous line called…
The Linjer Leather Briefcase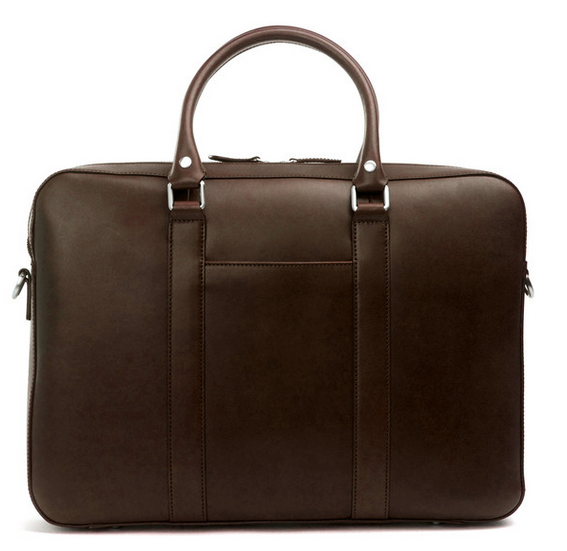 Linjer is a brand I'm very quickly starting to fall in love with.
As soon as mine arrived I was instantly impressed with the smooth, soft leather. Their leather is full grain (the highest quality), vegetable-tanned leather.
There's a good chance you haven't heard of vegetable-tanned leather (only about 10% of the world's leather production is vegetable-tanned), so let me explain.
This method takes the tree bark from trees such as chestnut, mimosa and quebracho. You then place the raw hides in barrels with the tannins and dye, for several weeks.
In other words, it's the OPPOSITE of chrome-tanning, which is typically used for mass production.
They chose vegetable-tanned leather because the natural tannins add a much more natural feel than chrome-tanned leather that you get from a lot of companies. Another great thing about vegetable-tanned leather is that as the leather ages through everyday wear & tear, the look of it actually improves.
Think of how a pair of raw denim jeans changes as they age. It's similar to that.
As you can tell, these leather briefcases are made for men who truly understand style and don't want run-of-the-mill stuff you can get anyway. However as I'll explain in a minute, they're still very affordable 🙂 But first, let's take a look inside…
Deconstructing The Linjer Briefcase
I've tried a lot of briefcases in my life.
Some of them looked great but didn't have the right carrying amount of pockets, etc.
Some were nice and slim, but were made poorly. (One of them actually BROKE on me the first time I used it!)
And some were made nicely, had the right space, but were too bulky
Argh!
This briefcase impressed me because it met all THREE of my qualities. We've already covered the quality and looks, so let's now discuss the functionality of it.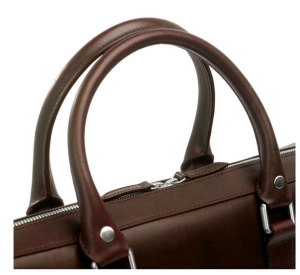 Here are a few features of the briefcase…
YKK Excella zippers
Removable, adjustable shoulder strap
Metal feet
Padded laptop pouch
Outside pocket for passport, smartphone, etc.
Inside compartments for smartphone, two pens, name cards, and other loose items
Laptop pouch fits a 15″ Macbook
You can take a look at some of the pictures in this post to get a good sense of where everything is and how it all fits together nicely.
And here's another one looking at the side so you can see how sleek it is…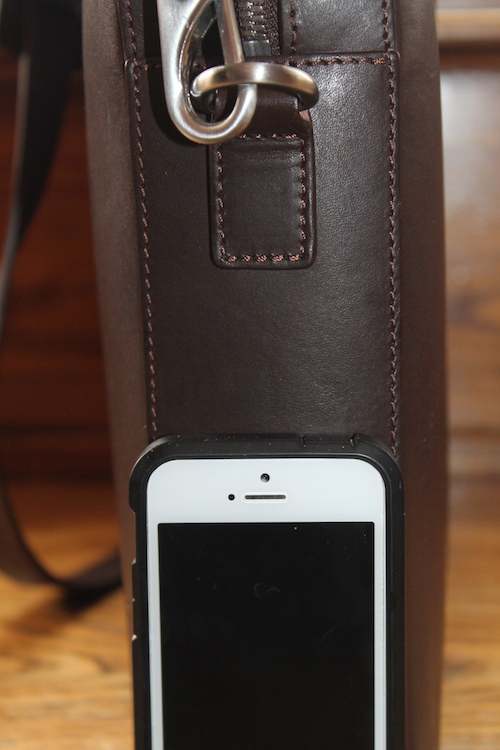 Basically it has everything you'll need if you're carrying a semi-light load. You won't be able to jam-pack this briefcase with everything you own, but it holds an impressive amount of "stuff".
And THAT is my favorite part.
The fact that it's…
Laid Out Perfectly To Maximize Carrying Capacity While Staying Slim
When I go on business trips, I take a lot of stuff with me. Books, magazines, documents, notepads, a laptop, snacks, gum, various chargers, headphones, my phone, etc.
When I first got the briefcase I couldn't imagine it would be able to carry it all. Somehow, it did. And that's because the way it's designed essentially maximizes how much you can carry while still staying very slim and sexy.
Think of houses you've been into before.
Ever walk into a tiny house from the outside, which looked HUGE when you walked in? That's because they maximized the space available.
That's exactly what this briefcase does, and I love it for that.
Plus…
In-House Manufacturing Keeps The Price Affordable
What I love about Linjer is they provide an extremely high quality product but do so in a way that allows the "everyday guy" to afford it.
The way they do that is simple.
First, they are extremely selective in who they chose to craft and build the
They also manufacture the their products in-house. This allows them to save enormous costs such as storefront and marketing expenses. Plus, of course, middleman fees.
Here's a video they made explaining exactly who they are and why they're so special. After reviewing the briefcase personally, I wholeheartedly agree.
Plus… they even offer FREE shipping worldwide!
Interested? Go Check Them Out Here…
If you're in the market for a briefcase, I can't recommend them highly enough. Their briefcases are beautiful, extremely high quality, and functional all at the same time. I can't even begin to describe how many compliments I've received while on business trips with them.
There are two websites I'd like you to check out.
Linjer.co is their main website which sells the briefcases. Go there if you're interested in getting more information about them and potentially purchasing a briefcase.
You can also look at their current Indiegogo campaign. There you'll see that they're introducing a new line of wallets, made with the same leather and other qualities the briefcases have. I normally try not to recommend "starter" campaigns but they're already a proven company.
Enjoy!