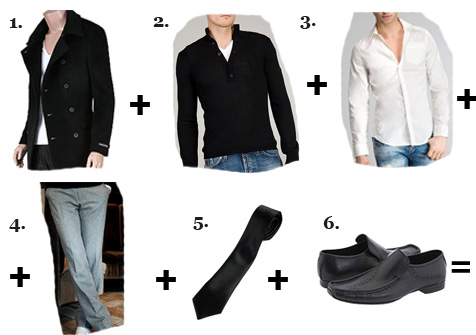 Kinowear Lookbook: #7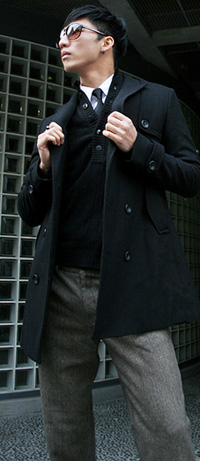 What you'll need to replicate this look:
1. Black Double breasted pea coat

2. Black pullover sweater

3. White dress shirt

4. Gray wool pants
5. Black slim tie
6. Black Slip-on dress shoes

7. Black Aviator Sunglasses

First impression:
This guy exudes the confidence of a successful professional while looking nothing like the typical office man.
Breakdown:
I love this look because it's something I would wear any day of the week. Minus a few small details, everything is classic menswear, and you can never go wrong with that.
A tie outside of the office? Yes, you can wear a tie outside of work. But feeling comfortable in one is an acquired taste. I love wearing a tie because it's both classy and fashionable, and confidence comes built in. But keep the fat tie for the office and opt for a slim one instead.
I love the black buttoned pull-over sweater because it gives you the option to maintain the classic v-neck sweater look while adding some subtle but noteworthy flair to your outfit.
This look displays how a few small accessories can alter the impression of an entire look. Sometimes the shirt and tie combo can get you mixed into the bland working professional crowd, but even something small like sunglasses can alter the whole impression that you make.
This particular fashionable pair of shades shifts a normal working professional look to something you may see on the runway. And the earrings and the black ring on his finger carry attitude.
As for the shoes, I would go for something without laces to dress it down a bit, while still maintaining the overall classic yet fashionable look.
Every man should have timeless pieces in his closet. This is the secret to getting the most out of your wardrobe. Once you have the classic and timeless pieces, you can start to mix in your own personal flair as it evolves with your favorite pair of jeans, sneakers, accessories, etc.
Tip: For those of you with blonde/brown hair, I recommend wearing a gray sweater instead, a navy blue tie, and a navy blue coat.
That's it for look #7! Please share your rating and comments below!
[ratings]