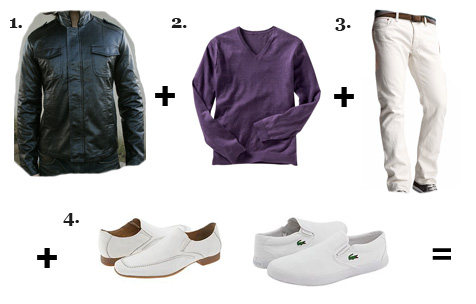 Kinowear Lookbook: #10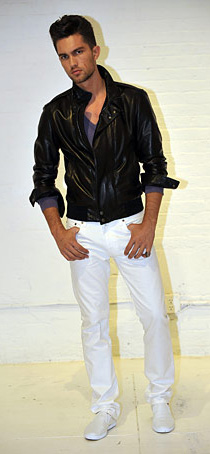 What you'll need to replicate this look:
1. Black leather jacket
2. Lavender v-neck sweater
3. White Jeans

4. White Tumbled Leather Dress Shoes
or White Slip-ons

First impression:
Fresh, confident style. Definitely looks like a ladies man by the way he dresses with sex appeal.
Breakdown:
What I like most about this outfit is the balance of masculinity and femininity. That balance is what creates a sexually appealing look.
Why? Because most men stick to safe t-shirts and button downs, almost as if they're afraid to attract attention. With a bold outfit such as this one, you display that you can handle the attention you'll invariably get.
So instead of going for the broader appeal with a safer look, try going for a more extreme, even controversial look once in awhile.
In this outfit, I love the way the white pants and v-neck are super fresh while the rugged leather jacket packs a punch. The rolled up jacket sleeves keep it perfectly laid-back. Try to get a leather jacket with buttons on the sleeves, so you can achieve the same look.
The v-neck sweater worn alone is very appropriate for the warm afternoons and cool nights. I'll sometimes go out in a v-neck sweater with nothing underneath. It keeps me cool enough for the warm afternoon weather and keeps me warm enough when the nights get more chilly.
Also, the purple heather color really adds an extra bit of charm and style.
A fresh pair of white shoes keep the bottom fluid and doesn't interrupt the smooth appeal of this outfit.
What do you think of this look? Share your comments below!