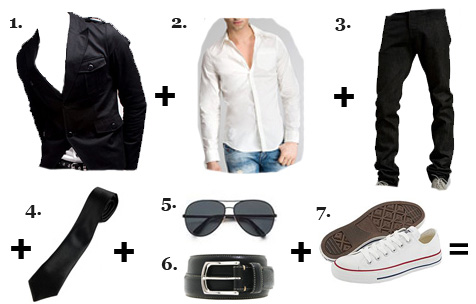 Kinowear Lookbook: #11

What you'll need to replicate this look: 
1. 2 button jacket w/ epaulets

2. White dress shirt

3. Fitted black jeans

5. Aviators

6. Black belt (studded)

First Impression:
Confident and savvy enough to mix it up.
Breakdown:
This look is a seamless hybrid of classic professional men's wear, casual street pieces, and military-inspired elements.
Despite borrowing aspects from very different styles, the reason this look works so well is because it keeps to the most important principles of an attractive style.

1) Fit
2) Color
3) Proportion
In terms of fit, everything from the pants to the jacket looks tailored to the model. There are no problems with the color here, because it's mostly black and white. However, the subtle touch of red on the shoes lighten the mood.
If fit is the way your clothing sits on your body, proportion is how it looks in relation to your body type. Proportion is what makes a short guy look taller, big guy look thinner, and so forth. Unfortunately, a lot of men neglect this.
Take the skinny tie for example. It works extremely well here to make this model's small frame look bigger. A big fat tie would have unattractively accentuated his small/skinny frame.
The aviator sunglasses are great for guys with longer faces because it fills in their face more – making their face look more balanced.
Lastly, this look proves that a clean pair of converse all stars is one of the most effective ways to dress down a serious/professional look to casual street style.
Hope you enjoyed #11! Share your rating and comments below!

[ratings]