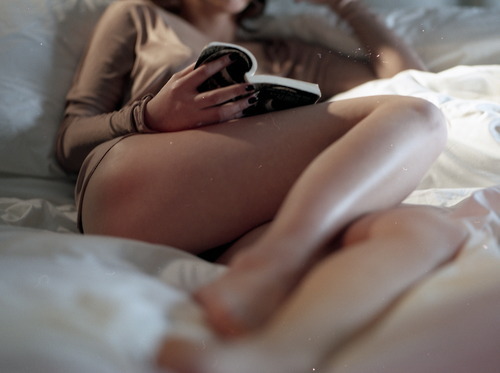 Web Review November & December
As we reach the holiday period at Kinowear, we're spending a lot of time on the launch of the Kinowear program. Long evenings spent working are common currency at the moment (2014 will be the year…). But we have nonetheless found the time to read some really interesting articles this month! Here's the web review for November, a mere 20 days late. Top performance, I know…
But anyway, it will also be the place for our selection for December because at this time of the year, other articles can be a perfect replacement for it (Christmas wish list and review of the year 2013)
Men's fashion, but that's not all…
The Anglo-Saxon magazine specializing in the business of fashion, the Business of Fashion (BOF) goes behind the scenes of the crocodile leather industry. You learn why it is so expensive (only 10% of the skins bought buy luxury brands are used to make bags). It is also interesting to see that the giants of the luxury industry such as LVMH and Kering buy this kind of farm and tanner's in order to have more control over the quality of the skins and the ability to limit costs (more or less, at least, that's the theory.)
On Redingote, make the most of a rich and detailed walk around the heart of Milan. It's as if you were there…Foucauld & Quentin (a team of designers invited on the blog) give us their opinion of the town, its atmosphere, its boutiques and, of course, the characteristic style of the Italians. Here's an extract:
"In the looks of the elegant Milan folk, there's something of the BCBG of the 90s, but with a tweak. How do these young guys come to have perfectly faded 501s? And to wear these suede jackets without looking like they're in a fancy dress costume? Their fitted chinos have sharp creases. The exterior turn-up and the short leg fall onto buckled derbys or loafers with drop beads. They look timeless and unchangeable, elegant and never awkward. When Monday comes back around, they'll wear fine duvet linings in their suit jackets and, as is often the case, will go for an umbrella rather than a windscreen."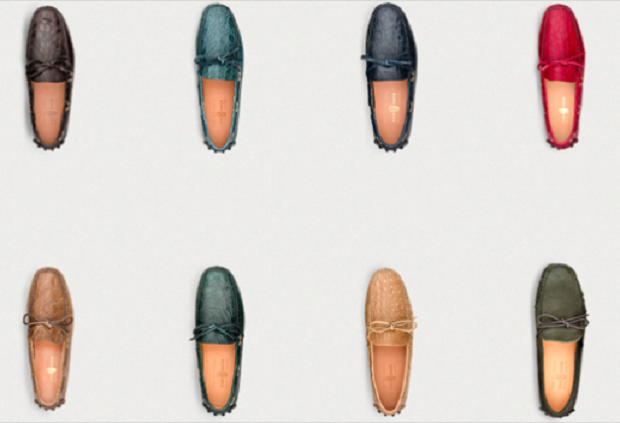 Loafers in croco leather are a must have in Italy! The Original Car Shoe has made them their specialty, it would seem. Indeed, you can't get it any old place, crocodile leather…
Business Of Fashion (BOF) also highlights the big comeback of the logo on clothing, synonym of the omnipresence of streetwear in contemporary style. Thanks to the influence of designers from Kenzo ( Humberto Leon and Carol Lim, also founders of Opening Ceremony), brands are regaining ownership of their logo through typography and graphics, in order to establish a more visible identity.
The return of the bling bling, maybe a bit…But also a sign that consumers are making brands their own, whatever the brand may be, even tweaking the logos and creating something new.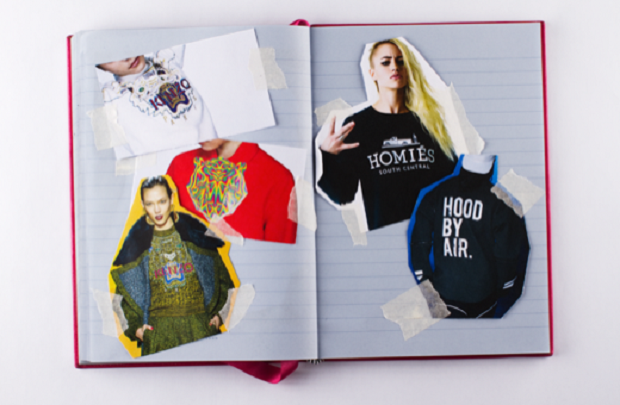 Kenzo's success : more than 10000 sweaters sold
Let's continue with masculine elegance with Parisian Gentleman and an article dedicated to contemporary elegance. An exhaustive (but manageable) overview of the classic style of times gone by and that of today that are now rubbing sides: it really is a treat!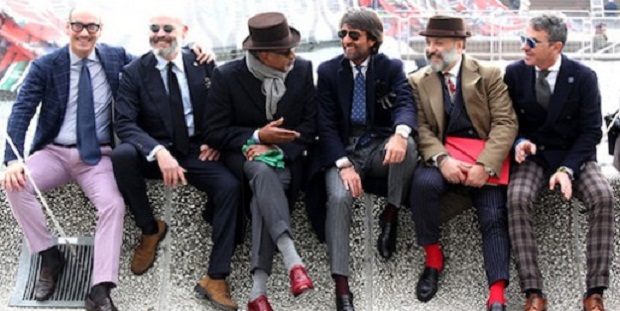 « Sprezzatura » spirit during the Pitti Uomo (masculine clothing salon in Florence).
Always in the fashion of elegance and high-end class, Simon Crompton shares his experience of the fabrication of a pea coat by Gives and Hawkes. Of course, it's a luxury that isn't accessible for most of us. The project is only at the stage of the sketch and it is precisely this creative process which is demonstrated in the article. A unique item is drawn based on the archives of the house and the desires of the client. Every cut, every seam, every detail has a meaning and is the fruit of a close collaboration between the tailor and the client. Read the first part of this story here.
I know some readers are great amateurs of Japanese fashion, whether we're talking the most authentic selvedge jeans in the world (Momotaro, Iron Heart, etc) or very picky creators such as Attachment or Undercover.
One problem – they're not very easy to get hold of. And that's where proxy systems come in handy. There's no question of changing your IP address several times a day in order to view the series…But getting products that are only available in Japan delivered all around the world. Discover the Guide to proxies by Kyle from Rawr Denim.
Fashion that's a bit more accessible :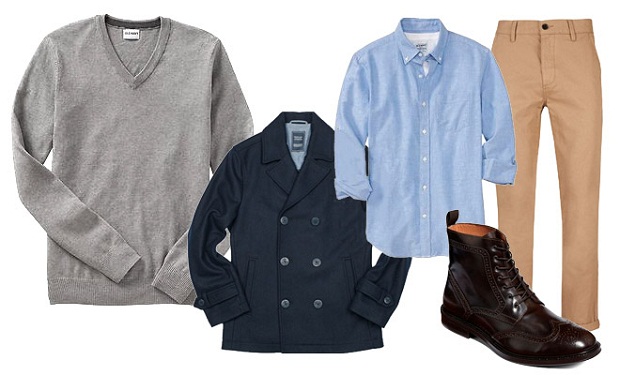 Easy outfit idea by EffortLess Gent
Baron from EffortLess Gent welcomes a very good article where 5 different uses for a V-neck sweater are explained. I really like these articles because they offer some great ideas for basic outfits. I really insist on this point because it is particularly useful for those who have been reading Kinowear for a while. You'll find combinations of items that work well together and that you may well already have in your wardrobe.
Efficient infographics on the different ways of folding a suit jacket to put it in your suitcase, by Antonio Centeno from Real Mean Real Style. This method is the best in my opinion.
Art and Culture
We're talking illustration this time, IO9 (a site focused on the futurist universe, art, TV and films) offers these magnificent wallpapers of futurist towns  : a trip into the future, the space of a second ! Not forgetting the excellent comic series, 'Les Cités Obscures' (if you don't know about it, check it out!)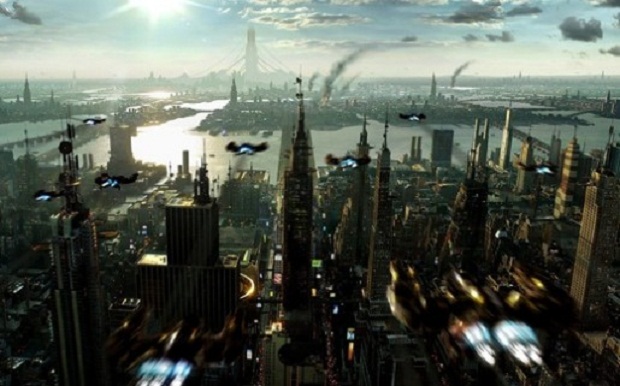 We're continuing with theillustrations of Mont Fuji by Hokusai. The kind of thing that can sharpen your eye when it comes to shapes and colors. To be seen with the little sound track that goes well with it !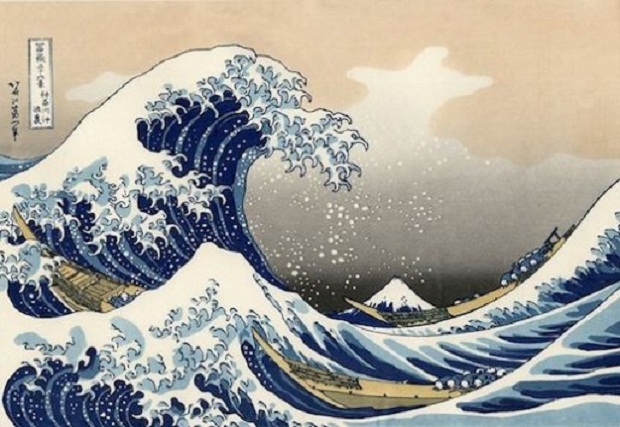 Let's leave the city and discover the latest tributes to the 5 continents. 9Gag (yeah, I know) shares the work of a photo reporter, Jimmy Nelson. Guaranteed sense of disorientation!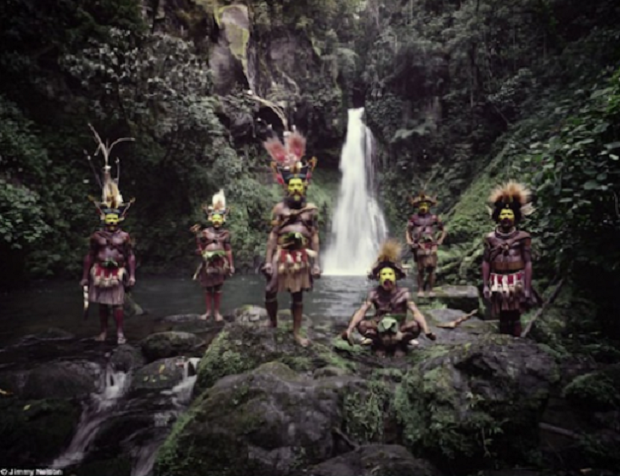 An invitation on a journey of cultural discovery !
Something to think about…and thereby, to become a better man
Have you ever asked yourself why some students do amazingly in exams and others, who had good marks the rest of the year, panic and fail ? In an extraordinary context, with stress or change, everyone reacts differently. This is the idea put forward by Nicholas Taleb in his book Antifragile: Things that gain from disorder, which is presented very well by Brett and Kate from Art of Manliness. He argues that if fragile items break when exposed to stress, something that's the opposite of fragile wouldn't simply not break (thus staying the same) when put under pressure; rather, it should actually get stronger.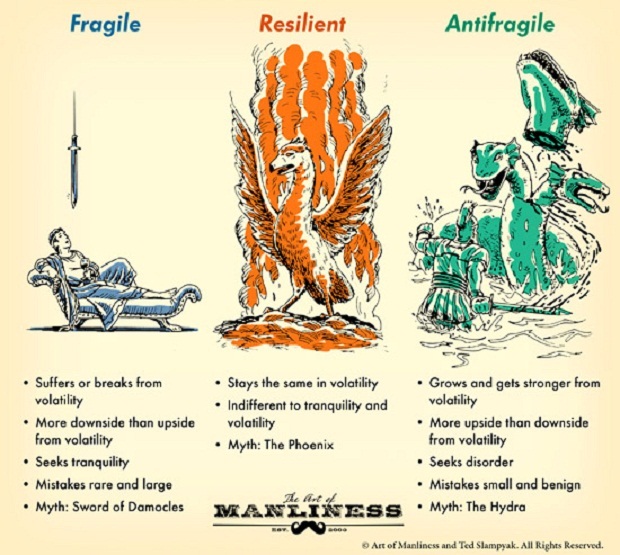 These infographics should be enough to make you want to read the article
For those not interested in philosophy and for those whom the infographics are enough, I invite you to discover the 10 worst products for men ever created. Yep, this post is a fun one… Hair in aerosol can, anyone?
For those, like me, who can't stop themselves scrutinizing celebs' clothes in films or music videos (which is a good way to improve your style, I must add!), the evolution of the style of Justin Timberlake is analyzed very well by Fashion Beans. Having a black credit card is not enough to make you well-dressed. And if it's easy for formal outfits, that don't require a lot of effort or originality, it's the casual outfits that force you to show your masterful stylist skills. And Justin shows us how…
Can you really learn a skill in a week? The secret's inside Tim Ferriss' insanely fast learning strategy. Productivity guru Tim Ferriss eschews the idea that it takes months or years to learn a new skill. In a post he wrote for Fast Company he provides you with his techniques and mindset. It's like a short resume of the 4h hour chef book.
Mark Manson wants to ask you the most important question of your life... I leave you to find out what it is and I know that some thought about this post will make all the goal setters and ambitious folk amongst our readers think a bit.
Do you know what the most important thing on Twitter is? Being HUMAN. That's how Gary Vaynerchuk sees it and I agree 100%.
That's what he tweeted earlier today : Do u have friends that RT things that are said about them ??? It goes with this link, that explains it all. Twitter is the cocktail party of the internet…
By the way, here is Kinowear's twitter account where I (myself, Nicolas, real human, not a robot) tweet. If you like what you see on the blog and what's in this web review, you should follow me on Twitter. But don't only follow, engage! Let's start a discussion… What are the posts you read in this review? 🙂
And in the meantime at Kinowear…
The biggest project of the year for Kinowear is in the running. This week, we're coming to the end of the first month of the Kinowear Program. About 20 readers decided to take hold of their style and follow the videos each week.
As for the editorial flux, we're finally going to be testing products on a regular basis and I hope that will last…
I'll said it again: don't only follow, engage! Let's start a discussion… What are the posts you read in this review? 🙂