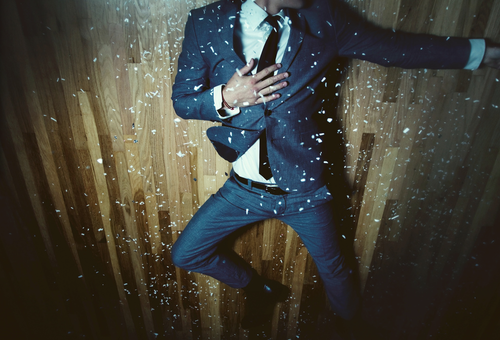 Kinowear's Christmas wish list – The WTF post
At Kinowear, we have several rituals : the article with a review of the year, the pastis on a Friday night and, especially, the Christmas list ! In case you're lacking inspiration for your letter to Santa, here are a few ideas to help you out…
Geoffrey's list
Everything's on the up because I've received my Pantone cups last Christmas (the only thing that makes me want to write this kind of article. No, I'm joking.)
The Friendship project
Jokes aside, what we need for the office is a mascot, moral support, a 'raison d'être'. What pet would you recommend (clean, easy maintenance, not too smelly and with a showbiz air about it?) It's an important mission for the future of the site, that's why I've created a whole project on the side : the Friendship project ! Over to you!
1 – What animal ? What name ?
Leave a comment with the animal you recommend and the name you'd give it ! (but something more practical than a crazy nastyass honey badger)
2 – Convince the team
Alas, the project Friendship has led to a lot of jibes coming my way !
Nicolas : "I'm not backing this project"
Benoît : "You really want a living organism other than a plant?"
Florian : "I just think you're in need of affection"
White Kanye West (Alex) : "A tortoise, I'm telling you, stinks !"
Maëva (from L'Exception) : "As for a snake, well, it's either me or the snake "
Luca without an S : "I want a snake"
You should also tell me of any super arguments I can use to make sure the project Friendship is a success and get the team to back the idea. That would be my perfect Christmas present!
Nicolas' list
A pair of indestructible shoes to wear over several years, several days in a row if I want and that will always keep my feet warm. I choose the classic Red Wings and their vibram sole that insulates better than a meter of glass wool.
A sheepskin gilet (without sleeves) to go with the Red Wings. The aim is to find the ultimate item to keep me warm under a fine woolen coat, a jacket, or whatever I choose to wear.
A dish of Nam Tok Moo (น้ำตกหมู) cooked in a boui-boui in Bangkok in a mini BBQ in stone on the pavement. It is served in a plastic plate and the clients sit on garden furniture. If it's spicy enough, you'll even want to eat the plate. It's only at the end of the meal that you'll realize that your taste buds have been burned (oh yes, that hurts). But that's why it's so good. Needless to say that the Thai restaurants in Paris just don't cut it.
(a bucket of sangsom (local whisky) and red bull wouldn't go amiss either)
A pair of Vans and a little skateboard for the last kilometer to the office.
A treadmill desk because sitting down to work is out of fashion. You what? Yep, a desk for working upright with a treadmill so that I can work whilst walking at 5km/h. Inspired by Mark Sisson's daily apple.
Alexandre's list
For Xmas, I'd like a return ticket to Boston. I'd go and see friends, eat local food and do a bit of shopping…
Boston…like a postcard
One of my best mates thinks he's better than me at Fifa on the PS3. I'd therefore visit him in Brooklyn. We'd sit in front of the telly with the games console and randomly choose our teams. I'll make him swallow his pride (unless I get a D2team from the Greek championship and he gets Real Madrid). You just have to believe.
Then I'd go and see another mate who works with the MIT and give him a little ping pong lesson.
Finally, I'd take the time to regain my strength. I'd go to Tasty Burger (one of the best burgers I've ever had) and then have an ice cream from JP Licks. I know, a ton of calories, US style (I'll regret it when I won't fit into my A.P.C raw jeans…)
Tasty Burger + Lip Sticks… hold on to your stomachs.
But, best of all, I'd go to the boutique 'La Bodega' in Boston. As a big fan of streetwear, it's the ultimate thing to do. I had the luck to go there once and I came out with a bag full of caps, sneakers and tees. La Bodega has no window display, nothing like that. Well, OK, there's a little window like that of a corner shop… When you go in, you find yourself in the middle of a real little supermarket. You then have to go to the back of the room, where there's a sliding door that makes you think of a coffee machine. On the other side of this door, you get inside the real store. It's such a cool experience.
Here's the window of one of the best streetwear stores in the world…
But the original idea would be nothing at all if the products weren't fab, too…And they really are! There's a really unique range with tons of exclusive items. They also have their own line of clothes and accessories (I have a 5 panel cap from their collection…a true gem!) For those who like streetwear, La Bodega is a place of pilgrimage. For others, it's a chance to discover a store with a really original layout and concept.
Interview with the founder of La Bodega… really interesting!
The rapper Wale and the singer Lady Gaga even made a clip in this store for their tune, 'Chillin' : you can see the entrance of the rapper in the shop and the passage towards the sliding door !
Fab song ! Lady Gaga gives me chills !
Gill's list
Every year it's pretty much the same thing. It's time for change and to get a real kick of pleasure this Xmas. We survived the end of the world in 2012, we don't know how much time is left!
– SUPREME DIAMOND cap (because being a dude who wallows in luxury is a privilege). If the brand is sometimes slated and can be pretentious, its designs are always a little delight and should be consumed like a guilty pleasure.
– A pair of Nike Flyknit (to go running with Benoit in the morning and look like a ninja). If there was a product to make you stand out in the evening, you'll now know how to do the same thing when running in the park. Benoit's comment: these sneakers are really, really comfy…difficult to go without them !
– A  HAPATIME shopping session. A woman who doesn't wear Zara and is talented when it comes to relooking ? Where do I sign?
– A coaching session with Adrianne Ho (a Californian coach with so much style that she could go running in a supermarket tee and still grab attention ? Impossible to say no!!)
– CCP leather jacket model CORS-PTC 010 – O.DYED LINED SCARSTITCHED L. JACKET (cos its the kind of leather jacket that boosts your spirit when you wear it). Carol Christian Poell is a designer specializing in the manipulation of textures and cuts like a mad scientist trying to bring Frankenstein back to life. A concept that's a bit disgusting but that makes him stand out from fashion as defined by Zara, H&M, etc…
photo courtesy of The Office Gallery
– A pair of black oiled and dyed CCP sneakers (that feel like slippers ! so comfy!) Having an entire Black Knight outfit is brilliant, right?
photo courtesy of The Office Gallery
All the team wishes you a happy Christmas