Hi guys,
Gustin targets the ever-increasing numbers of amateurs of nice jeans. It has secured for itself a comfy place on the quality jeans scene.
There are several reasons for this enthusiasm and you're going to learn about them in detail in this article – the finishes, the canvasses that break free of the boring and ordinary, the amount of choice they offer, and an excellent quality/price ratio.
An inspection of the finishes
A huge amount of attention is paid to the finishes on Gustin jeans for their price range. I'm not kidding, they've thought of everything :
 Half-lined back pockets
Chained-stitched hem
Selvedge fly
Chain-stitched ticket pocket
Selvedge side betloop
Gustin wants you to know that they put the most effort they could into the creation of their jeans. What's more, lost of the finishes are stitched in a nice, really visible, red thread.
However, our best example of very high-end jeans with all the possible finishes is still Paul Rose for the general quality of the jeans and the finishes. But it's a whole other price range.
We inspected in this article : How to spot a high-end pair of jeans ?
In concrete terms, what's it all about? I've carefully photographed everything there is to show you.
Half-lined back pockets.I think this detail is a very good idea. When you put your keys in your back pocket, it isn't very likely that you'll ruin the top of the pocket. So this half-lining of the back pockets makes perfect sense and is why I don't moan about the demarcation on the pocket when usually I prefer a totally smooth pocket like those found with APC or Naked and Famous jeans.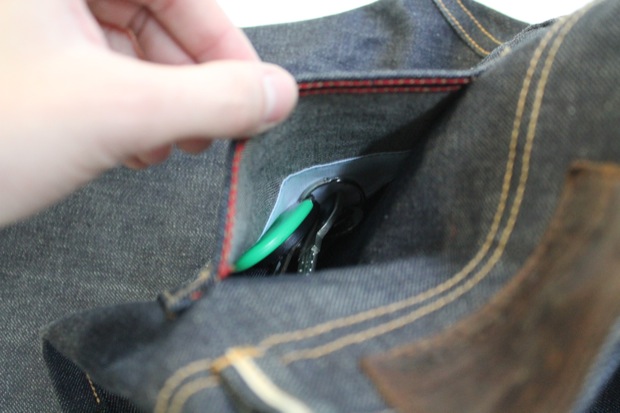 Chain stitched hem. Nice red chain stitched hem. A more solid turn-up than the usual one. It is slightly raised whereas a normal hem is really flat. On jeans you can find chain stitches and simple stitches pretty much anywhere. You'll also find a bit of chain stitch on the waist. The simple stitch can always be found on the rounded hem that goes across the top of the front pockets.
For me, it's a good clue for spotting a high-end pair of jeans at first glance. On the other hand, It isn't particularly useful because most guys will get their jeans turned-up at the local retouching store and they'll do a simple hem.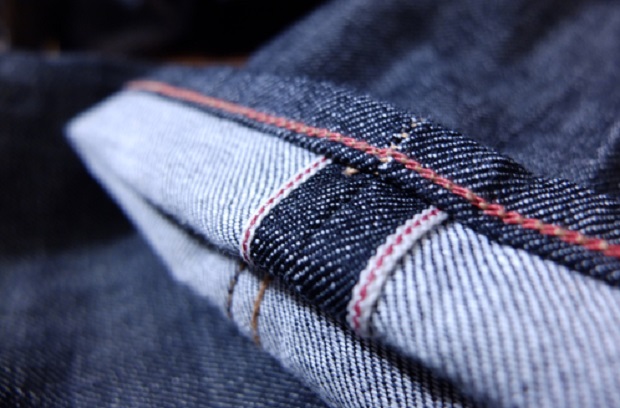 Selvedge fly. A nice detail because it assures a really neat look for the fly. The difference between this and a usual fly is very clear to see. As the edge of the material isn't neatly finished, the seams are joined to finish off the edge of the material. The plus is that nothing can come unstitched and there'll never be those little threads that break free.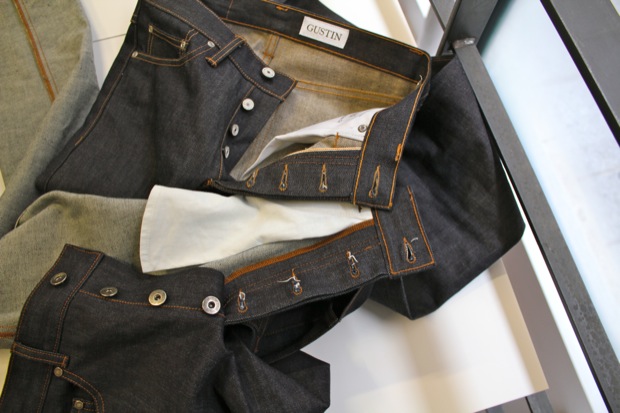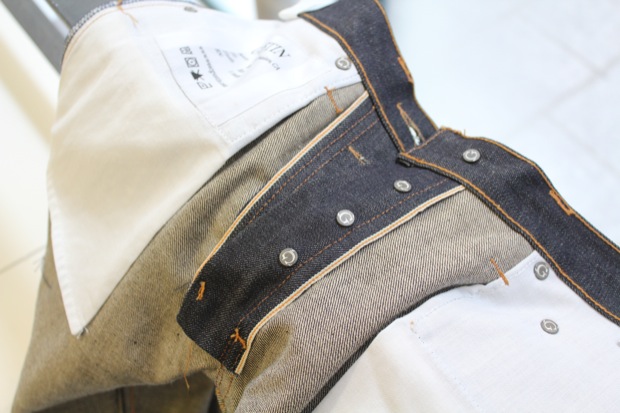 Ticket pocket chain stitch. It's a detail that purists will appreciate but which, in my humble opinion, isn't really very useful. I find it hard to imagine that the thread will break due to intense usage of this area. On the other hand, after a few months' wear, it's not rare to see that the inside thread of the pockets is starting to look worn.
Once again this is a sign of the attention paid to the fabrication. Over to you to look into this kind of detail if you want, but practically speaking, they're not very important.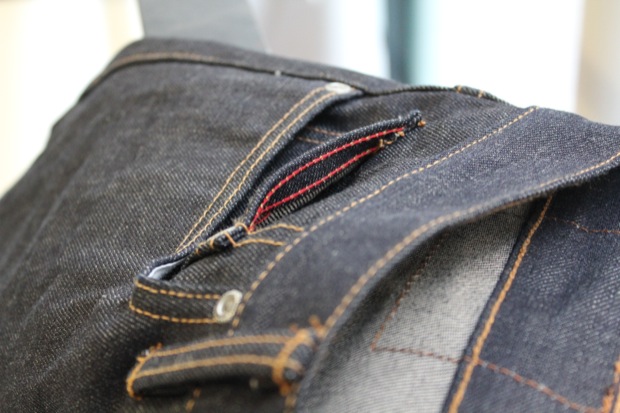 Selvedge side beltloop. This time we're talking about a detail in style. It's obviously very discreet and doesn't change the character of a pair of raw jeans. If you're an amateur/collector of high-end jeans you might have fun collecting the different selvedge loops in different colors. The most common is the red one.
The leather patch. For me this looks fairly good but it's not a quality finish. The patch is very fine and the leather shows really uneven creases.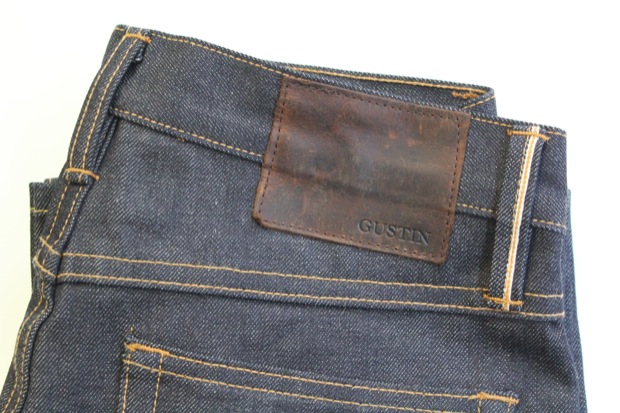 The sum of all that is…
It's all of these finishes put together that makes me think that Gustin offer an excellent quality/price ratio. You'll see how it's possible even for less than 120 dollars in the section on the economic model.
The fabric. The jeans that I tested were a really standard model, that is, in the most basic of the materials offered by Gustin. The weave is in a nice indigo blue (classic!) but the weft isn't in white but rather beige. Logically, this will be seen when the jeans fade.
That leads us to the question of their materials that move away from the ordinary.
The unusual materials at Gustin
This is a key bonus for the brand. Obviously the price is unbeatable when you see the finishes, but that's not all. Having a good old pair of raw jeans with great finishes and an excellent quality/price ratio is already great stuff but then discovering that the brand offers a plethora of materials that are rare or unseen really awakens my curiosity (and that of the brand's fan community!)
You'll remember the crazy jeans by Naked and Famous ? The heaviest jeans in the world 'guaranteed to be uncomfy, or we'll give you your money back!', the scratch and sniff jeans, the fluorescent jeans…
I really appreciate that Gustin have original materials at this price level but the real innovations, really unique materials that have never been seen can be found at Naked And Famous.
So Gustin offers nice materials that have stories to tell. But what I really mean…let's look at an example.
Some examples of original materials by Gustin
The rainbow nep has the unique characteristic that the weft is very subtly mixed with a colored thread. The result is almost invisible on the material but the jeans are really unique for a low price…
(Just to be clear, the weft is the white thread and the weave is the blue.)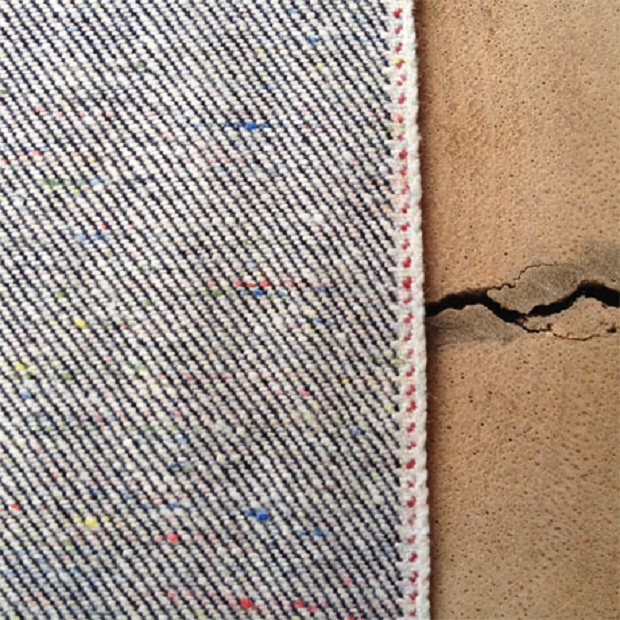 Rainbow nep
I think this example is fairly revealing of the way in which a fabric can move away from the ordinary.
In general, you'll find this 'system' that allows for lots of experiments. An indigo weave paired up with an original weft.
That's how you can find blue jeans with a black weft that makes the jeans reflect the light really differently.
The same thing here, this time with a white weft made from silk rather than cotton. So the jeans are lighter for summer but remain robust and at the same time have a silky touch (logically!)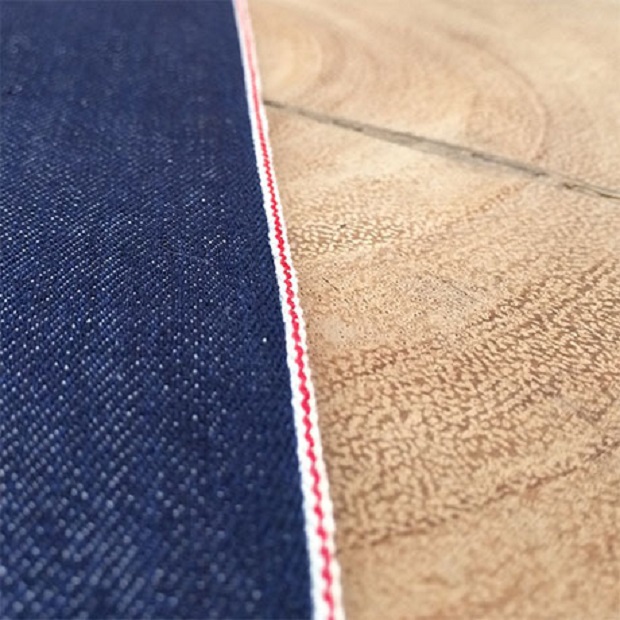 True Blue Silk
You can also find Pima cotton, bio cotton, etc.
The grain of the material
Other than the strong differences in style, you also have the choice between several classic fabrics that can easily be distinguished from each other when you put them side by side. That allows me to really illustrate the notion of the 'grain' of a fabric.
Some fabrics look very smooth, whereas some show little white spots with no visible patterns. Of course, it is the weft that is showing through.
Is there one fabric that's better than the others ? There are obviously little differences of quality but for me it's all about a question of personal taste. Each to his own.
For example, compare this fabric that allows nothing to show through and this one where the weft is more visible.
Fabrics of different thicknesses
We've seen the added touches when it comes to the look and the comfort, but, in more functional terms, you have the possibility to choose between different weights of fabric.
What's the point ? To be able to wear nice jeans in summer without an issue, you'll have to go for 9.oz fabrics. Fabrics that are 13 or 13.5oz (the standard weight) are already too much for summer. If you're looking for something heavier, Gustin offer fabrics at more than 16oz.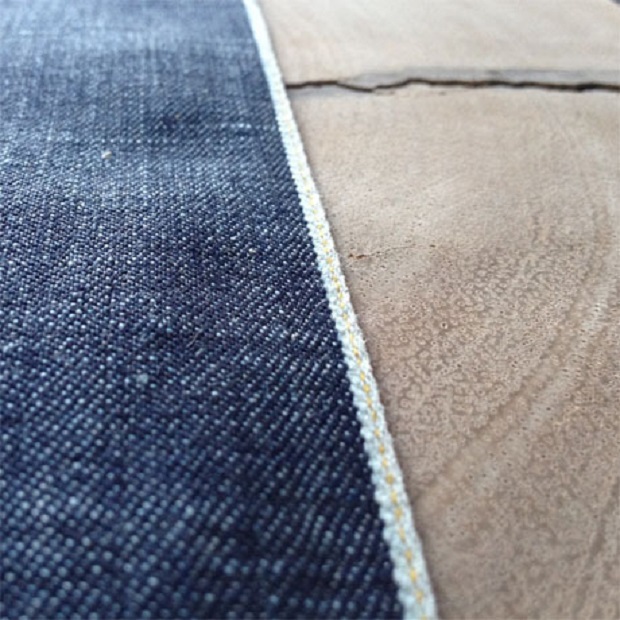 Super Light
And where does all this choice come from?
Where do these fabrics come from? From all over the place, and as they always put "from one of the finest mills in XXX country", you can replace XXX with Japan, Greensborough, North Carolina or Italy.
The fabrics come from all around the world but where are the jeans made ? Once again, there's a bit of everything. Sole are made in Japan, in Okayama Prefecture, but the majority are made in San Francisco. For this info, look at the product label of each pair of jeans.
Cuts by Gustin
Gustin only offer two cuts, Straight and Slim Fit.
And you should know that the slim fit isn't really a slim fit. It's a fairly wide cut at thigh and butt level.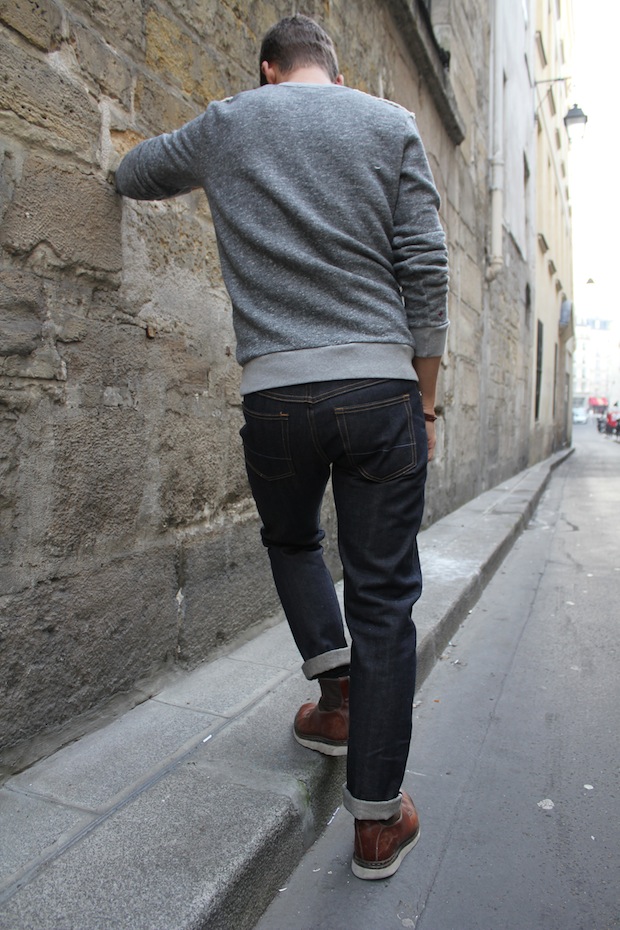 If, like me, you're tall, thin, ectomorph or lanky (choose the term you like the most) Gustin isn't really made for you.
You'll be floating about inside their slim jeans.
Stephen from Gustin was really honest about this: "we know our slim isn't a skinny fit – that'll probably happen at some point in time down the road."
On the other hand, if you're shape is more standard, this cut will suit you very well. If you have muscular thighs (horse riding, cycling, etc) no problem – it'll also look good on you. If the slim cut is too tight (which I find hard to imagine) then the straight cut will be perfect.
The business model by Gustin
At Kinowear we're not financial analysts so I'm not going to go into the details of the Gustin business model. However, the reader who's interest in the brand should know that Gustin doesn't work like all other brands.
Gustin relies on a model of preorder that's a lot like Kickstarter, a platform from which the brand started out.
In concrete terms, fabrics for jeans are regularly proposed. If enough clients buy a pair of the jeans, they back the operation so a production of the jeans is launched. The clients will get their jeans a few months later, as they're informed at the time of buying.
So, you understand, you can't see or try on the jeans before you buy. You have to trust the size guide on the site.
Obviously, it is a hugely advantageous model for Gustin. Indeed, compared to an in-store collection, which is the result of a process that demands several months of work and lots of financial advances, Gustin handles much less risk, which is what allows them to offer jeans at such good prices (less than 100 dollars) (but you have to be patient!)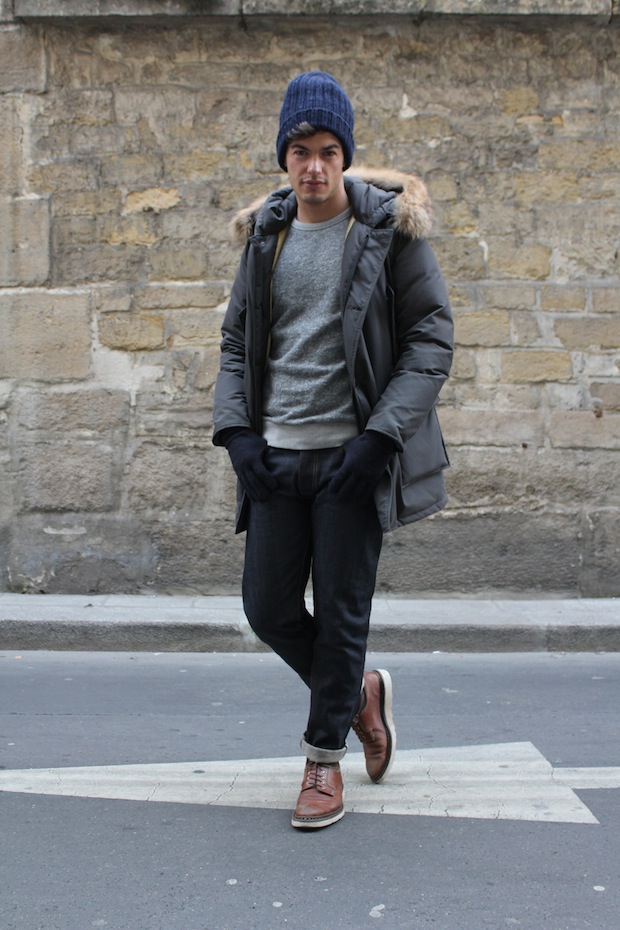 My conclusion
A really good offer, varied and not very expensive. Gustin really has got itself a decent spot in the jeans scene thanks to its quality/price ratio, not forgetting that the brand also offers some really original materials.
But all that comes at a price…Some Gustin jeans have an excellent quality/price ratio but you can't try them on (risky when it comes to the size and cut) and you can only wear them a few months after you buy them.
You can discover more about the brand by following these links :
In the comments: What kind of crazy fabric inspire you? Are you more rainbow nep or silky jeans. Heavy or light?