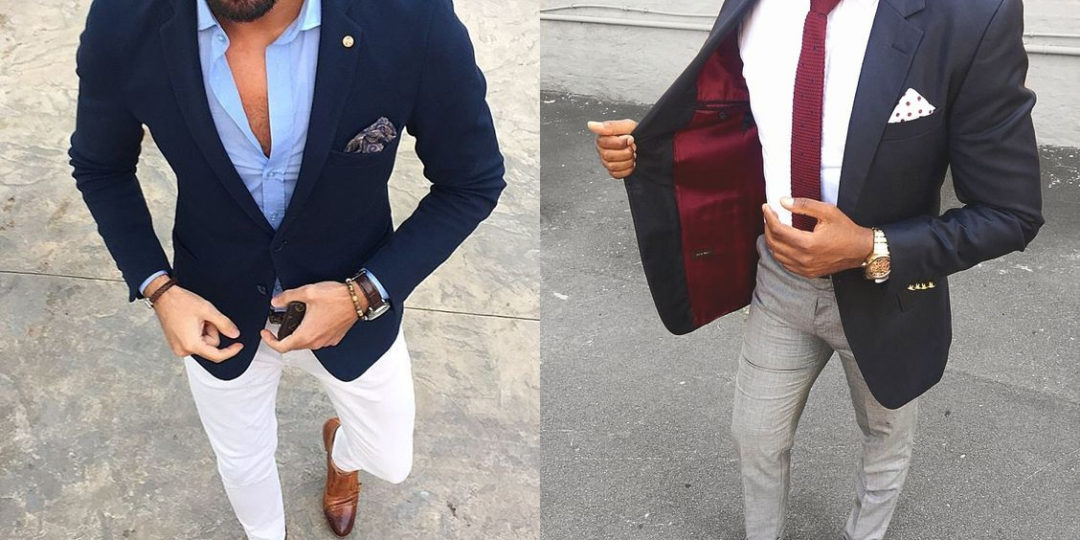 How to Wear a Navy Blazer
Navy is an incredibly versatile color and blazers are one of the essential layering pieces for men's fashion. A good quality navy blazer is a piece every guy should have in his wardrobe.
There are so many different ways to wear a navy blazer. You can go super formal with a full navy suit, or you can keep it casual with jeans and a t-shirt for a light spring / summer outfit.
When building outfits, one of the most important things to remember is to be creative and always consider what kind of image you're trying to create. Do you want people to see a more elegant side of your personality? Or do you want to look easy-going and casual?
Below I'll walk through a few different outfit combinations for navy blazers and why they work.
Popping Navy and Blue With Orange
Blue and orange are complementary colors, so when paired they create a nice contrast and give a very jarring visual effect. If you want to stand out, popping your navy blazer with orange accents is a great idea to turn heads.
This color combination is perfect for spring and summer when you want to give a splash of color to your outfits.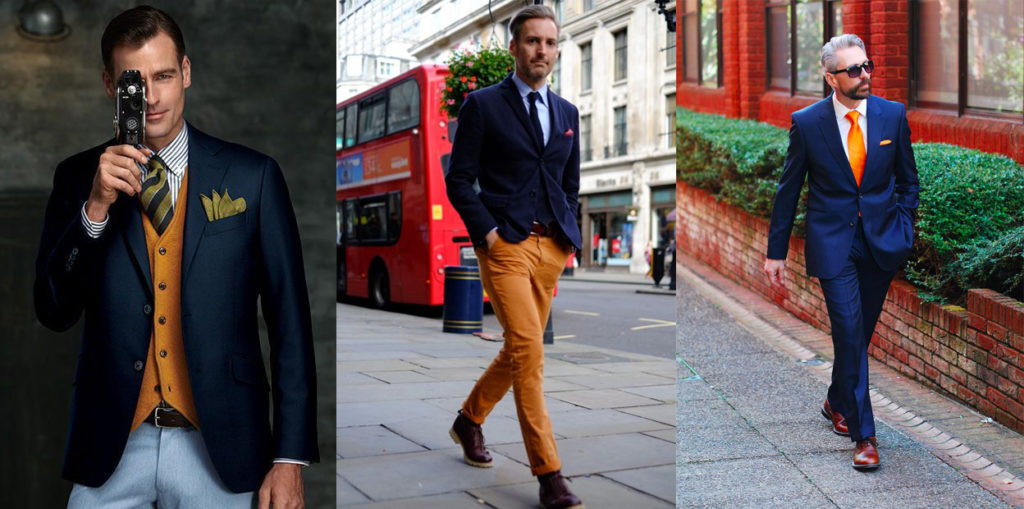 Notice the orange color pairing can be very subtle (like the tie and pocket square in the photo on the right) or it can be quite obvious as with the pants and cardigan in the other photos.
One of the keys with complementary color pairings is to be careful to maintain harmony with the two colors. It's important to give the outfit balance. For example, don't wear a bright orange t-shirt with bright blue pants!
You always want one complementary color to be primary and the other to be secondary. In all of the outfits above, blue is the primary color and orange is a secondary color, popping out as an accent against the blue.
Layering With Different Shades of Blue
Monotone outfits are subtle and visually pleasing. Great for when you want to look good, but don't want to be too "loud".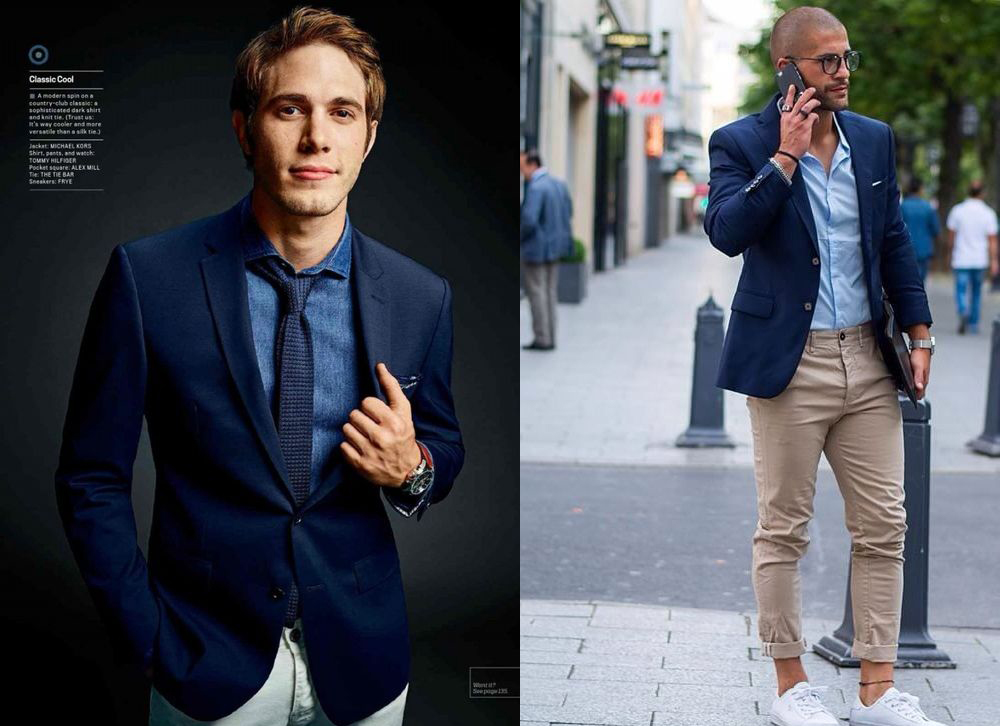 In the above outfits, the navy blazer is paired with lighter blue dress shirts underneath. This is an important rule-of-thumb when it comes to layering: try to keep your lightest colors on the innermost layers and the darkest colors on the outside. This creates a better sense of depth with your outfits and looks more visually pleasing in general.
Remember not to use the same color blue on multiple layers of an outfit. You don't want to look like you're just wearing a uniform. You also lose the sense of depth when you wear a single color. Pairing different shades of a single color will make simple outfits much more dynamic.
Keeping It Casual
People often associate blazers with formal outfits or business suits. That's definitely doesn't have to be the case! You can dress down blazer outfits with casual items like shorts, ripped jeans or sneakers to give a very dynamic look (mixing the formal and the casual).
These types of outfits are some of my favorites to build with blazers because they look so unique.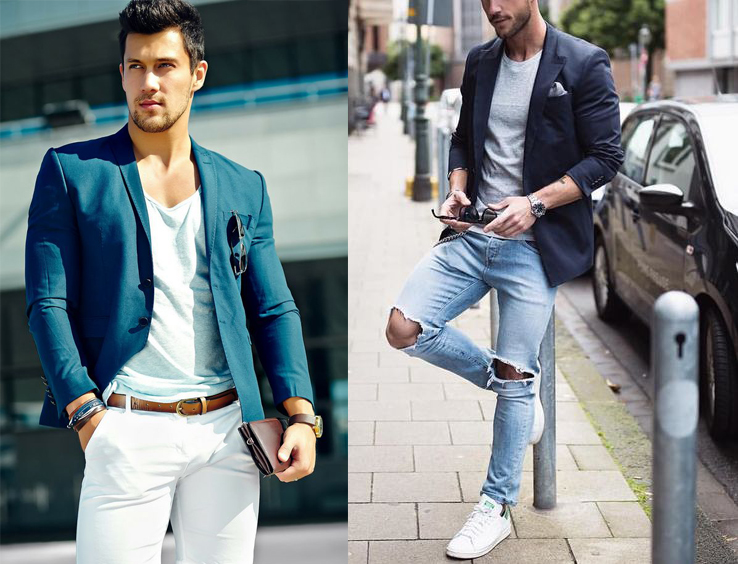 The outfit on the left makes great use of a scoop-neck t-shirt underneath a navy blazer to show some more skin and give a sexy, summer vibe. The sunglasses in the top pocket are a great touch as well.
The outfit on the right makes great use of ripped jeans for an edgier, masculine look. The navy blazer gives a touch of elegance to the otherwise super casual outfit. Blazers can be great pieces to add on top of simple outfits to take them to the next level.
Notice the above two outfits use the same principle of layering light colors underneath the darker blue blazer for a greater sense of depth.
The Preppy Look
Navy blazers can be a great layering piece for preppy outfits. Growing out of Ivy League fashion trends in the 20th century, preppy fashion is a great middle ground between casual and formal – giving off a smart, but laid back image.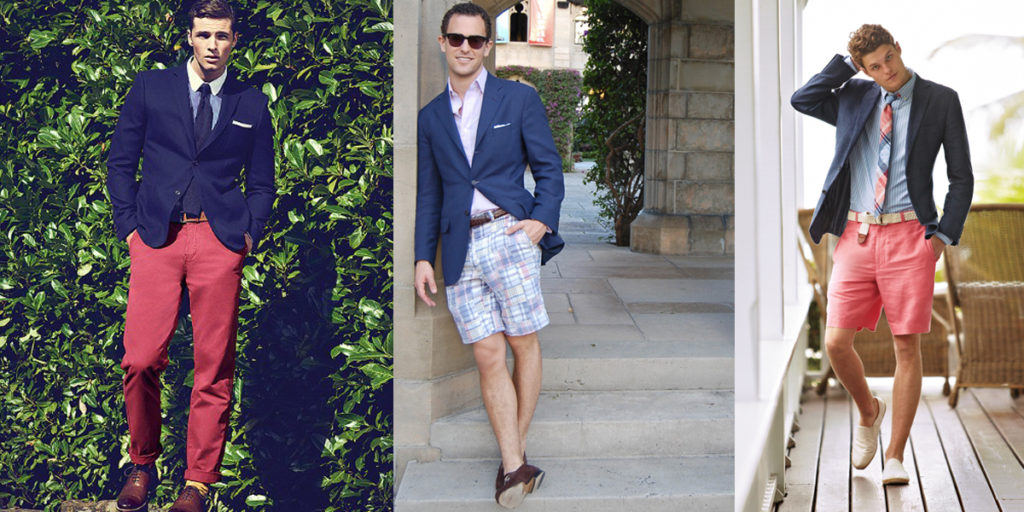 The navy blazer with nantucket red shorts is a classic preppy color combination. The effect is similar to the orange/blue complementary pairing discussed above, but nantucket red is a bit less jarring against blue, making it easier on the eyes.
The two photos on the right are great examples of how to wear shorts with a blazer for cool and comfortable summertime outfits, without looking too lazy.
Conclusion
You should have plenty of inspiration for your navy blazer, now. Whether you're going for a casual and playful vibe or more professional elegance, a navy blazer is incredibly versatile and can be worked into so many different outfits.
Remember to experiment and have fun trying out some new styles!
How do you typically wear a navy blazer? Share in the comments! I'd love to hear some more ideas 🙂