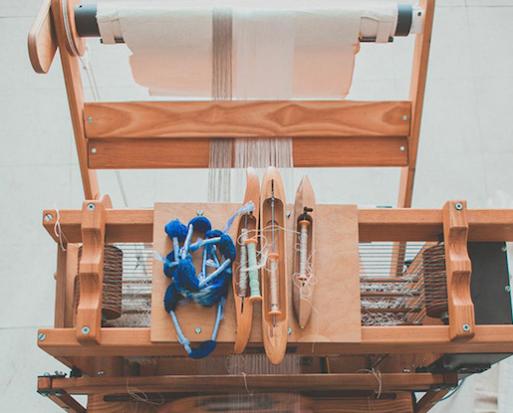 Web Review – January #5
There's always a small delay of a couple of days (best case scenario!) when it comes to our web reviews, but that's nothing! Anyway, I hope that you've all had a good holiday and New Year drinking good wine and food with your nearest and dearest. Without further ado, here is our round up if you haven't had the time to delve through the minutiae of the web.
Fashion, but nothing superficial
Fashion and creation
Was fashion better before? Indeed, perhaps it was…we often look to Japanese talent, which has entirely won over the world, when it comes to clothing and styling . Yohji Yamamoto (one of the most iconic Japanese designers) is one for example. Let's look at the Business of Fashion article once again "When Passion was Everything" with Irene Silvagni, editor of French Vogue in the 80s and 90s.
You'll see that people spent time on the material, the quality of the production, the creative process, the technical sophistication of the products, how the garment worked in movement. In short, there was passion, nothing but passion. It was about amazing clothes and not just about labels. It wasn't just about the superficial side of the latest fashion week (but that's another debate).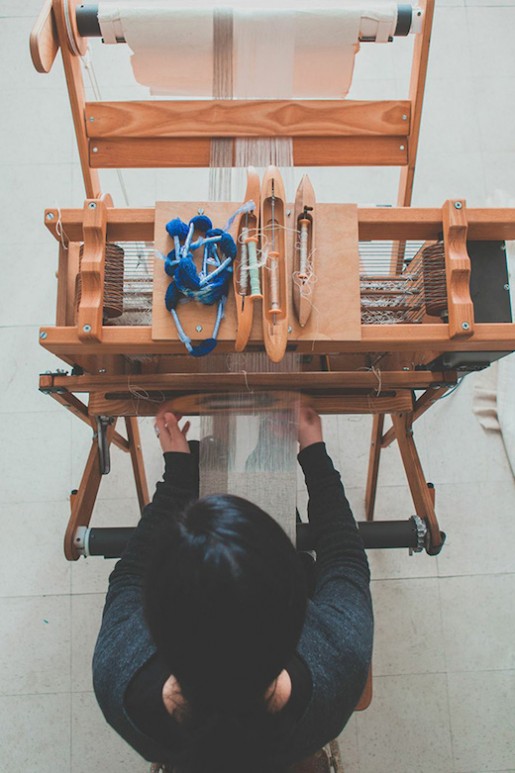 Beautiful traditional weaving which is what we like.
Let's stay with Japan with a very interesting article on the work of Hiroko Takeda, a textile designer. This work might not mean a lot to you, but it is essential in modern clothing; this textile designer creates the patterns that we wear, tests their finishes, and then creates them on traditional looms.
Fashion and its industry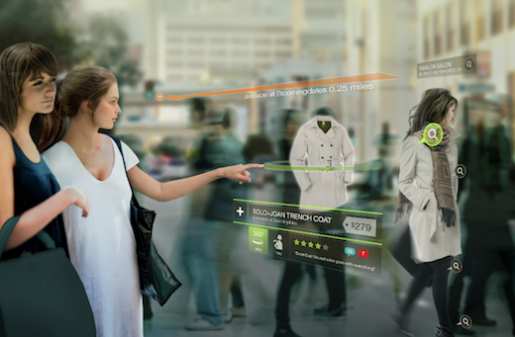 You're mistaken, it's already possible.
Computers, tablets, smartphones are inter-connected and synchronized due to the internet (and the Cloud). Without necessarily realizing it, you can purchase things at just about any moment, and this trend has a habit of developing further. The Business of Fashion (very active this month) has unveiled its article "The store is everywhere" looking at new practices and strategies which are in place today and which will be present in the future. The link between physical shops and digital ones never fails to amaze us.
Style, not the Pimp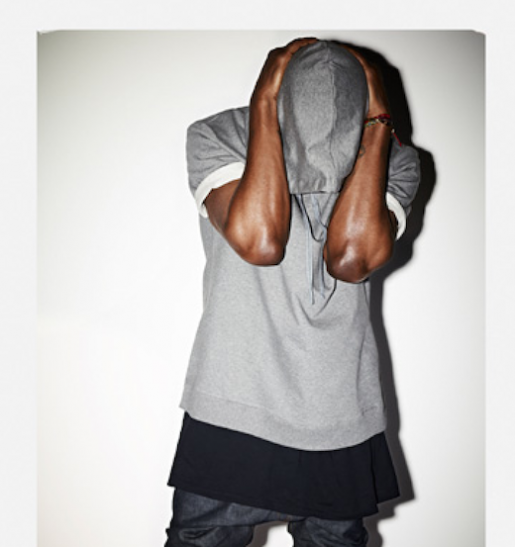 Kanye x A.P.C
We've been following the blog Slam + Hype which has given us good fashion solutions since 2004. Here are the famous fashion faux pas that you should you try and avoid, but the question remains, what about Kanye? Not to be taken at face value, but this article is very funny and we really like it!
Now let's talk business
Let's start by a few words from the 2 founders of Whatsapp (the alternative to Skype), which have the exact same opinion as us, in an article entitled "why we don't sell advertising space". Extract:
We knew that we could do what most people are trying to do all the time; avoid advertising…advertising isn't only a disruption to the aesthetic, but it's also an insult to your intelligence and interrupts your train of thought. In any company that sells advertising space, there is a relatively large number of engineers who spend their days exploring data, in order to improve their programmes to extract even more data about their users. Thus, they are improving their servers where all this data is stored to ensure that everything is well archived, organized, separated and analyzed…the result? An advertising banner which is barely different from the others on your search engine, on the screen of your computer or mobile. Okay I'll stop, I promise, but it was difficult.
In Esquire, I read an excellent interview of Elon Musk. Elon Musk is one of the co-founders of PayPal. He then founded Tesla Motors, which produce the highest range electronic cars, and Space x…which is aiming to send people to Mars. Out of interest, it was Elon Musk who inspired the character Tony Stark in Iron Man. This is a very interesting interview, because it goes through the different stages of his life that have built the personality of Musk that we know today. It's like a short biography for any reader to snap up!
Something to help you relax on the weekend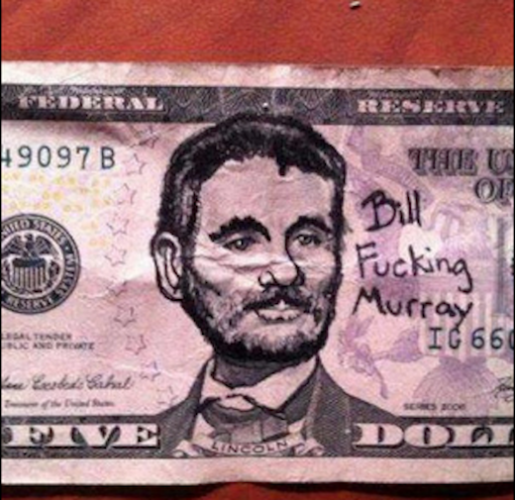 I've always been a fan of Bull Murray (especially in Groundhog Day, where the same day starts again and again). Apparently he's a very funny person in real life as well, and often goes out to bars bringing unknown people along with him. This article made me think about some of our own adventures during the past year, like when we found ourselves playing video games with the guys from Naked & Famous who we had just met the night before. Here's what i'd like to say to him:
"Dear Bill Murray, if you're in the neighborhood, I'd love to share a few beers with you. And I don't care if no-one believes me".
Let's Keep it simple

Matt Allinson's article "keeping men's fashion article" is perfect for any gentleman out there looking for style over fashion; two very different things. It's all about removing the clutter, getting rid of the flamboyance, and replacing it with simplicity! Get rid of brand, prints, detail, and replace it with quality, well fitted basics. This doesn't have to mean homogenization either, but gives you a clean palette on which you can add your own personal touches through accessories. Whilst this is without a doubt a good philosophy to live by for all the beginners out there, I still cling onto the hope of something a little bit more ambitious, even for men who aren't interested in high fashion.
For an even simpler step by step guide to beginner's menswear, then "the Repository menswear starter guide" is the place to go. If you are a fashion beginner, you need to absorb as much knowledge and inspiration surrounding you as possible. Firstly, make sure the cut is right; a stumbling block for many. Then, read as much as possible to gain inspiration, be it blogs, newsletters or magazines; but ultimately, think about yourself and how you want to dress as this is the only way that you'll create an individual style.
Equally, for someone who doesn't have an expertise in the field, you can't be afraid; you have to be open-minded and experiment; be it trying on new outfits, new materials or new cuts. Experimenting is key; it really doesn't matter if you get it wrong to start with. Fundamentally, you don't need to rush it; learning how to dress well is not a check list, it's a very personal and intimate thing that takes a long time to develop, so fashion should be something to enjoy and cherish for itself. This is very good advice; if fashion can't be something to enjoy, then what's the point?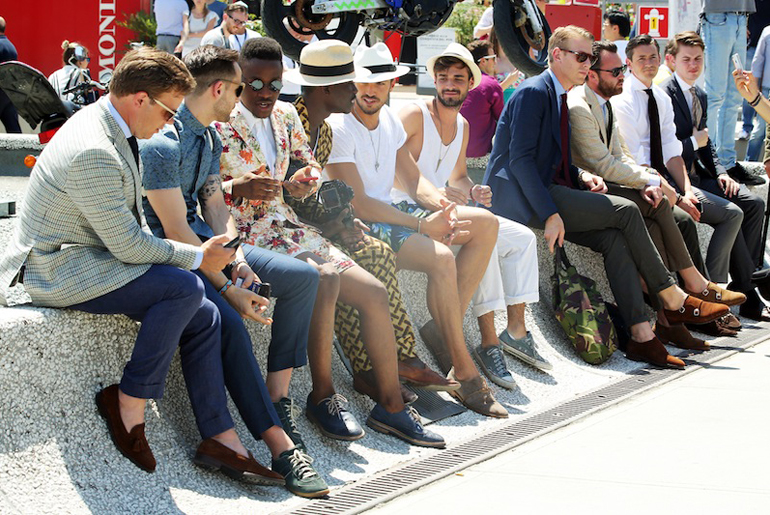 Don't miss Antonio's from Real Men Real style TOP10 men's style blogs of 2014. Of course we are very happy to have been featured in there along with a lot of friends, such as Barron from EffortLess Gent, Tanner from Masculine-Style, Sven from Gentleman's Gazette.
Actually I've got on post from each of them to recommend you today.
Tanner from Masculine-Style wrote "Why a man should own nice things". This post will make you think a bit and I hope will help you gain a wiser point of view on your consumption habits. We've been living in a society that celebrates equality, sameness and one which refutes public displays of wealth. Tanner argues against this, and questions whether it's really that bad to display your worth. Owning and wearing nice things, whether consciously or not, is a display of power and wealth; a mark of success! Whilst he acknowledges that items shouldn't define your own sense of self-worth.
"Piti Uomo 85 outfits", this article by Sven from Gentleman Gazette gives you a rundown of the ever changing tastes and styles of dandy fashion. Starting off with plaid and window pane materials, the article moves onto the resurgence of mottled melange fabrics. It not only focuses on the suit itself, but also documents the presence of bold overcoats which have emerged amongst the braver dandies out there. It even looks at how you can accessorise your outfit with bold scarfs to brighten up even the most classic and muted ensembles. However, it isn't all positive; Sven with a lot of relevance also looks at how things can sometimes go wrong when combining too much colour and texture, which although may be bold, can simply be too much!
Finally Barron from EffortLess Gent poses a big question; can we really wear the same suit day in day out? The answer is yes, but there are many techniques to help you on the way. Paying attention to how flexible a suit is when you buy it is a key to being able to wear it repeatedly; jackets with interesting buttons can often be worn alone with different trousers for example, creating a different outfit entirely. There are some materials and finishes of jackets that should only be worn as a suit, whereas some others give you the flexibility to mix and match. You can always mix it up as well, by adding different layers and colours around a suit to create a distinctly different outfit. So whilst a suit may seem like a pigeonholed outfit, they are more versatile than you think.
And in the meantime at Kinowear
Let me introduce you to our best posts of the month…
'The dark side of fashion" looks at the time old fallacy that black is the most fashionable colour. This article unravels myths around this colour, pointing out its flaws and why it should be avoided. And for all those who suddenly find themselves lost, wondering what to do now, there's even a guide telling you how to avoid black!
But why not jump away from our very Eurocentric approach to fashion with the article "workwear: a trip to Japan," which looks at Japan's revolutionary stance on fashion and workwear alike. A nation which straddles both the past and the future; Japan is one of the few nations to preserve classical clothing production techniques, whilst also pushing the boundaries of fashion perhaps further than any other nation. There are lessons to be learnt from this small island nation, which leaves much of Western Europe in the shadows.
And finally our roundup of all that's happened in Kinowear during the past, very busy year, just in case you haven't been following the blog quite so religiously as we have. This article surveys the greatest moments of the past year, and sets our aims and ambitions for the forthcoming year, and of course thanks our dedicated readers, who stick by us year round.
I wish you a good reading 🙂