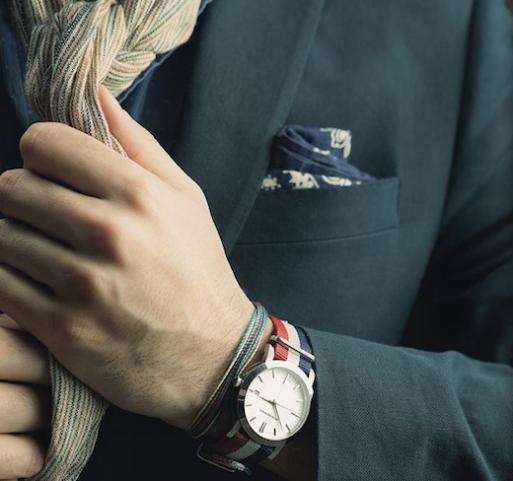 Accessories: how you can personalize your style with minimum risk
You've got to grips with the basics? Good
Now you want to move up a gear: create your own personal style. The easiest solution…which allows you to achieve this without taking too much financial risk just in case there's an artistic crash.
Okay, get a pen and paper: here's an overview of the possibilities that are open to you (and you are not going to copy our neighbor, merely keep an eye on them, because you're focusing on how to personalize your own wardrobe here).
The most common accessories
The tie: easier to wear than you'd think
Ties are not only designed to be worn with business suits or wedding outfits. Okay, I know that you're skeptical about wearing a tie on a day to day basis, but nevertheless it's an accessory which will give your outfit an added touch of elegance without going too far. Furthermore, the choice of tie can be very personal since there is a huge variety of them (in all different colors): plain, knitted, patterned etc.
It has been interesting to see how brands have started to offer alternatives other than traditional silk, silk / wool, wool / cashmere ties over the past few years.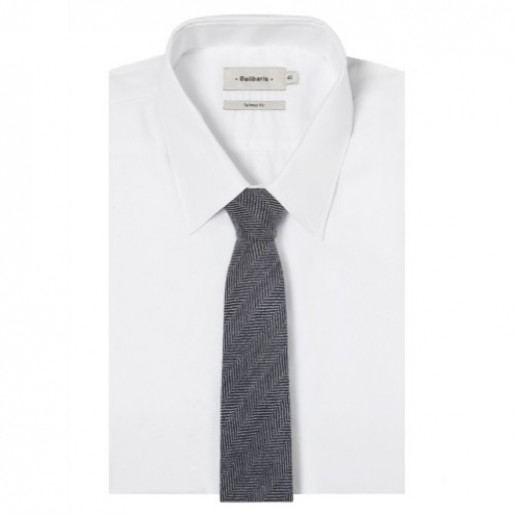 A Balibaris wool / cashmere tie in Herringbone knit. A subtle way of adding a touch of originality to your outfit.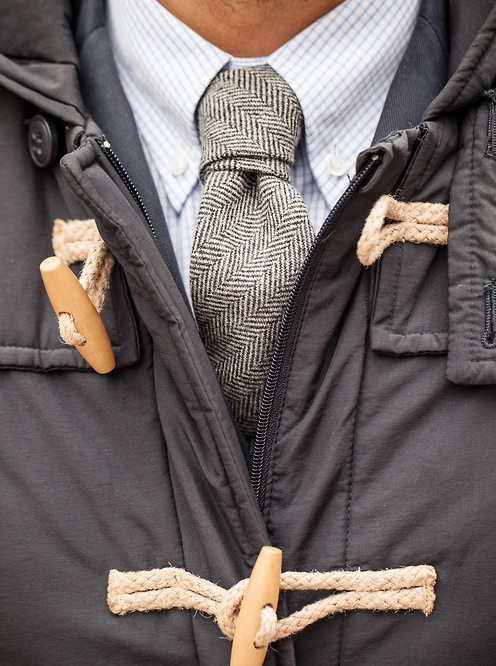 This tie goes very well with a more relaxed garment such as a parka: it's not only reserved for formal attire.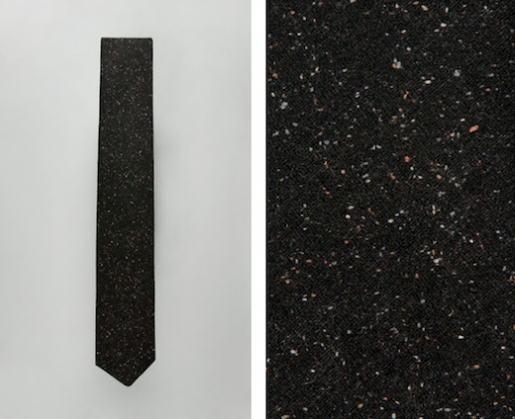 A Japanese wool tie by Nicolai Rose; it experiments with texture and material. A touch of originality.
Style advice: experiment with color and material
Look no. 1: a simple outfit composed of men's basics
Apart from the color of the chinos and the tip of the Derbys, all the pieces of this outfit are relatively basic. But the tie gives it a touch of elegance without attracting too much attention.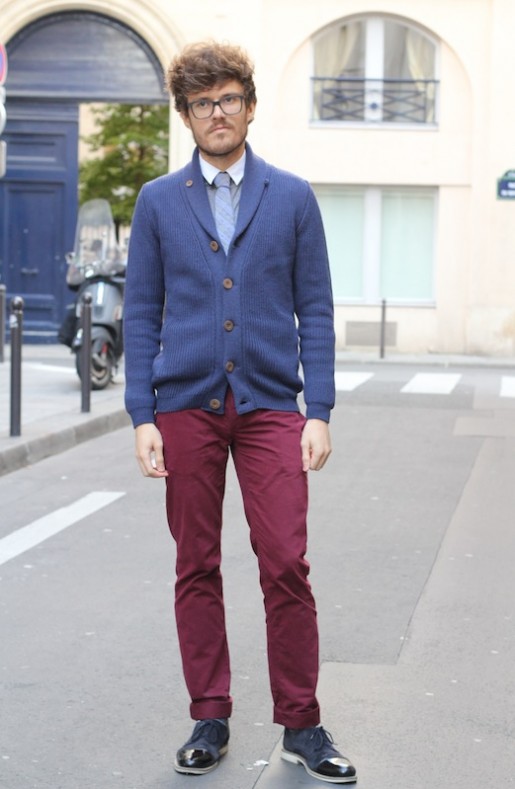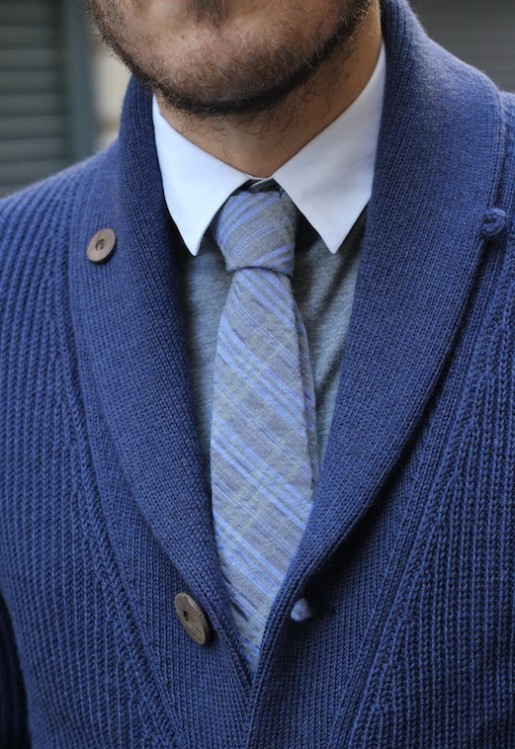 My idea was to create a color gradient based on blue in order to create a link with the cardigan, whilst also not wanting to create too much contrast between the shirt and tie: the grey plays its role perfectly in connecting the different colors.
Shirt: Cos, Tie: Natural Born Elegance, Cardigan: BonneGueule x 6&7, Chino: Monoprix, Shoes: Menlook Label
Look no. 2. smart, with just a blazer on top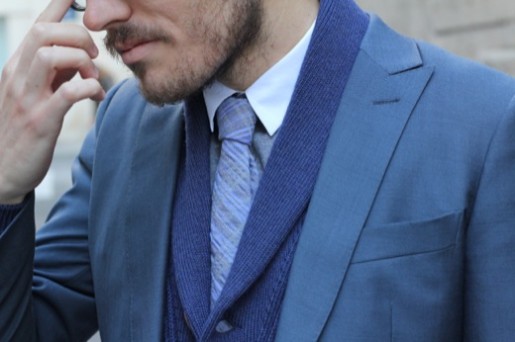 Blazer: Black Lapel (article to come), Cardigan: BG671, Tie: Natural Born Elegance, Shirt: Cos
The multiple different materials really make this outfit. The big merino wool knit gives a certain masculinity to the whole look. The grey jersey of the shirt (like a t-shirt) is balanced by the lightly checked tie. Notice how its individual appearance reinforces the relaxed look, which fits in with the outfit as a whole.
If I had worn a tie which was too smart (for example in silk), the combination would have been a bit out of sync. But this is an elegant outfit without being too formal. When you're told that layering offers interesting possibilities, so do accessories! They add character and depth to your outfit.
The bowtie: less easy to incorporate, but much more fun!
I know you're going to say that I'm just talking about myself. But don't worry, I don't only wear bowties. But that's another debate.
It's a good time for everyone: stop putting up barriers and claiming that it's a fashion accessory, not for me, I'll go a bit too far if I wear a bowtie.
That's simply false: this accessory has become widely popular. Fashion is temporary; the bowtie is already two or three years out of date (look at catwalk photos). And despite this, you should ignore passing trends and dress how you want: you'll feel a lot better about yourself. This advice applies to your style as a whole; don't worry what other people think!
Style advice: break the rules and master your style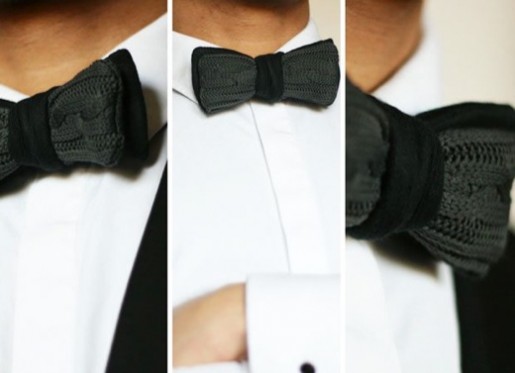 Same story as the tie: wear a knitted wool bowtie. It's stylish and original. Special mention to Atelier à Nouer (bowtie in the picture).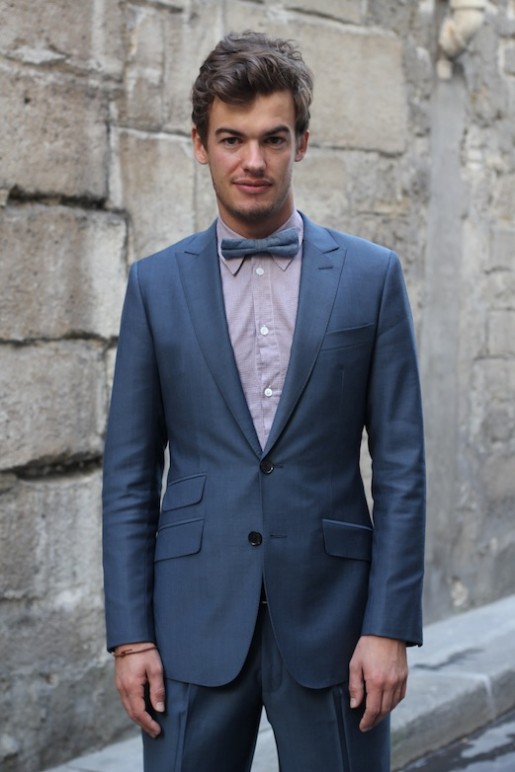 Houndstooth print shirt by Melinda Gloss, chambray bowtie by Naked&Famous, suit by Black Lapel
Although Geoffrey is far from being a bowtie connoisseur (everyone has their own style) this bowtie suits him well. Since the suit is smart, you have 2 options:
-Stay casual by undoing the first 2 buttons for a cool look without too much effort.
-Be very smartly dressed.
For the latter, you have to totally get into the role, even if you don't feel totally comfortable.
The trick is to choose a bowtie in a material which is usually used for more casual garments (Chambray is used for casual shirts). If Geoffrey were wearing a bowtie in silk, the outfit would be too smart, a bit "too much". Naturally, if you're not used to wearing them, then start by wearing them for specific events (you can choose which), with original materials to avoid having a look which is a bit too affected.
The scarf: not only to keep you warm in the cold!
Sometimes you don't know how to wear a scarf: they become a nuisance more than anything. The error which you should avoid is trying to flatten out even the smallest creases and imperfections. Don't worry about it too much and trust your instinct; the outcome will be natural. A look which is deliberately not thought through is perfect!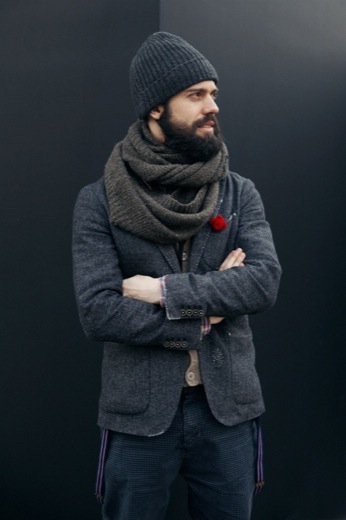 If you have more of a work-wear look (or draw inspiration from this look), there's no need saying that bright blues are out of the question. Earth colors will do the trick (brown, khaki, sand brown). To keep it simple, buy a charcoal grey scarf, it will go with everything. Remember that you need to choose colors rather than warm ones.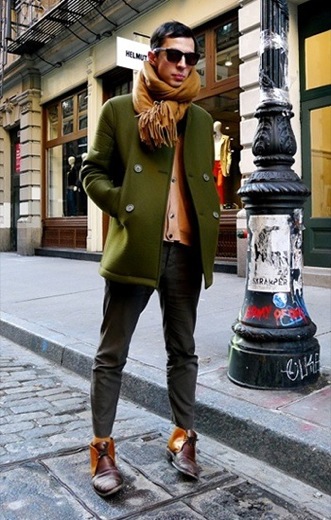 If you have an urban style and if it's very cold, you can tie your scarf like this. Look at the careful choice of colour between the scarf, jacket and shirt. There's a link with the desert boots which does the trick. You don't need anything else, it's efficient and well thought through.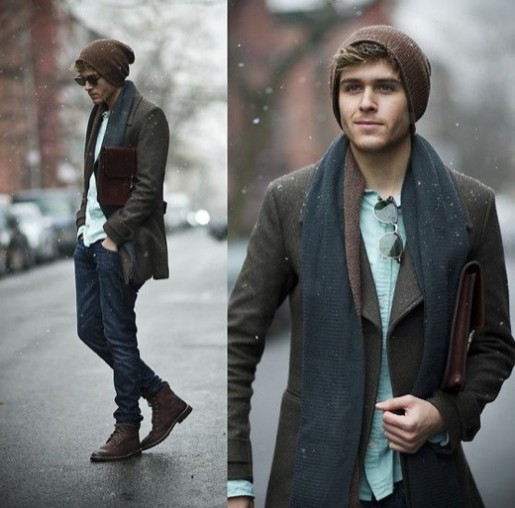 The hat-scarf combination goes well in this urban rugged style. Wear your scarf in a loose free way to give volume and length to your jacket (and in order to lengthen your whole silhouette). And don't forget to wear your scarf longer on one side than the other to maintain this natural look, trying too hard to master an outfit won't help you at all; an outfit which is too perfect, is not perfect at all!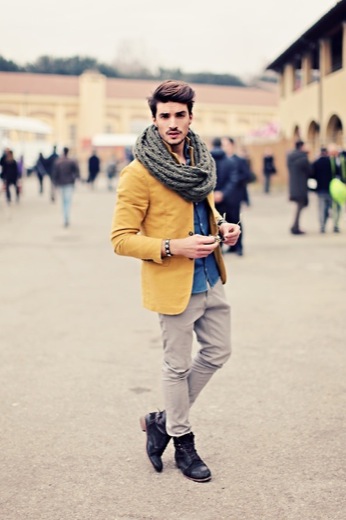 Another look; combining it with a blazer. This man (looks like an Italian blogger to me) has made the wise decision to wear a large scarf around his collar to give volume to his chest, and to soften the bright colour of his jacket. As Luca's grandmother once said chi va piano, ca sano e va lontao".
Let's delve a bit further: a sense of detail
Colored socks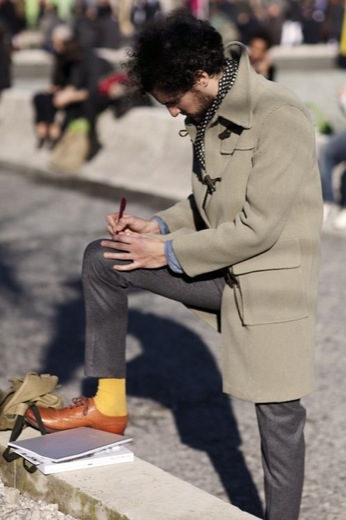 Dare to wear colored socks; they can be both discrete and daring at the same time. The only rule to follow is to never try and coordinate them with another part of your outfit. You could even try socks with a jacquard or Aztec pattern. As long as you don't have cartoon images on them, you're okay!
Pocket Square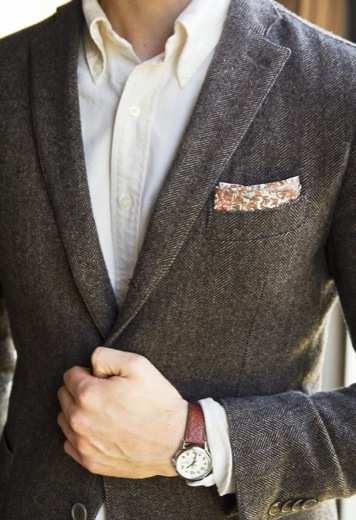 Pocket squares can mix up your outfit subtly. They are especially interesting with a tweed blazer (traditional Scottish material) to give it a more contemporary edge (and also to add a depth to your outfit). Also known as a pocket handkerchief, it can also help you in times of stress or untimely sneezing fits.
Note: don't tell me that this type of accessory (which could equally be a tie or bowtie) will make your outfit look dandy. This word is bandied about too much these days to the point that it no longer means anything. Dandyism is more than a simple style, it's an art of living which is very difficult to apply to our lives these days: it's pretty clear from the image below.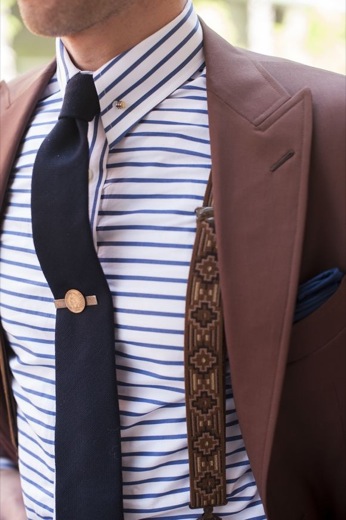 The attention to detail is pushed to the max. It's "too much"; too many accessories destroy your style! This is just bad taste!
Men's bracelets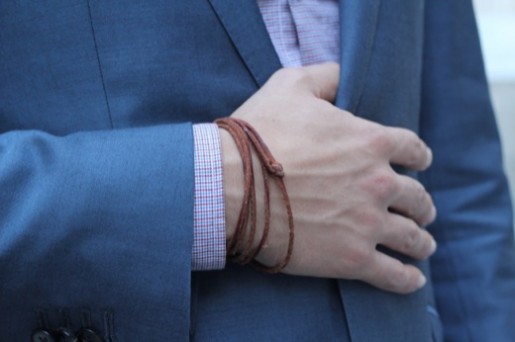 Geoffrey chose a thin leather bracelet. The material is masculine whilst also being discrete.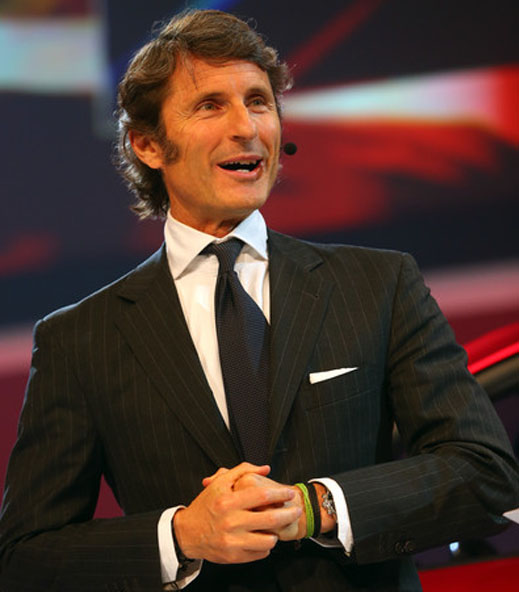 Like Stephan Winkelman (president and CEO of Lamborghini, you can place material bracelets on top of your watch strap or the other way around). Italians love these small additions of color which let you add a personal touch to your outfit.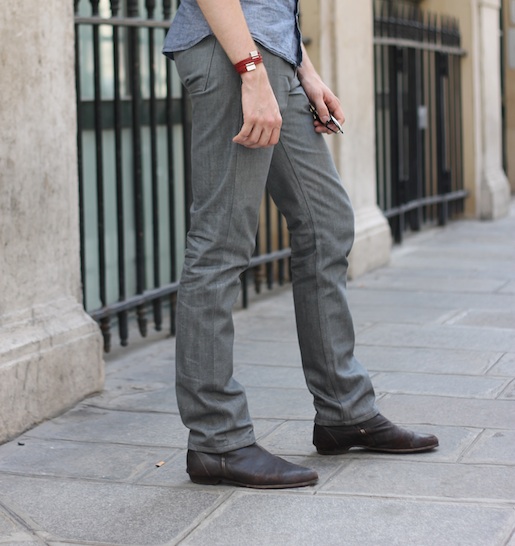 This is the Atamé bracelet. A masculine yet elegant bracelet that you can wear with any outfit. We like it so much that the whole team wears it in different colors. Yes, BonneGueule is a bit like Power Rangers.
Avoid all metal bracelets or bracelets which are too large which might appear too ostentatious. The most important thing is to be discrete and to listen to yourself. Don't go and buy the latest bracelet in fashion that you see everywhere on the street.
Watches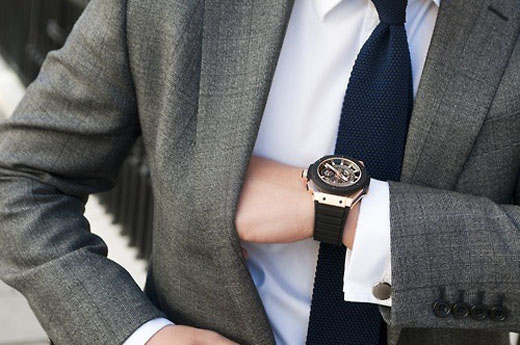 This is the error that I see most often. The watch is the last detail of your outfit; the cherry on the cake. In the same way as bracelets, your watch should be personal, adapted to your own body, style, mentality, and especially your wrist. You can see below, that the watch doesn't go with the outfit and is too big.
Wise shopping tip: when trying to choose a watch that is your size, make sure that the hands do not extend beyond your wrist; if this is the case, it's too big.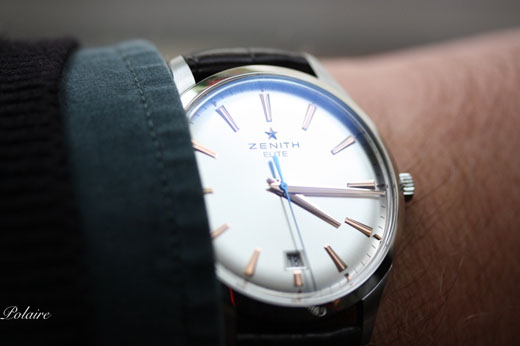 For a timeless classic look, choose a watch that is flat and discrete. If you have the money, you could buy a Zenith with your eyes closed. One of the most "accessible" quality watch makers.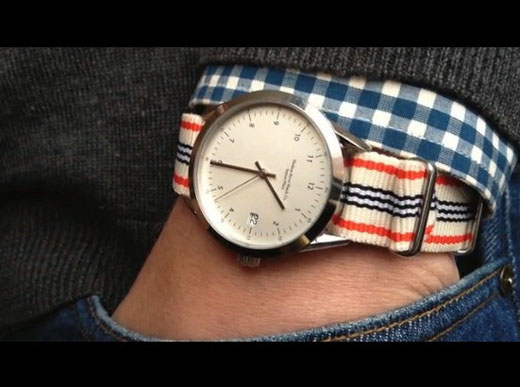 For a look which is more relaxed, choose a timeless model to which you can attach a "NATO"  strap (military inspired strap). You can change the strap however many times you want, so it's important to choose a watch face that goes with everything.
Regarding the straps, leather is good for winter, but unbearable in summer (you wrist will expand with the heat). When it's hot, choose a NATO or metal strap.
Explore, Try, Adopt
You've now got to grips with the basics of how to personalise your style. To start with, you can choose to focus on one or more accessories at the same time; it's up to you depending on your personality and the environment in which you're in. In order to improve your style sustainably (or refine it), remember these three points:
Explore: you can find inspiration everywhere and every day, whether it's in the street, on public transport (the metro is still my favorite spotting ground), or on the internet. Look around!
Try: Once you've developed your own ideas, don't be afraid to try something totally new. You'll perhaps make errors (just like everyone else) but at least you're developing your look and your style.
Adopt: you have the scarf and you know how to wear it! You will even enjoy mixing your accessories with your outfits and your style will improve (you will receive more compliments for example) : continue like this, and push the boundaries even further if your instinct tells you to! On the contrary, if an error halts your progress, don't lose your confidence, but continue to discover new patterns, colors and materials. Perseverance pays!
Conclusion: good reasons why you should master accessories
Accessories add something extra to your outfit and in a subtle way (just a little touch).
They let you personalize your outfit at the lowest cost.
You can choose the accessories that suit you: there's a huge choice (there's something for everyone).
You can easily develop your own taste and enjoy creating a style which is more original. Beyond the primary function of clothes as a mere way of covering up your nakedness, clothes and accessories can be an outlet of individuality and creativity.
Last little thing: although you might be a fan of certain rappers, we're not fans of streetwear in the style of 50 cent; I'm sure you've got it by now; being ostentatious is not what we're going for.
P.S. thanks to Luca (no "s" at the end!) for his expertise on watches.
What are your favorite accessories ? The ones you use the most often ?