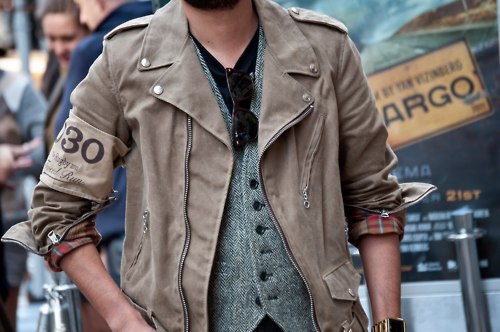 Perfecto leather jacket: How to choose a men's biker leather jacket (2/2)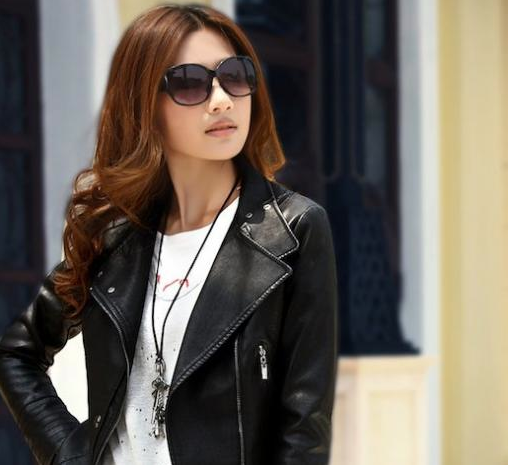 To read about the history of the Perfecto jacket, click on this link. Here is the second part to the article, with information on how to properly choose and wear a perfecto jacket.
A matter of style
Like the entire range of other classic styles (trench, baseball jacket, etc), the Perfecto jacket has been passed through the mill, moving towards various other worlds and styles. Here we have a brief overview of the contemporary range of the Perfecto jacket, and then we'll finish by giving advice in terms of choice and association according to your own style
Here is a brief look at the different forms of the Perfecto jacket we have today:
Legendary pieces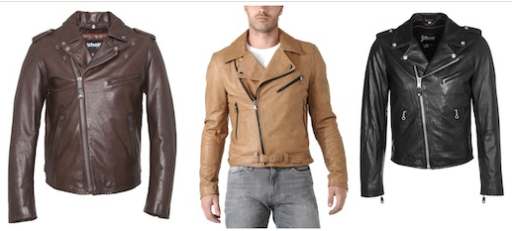 The very basic, with Schott, the Canadian and Schott again.
In terms of price, expect to pay somewhere around 420$,
the minimum for a jacket of this calibre.
For you guys who are just starting out, look for the original. Of course, if you're buying a Schott, the starting prices are around 550$, which is a reasonable cost for leather.
Unexpectedly, black is without a doubt the most popular colour at the moment. Bearing witness to the current collections proposed by His Royal Highness Yves Saint Laurent Hedi Slimane. Yet, nothing is stopping you from choosing a more neutral colour, brown tones or even camel: it's the same as what is recommended. To emphasise a more raw and rustic touch, certain brands make their jackets by using buffalo. The effect: you're guaranteed to look like a brute.
Versions of the Perfecto in velvet or woollen skins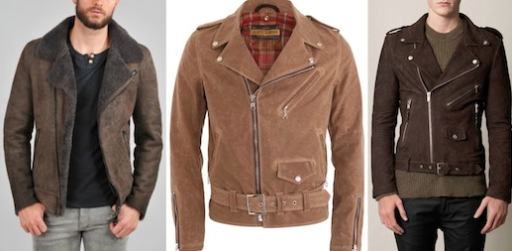 The Canadian, Schott and Blk DNM suggest really nice velvet versions of the Perfecto.
As amateurs of beautiful materials, it would be impossible to not mention velour leather (a collective term for all types of buffed leather), calf or goat (the supplest of all). Although it is rare to see these undiscovered counterparts, it has enabled the considerable softening of the hard quality of the biker jacket lines, which in turn has added to itself an unrivalled yet pleasant feel.
It's an interesting yet contrasting perspective, characterised by a more luxurious and refined aspect. Pay attention however, we recall that this type of leather is very sensitive to stains, so it is important to rigorously maintain it, but first and foremost it must be of a very high quality when you buy it.
Finally, the winter versions can hide a sartorial treasure: sheepskin! We like reversed leather for that great sense of warmth, and above all, comfort. Be systematic when trying on, according to breed of the lamb or sheep that is used, thick or thin fur, as the size may change.
Quilted biker jackets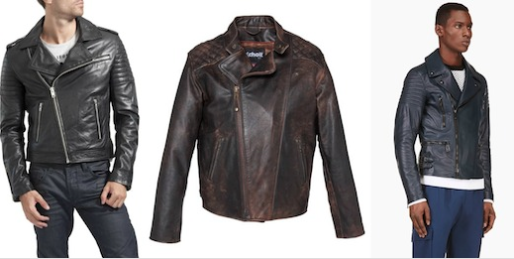 Redskins, Schott and Belstaff: from 300$ to 2500$.
The search for decent body protection has given birth to more technical jackets, protected by quilted material. Here the designer puts padding between the exterior and the lining of the coat, in order to cushion the blow in case of a fall.
The topstitching ensures the upkeep and prevents the pieces from becoming loose, before being an aesthetic feature! Chequered classics, straight in line or well finished, the crash pad offers particularly structured volume, until perhaps the Perfecto changes design in the future.
Pay attention when buying: ensure that the quilting is well made with distinct lines and full of volume.
When we see it on the Belstaff jacket, the sleeve panels are well outlined; whilst on the first jacket they appear very flat. Although they will be subjected to all your movements and a certain pressure that poses a risk, in the long run, they will lower a little.
The variety of materials

For Hoon, The Klosette and (again) Schott, the Perfecto isn't always made from leather! Wool, cotton and even nylon, there is a wide range of alternatives that you can choose from.
Typical of the last few years, the multi-material trend has also influenced the Perfecto. More often than not, you'll see a drape of wool and leather, associating together matt with shiny textures.
Some people will go considerably further than this partnership and choose purely and simply to remove the leather aspect during the creation of their biker jacket! With the image of The Klosette and Schott in mind, the models made from raincoat material, wool, fleece and nylon are flourishing. Evidently, this choice tones down the authenticity of the original version, however you do gain a more modern approach that isn't any less interesting!
The "dark or destroy" style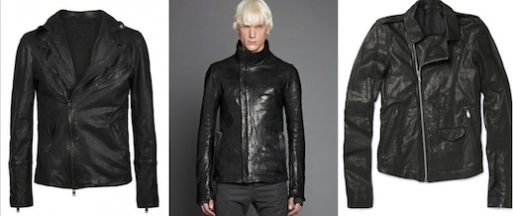 There has been a lot of work done with materials on the "dark" perfecto style.
The commonplace "dark" style channels a whole bunch of inspirations close to street-wear, with an alternative spirit. Thus, it is only normal to discover the revisited perfecto by the emblematic designers, think Rick Owens or CCP.
Generally speaking, the outline is flattened to the body, and designed with thick and rigid leather: the chest is magnificently sculptured, giving the person wearing it an aggressive appearance.
Difficult to pull off, often very expensive, these items are firstly aimed at a specific audience who have available a wardrobe that is coherent with this style. Luckily, more mainstream brands such as All Saints are working on the Perfecto jacket with a certain "destroy" style in mind, yet the cross-section being more classic: pieces that are noticeable without being too in your face.
The luxury Perfecto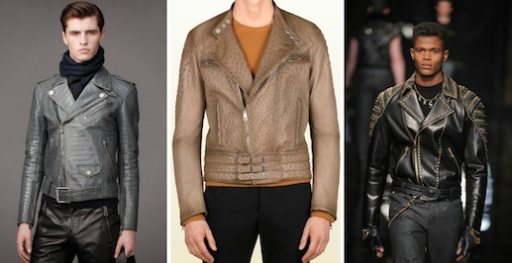 The ultra luxurious vision of the Perfecto jacket, by Belstaff, Gucci and Versace.
We're going to finish with "beauty". Clearly, there was no reason for the kings of the catwalk to not take ownership of the "rebel touch" Perfecto. However, I have decided to show you some exceptional pieces, of which the materials and cut are rare yet marvellous.
Belstaff has, for example, succeeded in achieving the fitted perfecto in crocodile mast. This leather is extremely difficult to mould – because of the hardness and the presence of scales, which are also absolutely sublime.
Gucci has also invested in a somewhat wilful and less well-known material: ostrich leather. As with crocodile, each piece is completely unique and made for very distinctive individuals: if you get the opportunity, go look and even touch these extraordinary skins.
Click here to read our post on the different leather types and skin families
This will certainly make Benoit and Geoffrey smile, as they are amused by my interest in Versace, to end the Perfecto review with the mummified peroxide Donatella. If this Italian company flirts far too often with exuberantly bad taste, the quality of their achievements is however one of the best, notably for leather. A very complex "studding" system carries an astonishing credibility to the piece, which is furthermore perfectly fitted.
How to wear the Perfecto, according to your style and status in fashion.
Whether black, brown or blue, in suede, pearled or fleece, the Perfecto is an easy piece to be harmonised with.
Pay attention: the selected brands here aren't completely to recommend – the idea was to give you examples of pieces that you can find today!
Easy: Perfecto (Schott) + Polo (Etro) + Jean brut (APC)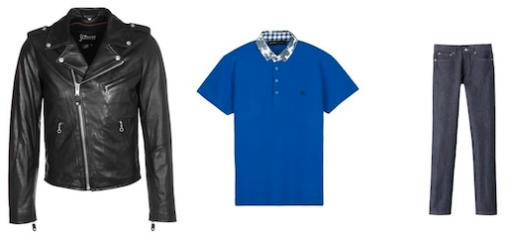 A really easy style, Parisian at heart.
Think basic, but not too much! That is to say, we're going to come up with an association that works with all fits: the classic Perfecto and your preferred APC jeans.
So, you have your hands free to put a bit of colour with this, here with an electric blue polo, the collar with a Paisley print. This may be a t-shirt, a shirt in white or beige, a large mesh, a Jersey piece at the end: whatever will easily compliment your new jacket.
Trendy: Perfecto destroy (All Saints) + printed tee (Christopher Kane) + duffel trousers (Zara)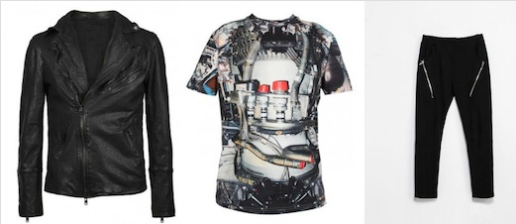 The hipster, neo-dark, premium Robocop look.
Here we have a more trendy option, inspired by what we see on certain catwalks, yet well adapted to urban surroundings.
The Perfecto "destroy" alongside a t-shirt with a graphic/arty print is an easy match. Distinguished without being considered fancy dress, it will go together perfectly with a pair of "design" trousers.
Here we're talking about the harem trouser, where the size is bigger at the top of the leg, and at the bottom, with the ankles, it brings itself closer together.
Evidently, it can work well with whatever t-shirt you like, as well as casual, chino-style trousers.
Classy: Suede Perfecto (Schott) + white shirt + woollen/silk trousers (Etro)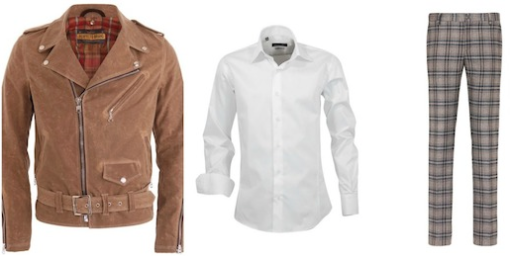 Another refined look, however tartan trousers can easily be replaced by grey flannel trousers.
Fashion is all about the manipulation of contrast: materials of course, but also styles. We'll begin with a suede jacket in something a little past camel, with an irregular texture. The result: a guaranteed vintage effect!
We associate it with a fitted white shirt, simple yet effective, perfect for enhancing the leather. When we add a striking piece, my choice would be to wear tartan trousers with a beige tone: considered very British, it contrasts with the spirit of the perfecto and brings a remarkable sense of sophistication.
Casual: Perfecto (The Klosette) + sandy coloured jumper (Les Prairies de Paris) + pocketed trousers (Dondup)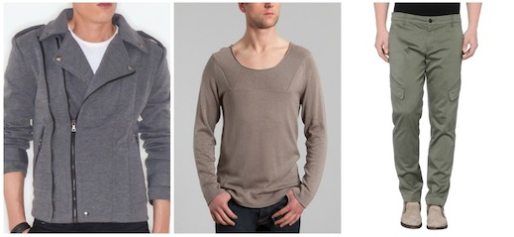 Sous-titre: a casual outfit, but replace the trousers with the same model but darker to avoid the "pyjama" effect.
Finally, finishing with a more relaxed outfit with reference to the style: fleecy Perfecto jacket, loose t-shirt with a sculptured collar and pocketed trousers, cargo-style.
It all comes down to the materials: the fabric of a sweatshirt here where it isn't expected, the precise knitwear of textured stitching, and the elegant smoothness of trouser fabric. The varieties of materials take opposition with regard to faded colours, and allow us to distinguish ourselves without messing up being out of place.
Don't hesitate to add to this article personally with your own tips and experiences, and participate in the commentary below!