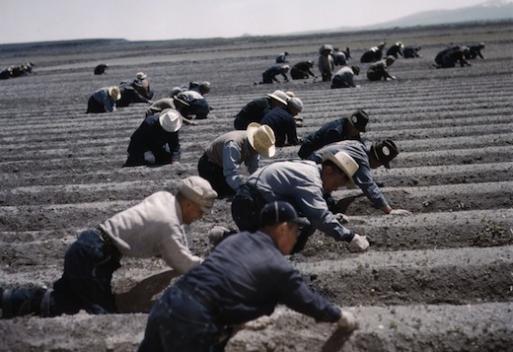 Workwear: a trip to Japan
Note by Benoît: I asked Milone from our French forum, specialist in workwear, to write a series of articles on Japanese, European and North American workwear for us. The least that can be said is that he really took the task seriously and sent me a passionate article on Japanese workwear. Don't hesitate to thank him for such a great contribution in the comment section! He said I could publish this article on one condition: publish it as it is.
People are talking more and more about 'workwear' lately. Well, they mix it all up a bit and don't really know what it's all about, having the simple idea that you've got to wear big flannel shirts and 'have your work head on'…which, in short, leaves people looking like they just escaped from jail.
So I'm going to try and explain, help you discover and –why not – convert you to this universe that seems to be alien to the majority of us.
To start with, in case you understand nothing by the term, we're talking about a kind of 'non-fashion' based on the clothes worn to work. I speak of a 'non-fashion' because for purists; it's a lifestyle and not, truly speaking, a 'look'. OK, this only applies to the hardcore followers of the movement who are thrilled with the increase in interest people are taking in their work and passion but at the same time aren't so pleased with its reappropriation by the mainstream crowd.
Talking about this style is hard work because it's a vast and really interesting subject. That's why I'd like to do it in three different posts according to geographic zone. Japan, North America and Europe.
I can already hear you screaming that there's a scandal. Yes, I'm leaving out Australia, because even if there are some interesting things such as brands like Deus Ex or Noir, their market is fairly limited and the products are quite expensive due to postage and customs fees.
Africa, South America and the rest of Asia don't have that many interesting things to offer, there's the difficulty of accessing what is on offer and then the quality isn't amazing so I won't be using them as examples for you to discover the universe in question.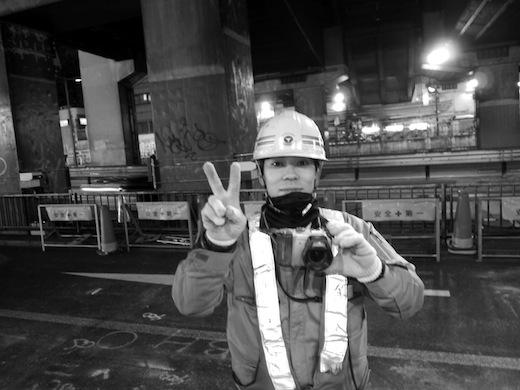 Japan
We often hear people say that Japan is THE country for jeans. True and false. In fact, it's really the country for denim. The majority of the best denim factories are in Japan. We can even say that apart from Japanese denim, all other denim isn't really worth paying for apart from maybe Cone Mills in the USA and a few rare products in Europe.
FYI the majority of factories are situated in the city of Kojima in the region of Okayama.
How can that be explained? Japan has a long history with indigo cotton like Italy has with Gènes fabric. In fact, from the middle of the 18th century, or even before, we find examples of fabrics that really look like denim. OK, so it's a bit of a rustic fabric, for kimonos and clothing that's fairly cheap but it is solid and resistant. The base of Japanese workwear.
And around the end of the 70s/beginning of the 80s, big brands such as Levi's, Lee…changed their old weaving jobs for more modern ones, making much larger sheets of fabric, which was unfortunately of much poorer quality, costs obliging. And there were many Japanese businesses that bought old machines and continued using them for their own profit.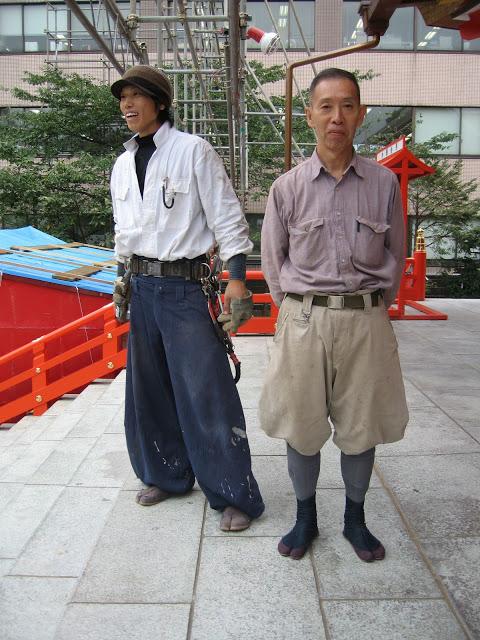 Japanese workwear
If you hadn't spent your time chatting with your classmates during history lessons, you'd know that after WWII, Japan was under the influence of the USA for many years. And, like every good 'imperialist' country, it imported their way of life. Despite a strong anti-Americanism, some things became easily rooted in the country: rock and roll and everything that comes with it. The clothing first and foremost. The country, therefore, thanks to the GIs, had jeans, sweaters and other stuff in abundance.
Which is a joy for many collectors today. In fact, are you looking for Levi's from the 30s? A pair of Red Wings from the 60s? Well go and have a look in the vintage stores in the north of Harajuku in Tokyo. It's the Mecca of the world when it comes to vintage workwear.
And once you're familiar with the passion of Japanese collectors, you can be sure to find your happiness, whatever you're looking for, on the condition that your bank account has a fair amount in it.
And it's this abundance of 'original' items available and the passion of certain people that has allowed the development of this culture and, let's be crazy and say it, fashion.
Purists and classicism
Japan stands out for its workwear culture which is classic and, sometimes, extremist. In fact, several brands remake identical copies of vintage items with an attention to detail that's borderline madness. For this, they've got the best denim and other materials available to them, produced in their country and easily available compared to how difficult they are to get hold of for us Westerners…and, you've got it, the price tag is far more attractive.
OK, so jeans are the main item in every outfit. And the range of choice in this country is simply astonishing. The number of brands, more or less well-known (often less than more), their madness, their attention to detail and the quality mean that every amateur of classic workwear should have (or have tried) a pair of jeans from a Japanese brand in his wardrobe.
But be careful! They're not easy items to wear! In fact, the majority of these brands remake, as I explained, not copies (pejorative term in the sense that the quality is not as good as the original) but replicas, sometimes of better quality than the originals.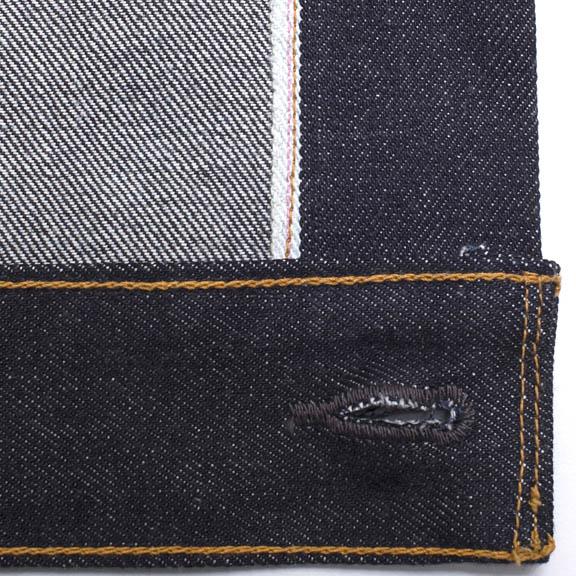 Once we know the cuts of jeans from the first half of the 20th century (and before) or when we discover them, we tend to hesitate. Wearing a pair of jeans that any MC in the Bronx in the 90s would have snapped up isn't always obvious. And you should know that, in general, there's only one length, which is usually between 34 and 37 (US sizes).
Other items are also really prized by purists. Shirts before all. No matter what the material, denim, chambray, linen, flannel…But preferably a model that's a replica.
People go for items made by old weaving machines for more 'authenticity'. Because in this branch of history, authenticity is the currency. Here, too, there is a very picky attention to detail – details such as a little selvedge trim on a pocket, the material used for the buttons…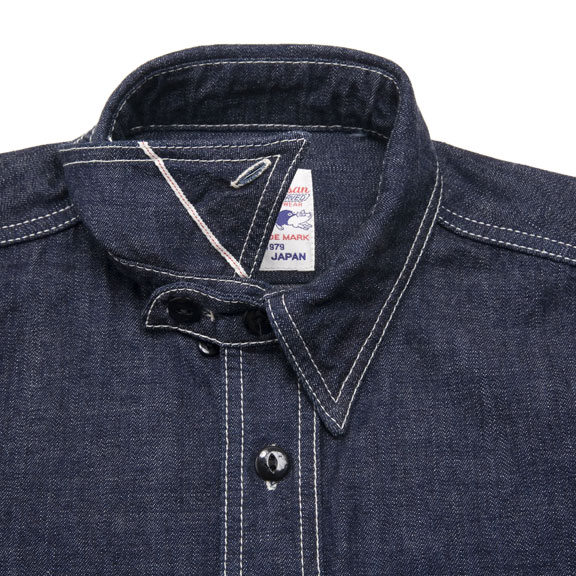 The characteristic trim used on selvedge cloth…a detail much appreciated by purists…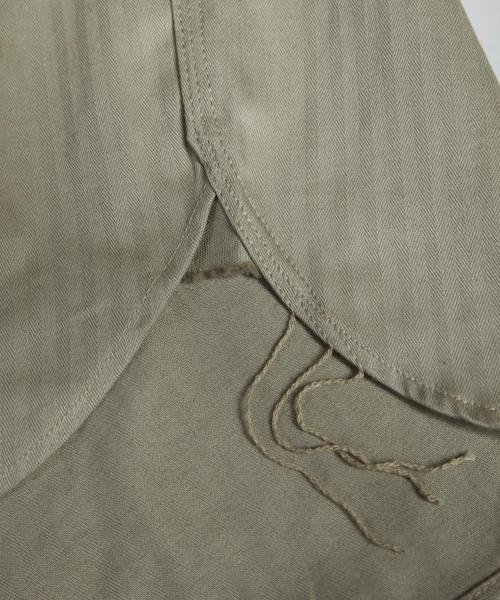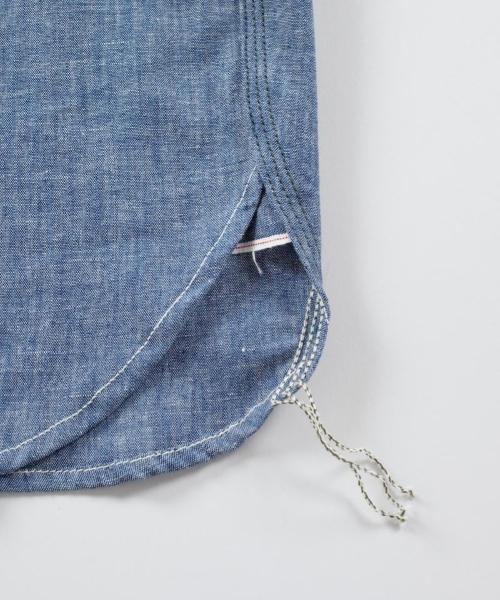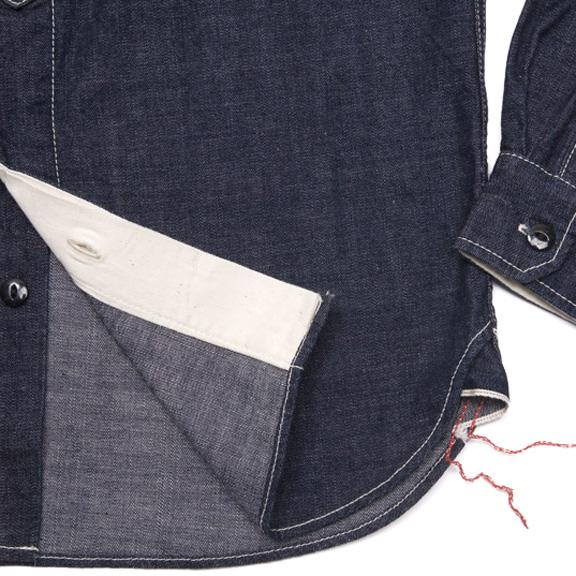 These odd little threads sticking out here haven't been cut to prove that the item is new.
Japan is one of the last countries owning antique sewing and weaving machines (by 'antique' we mean from before the 60s) that are still in working order – this is what, in their eyes, makes them stand out from the rest of the world (no, the Japanese aren't chauvinistic…). Denim made on an old Toyoda machine from the 30s compared with a modern denim used by all mainstream brands for jeans is a bit like trying to compare a "baguette" made by an artisan baker and one bought in the supermarket (the epicureans amongst you will understand).
In the same spirit, a factory for fabrics in cotton, Loopwheeler, uses methods of sewing and weaving from another era, producing materials of an incredible quality but also relatively expensive because they can only make 1m² of fabric every hour per machine. We find them used by several brands, both Japanese and Western, for high-range sweaters and hoodies. The brand has even become a sign of quality.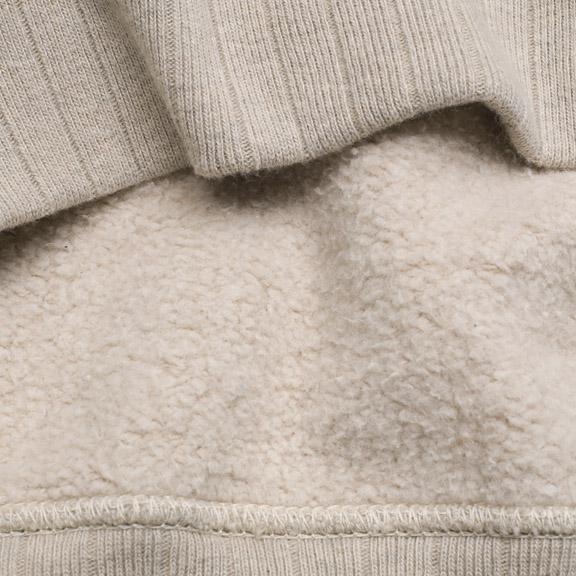 Loopwheeler cotton in a hoodie from Studio d'Artisan
The search for authenticity is pushed to the extreme: identical wear as found on jeans from 100 years ago, the same thread used for the seams (and hunted for all over the world), the same Union machines used…It becomes madness for some people, like the boss of the brand Momotaro who is known for his extreme enthusiasm: he pushes things to dying the thread manually by hand as was done in the 18th century in baths of natural indigo, and using a semi-automatic machine from the 19th century. Now we can see where the price tag for their jeans comes from…
This classic current isn't the most accessible for a beginner who will get lost quickly, won't understand the majority of the terms used and, especially, will make bad choices from the word go because mixing some classic items with more modern things is horrendous. And I'm not going to talk about the 'hobo' current which represents the summit of radicalism when it comes to workwear.
For the more curious amongst you, there are some publications, like 'reference' mags such as Free & Easy, Lightning or 2nd, which are fairly easy to find but difficult to order online. They're really great sources of information as long as you can read Japanese (although there's some English)…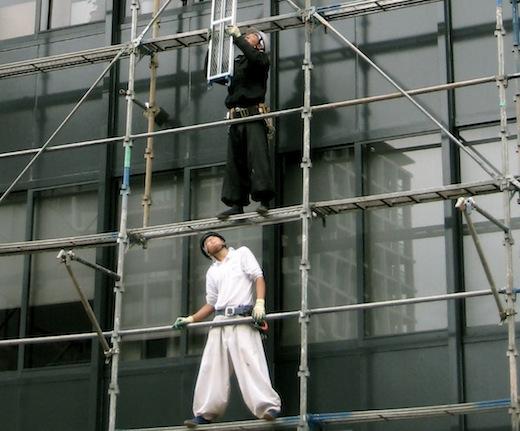 Modern currents
Alongside classicism, there's a more accessible universe (speaking in terms of clothing and not of finance)
Several smaller brands, more well-known here but unfortunately barely distributed, offer a universe of revisited workwear, often closer to what we'd expect in terms of cut and fitting.
A generation of young designers (yes, when we're 35-40 we are still young) have been working for years, often together when they're collaborating or there are contracts in common, and they're doing everything to make us get yelled at by our banks. They've been around since the 90s, bar a few exceptions. And they all have one thing in common: they're the bastard offspring of Hiroshi Fujiwara.
Hiroshi Fujiwara is a legend of what can be called Japanese street culture. I'm not gonna give you his biography here but it's a really important person in the realm of fashion design and not only in Japan, but all over the world.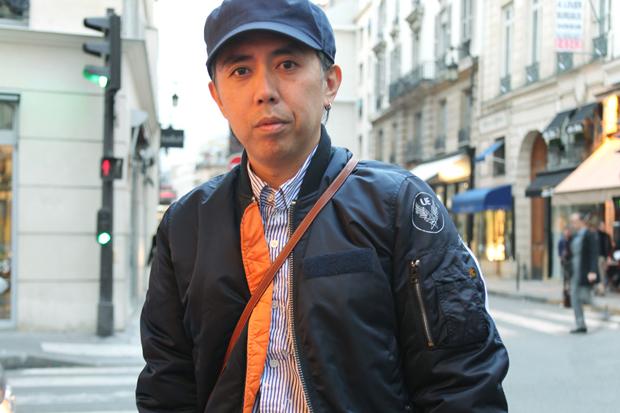 On top of that, he's also helped several people in Japan in the development of their brands such as Nigo (Bape and Human Made), Hiroki Nakamura (Visvim) or Hirofumi Kiyonaga (SOPH., UE)… well…he's earned his nickname of Godfather Harajuku.
'Why are you talking about that?' you'll be wondering
Even if Japan is a fairly strict country in many areas, in fashion things are on the contrary. HF is one of the people who have contributed to the effort to get Japanese fashion out of a certain classicism (Rei Kawakubo with Comme Des Garçons, too, but that's another story…) and to have taken it to another level, while at the same keeping one foot in the street. He anticipated what the future 30-year-olds would want.
Great amateur of timeless items (Levi's, Rolex, Bike AF1) he reinterpreted them for brands without taking away their original character but rather just adding his own touch. By doing so, he greatly influenced an entire generation.
And this generation has followed the example of HF. Knowing how to keep the soul of the product, its qualities and trying to fix the faults and create something contemporary using new materials (gore-tex, vibram soles) as well as more traditional materials (still of the same great quality) is how this generation is following HF's lead.
The best example of this is the brand Visvim
Hiroki Nakamura is a big collector of classic and vintage items, both in workwear and in more traditional things such as kimonos or items from American Indian culture.
He's also a great researcher, spending up to 250 days a year travelling the world to find the best materials in order to evolve his major items to improve the comfort, cut and details.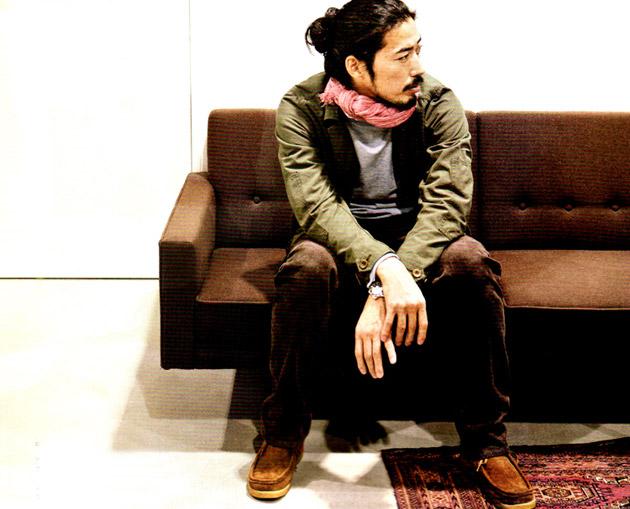 This is also what characterizes this movement: getting the right cut, trying to find perfection. And in order to get there, they can count on a really committed fan base.
OK, I can imagine your skepticism when it comes to the inspiration of these brands…but it's out there, believe it or not.
But the inspiration is more subtle. In fact, rather than flirting with the life of a cowboy, they look for military influences such as the use of camouflage, military jackets, chinos…Military clothing is also workwear. Note, too, a strong casual American or European influence in the preppy. But their reinterpretation allows them too be mixed and easily integrated into any outfit you like.
Other brands also have a fairly marked universe. I'm thinking in particular of Neighboorhood and Wtaps. Very influenced by the military world and, for the former, the lifestyle of bikers in the US in the 50s/60s/70s, they also offer interesting items. More difficult to integrate into a classic look, their respective universe is nevertheless rich and open enough for you to go and snap up some gems for your wardrobe.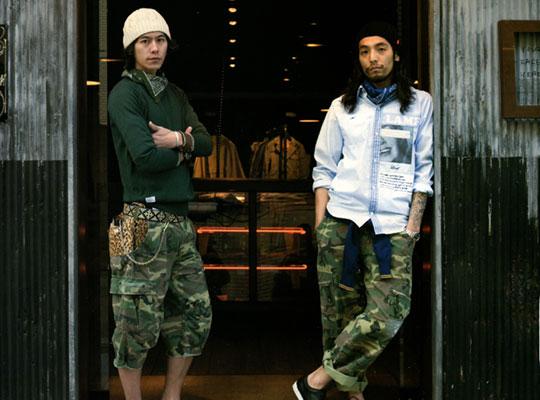 There are lots of other brands that I haven't mentioned here, simply because there are too many of them. But I invite you to look around for yourselves. Because Japan offers an enormous amount of interesting items, often with a really strong character or, otherwise, with a strong possibility to integrate them into other outfits which is very practical for mixing up different styles without having to buy a vast amount of items. That said, Japanese brands are worth paying for. They are expensive but in general the price is justified by the quality and the finishes which are way above average…but first, you need to find them.
Have a look online because you'll find a lot more choice and ease of access in e-shops. There are always Japanese e-shops if you can find nothing else, but there will be postage fees as well as customs to pay.
But, whatever, if you really want something, those fees don't count, right?
Do you know any Japanese brands? Which one are you favorites? Feeling like going there?