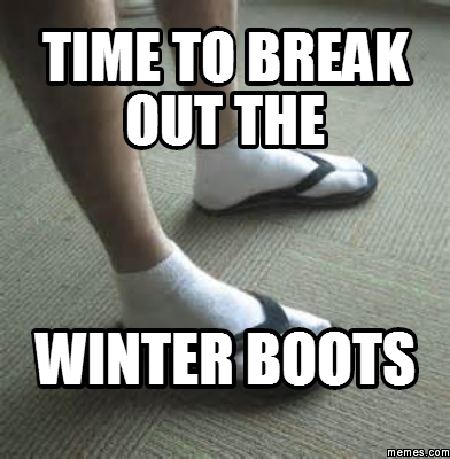 Winter Boots For Men: How To Buy The Right Style
With the seasons starting to change, so do the trends. Some days are warmer than others, yet there's often still a chill in the air. So the burning question remains, what to wear during the transition?!
It's tough enough to put together the right look for you each morning, but when it comes totransitional seasons, it only gets tougher. Until now. And where are we going to start? Of course, with the footwear!
Winter boots for men are often thought of as a winter-only sartorial choice, but not any longer. Boots can be the perfect addition to both a formal or casual look and dressed down without a covered sleeve, is just the look you need for now.
We've picked out five of the hottest styles available to buy now! We know how we'd style them, but how will you?
The Paul Smith Falconer Chelsea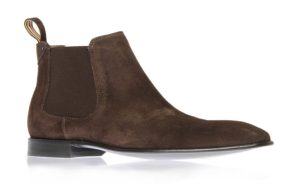 Starting off to ease you in has to be the Paul Smith Falconer. Who doesn't love a chelsea boot and especially one as simple and sleek at this one?!
The suede pretty much guarantees a comfortable ride and will look at ease on foot even on a warmer day – perfect for the transitional seasons and to make it feel like less of a winter shoe!
In black or brown, we've recommended the brown for more of an everyday look to style with chinos, denim or a smarter trouser.
The Louboutin Antonio Calf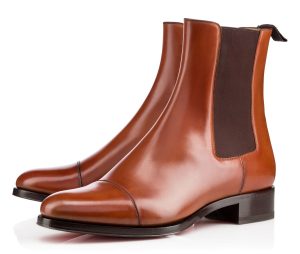 A staple shoe in any men's wardrobe, how could we not include a little some thing from the kind of footwear himself – Christian Louboutin. Definitely for your more smarter days, the Louboutin Antonio is the perfect men's winter boot.
Made from calf's leather, comfort and quality is guaranteed. Available in both black and cognac, we've opted for the cognac for a little edge and a much warmer feel.
Perfect for a killer look to show you mean business or even your Sunday best, the hand painted boot screams craftsmanship and has just that right image you need in men's fashion.
The Kurt Geiger Denton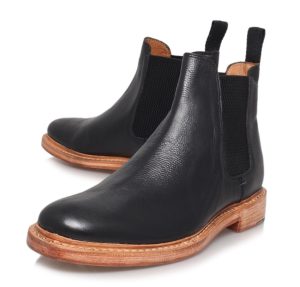 If you're looking for more of an everyday winter boot, you'll want to look no more than Kurt Geiger. We're in love with the casual come chic shoe that is the Denton. In a matte grained leather, you'll not look out of place sporting them with jeans or a casual cotton.
Much more than a simple, all black chelsea boot, the Denton has a little edge. We're definitely expecting this one to be worn everywhere from Fall to Spring. And surely you can see why!
The H by Hudson Swathmore
For something a lot more casual, and we all have these days – think brunch, weekends browsing around and breaks away, H by Hudson have got it right with their Swathmore boot. In a distressed black design and with a rustic feel, these boots are the ultimate accessory to dress up denim and dress down a smarter pair – think chinos or slacks.
 The worn leather look and styled lace up detailing gives you style as well as comfort – just what you need from your attire during casual occasions. Who wants to walk for hours and bear painful feet, we don't know!
 Dubbed for 'off duty style' we know these will be a winner for you as well as us!!
 The Ted Baker Kiddie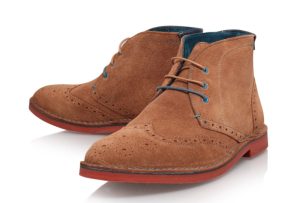 And finally, we had to finish with a little Ted Baker didn't we? We all love a good desert boot, but Ted's done it differently. If it wasn't enough to be conformable and stylish, just like the Swathmore.
Ted's added a little sass on top.
 Desert boots have always been unbelievably comfortable and now the brogue detailing means they'll look great worn with, well, pretty much anything. Wouldn't you agree?
Even the blue trim is perfect for a little something extra and takes away from the plainness of a standard desert boot. We know we're on to a winner with this one.
There's definitely some level of variety, yet some of sameness, among our selections but with boots, there's always going to be. But, you can guarantee there's a whole lot of style and something for any occasion covered.
Which style gets you all hot & bothered?
Make sure you leave a comment below and let us know!