Brrr, winter has officially knocked on the door and that makes it time to finally break out the boots. Or, in case you need to pick up a new pair, we're going to introduce you to something a bit stylish but classic.
We believe in diversity and a well-made pair of winter boots for men like we're about to show you will make a perfect accessory to any wardrobe
Enter Wingtip Brogues

Just as Desert Boots and low/high rise Chelseas are staples, nothing can compare to a sturdy pair of Brogues or Wingtips. The dress shoe nature coupled with a four seasons-appropriate look make them sturdy year-round footwear allowing a multitude of ways to wear them, which only increases their 'style' value.
While both of these shoe styles have climate appropriate summer-oriented counterparts, winter versions are also available; they look virtually identical, except the taller shoe goes up past your ankle, similar to Chelseas.
The main difference is the cowboy-esque designs stitched in that can be either dressed up or dressed down, making them versatile (and therefore more wearable than other types of boots). I personally own a dark pair with a slightly flat brown finish I wear with jeans. You could go sporty and cuff or roll up the pant leg as you see fit. Maybe lace up your wingtip brogues with a pair of chinos or a suit if you prefer business casual.
If you're looking for a tough guy rugged effect… the fat yellow laces and tall lacing rings bring home the bacon. Go ahead and spend the couple of extra benjamins and purchase genuine leather. Leather is organic – it's meant to change, unlike more synthetic materials that only buckles under pressure. Plus, leather is far more resistant and more adaptable to daily wear and tear.
Trust me on this one.
The look is absolutely worth it, especially considering how much longer they are going to last. Depending on how well you care for the leather (waterproofing in winter really helps them age, as opposed to drying the leather out. Once it cracks, it's game over.), they will gain a slightly worn, contoured look. Remember to use those shoe trees, though.
Proper leather conditioning helps them grab and hug your feet almost like they're custom made just for you, plus the waterproofing finish adds to their ruggedness … Think along the lines of how raw cut denim fades and stretches over time – these boots will do the same after they get broke in.
With a pair Wingtip/Brogues, you really can't go wrong especially with quality leather … they offer a versatile and durable staple look. Guaranteed to last you for years.
Keep in mind, the genuine leather models are going to cost you some money, however you probably won't have to worry about going to a cobbler. Chances are the respective company you choose to buy from, being on the higher end, will use hand stitching (a big plus) as well as rubber soles, an upgrade we highly recommend to get the maximum life out of your investment.
Wingtip Brogues are expensive, but have a lot to offer and can be called on to get the job done.
Heck, you may even want start growing a beard and chop wood. Chopping wood is (literally) one of my favorite workouts. We own about an acre of woods behind my house and I'm in the middle of a 3 year process of clearing it all out…
… by hand.
Last but not Least…
You might not be stalking down a raging bull elk in full rut, or stomping around the swamp with a 12 gauge cradled in your arm calling for mallards.
But that doesn't mean you can't enjoy their manly look and charm of a pair of Duck Boots.
Duck Boots were born, as you can imagine, to keep a hunter's feet dry while sitting perfectly still in freezing cold duck blind. However, that doesn't mean you can't take advantage of their toughness for of your own workday, even if that implies a cubicle/office-esque setting.
Sometimes the sharp contrast in colors can make them hard to pair with the rest of your wardrobe. Which is why I wouldn't recommend them unless you already own clothing in earthy tones. (If you need help with matching or want to try out camo, check it out here.)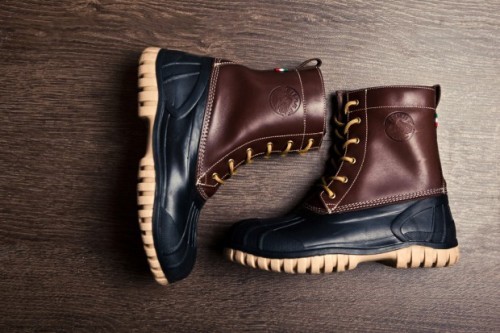 Conclusion
In short, there really isn't a right (or wrong) answer when you go shopping for winter boots for men. The entire process is very personal. Being more of an accessory, the style you seek has to compliment your own wardrobe. Go here if you want to sign up for a consultation.
Remember, when it comes to boots, you get what you pay for. As another mantra of Kinowear, the price usually reflect the quality and durability. It may be easier to hit a department store clearance aisle, but those boots won't last a year, plus they look cheap. We can help you same up to 50% if you know which stores to shop at, so check out the Kinowear Bible.