The white sneakers men wear today are nothing new. In fact, one of the first sneakers ever marketed, the Converse All-Star with its canvas upper, was initially only available in white.
Sneakers remain an essential piece in any man's shoe collection. When we break it down, our timeless love affair with these white shoes makes quite a bit of sense.
Keep up with us here while we cover some history of white kicks; how to wear white shoes with a variety of styles; and why a pair of white sneakers need to find their way to your wardrobe.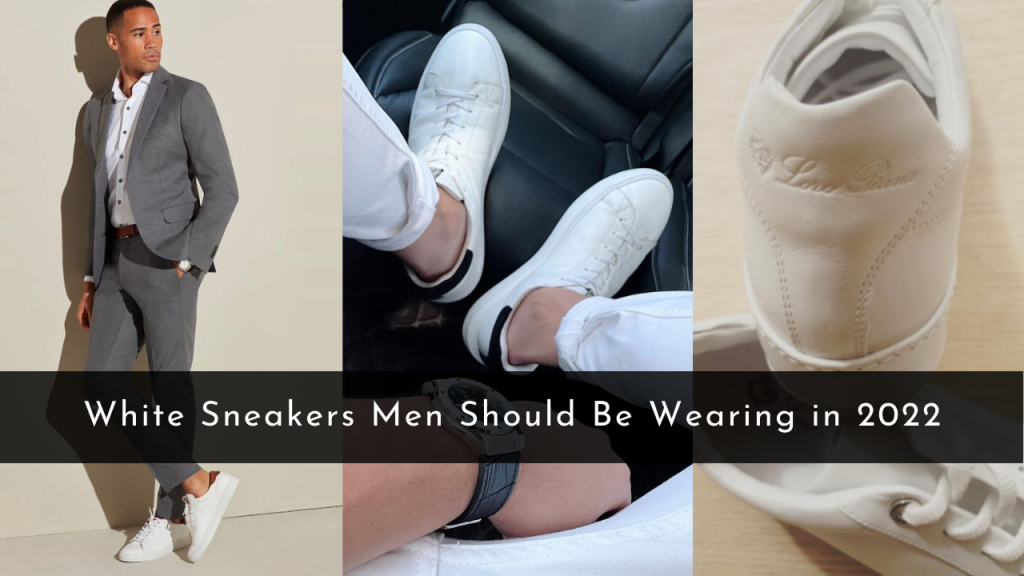 A Brief History of White Sneakers
As noted, some of the very first sneakers were made by the Converse Rubber Shoe Company. Though founded in 1908 and focusing on rubber galoshes, they introduced the All-Star sneaker in 1917.
Converse enlisted the help of both basketball coaches and players to help promote their shoes. This lead to the development of the still-popular Converse Chuck Taylor All-Star sneaker.
Sneakers became more affordable to the masses during the 1920s. Prior to this, they often were only used as tennis shoes and denoted status.
As the years progressed, we found brands like Adidas, Vans, Nike, and others creating their own version of the white tennis shoe. Now, white shoes for men are a stylish staple of society.
Why We Love Men's White Sneakers
As style gurus, we feel strongly that white sneakers have a long life in menswear with their classic silhouettes. Monochromatic sneakers command attention while portraying a cool, minimalist vibe.
Because they can be worn with nearly any ensemble during summer, spring, winter or fall, they are insanely versatile shoes. In fact, there are very few color and clothing combinations that cannot be paired with a neutral white leather or canvas sneaker.
These facts alone mean that you have free reign to experiment with your own personal style during every season. Investing in a quality pair of brand-name white sneakers is a smart move for modern men who appreciate timeless fashion.
Though we can categorize most sneakers into high-tops that hit above your ankle; low-tops that hit just below your ankle; and mid-tops that hit somewhere between the two, there are quite a few different style types among these.
We won't go into great detail with the multitudes of sport shoes made specifically for tennis, running, basketball, or hiking. Because these are specialized shoes, they most likely won't be worn as a fashion statement.
Instead, we are going to focus mostly on the varieties of these sneakers that will undoubtedly enhance your personal style.
These are very basic, lightweight sneakers with a lace-up canvas upper and rubber sole. Most of us were probably dressed in these as kids because they have an affordable price point and are fairly durable.
If you think of a classic tennis shoe, the plimsoll is it.
These sneakers include shoes like the Converse All-Star, the classic Vans sneaker, and various other skater-type kicks.
They throw a nod to the very first on-court tennis shoes with a thicker sole than plimsolls.
a classic tennis shoe, the plimsoll is it.
As an alternative to laces, you can find Velcro on a variety of different men's sneakers. We won't lie, Velcro sneakers fall more on the convenience side than they do on the stylish side.
However, there are some shoe brands that pull off both function and fashion with Velcro closures.
Without laces or Velcro closures, these kicks are meant to slide on easily and fit like a glove. Hence the moniker, "slip ons."
They are usually made of stretchy materials to help with the slip-on process and make them lightweight and comfortable for all-day wear.
Leather sneakers bring a whole new level of style to any shoe. Whether made of full-grain leather or suede, white leather sneakers turns casual up a notch for a classier, more polished look.
Barring our aforementioned specialized sports sneaker, this shoe was meant to look like an athletic shoe without necessarily needing to perform like one.
When you think of this footwear, consider the ever-loved Nike Air Force 1 or the adidas Stan Smith, though we feel the latter crosses over into the "retro" category, too.
How to Wear White Sneakers
There really aren't many rules to follow when sporting white sneakers, but the few we do have for you are big ones. Here are the top DOs and Don'ts.
Rule 1: DO NOT wear white sneakers with white pants.
Unless you're a VIP at an all-white party, we recommend steering clear of wearing white pants or jeans together with white sneakers.
There is simply no contrast, and this ensemble looks more like you work in the sanitation department at a hospital.
White shorts have a bit more leeway in this area, but we would still avoid pairing them with white sneaks if you can help it. You can still wear light colors with these sneakers, but white-on-white is simply too matchy for our taste.
Rule 2: DO wear low-cut or no-show socks.
Do not wear ankle or tall socks with tennis shoes. This is simple enough.
If you can see much more than a small shred of your sock above the shoe, people, women especially, will assume you are much older, and way less hip, than you actually are.
We cannot give you a valid explanation for requiring low-cut socks other than they simply look better with sneakers. You could go without socks altogether without affecting the overall style.
However, socks provide a more hygienic experience and reduce the chances of your shoes developing an odor.
Rule 3: DO keep your white sneakers spotlessly clean.
Even a slight smudge on your sneakers can leave you looking less than put together. Quite frankly, you will never score in life or with the ladies if you look dirty.
So, it is imperative that you keep your sneakers as clean as possible. We do understand that smudges, scuffs, and other mishaps will happen, so be sure to take notes from our next section.
Caring for your White Sneakers
Keeping your white kicks bright and shiny is of utmost importance, and luckily not terribly difficult. Whether you have chosen leather, suede, canvas or other materials, taking care of them is very similar.
Pretreating sneakers is an inexpensive way to protect your kicks from stains and water. Good for nearly all materials, shoe protector repels liquids and resists stains without altering the color of your sneaker.
Not only does a shoe protector keep your footwear looking nice, but it also helps to preserve their longevity.
Clean Scuffs or Stains Immediately
We get it. You can't always break away from what you're doing to clean a pair of sneakers. Tend to the spill or stain as soon as you can, even if you can only dab at it with a damp cloth.
Cleaning a Leather Sneaker
Having something like these pre-moistened, individually-wrapped leather cleaner wipes on hand makes cleaning the leather on your sneakers easier. If you do not have a basic leather cleaner, you can use a few drops of dish soap and a damp sponge.
NEVER wash leather sneakers in a washing machine.
Cleaning a Canvas Sneaker
Canvas sneakers can be cleaned with a dime-sized amount of laundry detergent and a damp cloth. You may need to rewet the cloth and keep dabbing at the stain until it fully disappears.
NEVER wash canvas sneakers in a washing machine.
You can put shoelaces in a washing machine, but we advise against it as they can get tangled up with other clothing. This can damage your laces or other attire.
You can easily handwash laces in a sink with laundry detergent and a tiny amount of bleach (for white laces only).
Soles can easily be cleaned up with a Magic Eraser, which you may already have in your cleaning arsenal. Simply, rub the sponge back and forth along the sole until they are white again.
If you do not have a Magic Eraser, a dab of toothpaste and toothbrush work wonders on shoe soles.
Store Sneakers in a dry Place away from Sunlight
Sunlight can fade colors or turn white soles yellow. Additionally, excess moisture can make your shoes smell much less than rosy. A cool, dry, and dark area is ideal for storing your sneakers.
Keep Leather Shoes Polished
Polish your leather sneakers with white polish. Apply a thin layer with a soft cloth and allow it to dry on your shoe for a few minutes. Use a shoe brush to gently buff the polish in smooth, back-to-front motions.
The Best White Sneakers for Men
Now that we've covered the basics of the white sneaker, we're going to reveal the best ones and what to wear with them.
Overall, we like the clean, minimalist type of white sneaker, but we must admit that some chunky-sole models have begun trending as of late.
With the popularity surge of sneakers these days, there are quite a few dupes (fake brand sneakers).
We are going to try to steer clear of look-alikes and help you sort through the clones to find the best pair for you.
Whether you are looking for a more basic, affordable, yet stylish white sneaker or you love the super-flex of the high-end designer kicks, you're certain to find it here.
Best White Sneakers for Men Under $100
These affordable kicks are nothing to scoff at. Icons in their own right, these sneakers make our list of some of the best without breaking the bank.
Wear These Sneakers With:
Nodding to the sporty-casual crowd, most of the above-listed low top sneakers can be paired with your favorite athleisure joggers, slim-fitting or rolled jeans, and chinos.
The Stan Smith paired with a suit can make it just a bit less-serious, while wearing the All-Stars with the same suit brings it down to a playful level.
The Vans slip-ons can be worn in place of boat shoes for most summer occasions (think shorts and crisp, white T-shirts), creating an entirely different and relaxed look.
At the same time, the Superga 2750 COTU Classic kicks really pop when paired with anything black.
Best White Sneakers for Men From $101-$300
Because of their affordability, you're likely to see many sneakers from the previous lists, well, just about everywhere you go.
If you want to set yourself apart from the masses, you may want to choose a higher-end shoe like the ones on this list.
Nike Air Force 1. The "Uptown" or "AF1" all-leather upper is so ingrained in style history that it may be the first sneaker to come to mind when sneakers in white are mentioned. The Air Force 1 has a silhouette that's chunkier than others on the list, without being over the top chunky.
Veja V-12 Leather Sneakers. We love the vintage/retro vibe the Veja sneakers emit. The all-leather uppers are accented with suede while the interior of the shoe is lined with jersey material.
R.M. Williams Fitzroy Sneaker. We really don't want to call the Fitzroy a "dad-shoe," even if it does have many of the features. This sneaker mixes a black sole with all-white upper and gold accents around the heel adding just enough "cool" to put these kicks into their own category.
Wear These Sneakers With:
Let's face it, you can pretty much pair anything with your Nike Air Force 1. Whether as a basketball shoe, or a running shoe, it's hard to beat their versatility. This means that if you can only buy one pair of all-white sneakers, we'd recommend this enduring and timeless beast.
The R.M. Williams Fitzroy, with its two accent colors, is best matched with darker-colored chinos and jeans. We also like them with deep-hued shorts and polo shirts for days on the boat or lakeside.
The Veja V-12 kicks look equally hip with cropped pants as with fitted suits. Their simplicity lends to a suit's class and dignity without being overly stuffy or pretentious.
Best White Sneakers for Men From $301+
We have reached a whole different other of style and flex. If you have money to burn or even if you don't but consider your style a worthy investment, check out the exclusive sneakers on this list.
Another bonus is that with all the copycats out there, you can ensure that when purchasing top-of-the-line sneakers, you will be wearing the originals.
Tom Ford Bannister Faux Leather Sneaker. Not only are these some of our favorite luxury sneakers, they are also eco-friendly. PU-coated apple peels sourced from factories are used for the uppers and simulate actual animal hide. Additionally, the soles use some recycled rubber.
Common Projects Original Achilles High-Top Sneaker. New York designed and Italy made, the Common Projects Achilles high-top offers a sleek, minimalist lesson in fashion. The signature gold serial number is printed around the heel denoting the color, style, and size.
Loro Piana Traveller Walk Leather Sneaker. Another simple, soft Italian leather sneaker in Stone White, the Traveller by Loro Piana has the highest price point on our list. We love its simple, understated glamour that cannot be matched by many others. It may earn you some envious glances on the street.
Wear These Sneakers With:
Pair the white leather Common Projects Achilles High-Tops with a tailored or custom-fit suit. Like other sneakers on our list, they add playfulness and personality to an otherwise showy suit.
Additionally, these versatile kicks also look great paired with skinny jeans. We would avoid wearing the high-tops with shorts, however.
The Tom Ford Bannister sneakers, like the classic Vans slip-on, can replace boat shoes in most cases. This creates a carefree, go-with-the-flow vibe for relaxing days off.
Finally, pair the Loro Piana sneakers with jeans or chinos, fitted or rolled. These shoes give off a cooler-weather aura and look best paired with long pants and sweaters or button-down shirts.
They make a solid and luxurious addition to your casual Friday wardrobe line-up.
Should You Get White Sneakers?
You can't go wrong with adding this timeless piece of footwear to your collection.
Whether you choose a faux or genuine leather, suede, or canvas shoe, you will enjoy years of flexibility and versatility in your wardrobe.
Do you have a pair of white sneakers you love? Hit us up in the comments with your favorites and how you wear them.