"Style is knowing who you are, what you want to say and not giving a damn." – Gore Vidal
Imagine this. You read a couple of amazing articles on fashion, and now you're convinced that you should go burn all your t-shirts and buy a few high-end suits at Bergdorf to become a man of style.
Careful, before you decide to go and do that, read the rest of this article.
What Does It Mean To Have Style?
"Fashion fades, style is eternal!" – Yves Saint Laurent
Think of style as doing your own thing, and convincing others that it's cool. When I think style I also think timeless and classy no matter what is going on elsewhere.
When I think of fashion, I think of doing everyone else's thing, and convincing myself that it's cool. I also think trendy and it having a pretty short lifespan.
Style is more of a timeless representation of who you are, whereas fashion is generally comprised of many trends that come and go as fast as the seasons.
So how can one build this timeless representation of style?
It's important to know what personality traits you want to display to the world, what type of woman you want to attract, and the type of people you want to surround yourself with because you should match your style of dress accordingly.
One of the quickest ways to do encompass all of these things is to…
Take Your Lifestyle Into Consideration
Dressing like the GQ model of the month isn't very appropriate unless your days consist of you relaxing on your yacht, socializing at lavish dinner parties, or your name is James Bond.
It's almost silly to walk around dressed up in a suit unless your work demands it or your life is full of events where it's considered proper attire.
Think a year ahead to where you will be in life. Imagine how the way you dress now could influence the kind of people that you want to be in your life in the future. Believe it or not people judge each other a lot by looks. Gosh, a shock isn't it? This affects the doors that it will open in certain areas of your life.
If you want to be taken more professionally, dressing up more often time would be appropriate. This doesn't mean you always have to wear a suit, but keep it sophisticated and gentleman like. For example a dress shirt, a stand-out tie, and some flat front dress pants for a more casual date.
If your future is going to be more laid-back – like running your own business from home, then you could dress more casually. But don't let your casual be sloppy. Get yourself some stylish accessories and look great even when you're wearing a simple outfit.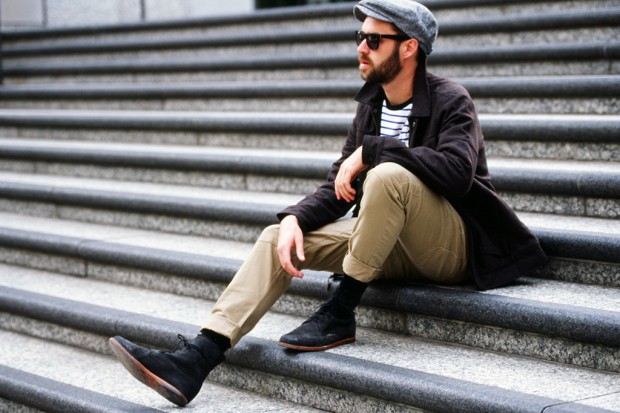 If you're a party promoter, you're going to have to dress like THE PARTY wherever you go. For example a white blazer will make any guy look confident and sharp.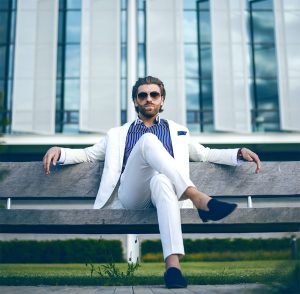 Everyone will have their own casual style when they're not working or just meeting some friends, so calibrate your attire to the occasion. For example, the professional would still go out in a dress shirt, just without the tie. You could wear jeans instead of dress pants – either take it down a notch or up a notch depending on the occasion.
After you have considered your lifestyle, and the kinds of people you want to attract, keep yourself inspired by the looks you can steal. If you like a certain look, it's because a part of you can connect with it. If you find yourself liking a lot of looks, learn to build a wardrobe that enables you to express yourself with variety for many occasions – just make sure keep it "you" with your own touch.
Everyone knows that a picture speaks a thousand words.
These are examples of stylish men. You can steal some of these looks or just examine what makes them "stylish":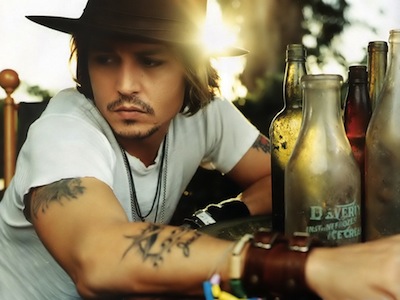 Does Johnny Depp wear the latest trends in fashion? Hell no, he's his own man and has his own signature style.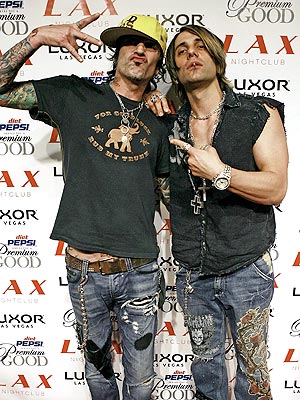 Here is Tommy Lee with friend Chris Angel. Tommy Lee is quite a character. He's always in his own reality amusing himself. He really doesn't care about anything. His shaggy long hair looks like he just got up from a long night. He shows off his fun inner child with his colorful yellow hat, and his jeans are wild like he just survived a crazy mosh pit. Both Tommy Lee and Chris Angel look like they're wild and ready to rock and roll.
A lot of girls love Orlando Bloom. "It's not all about being Mr. perfectly-groomed like David Beckham all the time…" says one girl on a celebrity blog. He gets points here for not wearing sneakers like most guys, and he pulls off a great outfit in a casual way. Steal this look with a t-shirt, sweater, and a sports coat over it.

Jude Law is a style icon. Always dressed classy and chic, almost never seen without a blazer or dress shoes. He is rarely pictured wearing bright colors, cleverly preferring the greys, whites and blacks which look classic and chic in nearly any season and nearly any climate.
What's Your Style?
This week, ask yourself this question.
What do your clothes say about your lifestyle?
Are you a man who loves to party a lot and have fun? Do you want to attract hot party girls or sophisticated girls with class? Do you want to display an edgy bad boy look? Do you to be more clean cut, and professional?
What do the clothes you're wearing now say about who you are? What can you change in order to display more of what you want?
Try this: Go out and buy one item this week that displays your lifestyle and character.
Jae