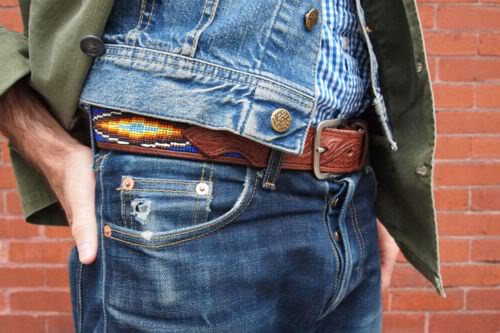 What Does A Stylish Belt Look Like?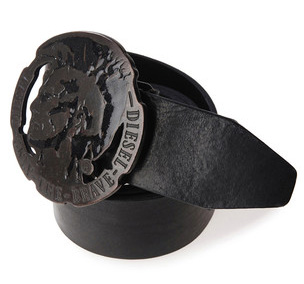 Many men think belts are optional. If you read this site, then belts are not optional accessories. If you have any interest in style, you should believe that belts are essential. Like ties and pocket squares, belts are another small piece of an outfit that can make or break the entire look. A belt can say so much about you and add flair to an otherwise boring outfit.
Congruence is in the details
When women size your style up, they usually zone in on the details. Notice the attention to details in this belt– the orange stitching against black works perfectly. Wear this belt with an outfit that has orange accents, and you are playing in a different league. Women will notice.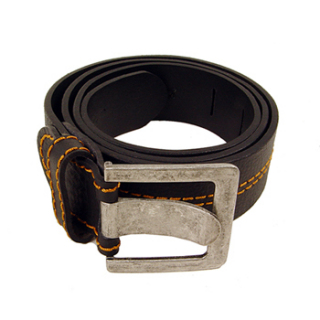 Two main types of belts
Dressy and casual. Generally, skinner belts are dressier (meant for suits and dressed-up sportswear. Dressy belts are normally made of calfskin, and are adorned with a simple buckle (as seen below). Thicker/wider belts are for casual outfits–denim, cargo, corduroys, etc.

Dressy belts:
These should be a staple in every man's wardrobe. The belts you wear with a suit should be sleek and simple. They should NOT have huge or fancy buckles or elaborate belt designs. Keep it understated and elegant. As for the belt leather, if you want to take it a step above, invest in high-quality leather such as crocodile leather. If the price tag makes you queasy, take comfort in the fact that a quality belt can last a lifetime.
For the color: stick to black and brown. (Brown belts go better with lighter colors and are a great bridge between light pants and colored shirts.)
If you're having trouble differentiating the two, dressy belts tend to be a little wider than the width of your thumb. This is also where where the classic rule of matching your belt color with your shoes applies.
Material: stick to calfskin. Of course there is: lizard, ostrich, and crocodile…(upwards of $500+). Check out Trafalgar for classic genuine leather belts.
Casual belts:
This is where it gets fun. This is where you have much more freedom with belts. Casual belts have a much greater range in the material it's made of including suede, cloth, canvas, grosgrain, or nylon. Casual belts can be wider/thicker as well. As for color, you have white belts, several-tone…the combinations are limitless. In fact, the rules are relaxed in all respects. I've even seen guys pull of wearing a skinny tie as a belt. Risky, but extremely creative & stylish if done right.
Experimenting with buckles
This is where you start seeing the extremely stylish, over-sized buckles. However, this is also an area where many guys can go wrong. I've seen the most ridiculous-looking belt buckles–light-up dragons, toaster-sized tigers, etc. Then there are those LED belts with messages that scroll across. Please, stay away from these. Also, don't get me wrong…I'm a fan of Nintendo, but please don't wear your hobbies on your waist. Unless you're in search of your long-lost Star Wars geek lover.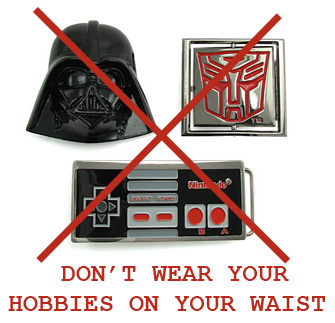 Many guys think wearing a loud and ridiculous belt is "peacocking." It is. It will turn heads and grab attention. However, it's also sending the wrong message: "look at my hideous belt and my total disregard of style." You don't want to start on that foot. Having a "unique style" doesn't free you from the rules of attraction. Even when you're adding your own flair and personality to an outfit, remember that there is unique stylish and then there's unique train wreck. So stay away from gimmicky, gaudy buckles.
Creating a COMPLETE look
So when diving into the crazy world of belt buckles, tread with caution. The bigger the buckle, the riskier it gets. Stay away from tacky, toy-like buckles. Stay away from mirror-shiny buckles. Most importantly, keep it congruent with the rest of the look. At the end of the day, this is what "pulling it off" is about. It's about whether that piece fits seamlessly with the "look" and "vibe" of the overall outfit. You can break all sorts of rules with congruence.
For example, you may look ridiculous trying to pull off a huge cowboy-esque buckle with clean-cut chinos and a polo. However, if you go the whole way, get yourself some distressed brown jeans, a tan graphic tee, a dark denim jacket, and add that same buckle to a thick brown leather belt–you have a complete look that works.
Some examples of stylish casual belts
There are certain fashion archetypes that each style of accessory carries. Be aware of that archetype/stereotype and play off it to create that complete look.
Woven leather (or braided) belts is a summer favorite that work extremely well with slim-cut pants and collared shirts. Perfect for the clean-cut, preppy, ivy-league look.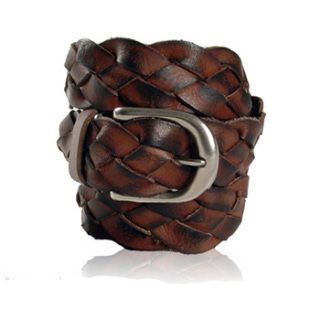 Here is one that plays on the military vintage look. Check out G-Star Raw & Diesel for some great military-inspired looks.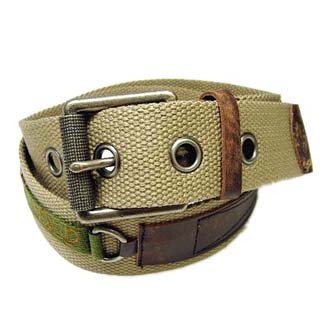 White belts are great to play against a modern, black-and-white chic look. (they are great for nightlife. Wear this with a black button-down and some jeans and your belt will set you apart from every one else.)
An example of a unique, double-buckle, wrap-around belt. Another perfect belt for the nightlife scene. This black w/ purple-striped cloth belt is perfect for a casual, yet classy modern look.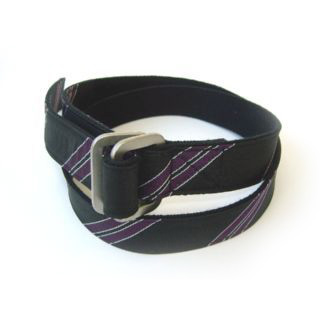 The ever-popular studded brown belt. This one works great for that grungy, rocker look that's extremely popular these days: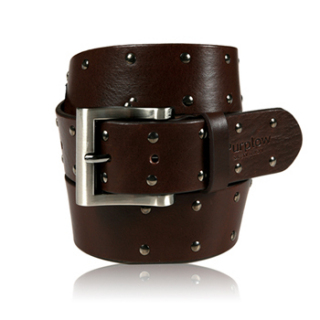 Belt sizes
Belts are usually sold with a tag on it indicating its size. Take your waist size, and remember to go 1-2″ size bigger. This way, your "33" or "34" waist translates into a "36 – 40" belt size.
Storing belts
A tip of about storing belts. If you're going to invest $100+ in a belt, you may want to also protect your purchase. A lot of men have a habit of leaving their belts in their pants or rolling them up. This will curve the leather and damage its seems. Belts should always hang vertically and away from sunlight, so as not to dry out and damage the leather.
Reveal that belt!
If you're going casual, show some of your belt! All the belt savvy in the world will be rendered pointless if you're just going to throw your shirt over it. To show some belt: tuck it/let it rest over the buckle as seen in this picture. It helps to accent and balance the outfit.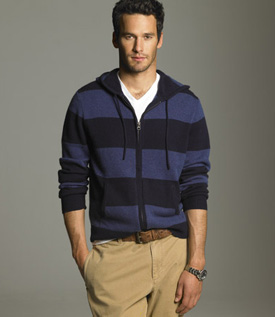 That's it for belts. For more on belts, check out our style community.
Stay sharp,
Theory
Also: Need some constructive criticism? check out our style critique forums where you can post images of your style and get feedback from us, as well as the community.