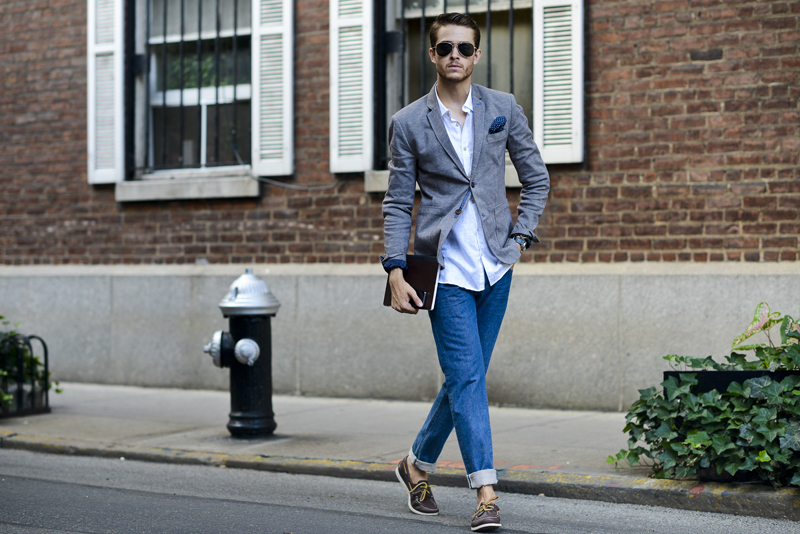 How to Wear a Men's Blazer with Anything
The Men's Blazer: A Universal Uniform
Fashion rule #1: A men's blazer is what a dress is to a woman: A bedrock on which they build the rest of their wardrobe on. So, as the foundation of our wardrobe, can we just throw anything on with it and see how it flies? I mean, it's the piece of clothing which we build on right, so wouldn't it be compatible with everything? Well…not quite. Men's blazers wouldn't go particularly well with, say…a speedo. Or that thing Borat wears all the time. But we're here to show you how to wear a blazer in ways that you won't need to be always pairing them with the typical matching suit trousers. Different is good.
With a T-Shirt
The age-old question persists: How casual is too casual? It is a fine line between urban cool and laughing stock with this type of outfit. A t-shirt with a men's blazer done incorrectly can backfire on anyone in the worst of ways. However, done correctly through our guidance, a t-shirt and blazer is the perfect modern chic look. A lower neckline on the t-shirt would be better so that it can bring out the lapels on the blazer, even all the way to the mid-chest area. Yeah, we're talking tank-top depth. But not a V-neck, it clashes with the break in the middle of your suit. If you're feeling it, the shirt can even have some narrow horizontal stripes, like how designer Thom Browne has incorporated them into his clothing. For a little extra edge, roll up your blazer sleeves to show some contrast lining on the inside. Throw on a pair of white sneakers and you're all ready for fashion week in Milan. We would recommend a short sleeve tee as this outfit is more suited for warm weather anyways and the unstructured look of a long-sleeve t-shirt cuff poking out of the blazer is not a good look.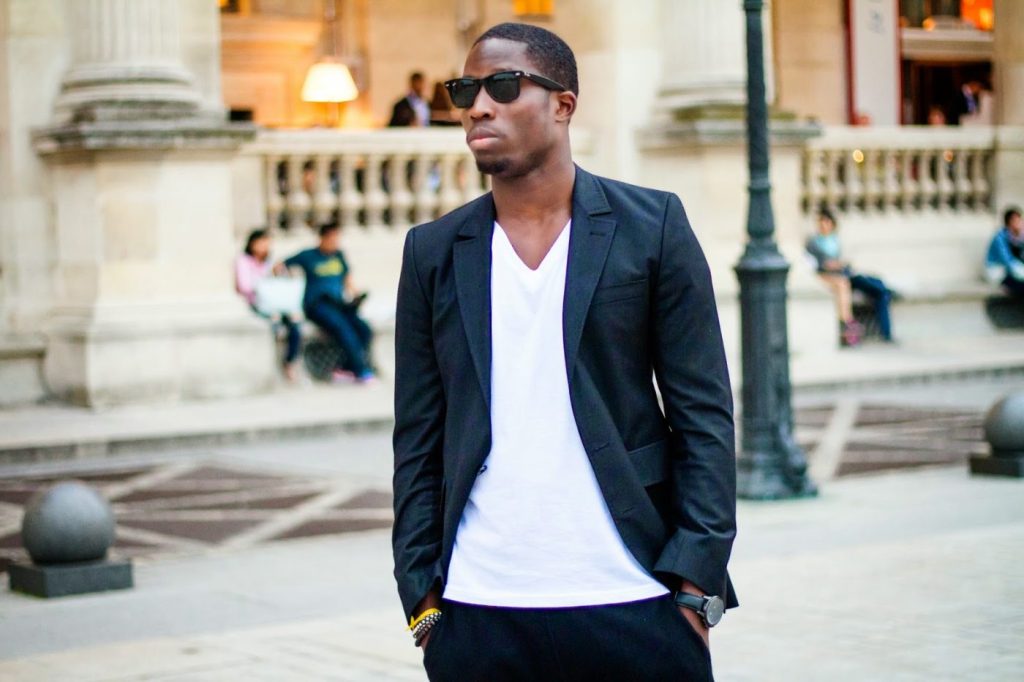 With Different Color Trousers
Mixing suit colors? What do we look like, savages?! Well no, you can actually do that and not look like a buffoon. A men's blazer is a beautiful piece of clothing, not a uniform that has to match exactly every time you wear it. A different color pair of pants could be a well-selected compliment to any blazer, though there's no real formula to find a combination. Navy blazer with grey pants, burgundy blazer with navy pants, grey pants with green pants, the list goes on. The trick would be to find a nice balance, for example burgundy blazer with navy pants is great because it mixes a rich colored blazer with a sleek and simple trouser. Mix and match to see where your adventures take you. Even dare to have a patterned blazer with a solid pair of trousers for a really laid back look, though not the other way around. The only time you want to mix a pair of patterned trousers is with a plain white shirt. No matter what the pattern, material, or cut, a full matching suit eventually becomes a dull affair considering it's always so uniform and is starved of that little spark of creativity. That spark now belongs in your hands. Go ahead, have fun.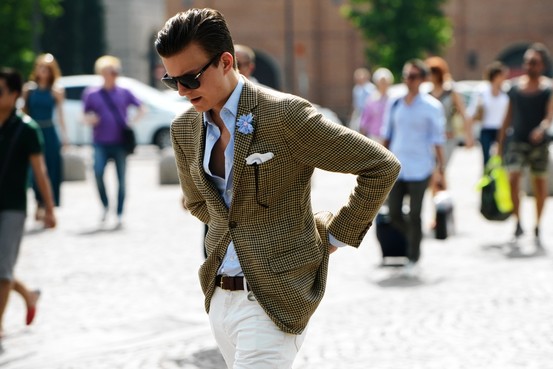 With Chinos
A popular staple in the warmer climates, a light pair of chinos with the common blazer colors of navy and grey works wonders as the color contrast is not too sharp to hurt the eyes. A killer look if paired with a t-shirt as mentioned above, but you're OK with an open-collared white shirt as well. I know, I know, we've preached this a million times and we'll preach it a million more: Chinos are the backbone to a great summer look, and a blazer would make you a prime suspect of best dressed man. A men's blazer with this summertime staple will have you walking into yacht clubs with ease. Any range of the tan trousers would be the best, from dark khaki to a light stone, but other colors can also work as well. Even though khaki is the most common color, blue, green and burgundy are some other alternatives that go well with a blazer. They're essentially a casual alternative to the different colored trousers look mentioned above as well.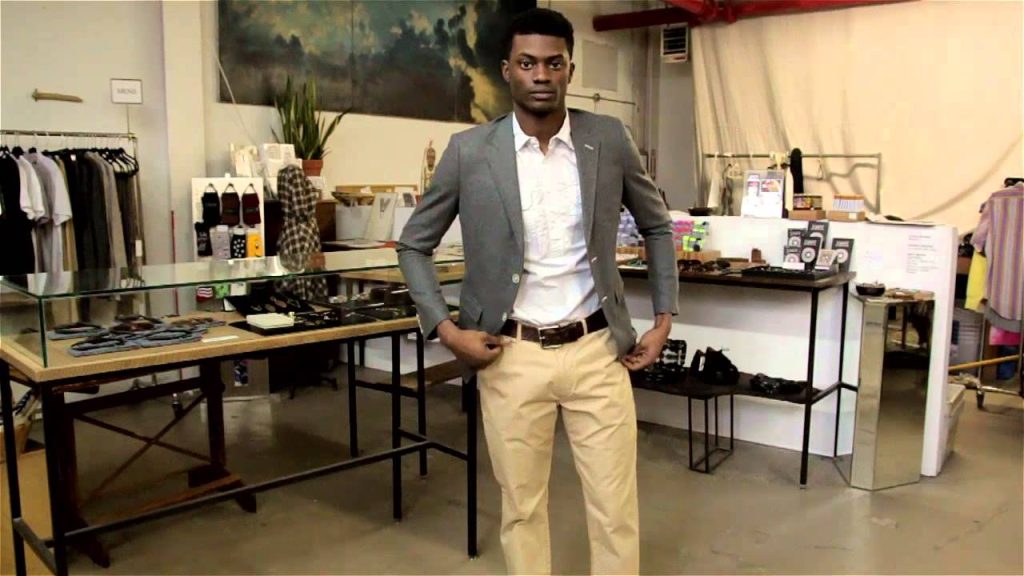 With Jeans
Some may be appalled by a potential pairing of jeans and blazers. You're probably thinking "Don't try to pass as dress pants, denim. You're not fooling anyone." But the reality is that traditional fashion rules have been thrown out the window with the turn of the 21st century. The lines between casual and formal have never been murkier, and fashionistas are taking full advantage by combining a men's blazer with the most popular pants out there. For those with more of a casual taste, opt for a medium light wash for grey blazers (don't get acid wash, this isn't some punk rock outfit) and a dark wash for everything else. The jeans provide a solid base for your outfit and the stitching provides a cool detailing that isn't available on normal dress pants. This look is particularly fantastic for the fall because of its rugged, laid back look, you know before the cold bite of winter forces us into parkas and snowpants. A slim pair would be best to match current trends though straight would be OK as well. No boot cut though, that stuff should only be used in the Wild West, not with a respectable blazer. Cropped just below the ankles and could be worn with a pair of Oxfords or Brogues, whatever you fancy.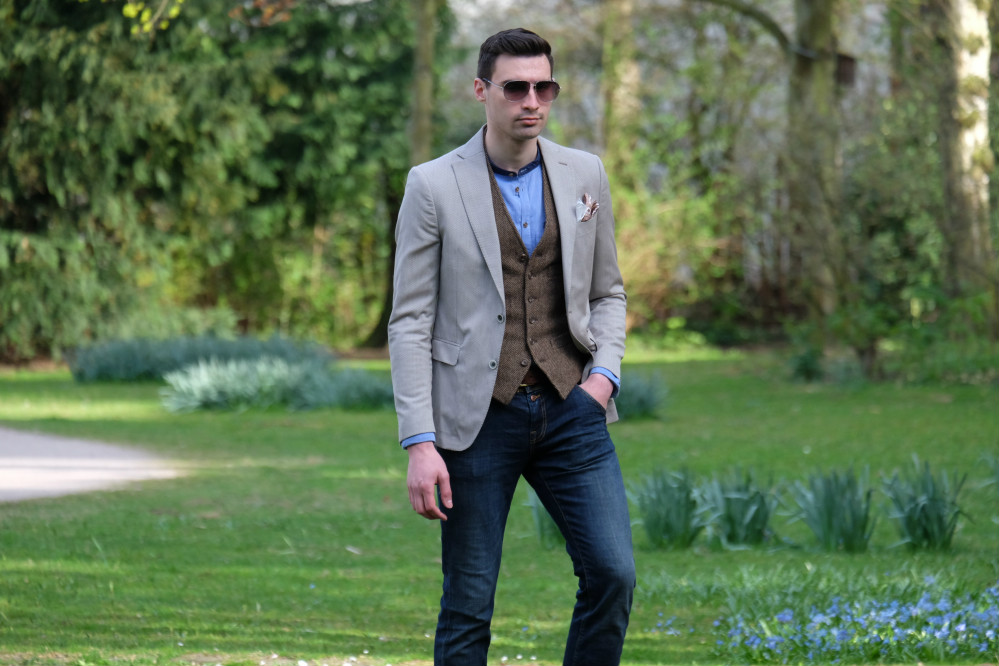 With Shorts
Here's a step by step guide to wearing a blazer with shorts:
You don't. You should never, ever wear a blazer with shorts. Reasons why? Too many to count, too painful to imagine.
What Do You Like To Wear With Your Blazer?
You have your building block, now what do you add to it? Let us know what your favorite blazer combination is in the comments below!