In the last article we talked about the basics options you need to know before buying a suit.
Today we're going to talk about what kind of suit is most flattering on different body types. Some guys have specific needs when it comes clothing that flatter their body type, while others have it fairly easy. Read on if you find it hard to make things look right on your body!

Tall and Skinny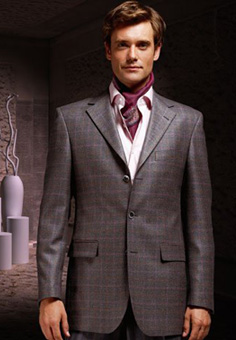 Go For Heavier Fabric
If you're tall and skinny, get heavier fabrics to add some proportion and additional weight to your body. Lighter fabrics will hang on your body like a thin layer and make you look more frail, so look for fabrics like tweed or a heavier weight worsted wool.
Stick With Light Colors
Lighter colors always make things appear more bulky, so use this to your advantage. Stay away from pinstripes (that lengthen) and dark colors (that are slimming) and choose a lighter color such as khaki or gray.
Choose A Higher Button Stance
Three buttons will look more flattering on a tall guy because it has height and length that is proportional to his body. You can even go with a two button jacket if you'd like but  choose one with a button stance that's closer to your solar plex than your navel.
Go For Single or No Vent
Because most tall, and skinny men don't have much of a rear to make room for, they can either go for no vent or a single vent. Jacket vents were created to allow better movement and comfort for the wearer as well as being a stylish touch, but tall and skinny guys would look like they have a fuller rear if they stuck to the single or no vents on their suit jackets.
Look For Regular Rise Pants
Tall guys have long legs, so their pants shouldn't make them seem any taller. The best way to prevent seeming any taller than you are is to ensure the pants have a longer rise; the rise of the pants, which is the distance from the waistband to the crotch, helps establish the proportions between the body and the legs. A regular rise will bring balance and symmetry to your already long legs and torso.
The Bulky Man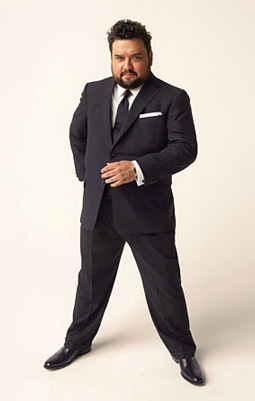 Wear Lightweight Fabrics
A man with a fuller frame – muscular guys included – should find a fitted suit that's slenderizing. Let soft, worsted wools be your guide when choosing fabrics because you don't want to add heavy fabrics on top of your bulky frame.
Use Dark Colors
Every big man has heard that dark colors are slimming. It's even more true with suits because you automatically wear the same color on top and bottom, creating a monochromatic outfit that makes you look visually taller and more slender instead of cutting you in half at the waist and bringing attention to a belly. Choose dark navy or black for your suits for the best effect.
Make It Solid or Vertical Stripes
Solids work best in creating a slender look. Loud patterns will definitely work against you, but if you're looking for something other than solids then vertical stripes are the way to go. Vertical stripes elongate the frame, and they also add some chic style to your suit mix. Big guys can also choose tiny, innocuous patterns for a bolder look, but only if they proceed with caution.
Go For Two Buttons If You Can
The two-button jacket is now the norm and designed to work for all body types. Added cushion on the torso can mean a disproportionate look in the jacket. To ensure the best-looking fit in the coat, remember that two buttons are optimal. As an industry standard, it won't draw attention to your bulky frame, like the modish impact of a one-button jacket or the slimming effect of a three-button piece.
Stick To Single Vent Jackets

While it's doubles on the buttons, bulky guys must keep the inverse in mind on the vent; specifically, avoid double-vented jackets. Vents, which are the slits at the back of the jacket, allow more movement. They also attract the eye, so huskier guys may not want to accentuate their backside. Instead, go for a single-vent jacket, which will give you the extra room you need minus the extra attention.
The Short Guy
A guy is usually not commented on being "short" unless he's shorter than 5'5, but whatever your height, use these tips if you want to look taller.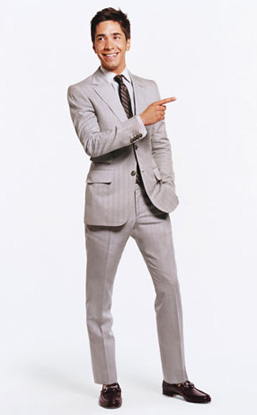 Stick With Subdued Patterns
Avoid suit patterns that are too loud, because it will only draw attention to your small frame. So avoid patterns like houndstooth, herringbone, glenurquhart check, windowpane check, etc. Don't know what these looks like? Don't worry, just stick with solid or the more flattering option…
Embrace Vertical Stripes

Vertical stripes are one of the greatest way to create an illusion of lengthening a short frame. As stripes run top to bottom, they tend to draw the eye upward and elongate the look of the suit. Thus, it gives the illusion of making shorter men seem taller than they are.
Make It One or Two Buttons
Choose a jacket with one or two buttons. Whichever you choose is your choice, but just keep in mind that a lower button stance will also seem more proportionate to your frame and give you some length.
Go For Double Vents
Double vents emphasize the outside lines of the body so they create a longer silhouette that complements and lengthens your frame. It's also more stylish than the single vent so there's nothing to lose here.
Look For Low Rise Pants
When it comes to the pant, look for a low rise. The rise is the vertical distance from the waist to the crotch; low-rise pants stretch out the torso, making you seem taller. They dramatize the proportions of your frame to look sleeker and longer. In fact, the lower the rise of the pants, the longer the body looks. Also, avoid cuffs on the pants because they will shorten your legs.

Conclusion
If you're short and skinny, or big and tall, then mix and match the tips and you'll have your desired results!
Jae
Also: To complement your suit, find your perfect mens dress shirts here.

More articles that you may enjoy:
» Finding the Perfect Suit
» How To Tie A Tie: The Pursuit Of The Perfect Knot
» The Elusive Perfect Shave
» What Asia Taught Me About Casual Style
All you need to know is compiled in our Method…