Tailor4Less has become part of my newest obsession.
Customizing my own made to order, already-tailored clothes.
Every year technology becomes more powerful and we're starting to see all kinds of new technology begin to hit the style scene.
For me personally, being able to create exactly what I want and then have it delivered to me already tailored is an enormous benefit because I don't have to spend as much time shopping in stores (with a wife, and 2 kids, one of which who has autism, my free time is very limited these days)… and I don't have to worry about taking it to a tailor to get measured.
That's where places like Tailor4Less come in.
What Makes Tailor4Less So Unique?
Using the technology on their website, you first choose from a huge variety of clothes. You can choose from shirts, suits, blazers, pants, polo shirts, wedding apparel, coats, and even accessories (ties, cufflinks, belts, scarves, socks, suspenders, etc.).
Then, you customize.
You enter in all the details you want about the type of clothing you're buying, which varies depending on what type of clothing you want to purchase.
When buying a shirt, for example, you can choose from…
Sleeve length (long or short)
How fitted you want it
Collar style
Collar lining
Collar buttons
Cuff style
Chestpocket (if you want them, and what kind)
Placket style
Whether you want a tail to tuck it in, or squared to leave it out
Pleat style
Then you can choose your fabric where you'll get dozens of different options in color, type of material and pattern, all at different price points.
After you've customized your item, you then give them your measurements.
It's REALLY easy. They give you extremely detailed pictures each step of the way. It takes less than 5 minutes. It then gets saved into your profile, so you only have to do it once.
If you'd like to see see me through the ordering process on the Tailor4Less website, just watch the quick video I made for you below…
 The Quality Of Tailor4Less Shirts
It's sometimes hard writing about quality, because basically "it depends".
If you're spending $250 for a shirt, what you expect is going to be different from a $50 shirt you're buying.
They offer a variety of different materials at different price points. I chose "Tamul" which is 100% cotton, wrinkle-free material.
Was it the most exquisite, velvety-soft material I've ever worn?
No.
But for the price (about $89.85) I thought it was a good value. Not a "wow" value, but very reasonable considering the shirt was both custom-created, AND custom-fitted based on my measurements. A few places had stitching that was a bit funky, but nothing catastrophic.
Here's a closeup up the material and a button.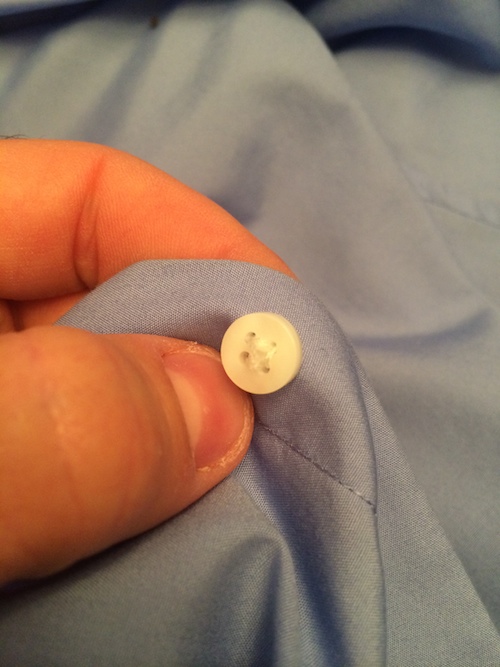 The Accuracy Of The Fit
This is the more important part, because a lot of people get nervous about whether or not the company is actually going to send them the correct sized shirt.
Here are a few quick pictures I got, with comments.
Keep in mind while looking at these that I lost about 7 pounds from the time I ordered the shit until the time I put it on. When I first put it on, it did fit better than what you see in the pictures below. Since there is now a little extra material, it billows out a little more in certain areas.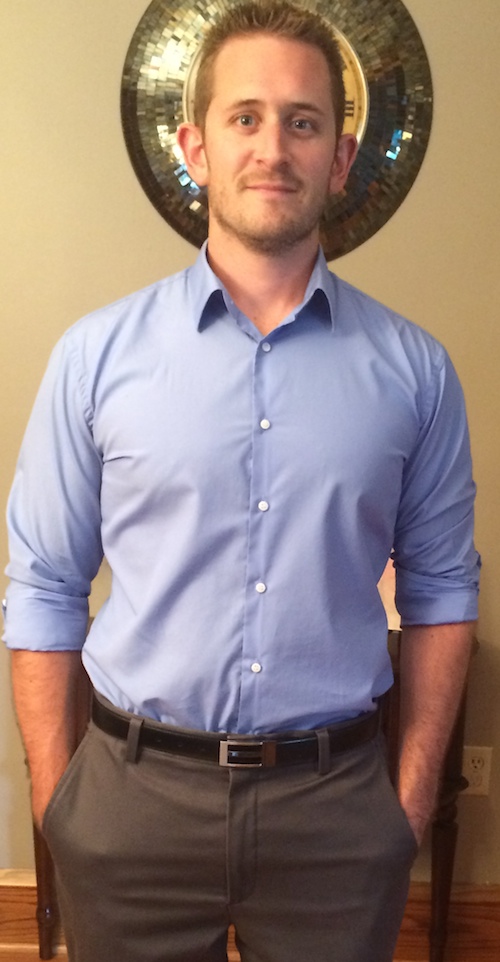 Here's one from the side…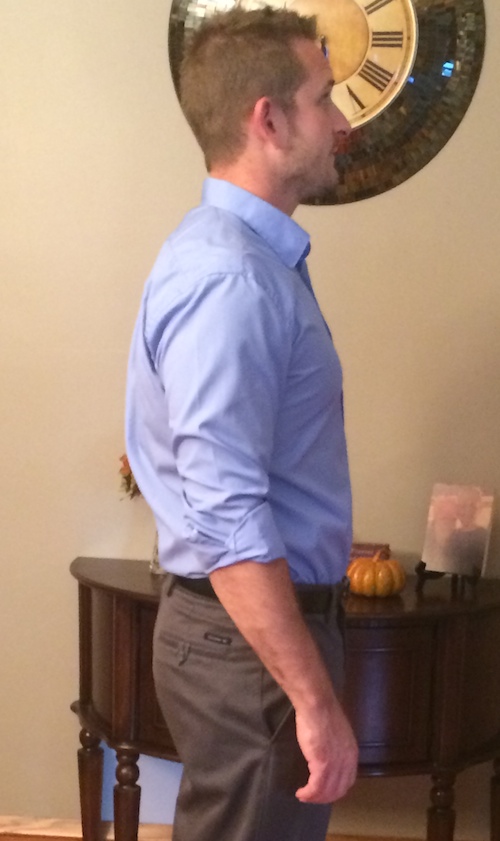 And another from the back…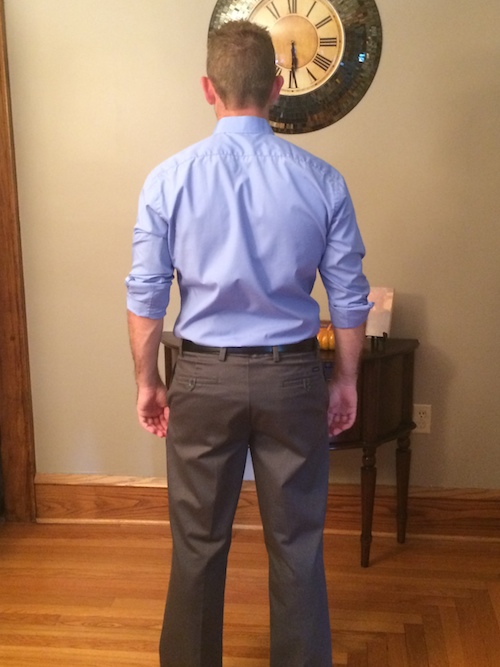 My Overall Opinion Of Tailor4Less
If I were scoring them out of 10 on an overall basis, I would give them an 8. I think they're a very affordable place to get quality clothes that, while they won't make you look like you own the joint, they'll give you an easy way to create your own custom clothes, which are nearly perfectly fitted (it's going to depend on how accurate YOU are when measuring yourself).
In my eyes and based on my own experience, they're definitely worth a try.
You can go here to visit the Tailor4Less website.
Let me know what you think in the comments below!