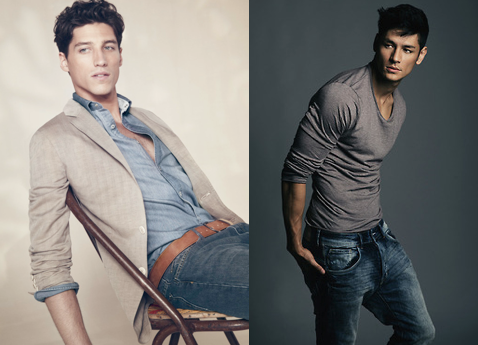 What to wear in summer? Accessories, trousers and shoes – Part II
Having already looked at the top half of the outfit in the first part of What to wear in summer part I, we're now going to move on to the next stage!
'Tonight I went for the accessories…'
Accessories are a summer essential. They can easily make or break an outfit without us really knowing it. For example if your outfit is a plain white T-shirt and chinos, a pair of smart shades, a nice watch, a little leather bracelet and a light-weight scarf will easily take the outfit to a whole other level. And that's without you having to make a massive effort.
Choosing your shades
If you try out enough pairs, you'll actually intuitively find the pair of shades that are the right shape for your face. Trying them out is the easiest and most simple way to find the right pair, especially if you're a bit lost faced with advice based on your face shape.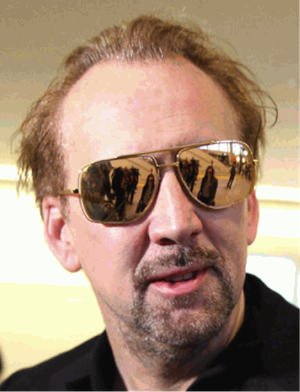 Alright, even if the frames are pretty nice, you don't necessarily have to go for the Russian oligarch look with gold-plated shades…
Don't be afraid to try out tons of pairs and take photos of yourself wearing them. And feel assured knowing that if you're struggling to get to grips with the idea of matching shades to face shape, trying out a mere ten pairs isn't going to get you very far. You're going to have to try out at least two or three times that amount and focus in particular on higher-end models as they'll have a better design.
Speaking of price ranges, there are three of them:
1. Cheap: If you're the kind of guys who easily loses your accessories (shades, scarf etc): have a look in Gap or H&M (there's often a lot of pretty decent models for the price). If you forget them at the beach, you'll only have lost $10 and not $350. I'd advise you not to buy your shades from a street-stall cos you can't be sure that they'll deal with UV rays and that's dangerous for your eyes. You can read our full article on how to choose sunglasses here.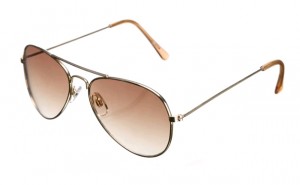 H&M for a handful of dollars. They'll last you a summer, maybe two, but not a third.
2. For mid–range brands, have a look at Raybans (I know, I know!), Persol, Mosley Tribes, Moscott, etc. There'll be a mixture of good and bad pairs so you're really going to have to prioritize trying them out.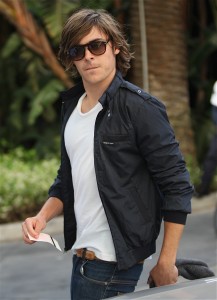 Persols can look really cool on a younger guy. Don't listen to people talking crap about Zac Efron cos his style is actually really great…unlike his films.
3. High-end shades is quite a unique area. To start with there are the great fashion houses that offer really nice models that are, however, pricey. The design is often impeccable but the quality, in relation to the price, is sometimes just pretty damn average. On the other hand, when you start looking at true sunglasses brands like Dita (obviously!), Mykita or Oliver People, you really do start getting your money's worth. I'm well aware that you need to be filthy rich to be able to afford these so my only advice would be to have a good dig around when the sales are on.
For example, I've already spotted a new pair of Ditas for less than $250. With these brands the quality really is top-notch. I promised myself that one day I'll do a comparison for you between a pair of Tom Ford shades and a pair of Ditas…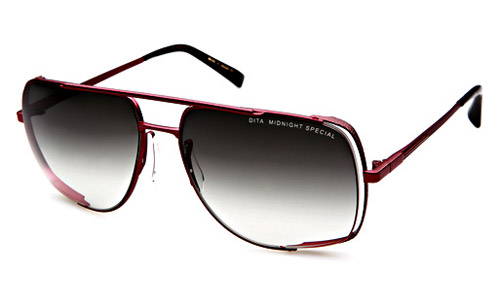 Dita Midnight Special, they speak for themselves.
As for the readers of the Kinowear Bible, I invite you to take another look at the chapter on shades in there 😉
Choosing bracelets and necklaces
You know by now that at Kinowear we're far from being fans of men's jewelry. Having said that, a little leather bracelet in summer never killed anyone.
What's more, H&M and Zara often have a lot of nice and simple items on offer with tiny price tags. Note that the more wear gained over time, the better the look. If you're not scared to look at higher-end stuff, you can find some real gems: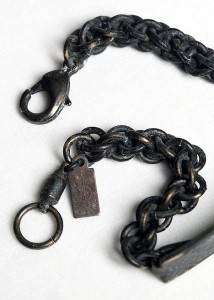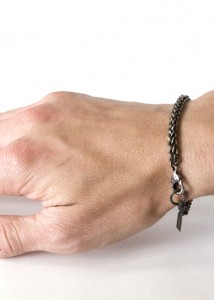 Vim Beget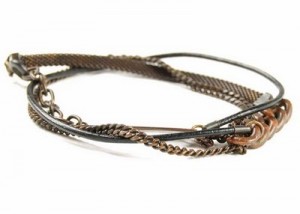 Robert Geller
Finally, there's one golden rule to remember: your bracelets and necklaces should NEVER make you look like you're showing off how rich you are. Gold and designs that are too clean-cut are therefore to be avoided. You should go for the total opposite – mixes of materials and irregular shapes.
And the rest…
It's possible to go for more laidback belts, have fun with it!
Really light-weight summer scarves are your friends and they can be found pretty much everywhere, including (and in particular) in the women's section of prêt-à-porter stores. I'll invite you to pay particular attention to the accessories range in your girlfriend's fave store!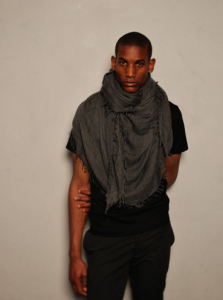 Faliero Sarti scarf, extremely light and soft, but quite a budget.
The bottom of the outfit – it's not about reinventing the wheel
'But can I wear jeans in summer?'
In summer, I'd advise you not to wear selvedge denim jeans for the sake of comfort: you get very hot very quickly in them. Waxed jeans are even worse cos they completely stop heat from escaping. If you can, go for grey materials as they absorb fewer rays of sun. 
It's a good time to look at faded jeans too – this is a difficult topic as it's really hard to find a nice pair…The most common pitfall is a botched-job of the fading meaning that it comes across as cheap. Here are a few tips for you:
Small budgets: H&M do some decent faded jeans but they're wrecked after the first wash. And then, well, H&M quality is just, well…Failing that, a bit more expensive, brands such as J-Crew offer some truly decent pairs.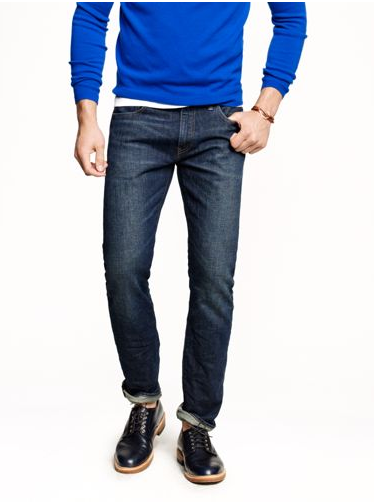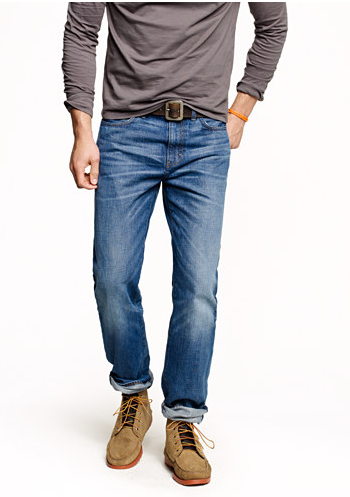 Don't go for more faded than this. Very washed out jeans are not classy at all.
Big budgets: DRKSHDW, obviously, to be found in the sales in on Yoox… Acne also do some nice faded jeans.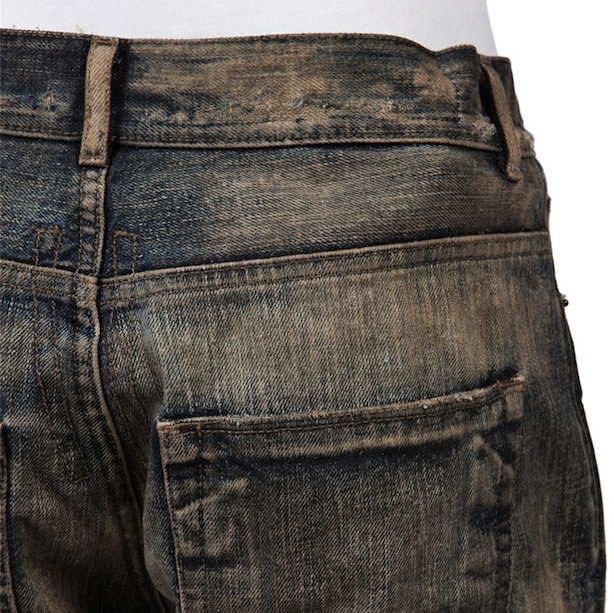 Geoffrey's DRKSHDW jeans 
'Ah…people have been talking about chinos for a while now…'
Chinos are still THE summer trousers all the same. You're in luck: most low-end PAP brands offer really decent models for summer, so I can only encourage you to start looking in H&M, Zara and the rest!
When it comes to choosing them, chinos stretch a little bit over time so take ones that are very slightly tight, and a few days later you'll be chuffed with your light-weight, very comfy, masculine, elegant and fairly polyvalent trousers! (don't wear them with shoes that are too smart, though…)
As far as color is concerned, have fun with it: beige, grey, faded green, cognac or marine blue, whatever you go far you really can't go wrong. Personally, I've got three pairs and I can't get enough of them.
And because I'm sometimes asked the question: chinos don't need to be as well-fitted as slim jeans cut to the precise mm! It's no biggie if there's a bit of volume: the absolute worst is if they are glued to your thighs.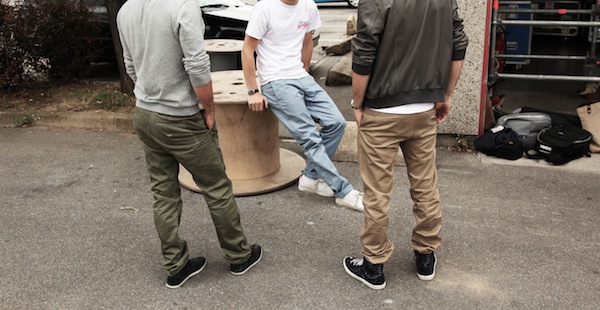 Dockers provides 3 different fits in a lot of colors that you may want to try. Search for Alpha-Khakis.
The case of the linen trousers
Let me make myself very clear: it is a very light-weight and comfortable item of clothing (making them a joy to wear in summer) but I find that they don't offer you much choice as to what footwear to wear – basically, it's either flip flops or loafers…
Having said that, if you're looking for a pair of trousers that you can whip on easily as you jump out of bed in the morning sun that shines in through the windows of your holiday home so that you can go and have breakfast on the terrace – then they're exactly what you're in need of.
One last thing I just remembered, when I met Julien Scavani, a young tailor, in Paris he was categorical about one thing: linen is not the material you should wear to go to the sea cos it soaks up moisture and from that point onwards has very poor breathability. 
The case of the white trousers
Don't even THINK about it… this is non-negotiable. A completely white outfit is to be avoided like the plague in summer. It has very, and I mean very, bad connotations.
And classy sportswear?
Sorry to disappoint you but if you want a really top-notch pair of trackies, you're going to have to break the bank. I'm under the impression that it's the kind of clothing that doesn't interest low-cost PAP stores.
That said, if you look at higher-end stuff you'll find some really unique pieces because it's the kind of clothing that designers in general like to go to town on: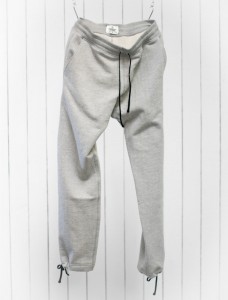 Reigning Champ, a great quality-price ratio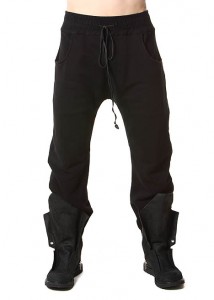 Odyn Vovk
Shoes in summer: what can I wear on my feet?
I find that choosing shoes in summer is a toughie. Of course, if the temperature doesn't go above 25° you can carry on wearing your smart shoes and brut jeans. But as soon as you start thinking about wearing something other than a dark pair of jeans, you're going to have to be a bit more inventive.
You need to keep in mind, too, that ankle boots are –despite everything- still very polyvalent, particularly with a pair of faded jeans (now you see why you shouldn't go for too clean-cut ones) so you can carry on wearing them with no problems…
Question of comfort, the majority of higher-end shoes are made from quite fine leather: the heat won't bother you (you should only wear cotton socks though…without polyester!)
That's it for the practical info. But what about the style? Well, in my opinion the brand n.d.c have made a cracking job of their summer footwear: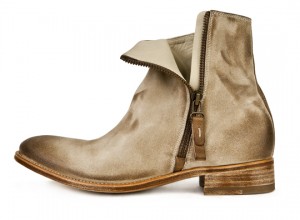 Virile design + summery color + the right amount of wear = just what you need for the summer (n.d.c). It's a mixture of virile style/ nice design/ wear fit for an adventurer in the middle of the Sahara, that you should really keep an eye out for in summer (and the rest of the year, too, for that matter)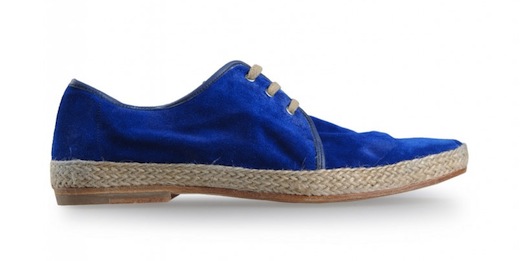 Sticking with n.d.c, this is a much more laidback shoe
Whether we're talking loafers, espadrilles, ankle boots, combat boots or work boots: they're impeccable every time. That said these pairs of shoes aren't cheap so wait for the sales to grab a pair.
Don't forget that desert boots are an absolute must
The most basic desert boot is made from suede in rather pale colors with a crepe sole (crepe as in the rubber, not as in the pancake)
They quickly made their appearance in popular culture. Since then, the brand has created countless variants, of varying levels of taste. Partial variants, for example the beeswax pair with a polished texture that allows for subtle shading
Loafers, driving shoes and boat shoes
As for loafers, in my opinion they're a bit of an odd case. It's really difficult to find a pair that stands out from the crowd. All I can say is have a look at n.d.c (again!) to get a bit of inspiration. All you need to know and more on boat shoes at Gentleman's Gazette.
Apart from that, you can rely on good old brands such as Sebago or Sperry Top Sider but the design will be quite classic on both boat shoes.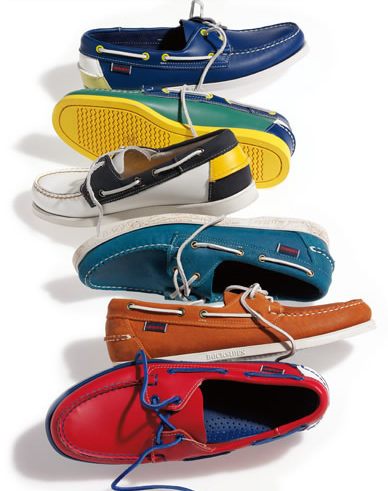 Driving shoes are also an option but they look more precious with the very thin sole made of small rubber "balls". Feel free to accompany this laidback style with a pair of faded jeans or chinos.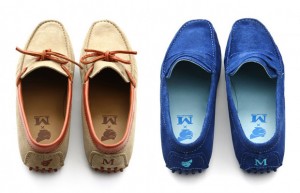 Whatever you do, don't wear them with a Ralph Lauren polo and a pair of Diesel jeans… 
Even more laidback are espadrilles. These shoes, of Basque origin, are in the midst of a big comeback thanks to small brands who are making them popular again…Havainas, The String Republic Corp, Hutopa (Argentinean espadrille…) Maurice & Moi etc…It really is a shoe that's massively on the rise now. And if I personally had to buy a pair, I'd be looking towards Espartine.
Espadrilles will look amazing with a pair of slightly rolled-up chinos, a braided belt and, quite simply, a polo/T-shirt/shirt on top…
As for flip flops, I asked Gil (who lives in Tahiti) which brands I should be checking out. His answer was simple, which I wasn't expecting, and pronounced with his legendary asian wisdom:
'Leather reef, the true pros know what I'm talking about'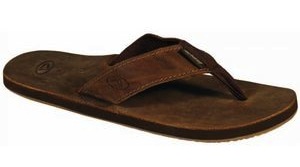 From my point of view, you can easily find a decent pair of leather flip flops within all price ranges, whether that be in Zara, H&M, Havaianas, Lanvin, Rick Owens, or wherever else you fancy…have a look around and you'll see! Don't invest too much because whatever the brand they can be damaged or lost (can happen during beach parties, Thailand again…)
Sneakers in summer
I'll start with a practical point: if you're going off on holiday with your mates, ALWAYS take a pair of sneakers with you that are tough enough for everything (a pair of German Army Trainers, or a pair of simple Nikes at around $50 etc). You never know what'll happen and you'll be damn glad to have a pair that you can put to the test without worrying if you want to go rafting, climbing, go-karting, from a night out where everyone spills their pints to a day of high-wire swinging from the treetops! It's a must!
For the rest of the time, low-rise sneakers are really in at the minute. However, if you're a bit lanky, high-rise sneakers with Bermudas are a simple and stunning combination.
Most designers have some really nice models on offer, and I'm still really drawn to Wings+Horns sneakers that I was lucky enough to admire up-close in a boutique in Vancouver. More modest budgets should have a look in Zara or even the simplest of Nikes. Once again, it is important to stick to really simple designs.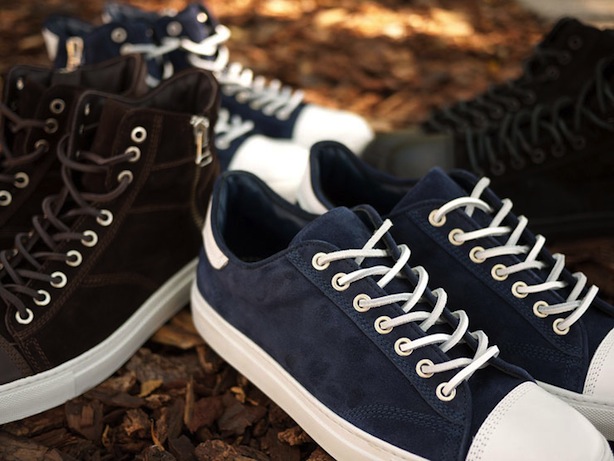 Risk-free Wings+Horns model, good quality and will go with anything!
Obviously, you're better off waiting for the sales to go and purchase a pair but you can get started right away with simple and non-expensive buys from low-cost PAP stores. Canvas sneakers, a pair of chinos and a simple T-shirt make for a great look, for example. 😉
There you have it – have fun shopping!
Did you enjoy this post ? Take our crash course to kickstart you style !