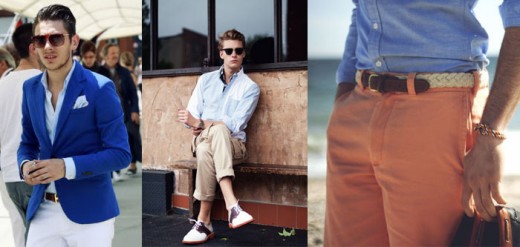 What to wear in summer? T-shirts, shirts, polos – Part I
Hi guys, this post in two parts in coming in a little bit late. Anyway it'll be helpfull for a few lucky ones who live in places where it's summer most of the year. Cheers to my buddies in Thailand !
The team will be off for holidays in Greece in a few days and it really got me excited on this topic. Especially knowing that when I'll be back it'll be almost winter already at home. As you may know already, a warm and mediterean weather doesn't require you to dress in the old age Greece toga.
When you talk about summer with men's fashion fanatics or even fashion store managers, they are in unanimous agreement about one thing: dressing for summer is more complicated/less interesting than dressing for winter.
Why so?
Well, because you often have to go without items that bring a lot to your winter style: your well-cut coat, selvage denim, a nice blazer, or very manly chunky-knit pieces.
Dressing for summer means dressing for a more demanding context.
Out with the multiple layers of clothes, in with real fabrics that breathe and more subtle creativity to compensate for the limited options in your wardrobe. I can already hear you from miles away whispering, 'but what do I do to be stylish in summer? What can I wear to feel comfortable in my clothes without opting for the traditional shirt + shorts combo, and for going to a BBQ or a terrace-bar with my mates?
Follow the guide!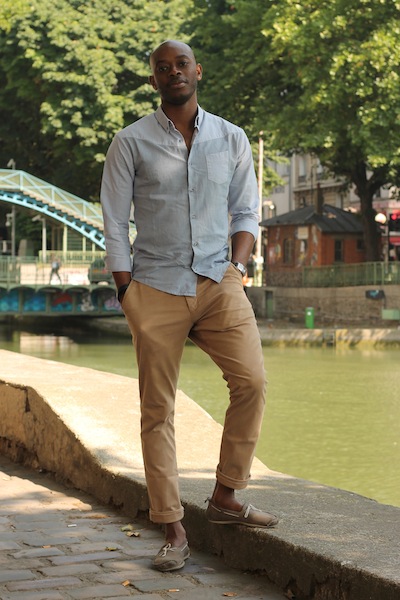 Simple yet stylish summer outfit
Masculine elegance in summer: not easy
In winter, you arrive in a bar wearing a well-cut coat, smart Richelieu shoes, understated faded jeans, a smart grey woolen jacket, with a gingham shirt, and, why not, a smart knitted tie. That's the easy way to be elegant in winter.
But in summer, it's a whole other ball game. No go areas: flannel trousers with your Richelieus, a plain shirt with painfully rolled-up sleeves tucked into your trousers. You'll look like a businessman who has been taken by surprise by the warm weather and completely unprepared for the heat…
On the other hand, finding a look that is 100% elegant in summer is a hopeless task; it would be ridiculous to wear a linen suit to go to the beach in the evening! Style for style's sake is about feeding your ego and not for your own enjoyment.
Summer, like every year, is, before you know it, Paris's beaches and its Japanese tourists with their ever-shorter skirts – both as fake as each other.
The saying 'less is more' never has meant as much in the literal as in the figurative. Like it or not, in summer, you will have to go for the laid-back and subtle. And in any case, it will be more comfortable for you that way.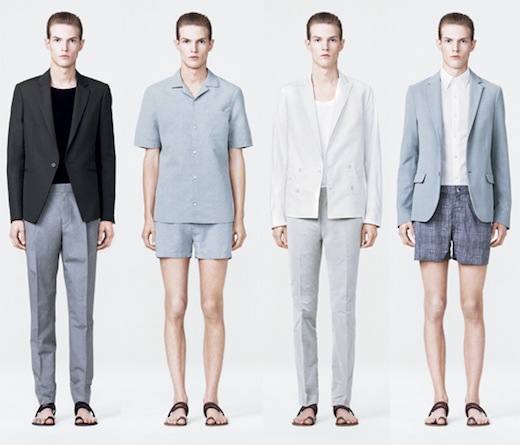 Great in a look-book, but very complicated to reproduce in reality.
Key points to dress in summer…
But the laidback look in summer – what is that? Here are a few tips that I'll go over in more detail throughout the article:
Wear patterned, checked or chambray shirts in a laidback way (I'll come back to that in a second)
Have the right T-shirt for you (not the one that makes your body look weird in photos)
Wear comfortable, smart shoes
Wear something other than jeans (which in summer are a method of a torture)
Have fun with accessories
Keep in mind, too, that more than ever, the contrast of style that readers of our Style for Modern Men Method will know all about is right on trend, that is:
'For each understated accessory I wear = I wear a strong item in my outfit'
(Or, alternatively, another understated item, but very laidback).
The ideas are endless: understated chinos with a nice pair of high-rise sneakers or simple flip-flops and Bermuda shorts with a plain white shirt, but with an extra undone button.
T-shirts
If it's hot, you'll need to wear a different one every day. Have at least 5 or 6 in stock.
Therefore when you'll have find the right one, you can buy 3 of them in white, no brainer.
I must emphasize their quality here, too. Low quality fabric will shrink or loose shape when washed and will be damaged quickly by sweat.
Where things start getting tricky is when you want a more 'polished' T-shirt :
They're more difficult to find
They're more expensive
And, in particular, given that you're going to sweat a lot, you'll need a T-shirt that stands up well in the wash
It's in relation to the latter point that I advise you to be vigilant with very high-end T-shirts made from mixtures of cotton, silk and cashmere (a specialty of Rick Owens). Preferably, when it comes to high-end items, stick to cotton, and be very meticulous when putting them in the wash: wash them cold, as delicates, and in a purposefully-made protective bag.
Oh, I almost forgot – don't be scared of modal, that artificial material made starting with cellulose. It's in fact a particularly soft fabric and stands up well in the wash.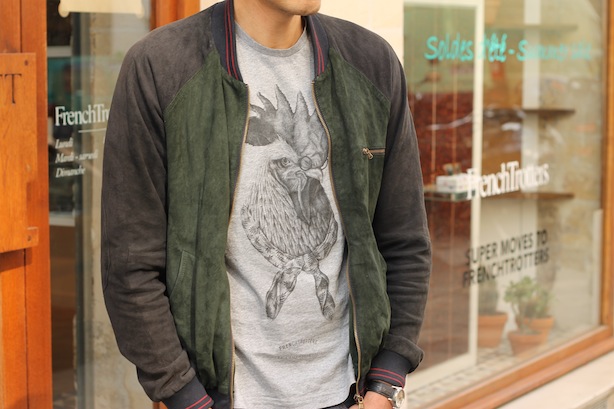 A print that really fades into the tee, yet adding a lot of personnality to the outfit
Where to buy tee-shirts ?
If you are really into tee-shirts and wear a lot of them, you should check Tug's website  "Undershirt Guy". He has been reviewing every brand out there (or almost). It's a good place to search if you have specific requirements on the cut, the fit or the fabric. V-Neck, Scoop-Neck, Bamboo fiber… everything !
If you're just looking for a good place to shop, I'd advise to check out Asos.com. They've got plenty of brand and their own label has nice tee as well with different cuts and cool print-on.
Looking for a basic white tee-shirt, keep an eye on good old Gap, J-Crew, Uniqlo, but don't spend too much money on that. Up to 15$
Same goes with basic plain color tee-shirts, avoid very strong and bright colors and look for soft pastel tones, blue, green, beige etc.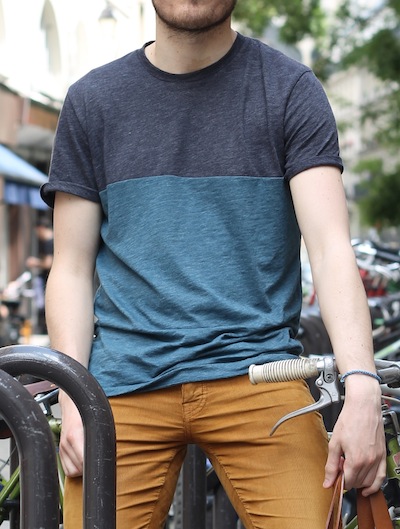 Nice and soft colors for a tee (double-sided or not it's up to you)
But a T-shirt from a high-end designer – what does that look like?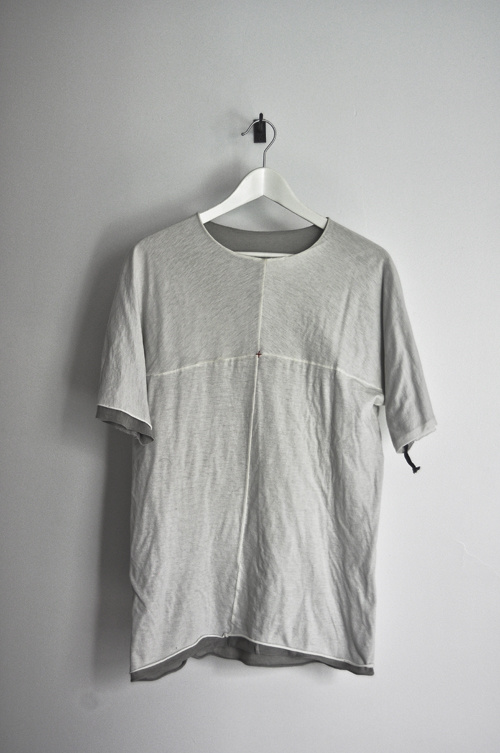 Here, you can see the work on the material, which seems to be much more silky than simple cotton…It's a mixture with cashmere, by the way.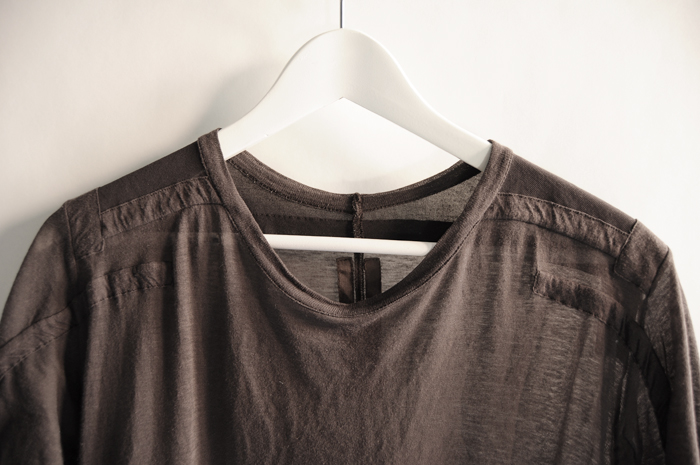 Vast amounts of work on the material, the shoulders, the support and the bottom of this Rick Owens T-shirt.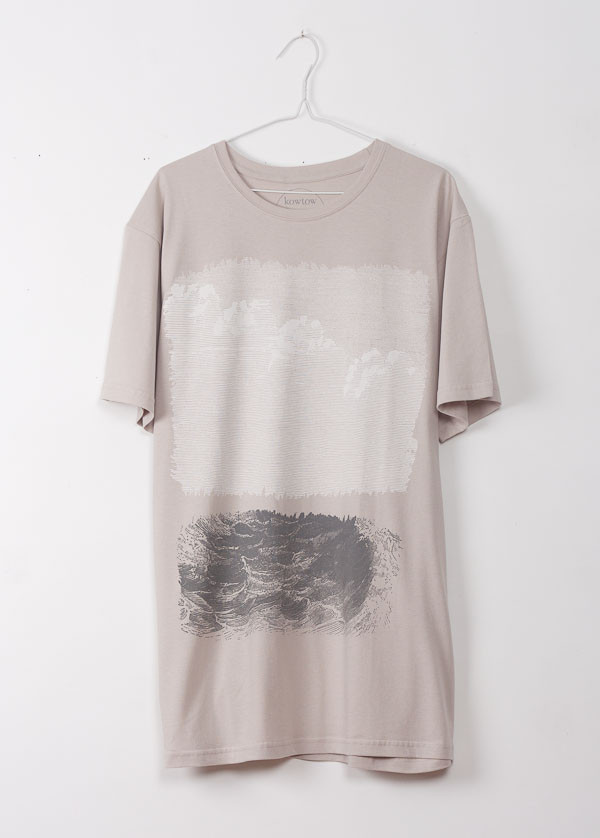 And now for the more graphic: Kowtow and its soft prints…
And Passarella, with its printed T-shirts that leave opinions divided…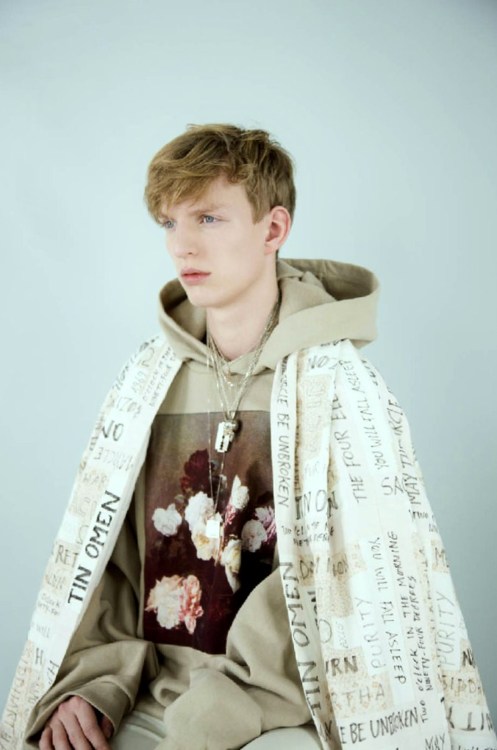 A nice motif on a T-shirt/a well-chosen support…that alone makes a significant difference. (This is Sh*t!)
Shirts: Use them and abuse them
Shirts are going to be an important element of your summer wardrobe, because they can very easily be laidback items which are at the same time elegant. I can only advise you to wear them with the sleeves rolled up, it's so much more laidback! If the shirt isn't too long, that is if it doesn't stop more than halfway down your thighs, don't tuck it in to your trousers.
From there, the possibilities are endless; here are the basics:
Chambray shirts
There's a plethora of choice mid-range: Dockers, Our Legacy, April 77, APC, etc.  But for more limited budgets, there are some gems to be found with Asos or sometimes even with the big chains of low-cost prêt-à-porter, like Gap or H&M. Wear them with chinos or faded jeans! (Stay vigilant all the same: you're going to have to do some digging). Don't hesitate to layer up by wearing a T-shirt underneath with an open collar: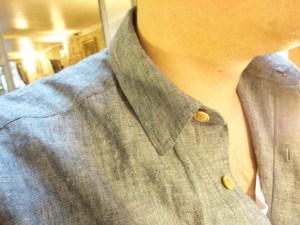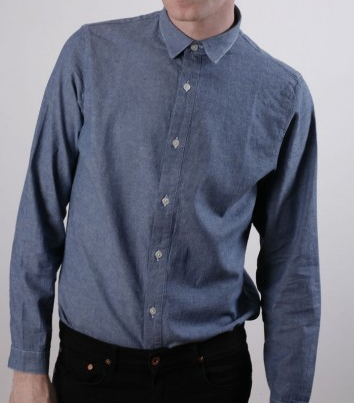 Chambray shirt by April 77. Obviously, you're not completely obliged to wear it with the collar done up! 
Checked shirts
Checked shirts: here, too, there's a lot on offer across all price ranges… Go for gingham or madras shirts. There's a multitude of types of check and colors out there, which makes it hard for me to give you more precise advice. Shirts that are risk-free for beginners, will have not too wide checks and simple colors. For instance with only only one bright or strong color.
For the rest of you, try out in-store! Every year, I see very decent checked shirts in J-crew or Gap, for example. If you go for higher quality, you'll have no problem finding some extremely nice items. And, as usual, we're flexible in terms of the cut, even if – comfort obliged – you can allow yourself a bit of room in terms of the cut.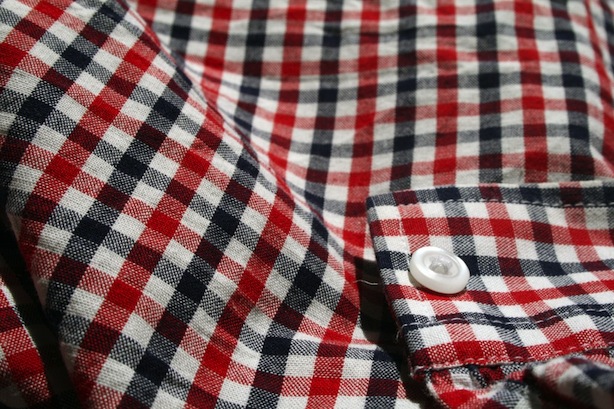 A nice checked shirt begins in particular with quite small checks to play with the contrasts + the good combination of colors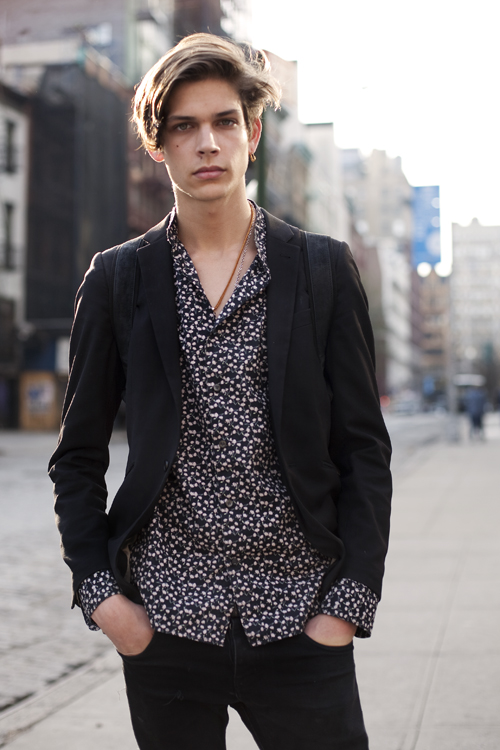 A good patterned shirt, well worn – you've got the idea
Summer shirts
Let's get to the heart of the matter. A summer shirt is simply a shirt made from a fabric that you could never put with a suit, for example, linen, cotton fabric, Japanese cotton, etc. Brands such as Gitman Bros, Gantt Rugger, Dockers or Melinda Gloss have made it their specialty to explore this kind of fabric in their summer collections. Problem:  you'll automatically need to look at mid-range/ high-end items in order to get access to interesting materials. In other words: wait for the sales
>> Read our article on how to choose a shirt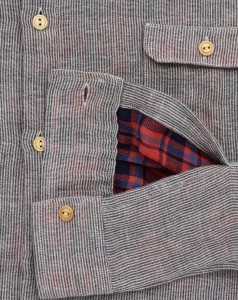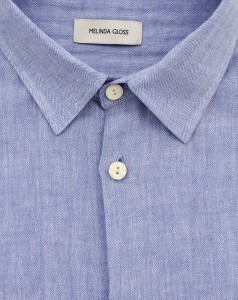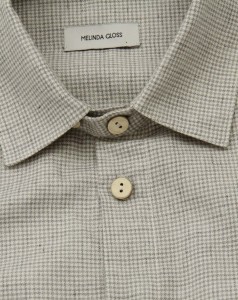 Summer shirts in a range of special fabrics. It's first and foremost
comfort and an almost no-fail choice (you can put that down to the fabrics)
The case of the linen shirt
I'm going to be honest with you: it's very complicated finding a nice, well-cut linen shirt, except high-end. But other than that don't waste your time looking in H&M: you won't come out alive. Personally, I don't recommend linen. Granted, it's light, but it absorbs water like a sponge and unless you have a revolutionary anti-perspirant, you'll spend the day with sweat patches under your arms after the slightest effort…
What do I wear all these shirts with?
Chinos or brut or faded jeans – quite simple! Don't forget, summer is the period where everyone is laidback, so don't try to overcomplicate things. Believe me, a checked shirt with rolled-up sleeves will go very well with chinos or jeans, don't stress.
The case of polos
I've already had the chance to talk about men's polos in one of my latest articles: in general, it's not an item I greatly appreciate, because it's very difficult to find a nice one that makes you think of something other than an umpteenth imitation of one by Lacoste or Ralph Lauren (which is far from flattering, you'll agree).
The polo is a hybrid item that is somewhere between the laidback-casual and the smart-casual. A bit like if you were to put a T-shirt and a shirt together and they were to have children. There are no universal rules (the cuts and materials will be, of course, your criteria of choice) but avoid falling into the cliché of the rugby man's polo with a stuck-up collar and a douchebag attitude. Polos are classy, granted, but they're like muscles: show what you have to but don't over-play it as you'll lose all of the classy and the natural.
It's for this reason that I advise you not to make the polo your top priority.
For me, a good polo is either this: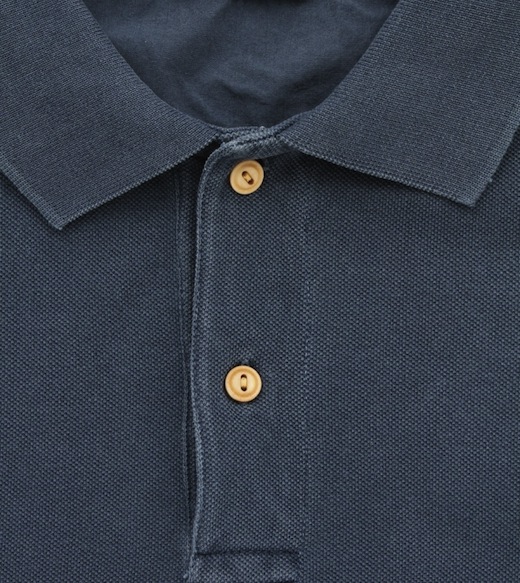 A faded, aged effect that nicely softens the color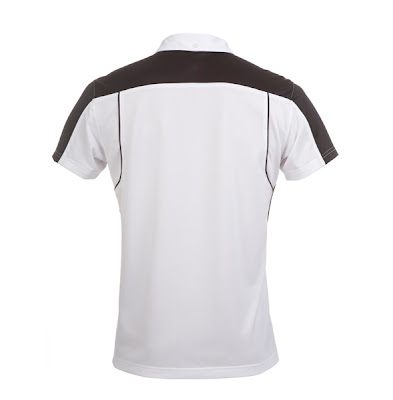 Or this : A scalpel cut at chest/shoulder level to make your shoulders look broader.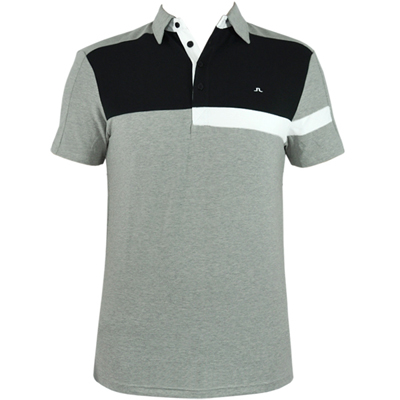 Geometric patterns are quite nice and sporty…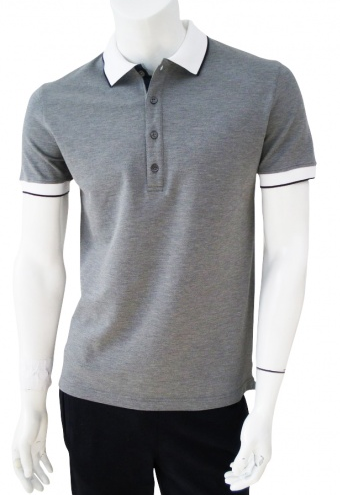 A well-pointed collar, pearly buttons, a deep neckline and a nice bit of detail near the buttons with a band of grosgrain cotton. What else could you ask for?
————
That's it for the first part of the How to dress in summer post.
Wishing you a cool end of summer this week-end.
Next time: we'll look at the bottom half of the outfit!
What do you like to wear the best ? T-Shirt, Shirt, Polo ?