After arriving in Montreal, if there was one brand that I really wanted to learn more about, it was Naked&Famous. Unfortunately, it's barely distributed in France at all, but it nevertheless offers one of the best quality to price ratios in the jeans market today, mid-range between APC and Renhsen. But above all, the brand is known for its crazy and original designs, such as the heaviest jeans in the world (which stand up by themselves), or their raspberry denim which smells of raspberries.
So when I discovered that the Naked&Famous headquarters were in Montreal, you can imagine that we absolutely had to meet the founder. We stayed there for two hours.
My impressions? A brand which is a lot madder than I thought.
Note from Geoffrey: I entirely agree with Benoit, meeting Brandon was like wining a ticket to 'Charlie and the Chocolate Factory': but with denim. We listened to demonic rockabilly on an old record-player (with the cries of angry women) whilst quietly discussing denim…whilst drinking a Japanese drink which explodes when you open it. And we even left with sweets.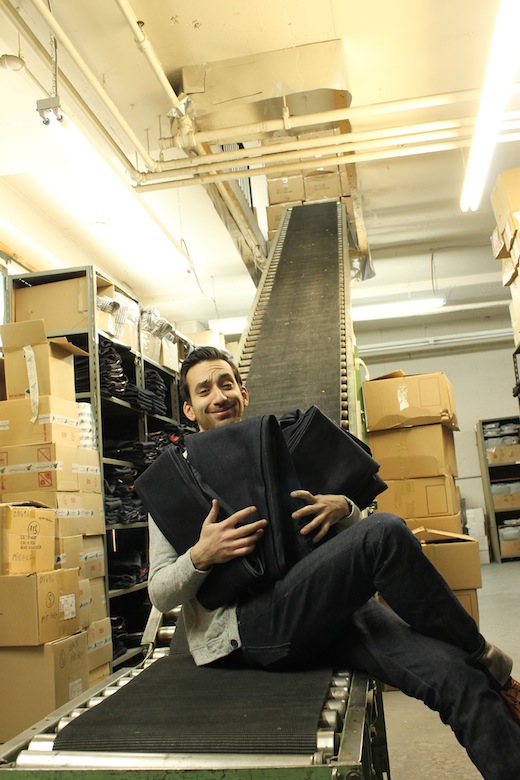 Brandon Svarc, the founder of the brand, in the stockroom.
A small history of the brand…
Why do we like Naked&Famous and why would we recommend them?
Because their jeans are extremely well cut, especially for smaller builds. Brandon, the founder, is slim which explains why so much care has been taken to fit people with smaller physiques. The person who creates the models has over 30 years of experience, and Brandon was also proud to inform us that nothing is designed on a computer.
I've also been wearing Naked&Famous for a few months now and I must admit that the weird guy cut (a semi-slim cut) is very well done. To such an extent that the founder of Prps (a very high end jeans brand) even bought the whole range of this cut in Barney's New York.
The brand is as anti-bling as possible, and Brandon is creating a counter movement against designers which produce pre-worn and extortionately expensive jeans. When we asked him why, he replied with a question: "would you buy a luxury car with seats that were already worn out?". He even swore that he would never sell anything by raw denim, and raw denim alone, and especially never washed out denim.
It's a brand which is also very well priced: the prices start at $125 (Canadian), and reach a lot higher for the crazier designs. But I assure you that for $125, you get a very decent pair of selvedge denim jeans (with a better cut than APC I assure you).
But it's not only through the use of selvedge denim that this brand has gained recognition, but also through their unique creations (I'll explain this further in a second). To understand this, you need to know that Brandon is extremely creative, and when we asked him where he gets all his ideas from (for example stretch selvedge denim for women) he simply replied "I've always got ideas in my head".
Indeed a creative, but also someone passionate for industrial design that endures the test of time. And it's this combination of crazy ideas and precise production which forms the DNA of Naked&Famous.
Okay, so what did we see in the showroom?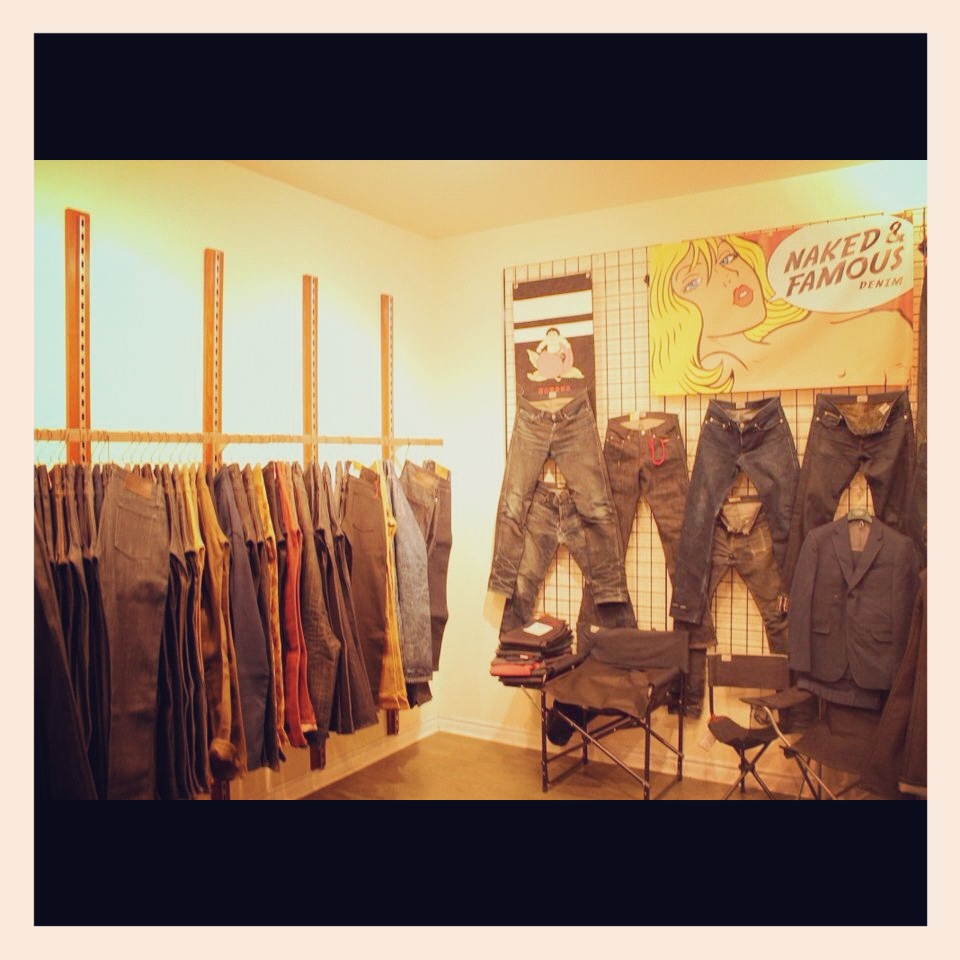 The worn out jeans on the wall are the jeans that Bradon's team and friends have worn. You can also see the suit on the right…made from kimono material, which is extremely well cut. I was also surprised to see that its lapels looked like the famous Smalto notch lapel.
The first thing that you notice when entering the showroom is this impressive wall with many worn jeans hanging from it. Brandon loves naturally worn out jeans and encourages his team and friends to wear a lot their jeans so that he can hang them up on the wall in exchange for a new pair.
And then Brandon showed us his pride and joy: the jeans that stand up all by themselves.
"The heaviest pair of jeans in the world that stand up by themselves"
When we asked him why he created this pair of jeans (which are naturally not very comfortable to wear), Brandon explained to us that it's like climbing Everest; it's painful, it costs a lot, it's not nice, but you have to do it as a personal challenge. These 32oz jeans (a normal pair of selvedge jeans weigh around 15oz) are his own personal Everest.
Yes, yes they do indeed stand up by themselves.
To give you an idea of the texture, it's important to know that the material was specifically developed for this model. The thread which is used in the jeans is often used to make carpets or military tents…and when looking at it more closely, it looks very similar to the edges of lounge rugs and carpets.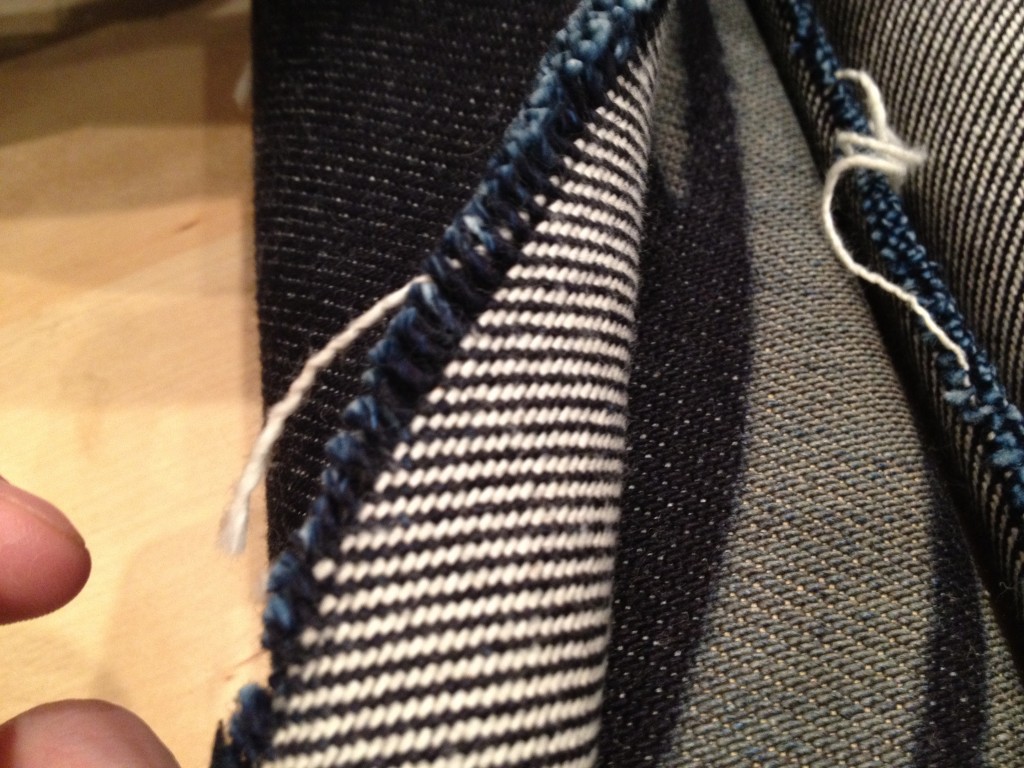 The famous material in question…see the beautiful regularity of the weave.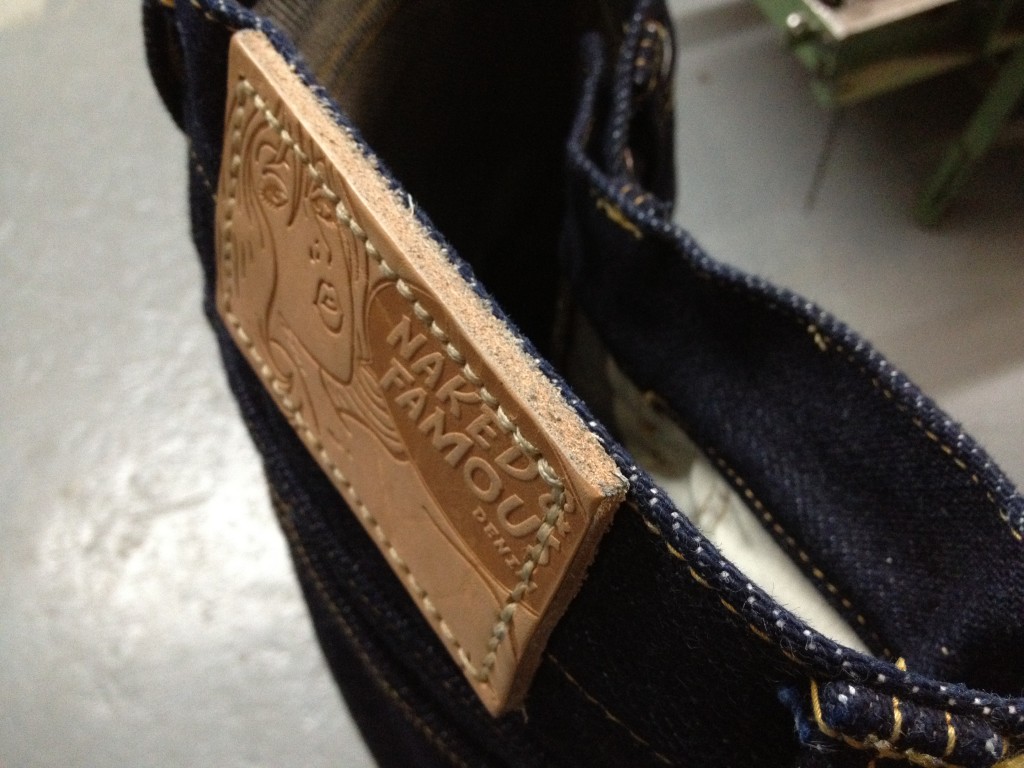 Sewing this huge label was a real challenge. Brandon initially went to a friend who knew how to make golf bags, and therefore how to work with thick leather. Problem; even if the needle got through the leather, it broke when it reached the jeans…so Brandon had to find a friend who had a special machine to perforate resistant materials, then he sewed the label on by hand, passing the thread through the holes in the jeans.
Then Brandon showed us his jeans range with the same enthusiasm.
To start with, here are the most expensive jeans that he's ever made; $1500. They are made totally of cashmere…selvedge. This is the first time that I've seen such a material used in jeans: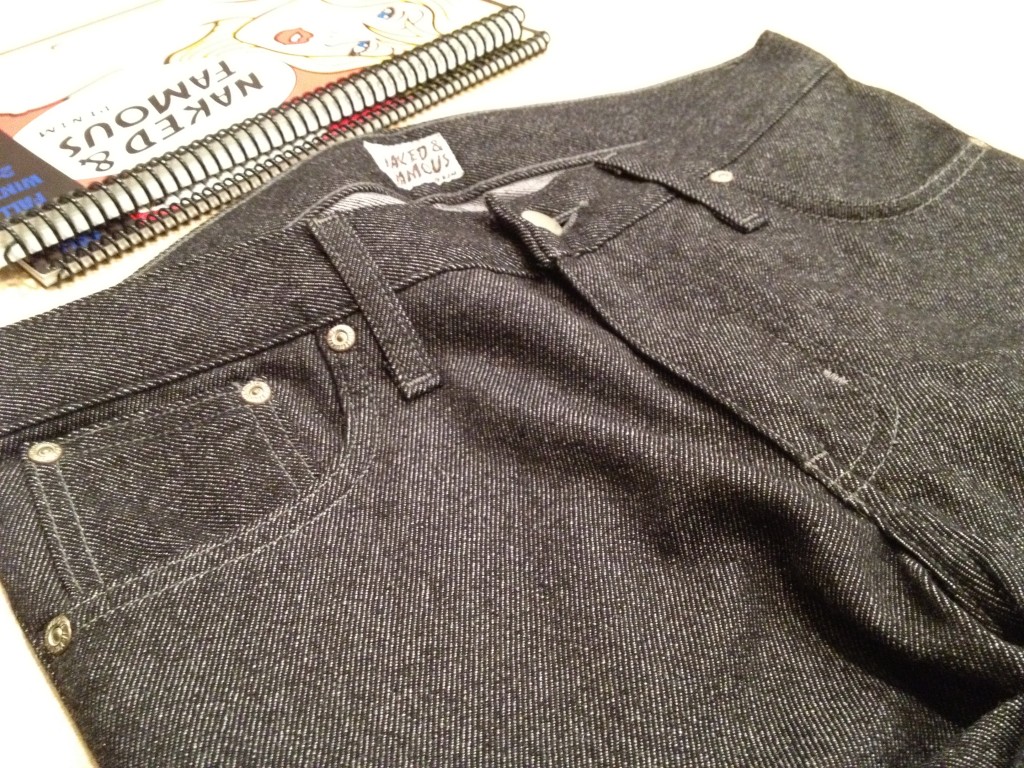 Yes, it's real cashmere.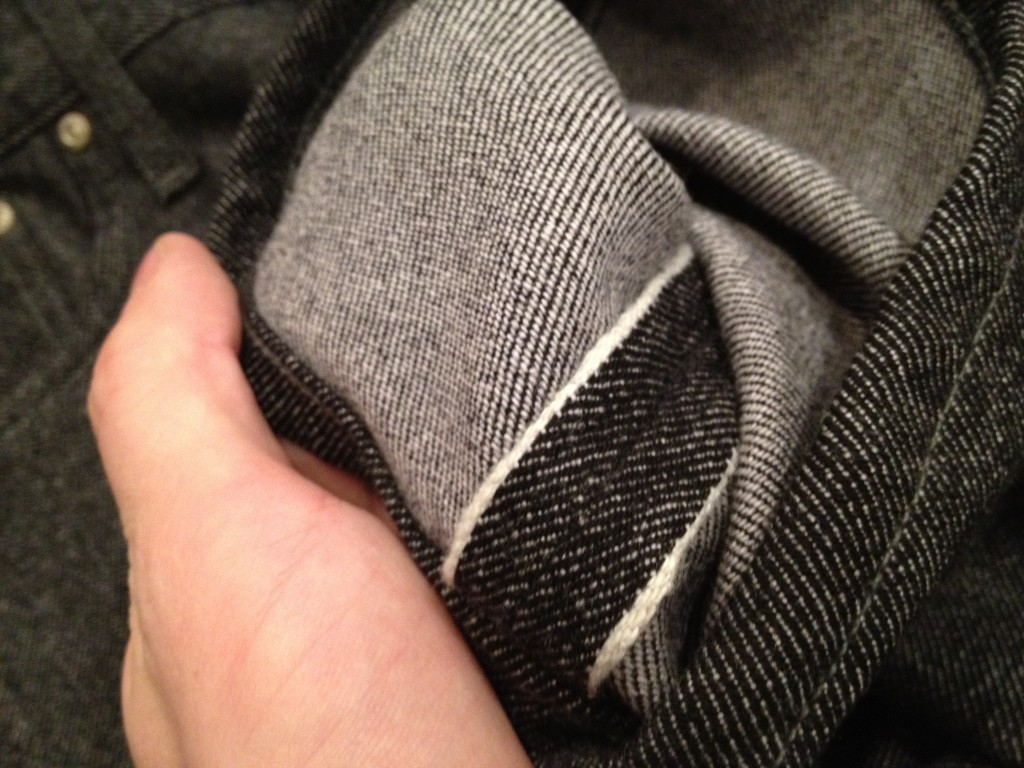 Cashmere selvedge. You won't believe your eyes.
Here's the rest of the range; they're quite fun:
22oz jeans which are very tough (to give you an idea, it's a bit like the texture of a Filson bag).
And that's not all…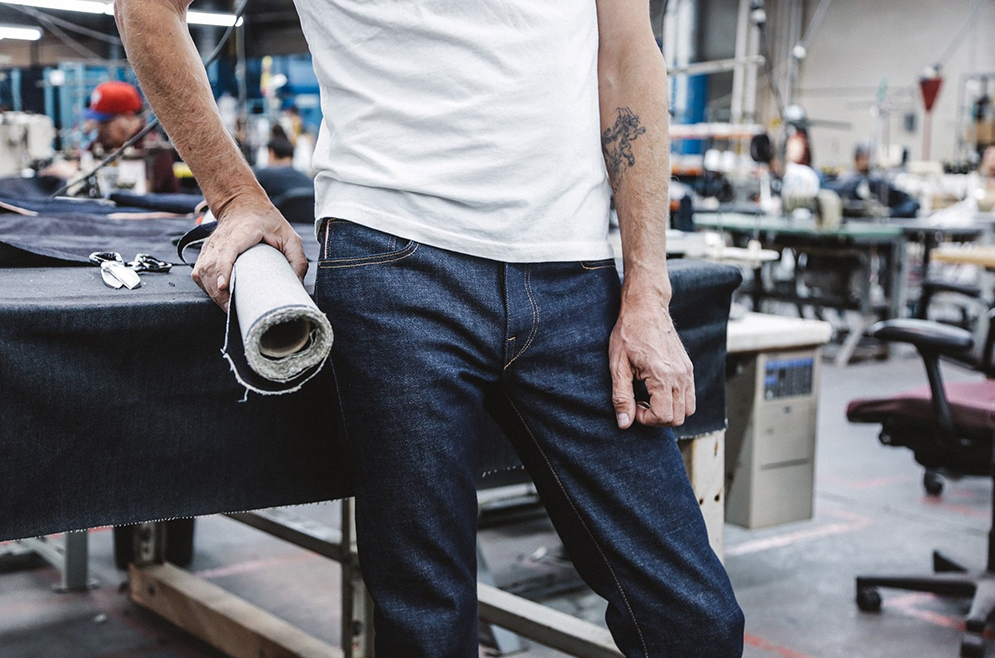 Raspberry denim…which genuinely smells of raspberry when you scratch it.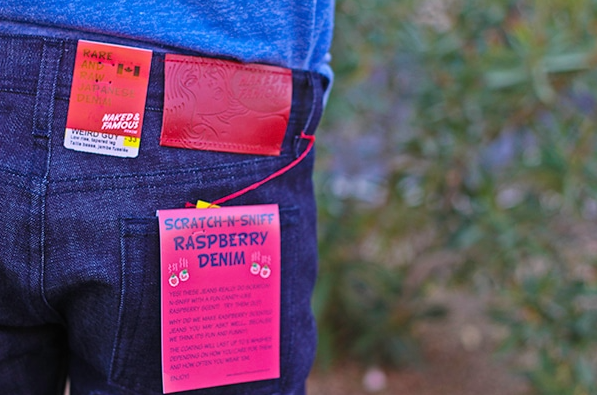 Stainless steel denim…jeans made with real threads of steel that mould to their wearer perfectly.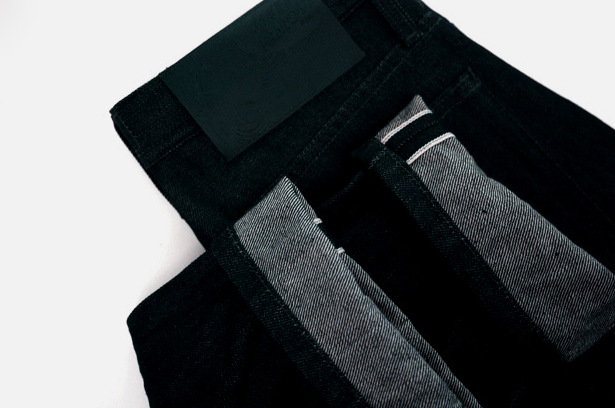 One of my favorite jeans of the collection; the thread is dyed red and then blue. So when it wears, rather than turning white, it fades red! The wear is very attractive and original.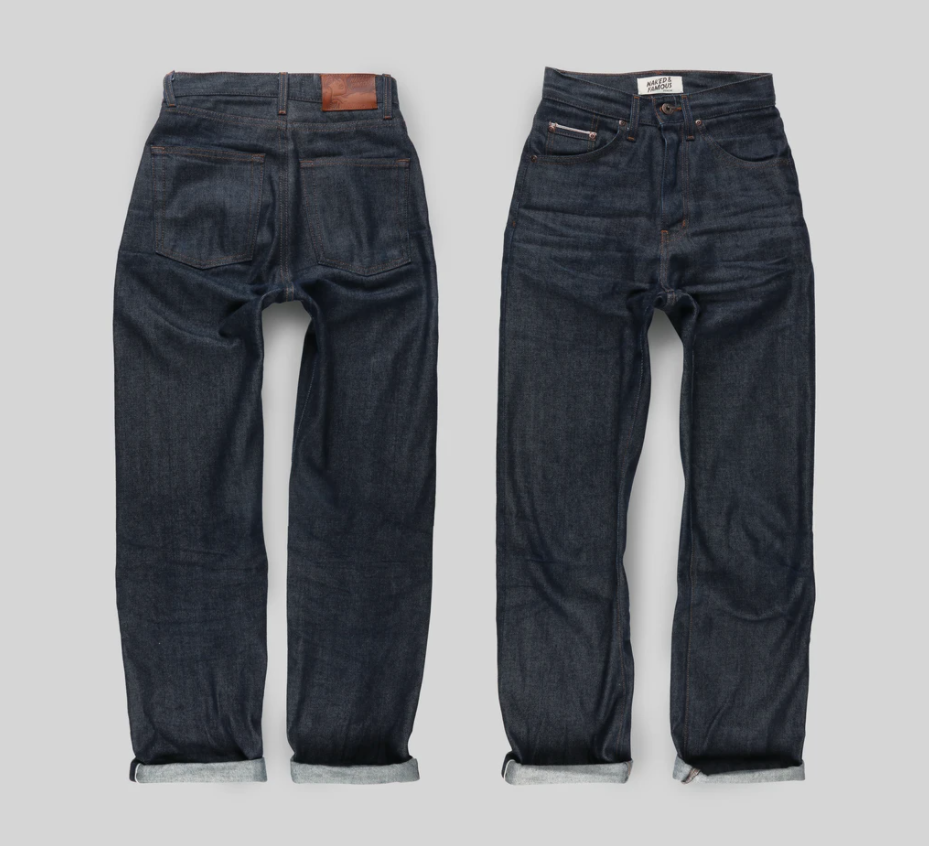 Extra: Brandon is very proud of this machine which is over 60 years old which he went all the way to Japan to collect. Brandon was firm on the point that "you can't make vintage jeans without this machine".
It is used to produce the hemline in a very specific raised way.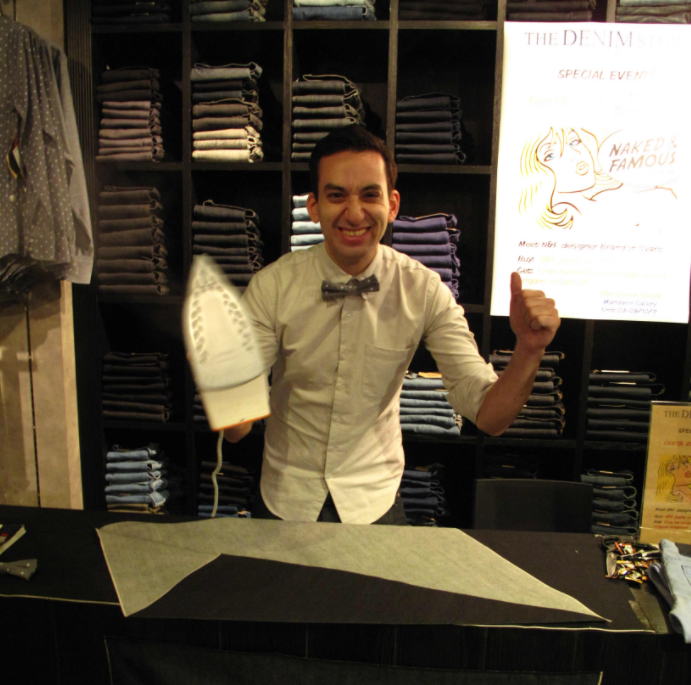 The three jeans from the left have this famous raised hemline (sorry, it's not that clear form the photo), whereas the jeans on the right, which are lower quality, have a normal hemline, which is simpler. I grant you that it's a very minute detail, but that gives you an idea of the attention to detail taken when making these jeans.
The Tate + Yoko shop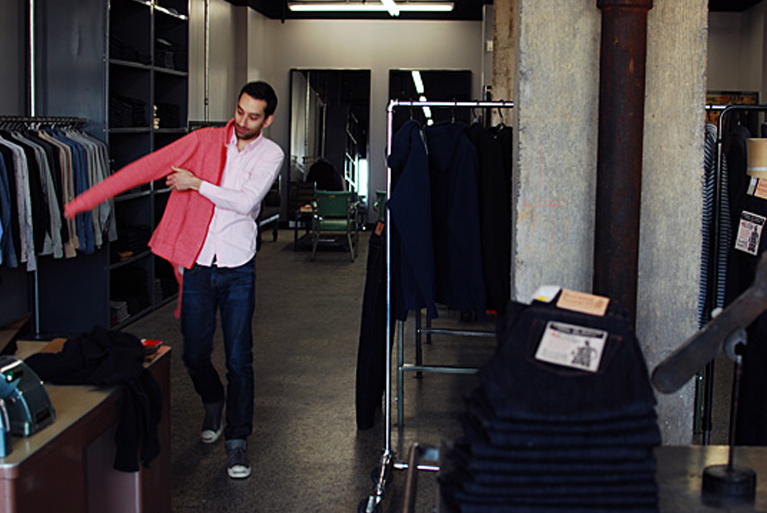 Brandon is a big fan of industrial furniture having lived in a place surrounded by factory carts. There are huge pieces of denim on the walls with their brands stamped on them.
At the heart of this same building, there is the store which belongs to Brandon, Tate & Yoko (name taken from a type of Japanese nursery rhyme, Tate & Yoko means chain and thread. Once we're inside, Brandon is, as is his nature, boundless and tells us many impressive stories during our visit: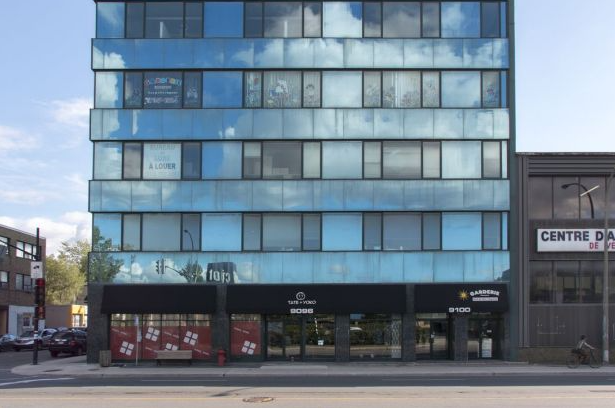 Brandon wanted something solid, which is why the partitions of the changing room are made of metal. He was also proud to announce that the hook attached to the partition can support a weight of 80kg. The pages of cartoons which are attached to the wall come from his own private collection.
All jokes aside, this shop is a temple for selvedge jeans, there are only these and very high quality brands there as well: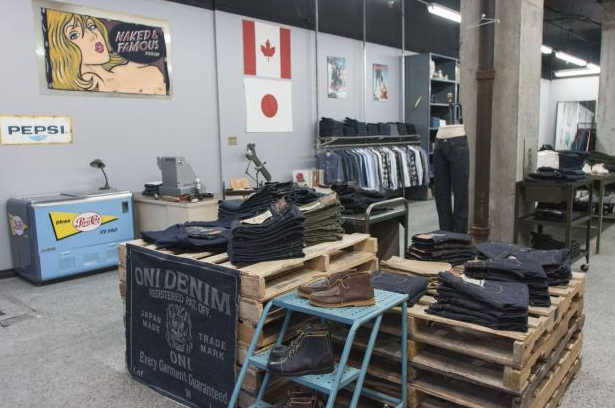 Studio d'artisan: Without this brand there would be no selvedge jeans to date. It's this very brand which totally launched the production of premium Japanese jeans in the 80s.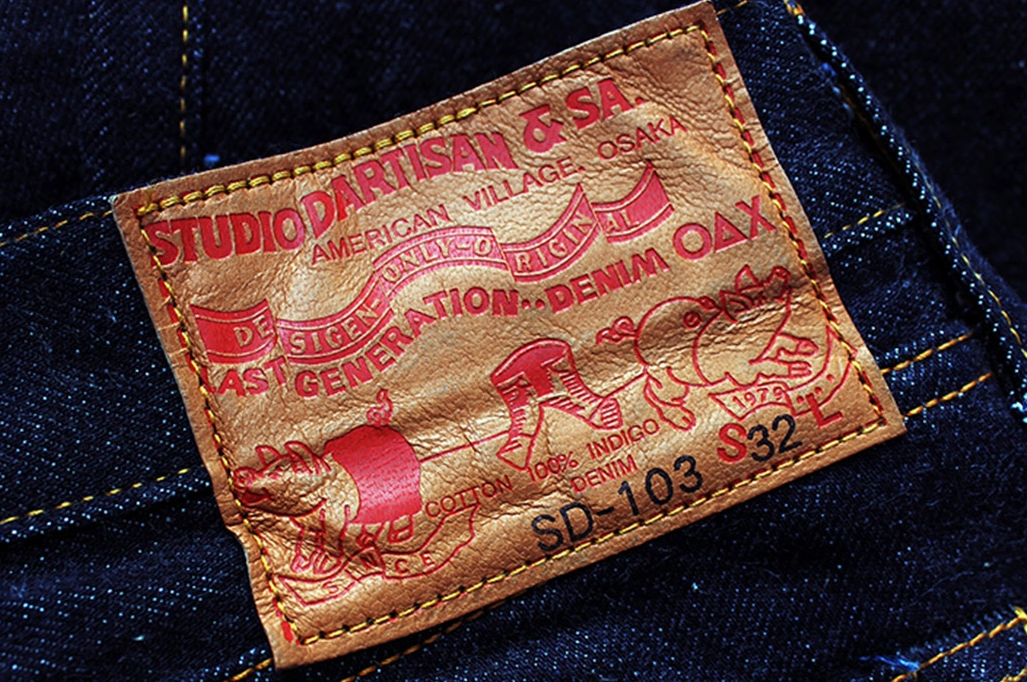 Momotako – a Japanese brand which is the best well known by specialists.
And that's not all, the shop also sells other great brands:
The Flat Head; a brand for the ultimate selvedge jean fetishists. The founder is an absolute maniac to the point that he knows the exact number of cutting points of his jeans by heart…the pins are made from real copper and the buttons from iron (not steal). Brandon told me that you can't find better than this when it comes to quality.
Eternal – they dry their jeans directly after dying them, which gives them a unique texture.
D# – a brand that produces their own jeans piece by piece. The jeans are made in a railway station so that tourists can see the talent of local jean makers. Tate&Yoko is the only place in the world that sells them.
Oni – this produces denim with a texture that is a bit rough, but which has real authenticity.
I'll skip the rest…
I was honestly really impressed; Brandon's passion is contagious, but I wasn't prepared to see this: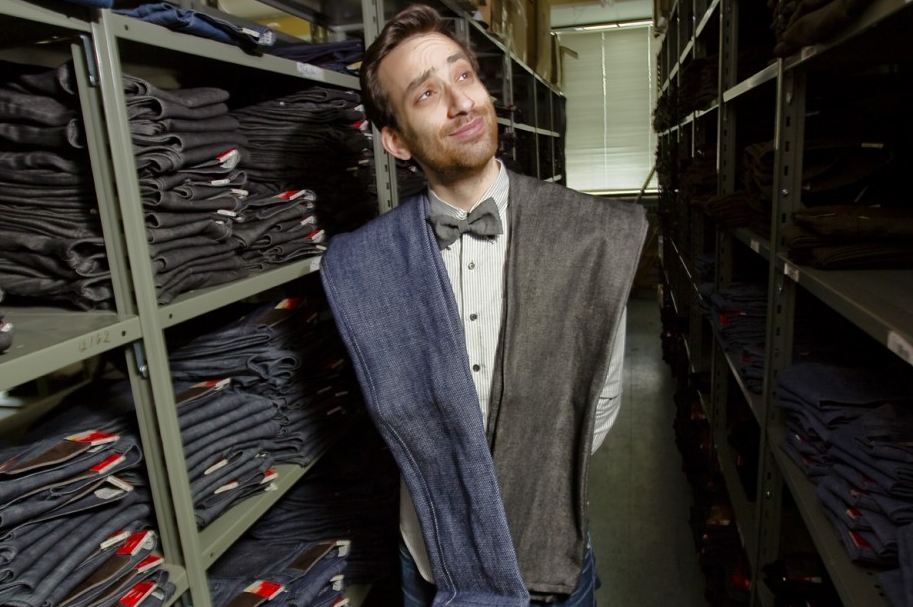 Don't ask me what it is. I have no idea. It is part of Brandon's saké collection. When I asked him if it was good, he simply said; "No. it tastes like vodka with poison".
Then Brandon showed us jeans which he holds very close to his heart…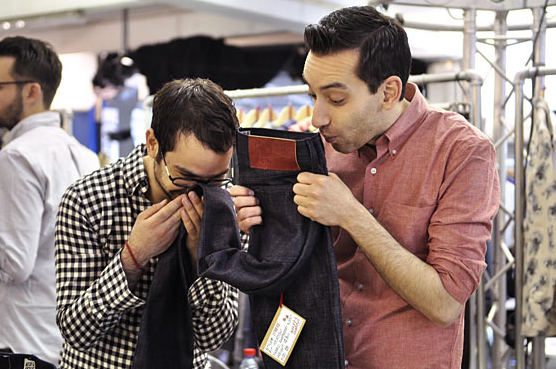 Brandon prefers naturally worn jeans in his collection, having been worn by a lumberjack from what I understand. On the right you have the same model of jeans but a new pair. The natural wear is magnificent and especially on the calves.

And this is how our visit to this highly exuberant brand ended, whose boss has a personality like no other.
And what about Unbranded Brand…
What's also surprising is that he's very happy to distribute his mid-range brand of raw denim jeans; Unbranded Brand, selvedge jeans for 80 dollars, unbeatable quality / price ratio.
The concept is simple; no marketing, no logos, or anything else, just raw denim jeans.
Brandon totally accepts the fact that these jeans are made in China (contrary to Naked&Famous which are made in Quebec), but it's unavoidable at such a low price.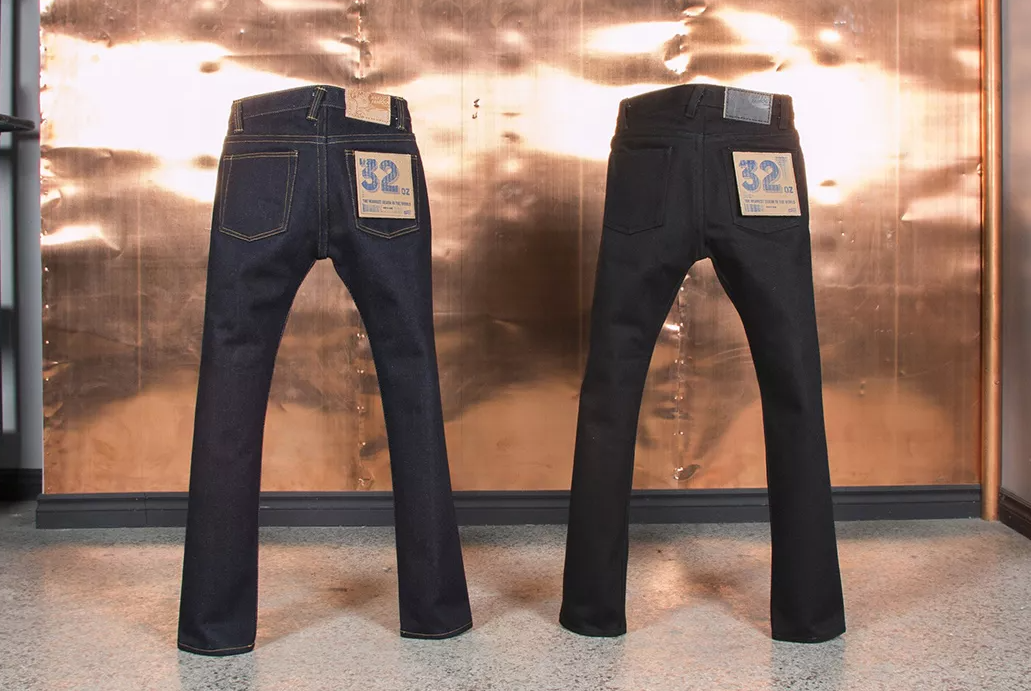 Very precise finishing for only $80 (and the famous raised hemline)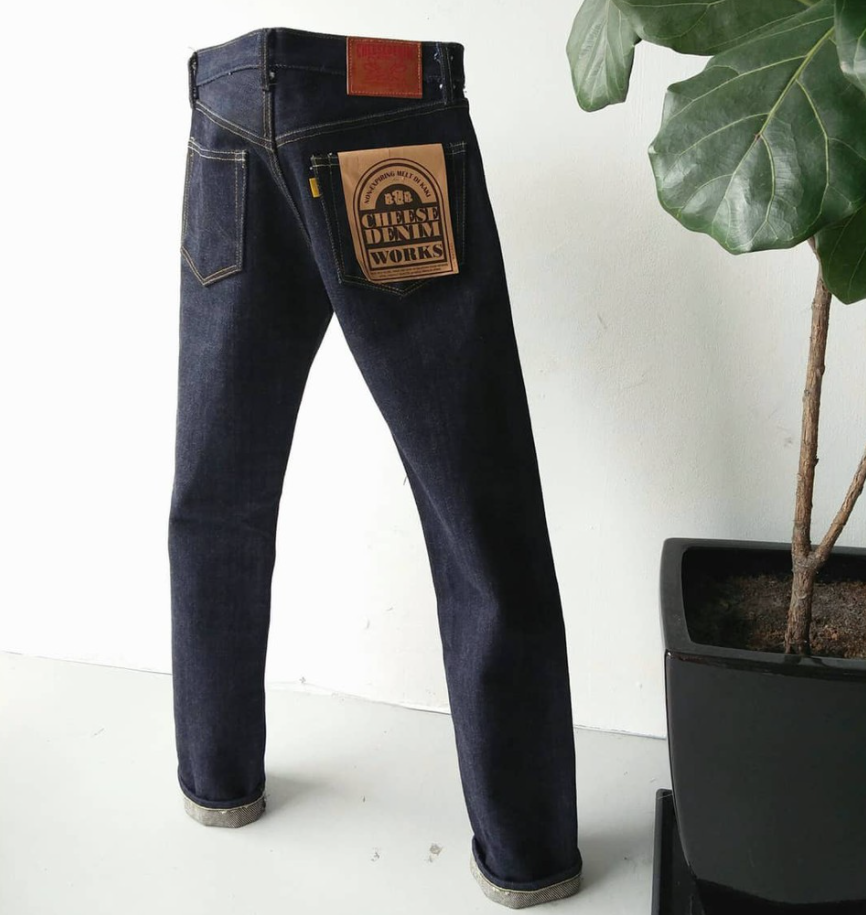 The material is of high enough quality so that it wears nicely. (The jeans in the photo are by Unbranded Brand after having been worn intensively for 6 months)
A final point: a photo of Geoffrey, Brandon and myself (It was obviously Brandon's idea to do the salute).
A big thanks goes to Brandon for giving over his time to talk to us.
A big thanks for all the denim knowledge and fun you shared with us ! – Geoff
This post was written by Benoit in February 2012