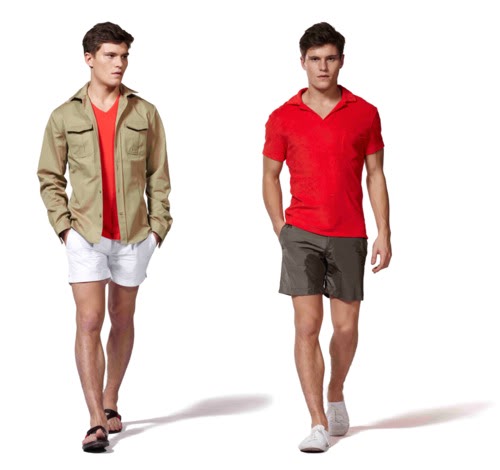 Men's Shorts: What To Wear?
The world is becoming a hotter place because of global warming, and we've been getting a high influx of questions about shorts.
Questions like, "What kind of shorts should I wear?" and "What type of shorts are in fashion?"
So here are some quick, easy-to-remember tips for everyone to use when shopping for a pair of shorts.
The Good Old Fit Rule
Shirts and jackets can get complicated with all the details you have to pay attention to flatter your specific body type, but shorts are pretty easy to get right as long as they fit well.
I know that's pretty obvious, but most guys define "fit" as what's going to stay on their waist after they've gained 10 lbs. The amount of ass crack out there is ridiculous, and it's an epidemic that has got to be eradicated.
When you try shorts on at the store, they should be able to stay on your natural waist without a belt. Your natural waist is about two inches below your belly button. You should also be able to stick two fingers in between the shorts and your hip bone to make sure there is some room for comfort, but no more than that, just enough to keep your shorts from bursting at the seams after a big meal.
Below or Above The Knee?

Capri's are not shorts, they are low cut pants. I have nothing against them but they have no relevance to this article. Just remember they aren't shorts!
Guys are always asking me whether it's better to wear shorts below their knees or above.
Over the past decade, the majority of men's shorts were made to come low enough to cover the knee. Times are changing now and designers are bringing back the shorter shorts. It's more fashionable now to wear your shorts above the knees.
But in the end it's your decision to wear whatever makes you comfortable and confident.
My only warning is for short people: If you consider yourself a really short guy, having shorts come down too far past your knees will give the illusion that you are even shorter than your real height. Keeping them above the knees will make you look like you have longer legs, and add a few inches to your height.

Take Your Pick: Men's shorts
Don't forget that along with keeping your legs cool during the hot season, they can be fashionable as well.
Here are some of the fashionable choices of shorts out there:
Chino Shorts
A classic pair of chino shorts go with anything. Wear them with simple pieces like a t-shirt or sweater for a casual night out with friends, or add some classy items like loafers or a collared shirt if you want to dress up a little.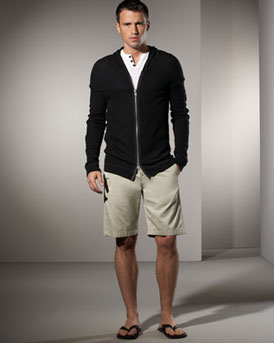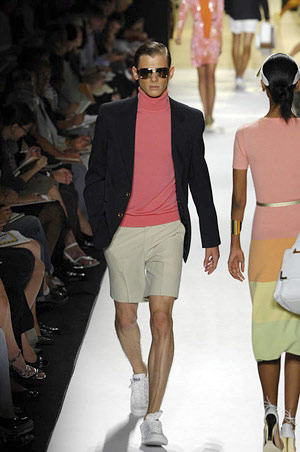 Cargo Shorts

Cargo shorts are back this season and they are cooler than ever. Dress down with a casual pair of cargo shorts.

Jean Shorts

The All-American Jean Shorts. Won't keep you as cool, but still favored by many.
Plaid Shorts
Plaid is in fashion this season, and you either hate 'em or your love 'em. Take your side.

White shorts
White is always appropriate during hot weather. It can be seen as "icy" and "cool." Personally I love the "fresh" clean look that white represents. Consider getting a pair of shorts in white to usher in the hot weather.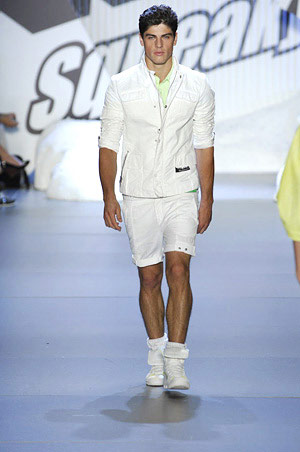 Colored Shorts

Even though white is fashionable, if you're the kind of guy who only has black, grey, khaki, and white in his closet, try to bring more color into your wardrobe this season!

Linen Shorts
Get yourself a pair of linen shorts to battle the heat this summer. The material is highly absorbent and will keep you cool – especially if it's humid where you live.


Seersucker Shorts

Another light fabric that will keep you cool is Seersucker. It's a thin, all-cotton fabric, commonly striped, used to make clothing for spring and summer wear. It's popular in the south due to the humid weather there. Show people you're a man who dresses with purpose and style at the same time.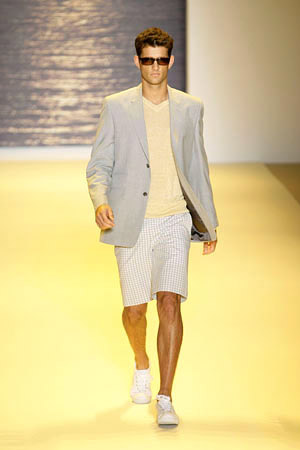 Conclusion
I understand that not all guys like to wear shorts. Especially guys who are a bit conscious of their chunky or skinny legs. But if you want to stay cool this summer, you're going to have to get a pair of shorts.
When choosing a style, remember that the most important factor is the fit. Make sure it sits correctly on your natural waist. Do yourself a big favor and go out there and actually TRY ON these different styles if you haven't. Most guys haven't explored even half the aforementioned styles. You can never say that something isn't "you" till you've tried it on. You'll be surprised how many of my clients change their mind after they actually see and feel something on their body. Don't be caught wearing the same shorts you've worn for the last five years. Bring in a fresh new pair that will go well with what you like to wear in the summertime, especially with what's going on your feet.
Keep cool this summer!-Jae