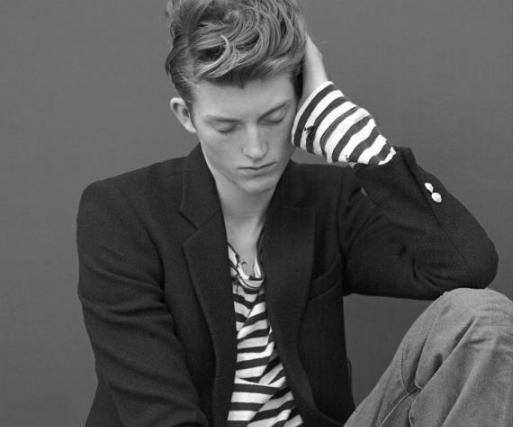 A Guide To Staying Cool With Mens Summer Jackets
Want to look great this summer?
Don't get lazy!
The fact is, most guys will.  They'll strut around in t-shirts, sneakers and relaxed shorts or jeans.
This is a good thing for you. You'll stand out more when you do something like sport some mens summer jackets – which we'll be discussing today.
Elegant and easy to wear, there's more freedom involved than we like to believe and can be integrated into many different kinds of outfit.
Jackets are a staple in every mans wardrobe. In the Kinowear Bible we go into in-depth discussions about them, how to wear them, what kinds you need and what combinations fit you best.
Today we'll discuss mens summer jackets, along with a few pictures to get your inspiration juices flowing.
The specificities of spring-summer
As usual, we're going to take a look at all possible combinations and give examples of them.
Notice the two main colors we'll use.
Light grey, which remains just as solid a choice in summer as in spring as it allows you to create great contrasts with little effort.
Blue, which is a more original alternative.
In most of the photos in this article, you'll see jackets worn with the sleeves rolled up. It's particularly useful in the summer (I'm sure you can figure out why) and you can either do it yourself. You can also buy jackets with three-quarter-length sleeves.
Putting the advice into practice
I warmly welcome you to come back and check out the guide to buying your jacket which goes alongside this article and will help you put the advice given into practice. You can get the jacket-buying guide here.
That said, here are a few combos we'll check out today.
Jacket and T-shirt
When temperatures are getting up to around 75 Fahrenheit, this is an ideal combination (once the heat gets above 85F, unless you're particularly heat-resistant, you should obviously forget about the jacket).
If you have a linen jacket, even better.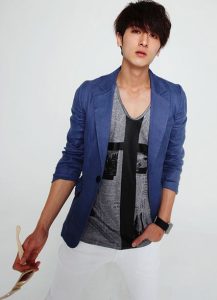 A classic example: geometric, V-necks are particularly well-adapted to being worn with the fold-down collars of blazers.
You want to find a subtle balance in the depth of the collar: one that's too deep will make the outfit look feminine and one that isn't deep enough will kill the proportions of the outfit.
Here, black patterns create a contrast against two similar colors…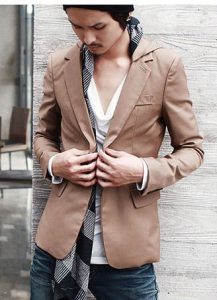 Here's another one that I like. It's a cool way to add a little splash of color to an outfit that gets attention. You can sport this look with a pair of chinos, which we recently discussed.

Jacket, shirt and T-shirt
If you're a beginner this can get a little tricky. It's sometimes hard to pull off, but when done right can make you stand out like crazy.
When doing this, keep a few things in mind:
Don't forget that a block-color shirt always adds two colors – that of the shirt and that of the buttons.
Play with color and the material of the buttons (for example, they might be wooden).
Keep in mind how hot it will be outside! Nothing will ruin a summer look faster than nasty pit stains
Here's a style I love. I think most guys can pull this off…
Then we've got some combos that I feel probably aren't the best summer outfits, but I thought I'd show you anyway for a few more ideas you can use.
Here's one with more of a fall look rather than a cool summer look. The round collar and reasonably deep V neck create an interesting play on geometry…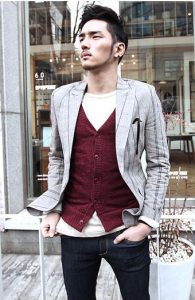 And finally, another one that isn't quite the perfect summer look, but is incredibly sharp. Notice the attention to details in terms of contrasting, small accessories and symmetry.
Staying Cool In Your Hot Summer Jacket
This discussing wouldn't be complete unless I gave you a few pointers on how to stay cool in the summer while wearing jackets. Here are a few ways to do that.
#1: Leave the jacket open
Like this…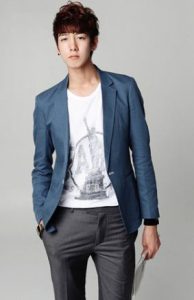 #2: Roll up your sleeves
Like this (which also adds another punch of color)…
#3: Watch the weather carefully
If you're going to a party and you notice it's going to be 90 out, you may want to stay away from these types of outfits.
#4: Know your schedule in advance
If you're going to be in direct sunlight, you'll have to think carefully if you want to wear a jacket. However places can still be cool in the summer if you're away from the sun. Think in advance whether or not you'll be in the open, indoors, or in a place with shade.
Basically, just put in a few seconds of thinking time while planning your outfit!
Now it's your turn…
Did this help you? What style do you like the best out of all these? Let me know in the comments below!