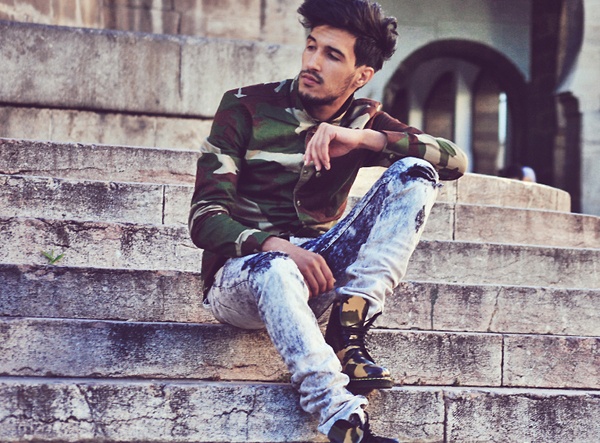 Lookbook: Camo Casual Style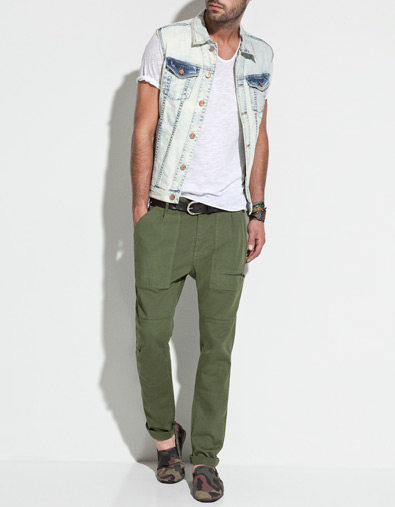 What you'll need to put together a similar look:
 1. White Slub Knit T-Shirt
2. Denim Waistcoat
3. Green Twill-Canvas Pleat Front Trousers
4. Black Studded belt
5. Camouflage Slip On Shoes
Breakdown: 
Need a summer outfit idea?
If you like the idea of "effortless style," then you may love this look.
The secret to style here is in the details – making it a perfect combination for a casual day out.
Take a look at the texture of the white slub knit t-shirt, the acid wash on the denim waist coat with copper buttons, the front pocket lines on the trousers; all of them blend together for a rugged laid-back flair that is sure to be noticed.
As a finale note, the camouflage (a recently popular trend) pattern shoes and army inspired colors will make your outfit stand out – while still maintaining that "effortless" vibe.
Comments? Leave one below!
Like this article? Be our friend and chat with us on facebook and twitter!
Kinowear Shopper's Tip (Sponsor): Check out these smart gift ideas for men at www.thediscoverystore.co.uk