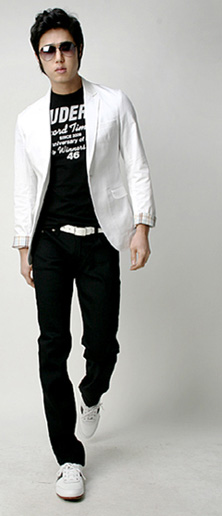 What you'll need to put this one together:
1. One-button white blazer with multi-color pattern lining
3. Slim black jeans

4. White belt
5. White w/ black sneakers

6. Aviator Sunglasses

First Impression:
This guy comes off extremely confident. It's obvious that he isn't afraid to be bold with his style, but at the same time, knows how to keep it refreshingly clean and simple.
The breakdown:
I love this look. It's an eye-catching outfit that's easy to put together and perfect for a weekend party.
I see a lot of blazer and graphic tee combos these days, but this particular version will definitely stand out.
For one, the well-fitting white blazer is an automatic head-turner. He amps up the contrast even more by setting it against a black shirt. The bold white print on the t shirt dresses down the look, making it a little more playful and casual. If you opt for a graphic tee, just make sure it's simple and tasteful.
Usually with this type of look, you might see guys wearing blue jeans, but I love the way that he keeps it color coordinated with the jet black jeans and separates it from his shirt with a white belt.
The best part of this look: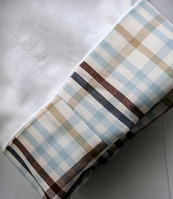 This is the little detail that elevates this look. He uses the lining of his blazer sleeve as an opportunity to show off an awesome pattern of colors. Set against a black & white palette, it adds that surprising concentration of color and an element of class.
When I showed this look to one of my coworkers, she initially thought it was "pretty hot," until she saw this little detail and decided she completely loved it.
The aviator sunglasses always seem to evoke a larger-than-life, celebrity status impression.
Lastly, I like the way he adds a pair of clean white sneakers, as opposed to dress shoes, to create a fresh look that's fit for any casual occasion.
Tell us what you think! Please share your opinions in the comments and rate it with the stars below!
[ratings]