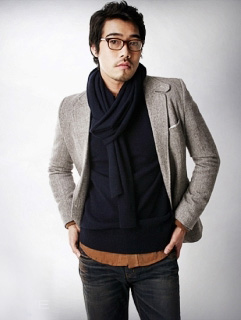 Here's a list of items you'll need to replicate this look:
1. Light Gray Wool Herringbone Blazer
2. Navy Blue crew-neck sweater
3. Brown dress shirt
4. Dark blue washed jeans
5. Navy blue wool scarf

6. Brown loafers or Brown Jack Purcell sneakers
Optional piece: Thick rimmed glasses
First Impression:
This guy looks very intelligent and classy. His glasses give off the vibe of an artist, and judging from his image, he clearly pays great attention to details.
The Breakdown:
I love everything about this look. It's great for those looking for something refined and classy, but perfectly fitting as a casual everyday outfit.
There are so many aspects that command your attention but each piece compliments the others so well that nothing can be labeled as the main piece.
The light gray wool herringbone blazer really stands out against the dark navy because of the color contrast, which makes you notice and appreciate the blazer. At the same time, it doesn't completely steal the show, as you can't help but notice the navy blue wool scarf around his neck. The scarf does a great job of adding an accentuating piece without shouting for attention — he keeps it understated by blending the color with his dark navy crew neck sweater.
Now you can't see the shoes in this picture, but in the original photo he's wearing a brown pair of loafers. These slip-on shoes reveal a laid-back side of him yet stays coherent with his classy image. The shoes also perfectly match the brown shirt that he has un-tucked beneath his sweater, which I thought was perfect.
If you want to replicate this look, but would like to dress this look down a bit more, try a pair of Brown Jack Purcell sneakers. You can match both the blazer and the brown shirt (that he has underneath) perfectly, keeping the same effect of the brown loafers.
I love the way he keeps this outfit casual with a well-fitting pair of dark blue washed jeans, making it fit for many occasions. His thick-rimmed eye glasses adds the finishing touch to this look. The bold glasses give him an attractively intelligent look. If you wear glasses, consider trying on a similar pair next time you're at the lenscrafters.
All in all, this look makes the wearer look like someone who puts effort into the details, yet makes it seem effortless. It makes you assume that he approaches the other areas of his life with the same quality.
This outfit encapsulates the essence of style. Looking good and sending all the messages you want to send while seeming totally natural.

We closed the comments to try something a little different. If you liked this look, please rate this look with the stars below.
[ratings]