Employment and Internship Opportunities
Kinowear (with it's French big brother BonneGueule) is a young company that's growing rapidly, and there are more and more projects every month. We're regularly looking for new, talented collaborators to join the team – slightly crazy ones who share our values.
At the minute the Kinowear team is made up of three people (we're young!) and we're all friendly and passionate. Everyone has specific roles and responsibilities: from writing articles and sorting out the technical side of things to motivating the community and putting videos together.
We work hard and rigorously, but always in good spirits, and bursts of laughter can be heard regularly.
We also develop real skills which could be useful later on for setting up new business ventures, or for other online or fashion businesses.
We all work in a nice office in the 2nd arrondissement of Paris.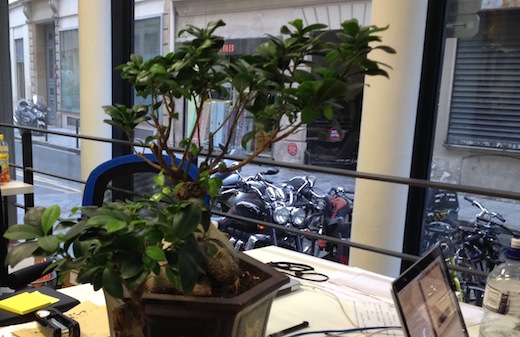 Oh, and we also have two pet bonsai trees (Roger and Somsak respectively)
Spontaneous Applications
We're constantly looking for motivated applicants to join the team.
In particular someone who has qualities a bit like this:
Someone interested by at least one of the following: clothing, the Internet, marketing
Someone who's versatile, who could work on several projects at once
Someone who enjoys learning, who learns quickly and likes learning quickly
Someone who is service-minded (we see that as a real quality)
Someone dynamic and enterprising. What do you like to do in your spare time?
Someone with a real personality. If you (really) like reading, what do you recommend?
Someone who works with precision and rigor
Someone independent with entrepreneurial skills
If the Kinowear project excites you and you'd like to join the team: we're eager to receive your application.
Send us your CV and a covering letter where you describe your skills and the reason and way in which you think that you could be useful at Kinowear. Don't be pretentious, just write it as you are!
We look forward to your email: nicolas @ bonnegueule.fr
And obviously we'll reply to everyone!
Kinowear Fashion Contributors
Kinowear is actively looking for new fashion contributors to join our team to provide awesome piece of advice. If you're an experienced blogger/writer (or not!) with a keen interest in fashion (that's the most important), we'd like to hear from you.
Please send us a quick email: nicolas @ bonnegueule.fr