Fast Teching: A Guide to Getting into Techwear
Techwear clothing has seen a rapid rise in popularity over the past few years and continues to gain more prominence in the fashion industry as time goes on.
While initially more of a niche trend, more and more major brands are jumping on board with their own takes on the genre.
It's easy to see the appeal of techwear, which offers both utility and comfort. Techwear's minimalist design makes it easy to start, regardless of your budget.
This article will provide a brief overview of the basics to help you jump in the trend. Time to tech up!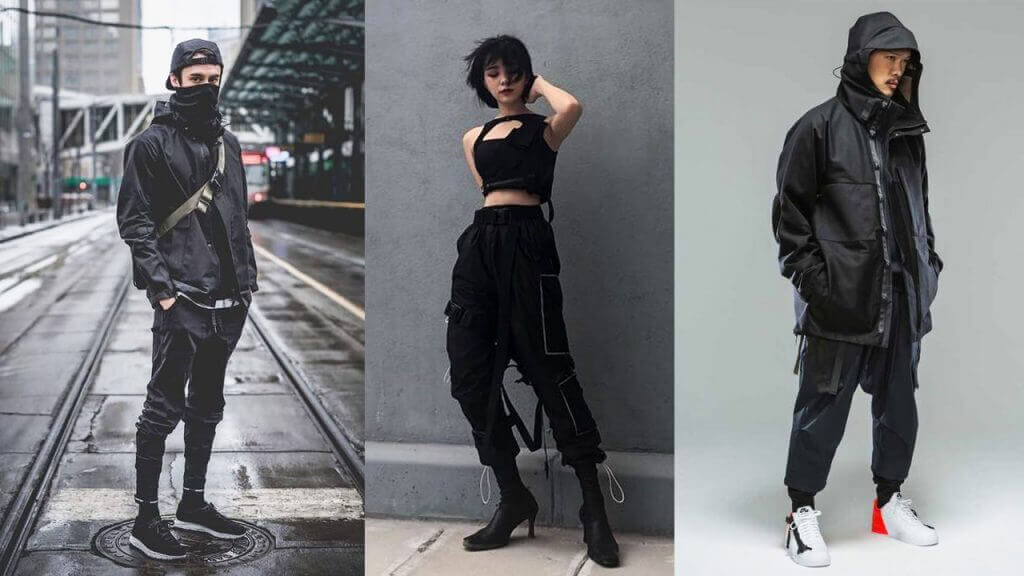 What is techwear?
Techwear as a fashion movement combines aesthetics, utility and comfort. It emphasizes unrestricted movement, breathability, and water resistance.
Its roots are in military-style utilitarianism. Many of the most fashionable outfits still reflect this militaristic bent, but have evolved to include a cyberpunk, or "urban ninja" image.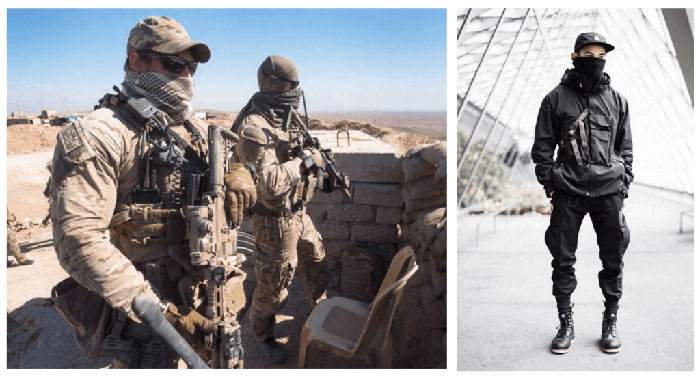 Techwear avoids bright colors and obvious branding. Outfits often use high quality materials that maximize comfort, function, and give a cool silhouette that emphasizes masculine features.
The most popular techwear brands are known for their lightweight, durable and water-resistant materials. You'll find a variety of options to enhance utility, such as jacket slings and slots for hook attachments.
Acronym is one of the premier "techwear" brands and also one of the most popular. It's been a major driver for the growing popularity of the techwear genre, inspiring legions of followers and copycats.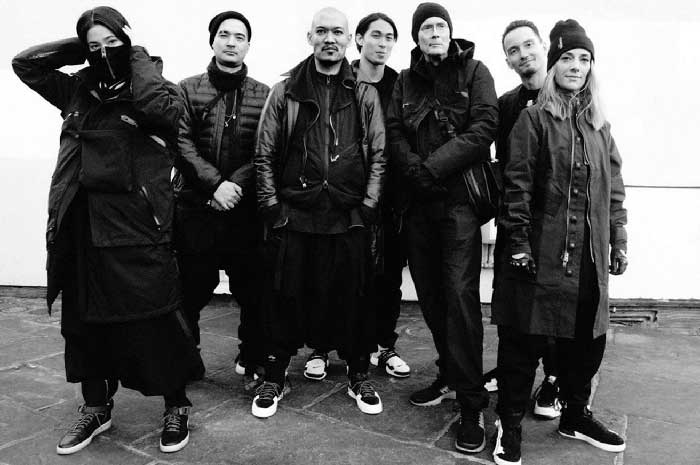 There are many other brands and offshoots in the category, including Guerilla Group, Nike ACG, Arc'teryx Veilance, and Stone Island Shadow Project.
You can even see major brands tipping their toes in the aesthetic, such as Uniqlo and H&M.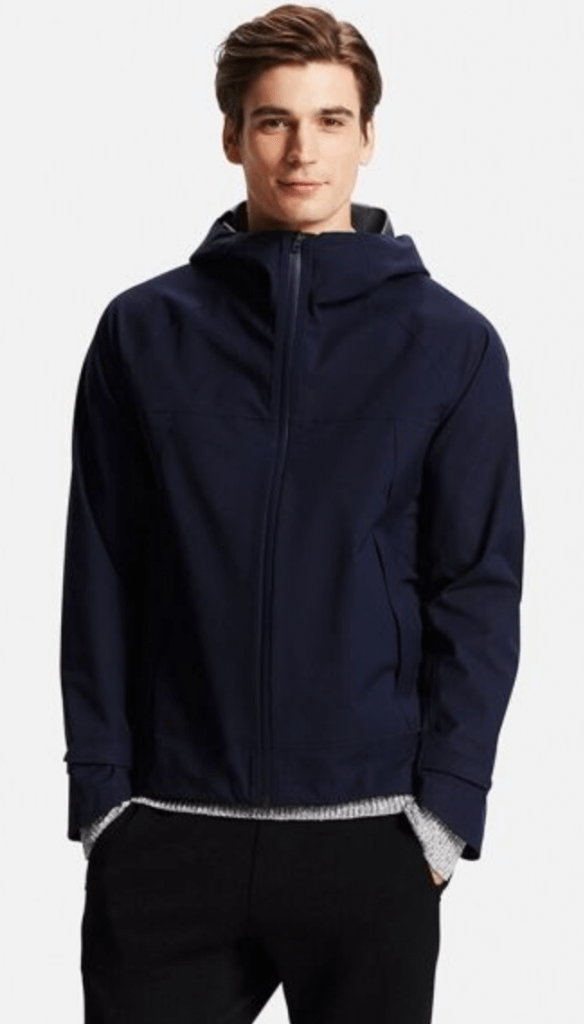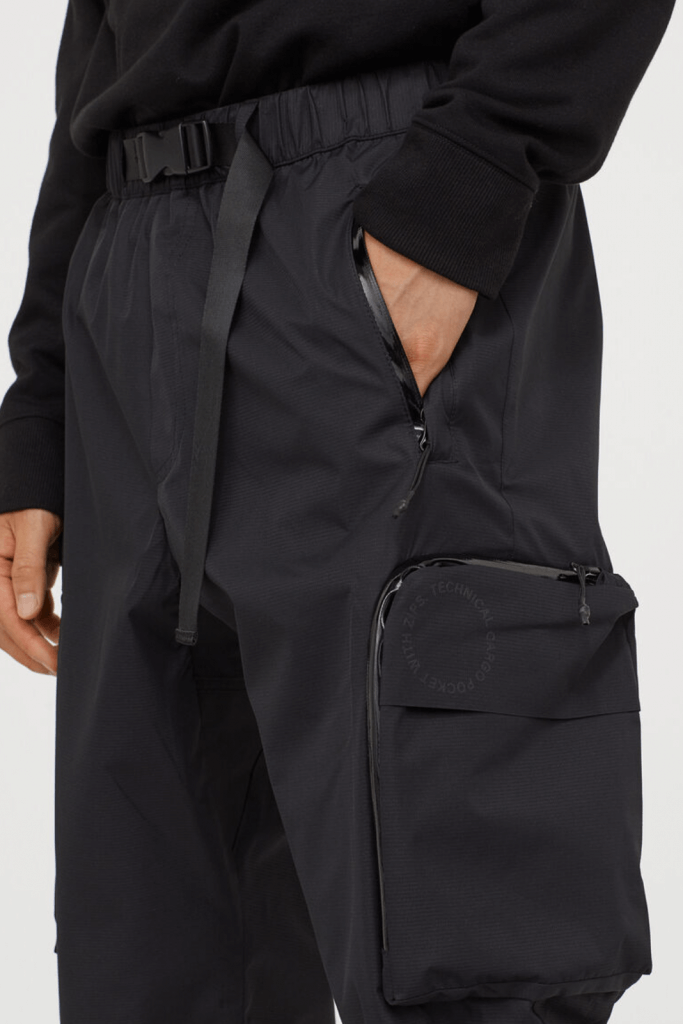 Why Try Techwear?
Techwear clothing has a big attraction: it can make your life easier, while looking good at the same time.
Techwear is a great option if you want your clothes to be durable, high-quality and to have many functions.
At its core, techwear emphasizes utility. Any piece of clothing with a focus on utility and versatility, as well as comfort, can technically be classified as techwear.
Many of the most popular brands for "techwear" fashion don't even refer to their clothing as techwear. These include outdoor brands like IceBreaker and Outlier.
Why is Techwear so Pricey? The Cost of Convenience
It's easy to get excited about the idea of getting into techwear, but your dreams to become an urban ninja can easily be crushed by the $500+ price tags on pieces made by some of the top tech brands such as Acronym and Guerilla Group.
Why the high pricetag? Besides the quality of the materials, its their function.
A core element of techwear is its practical and comfortable solution to the problem of getting wet.
Gore-Tex is synonymous with many of the best brands and is the foundation of modern technical clothing and is cutting edge standard for water repellency.
It repels liquid water but allows water vapor (i.e. sweat) through. This fabric is lightweight and waterproof, especially for outerwear.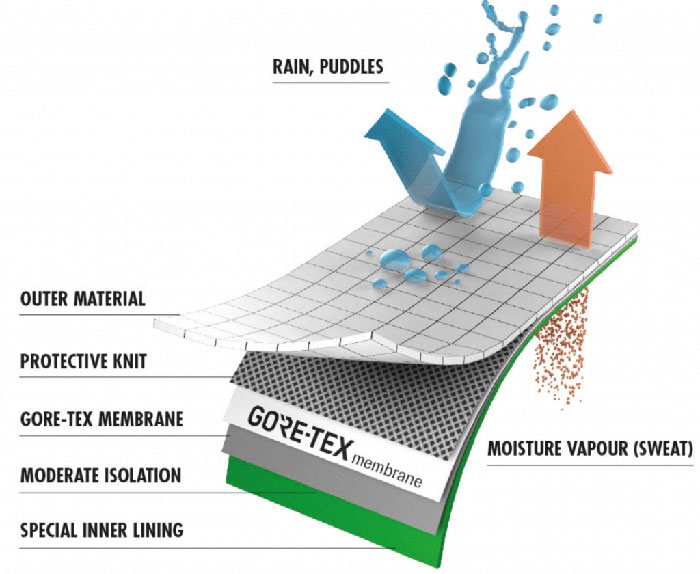 With brand recognition also comes a high pricetag. For lower priced waterproofing options, try Patagonia and The North Face, two notable competitors to Gore-tex.
New technology also means breakthroughs with synthetic fabrics that can provide different properties other than water repellency. This can include high-durability, odor-resistance and reflectiveness, but also a higher pricetag for such features.
Techwear for the Everyman
Techwear doesn't necessarily have to cost a lot.
You can save money by choosing simplicity and minimalism, especially if your primary goal is fashion rather than utility.
Look for pieces that are form fitting and made to provide ease of movement. An H&M jumper can serve as a good outer techwear piece, and looks stylish as well.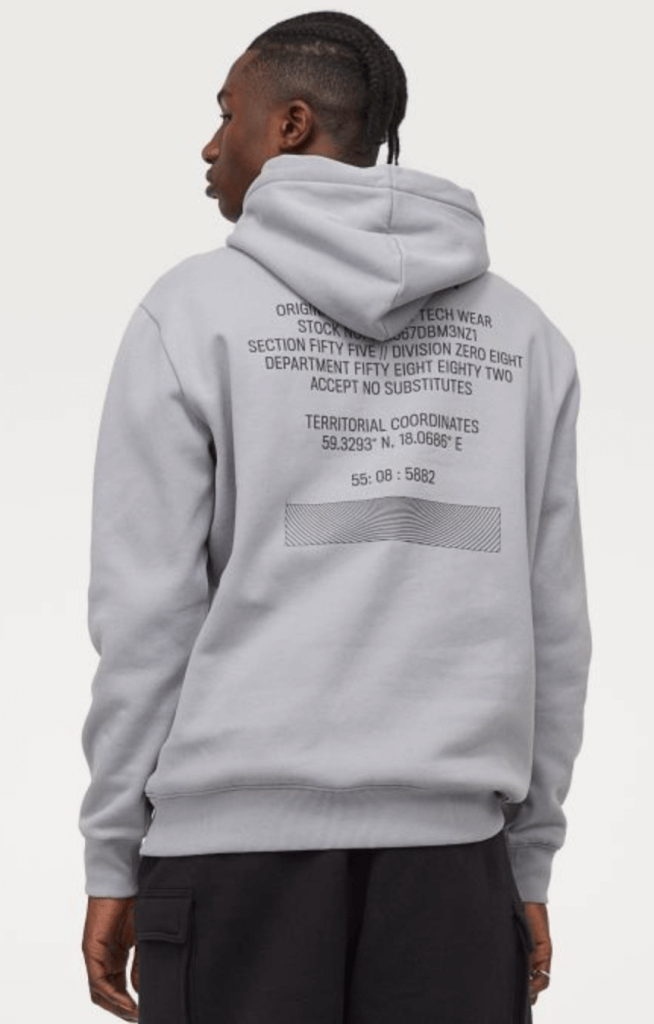 Some simple Carhartt working slacks or military fatigues can easily be adapted to the techwear look with some select tailoring of the waist and ankle.
You can't always get a low-price piece that looks good, has great utility, comfort, and mobility. So decide what you features or designs you care about most and what you can do without.
What should you look for in a Techwear outfit?
Techwear can seem daunting at first, but it's easy to experiment with and try out individual pieces.
The neutral colors of many pieces means it can match most other clothes, and the quality of the materials and utility of the piece makes them a worthwhile addition to any wardrobe.
Even though most people associate techwear with darker and more muted colours, there are many brands that offer individual pieces in a variety of colors and patterns.
Arc'teryx Veilance and Acronym have departed from the standard black/grey jackets for colors with more pop in some of their pieces.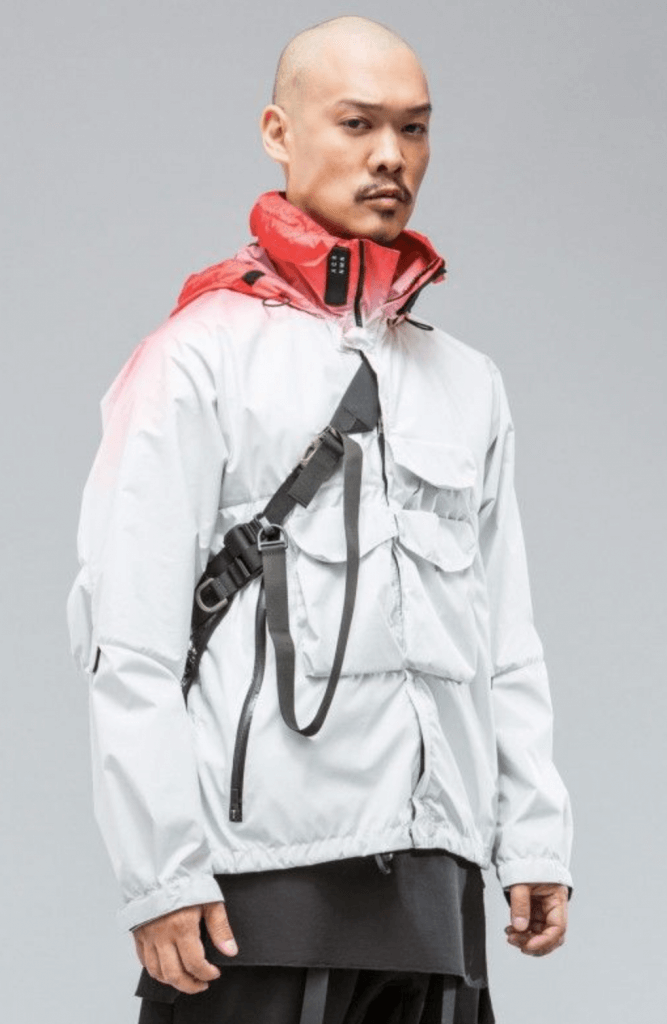 Try to choose a slim, sleek look in the pieces to stay both practical and fashionable. Since pieces can get quite technical, it pays to keep things simpler when you get started.
As you get deeper into techwear, you can experiment with accessories like straps and buckles that allow you to subtly alter your look.
Faux-masks, hoods and draping pieces can give a mysterious dark-hero appearance.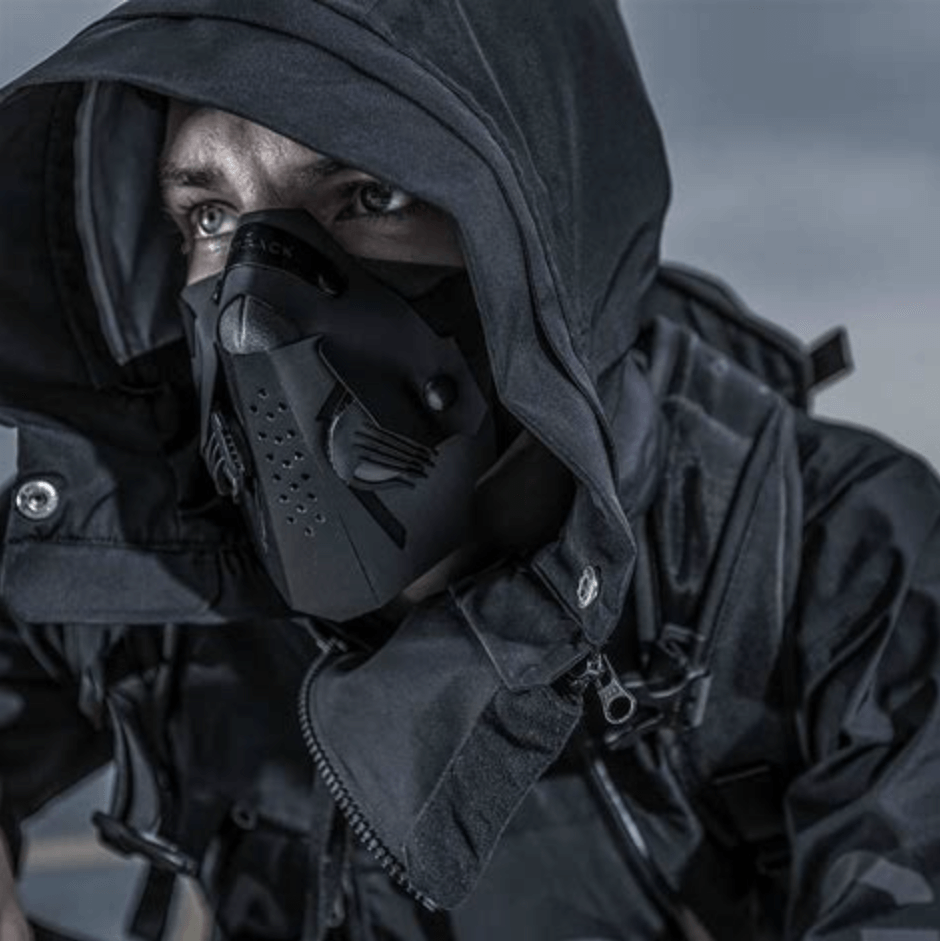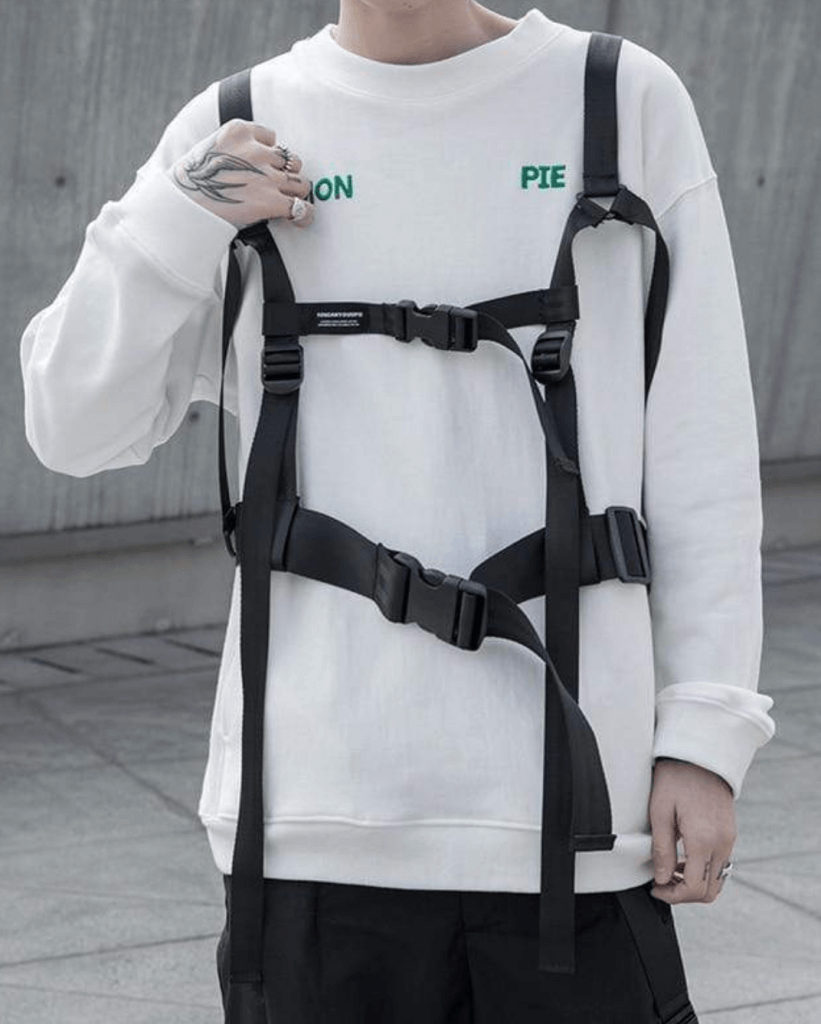 If that's less not your style, then make your look really pop by wearing a colorful outerwear piece. Suddenly the look is a lot more trendy while still a bit sci-fi.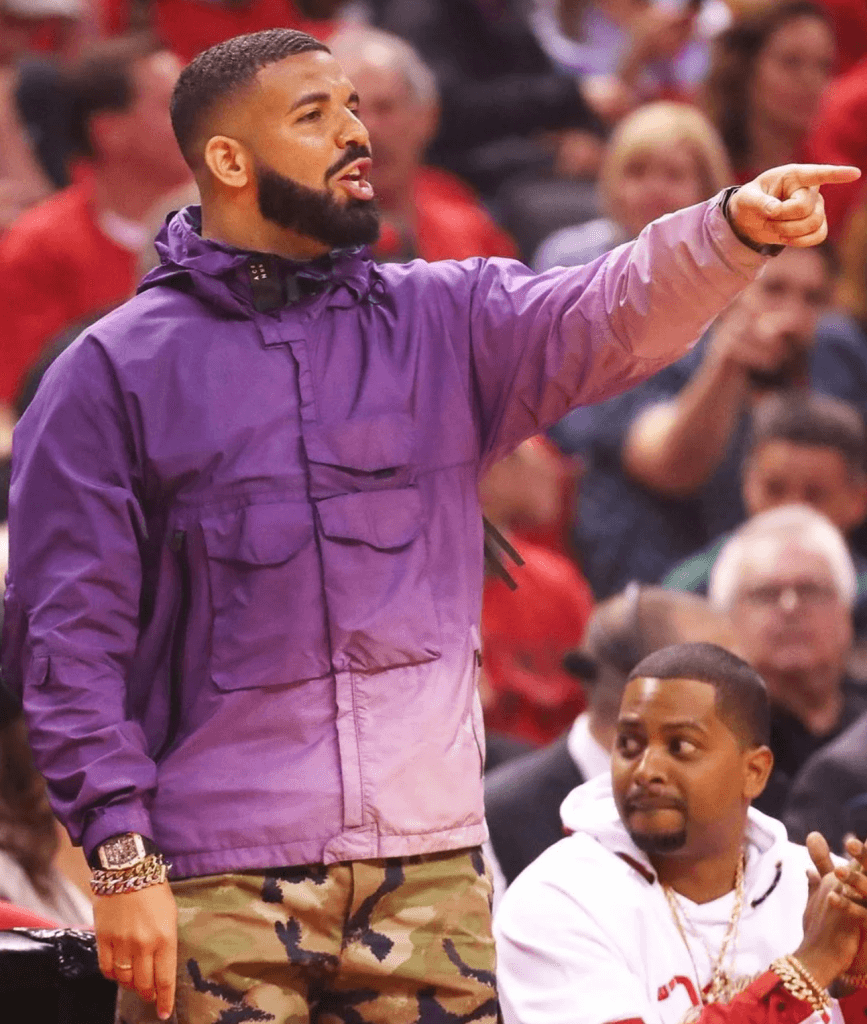 If you just want to dip your toe in the style to begin with, start with outerwear (hardshells and pants).
You can easily pick up a pair or two of techwear pants to match your existing wardrobe. A good techwear hardshell jacket will also come in handy during bad weather.
These are the most common elements that will help you capture the techwear look.
With these basics out of the way, let's get started with our techwear outfit!
How to Get Started in Techwear
Any fashion style can be broken down into its core elements. Techwear is no different.
While the genre itself is based around utility, the actual design aesthetic can be summed up in technical layers.
By technical, we mean sharper, more industrial design-type of appearance. Something you would more likely expect to see on the side of a building, let alone the back of a person.
The layers of a techwear outfir give it depth and dimension. Even the simplest outfit can quickly and easily be transformed into an awesome techwear look with the right pieces layered on top of it.
Outerlater: Hardshells and Softshells
This is your first line defense against the elements.
When you think about techwear, jackets should be one of the first things that comes to mind.
You can get them in two types: a hardshell jacket (often a windbreaker jacket that also provides water resistance) and a softshell jacket (something like a cotton running jacket that provides more comfort but less protection).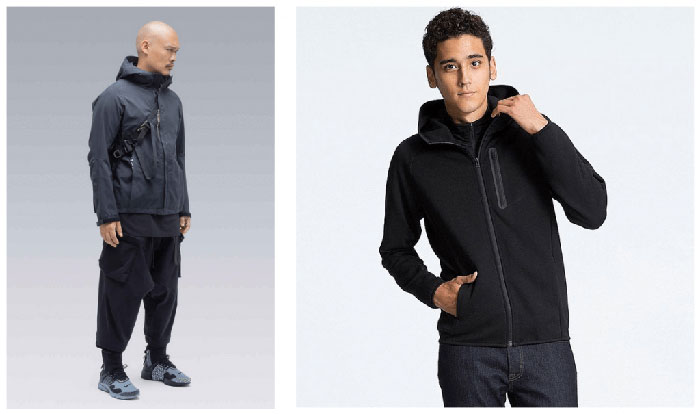 Hardshell vs Softshell Jacket
Hardshells offer the best weather protection, and are waterproof and windproof.
They're recommended for snowy weather or wet conditions. They might have a removable lining for cold weather but can easily be paired with a light down jacket if they don't have one.
Softshells are similar to winter sports jackets.
Good softshells are coated with a waterproof coating that repels water, such as snow and rain. They're more comfortable than hardshells, and allow for greater flexbility in movement.
However, they don't offer the same level of protection against the elements as hardshells.
Remember, a jacket should not only keep the wearer dry from the outside but also allow them to maintain a comfortable temperature within. This is what makes material like Gore-tex so popular for techwear, it provides breathability.
A popular aesthetic of techwear jackets is to include straps, so the jacket can be worn like a ruck when it gets too hot.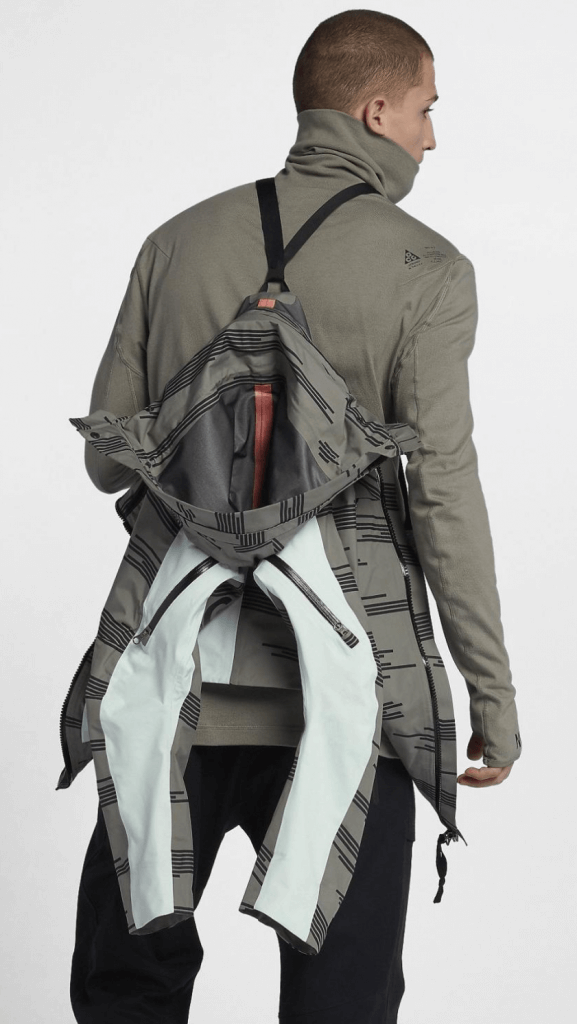 A Cut Above the Rest
We want to mention one distinction of high quality techwear apparel. The "cut."
The cut is often what distinguishes a standard piece from a "techwear" item.
Techwear designs its pieces to mimic movements of the human body.
An example in the outerwear is articulated joints at the inner elbow. This allows the wearer to move freely and prevent fabric from fraying or pulling at critical points.
Acronym often shows off its freedom of movement in promotional materials.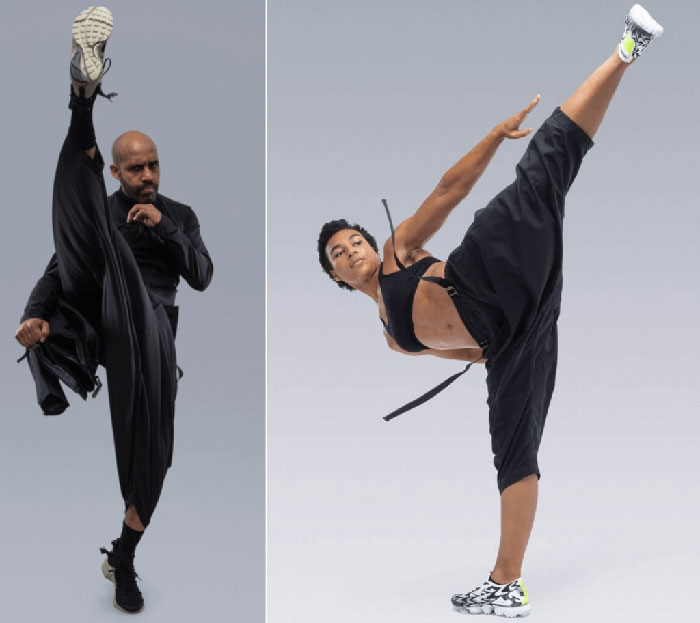 The Middle Layer: Insulation
This layer is optional and adds an extra layer to the outerlayer. It keeps you warm in colder weather, but may be useful for other reasons. For example, a vest could add carry capacity.
Techwear pieces may have removable mid-layers or liners, which can be removed and replaced with shells.
This is usually done through a zipper or buttoning system. If this isn't available in the piece, you can add your own (just make sure the outerlayer is large enough to accommodate it).
Popular middle layers in techwear could include a cotton hoodie or a down vest.
Uniqlo's ultra-light down jacket is a great layer to add to any tech outfit thanks its light weight, reasonable price and versatility.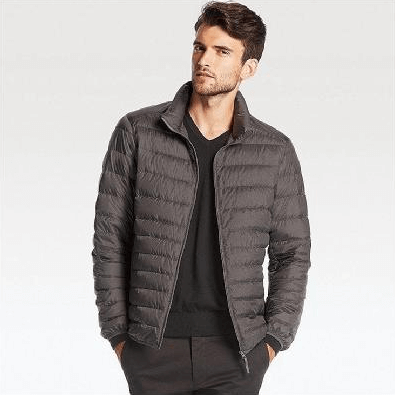 Primay (Base) Layer: Shirt, Pants, Shoes
This would be your shirt, pants, and shoes that form the base of any outfit.
Any neutral shirt will work well with the techwear design. If you want it to be more clearly techwear though, then choose pieces that offer more utility.
Merino wool shirts have a moisture-wicking property that keeps you dry from rain or sweat. Uniqlo's Airism line is a lower-priced option with some of the same features.
Cashmere is great for colder weather. But if you don't have the budget, Uniqlo's Heattech clothing is an excellent low-cost alternative. It is lightweight and keeps you warm.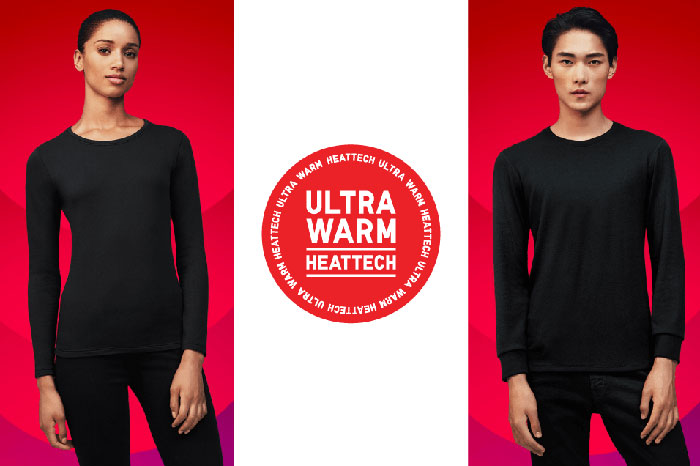 For warmer climates, look for breathable clothing.
Breathability is, in simple terms, letting heat and sweat escape so that the wearer doesn't feel hot. Very important in hot weather.
For the base layer, Uniqlo's Airism line is great for this, but any brand that makes athletic products can offer similar functionality. Think Nike and Adidas sportswear.
Just choose designs or styles that will fit into your outfit.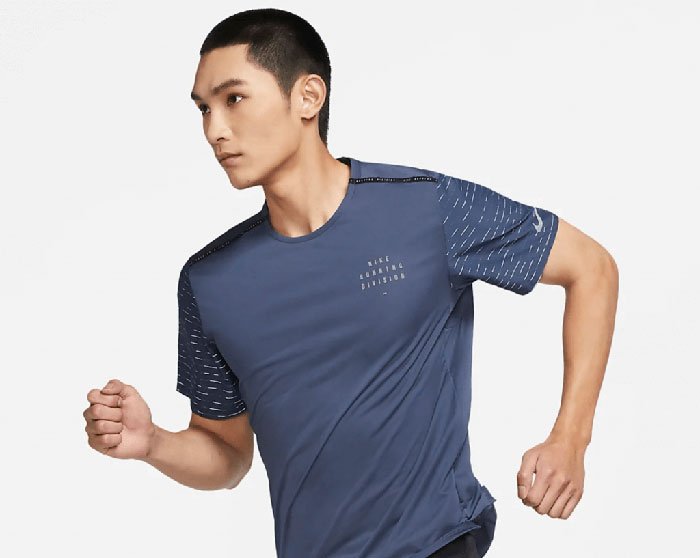 Techwear Pants: All 'bout Those Pockets!
Cargo pants are the best option for techwear pants. Multiple pockets are a great feature, and a must-have amongst true techwear-aficionados.
Techwear pants are often designed to store and accommodate multiple devices. You can choose from simple zippered pockets or more complex solutions like removable modular attachments that are similar to those used by the military.
The best pants will have water-repellancy to keep you dry even in the wettest conditions. They might also offer stretch, breathability, and/or additional carry capacity.
Combining waterproof fabrics with a well-designed carrying capacity means you can carry more without worrying.
But again, "the cut" is what often separates awesome from meh.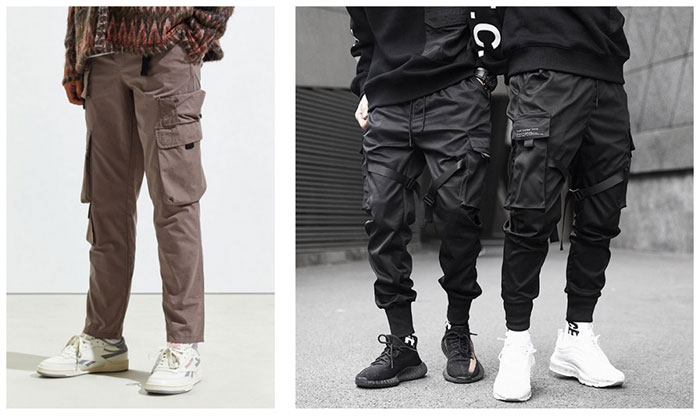 The cut and features of techwear-specific cargo pants really make an outfit stand out.
For a more techwear look on a lower budget, you can repurpose old cargo pants by having them tailored at the ankle and waste.
For the urban ninjas among you, consider pants with unnecessary straps or belts built in (or have them tailored on). The look is futuristic, even though the extra straps, hooks and pockets don't really serve a purpose.
Techwear Shoes: Make them look twice
Last are the shoes, and these can make the difference between an okay outfit and one that really pops.
For utility, the best shoes should have some water resistance.
Gore-tex is a popular option for shoes that are water resistant. There are a lot of great options amongst outdoor brands, and you can even use standard-issue military boots to fit the aesthetic.
Although these won't necessarily make your outfit standout.
To take it to the next level, look for sneakers that are built with the techwear niche in mind.
Brands like Nike and adidas are pushing the boundaries in innovative, forward-thinking designs. They've created sneakers and boots that are functional and outdoor-friendly, all while looking great at the same time. The adidas Y-3 brand makes a bold statement with their unique designs.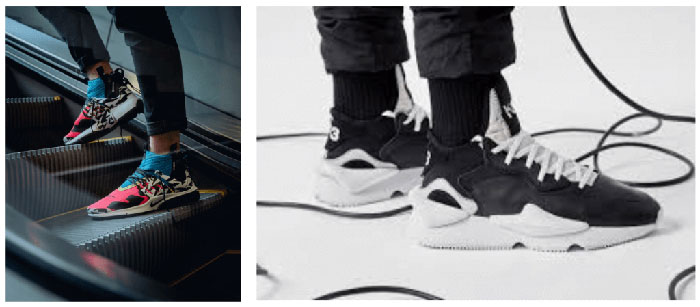 From knit materials to waterproof sock lines and materials that can withstand water, you can find whatever you're looking for now.
If you are just looking for the aesthetic and care less about utility, a pair of black AF1's or Adidas would be fine.
Remember though, choose something more bold if you want the outfit to stand out.
Since a techwear outfit will often use dark, neutral colors, you can experiment with more color in your shoes. Some great examples with this are Acronym Presto's.
Other Accessories for Techwear
But wait, there's more!
To carry your daily items, there's also techwear accessories like bags or chest rigs (like the one earlier in this post). These can round off your techwear outfit and can look really cool.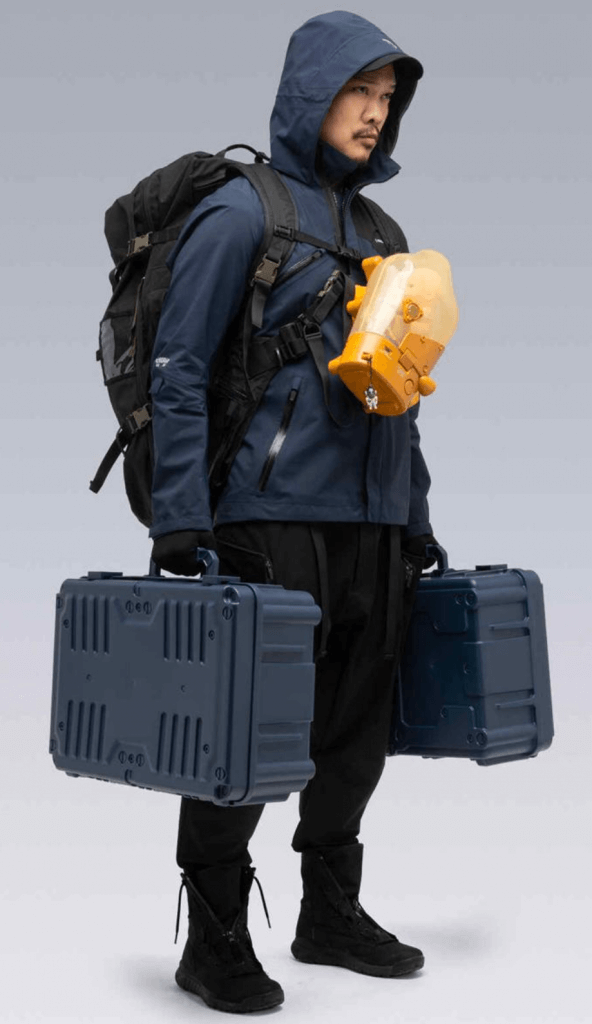 Bags include compartments that can hold smartphones, tablets and laptops. Designers working on accessory and techwear bags are focused on durability and ease of use.
Cheaper options can also be compact laptop bags, messenger bags, or military rucksacks.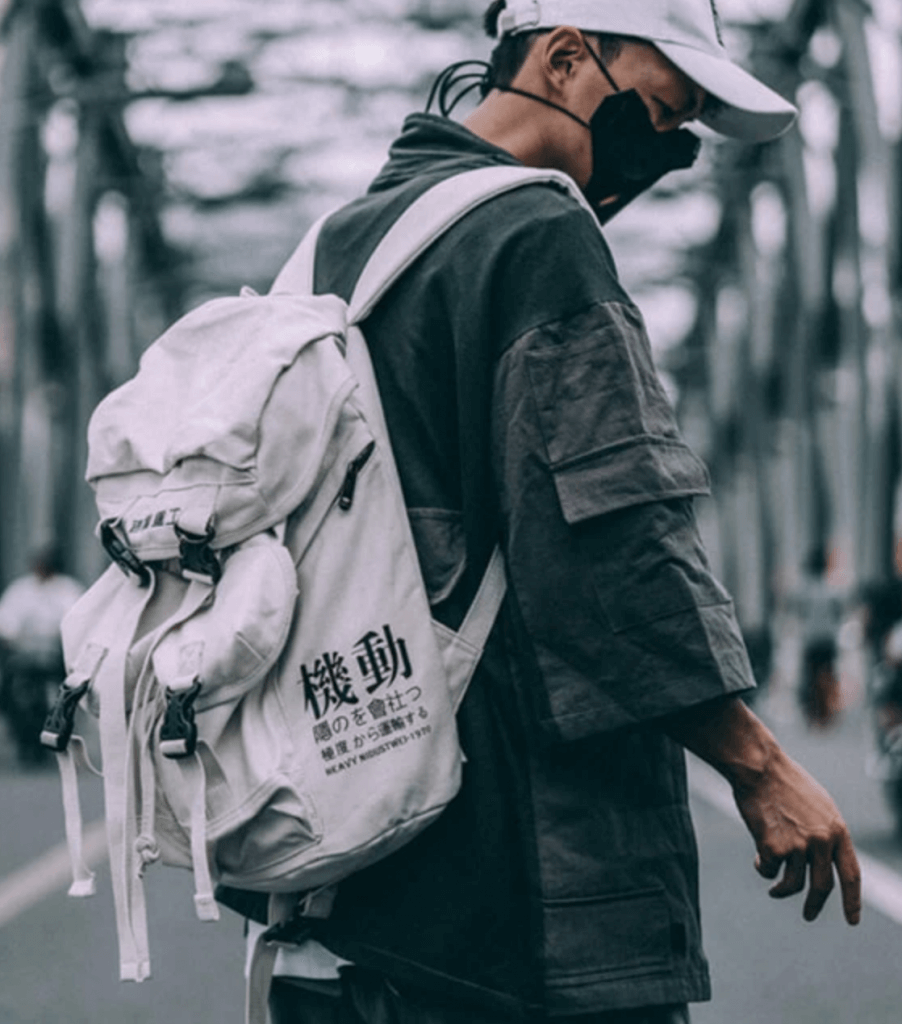 Best Wear For Your Typical Dystopian Future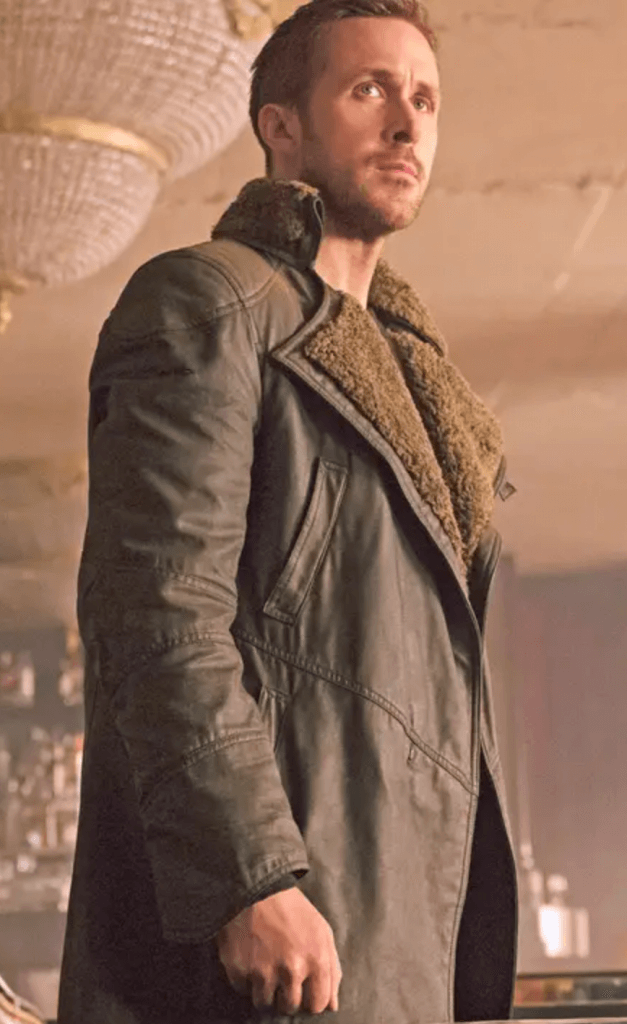 It bears mentioning the seasons for techwear.
Techwear is best for fall and winter seasons due to its multiple layers.
The style was inspired by utilitarian clothing designed for cold, wet weather. It also shares inspiration from science fiction, often taking place in a harsh dystopian future.
But techwear is functional, so you can adapt it to any season with a little effort.
It's possible to wear techwear in summer or warmer climates. Just remove the outer and middle layers and get some functional shorts.
Although you may not be as bold in the "urban Ninja" style, you still adhere to the main tenets techwear: utility and function, with comfort.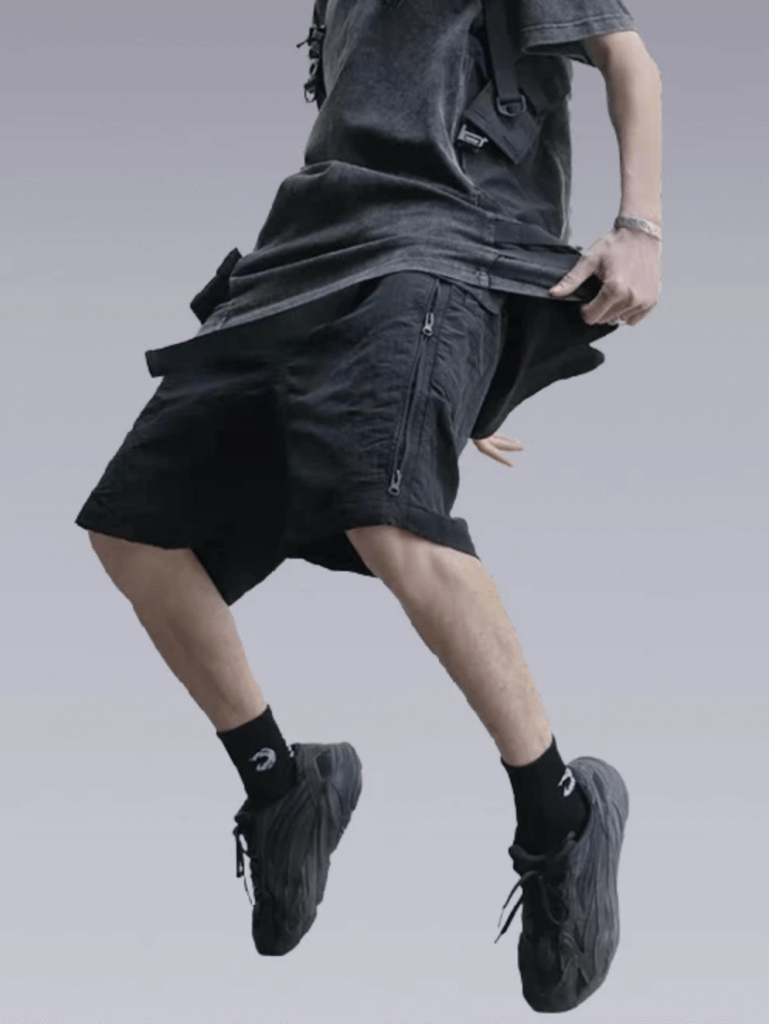 Spring is a good time to stick with neutrals and muted colors. Instead, try a drapey Yohji Yamamoto-style that emphasizes the silhouette.
Top Techwear Brands
We've mentioned quite a few different brands throughout this article, so we'll leave you off with some descriptions of those we've listed and some other favorites of ours.
Premium
Acronym
Acronym is a pioneer in techwear. They're uncompromising with every feature they put into each piece. They can be hard to fit into an existing outfit and carry a hefty pricetag.
However, it will be worth the effort if you're serious about techwear. Their utility and design are top of the line.
Stone Island Shadow Project
Stone Island Shadow Project was an offshoot of the brand Stone Island.
It fuses fashion and function, making it a favorite for techwear. Its most innovative pieces are those designed by Errolson Hugh, a techwear legend.
These are cool options if you want pieces that branch off from the safer, neutral colors of techwear.
Guerilla Group
Another mainstay of the techwear genre, Guerrilla Group uses sci-fi and functionalism as a basis for their designs.
Their aesthetic blurs the line between military utilitarianism and everyday wear and are great pieces for function and utility regardless of the conditions.
They'll also make you look super stylish too.
Arc'teryx Veilance
The high-end techwear line by Arc'teryx Veilance's designs can easily be slipped into any man's wardrobe with their minimalistic, slim cuts. They pay extra attention to the tiny details like tapered seams and innovative fabrics.
They don't skirt on quality, and their prices reflect that. But you'll be hard-pressed to find higher quality in your clothing.
Mid-Range
Outlier
Outlier has a reputation for making simple, easy-to-wear outdoor garments that are durable and comfortable.
The OG pant is great for a techwear outfit. It can withstand downpours and provide great comfort for everyday wear.
IceBreaker
Icebreaker is a well-known brand of outdoor clothing that is focused on sustainability and natural material.
They offer a great line of functional clothing and specialize in merino wool. Their merino wool shirts make a great base layer for your techwear outfit (or any outfit for that matter).
Nike ACG
In 2014, Nike revived and redesigned its ACG line. The original line was more focused on outdoor activities, but Nike brought in Acronym founder Errolson Hugh to help the brand refocus on urban sports utility.
Although Hugh left the brand in 2018, and ACG reverted to its original "retro hiker" aesthetic, his influence can still be felt in many of their designs since then.
Nike ACG sneakers are a great addition to your techwear outfit.
adidas Y-3
A collaboration with design legend, Yohji Yamamoto.
This offshoot label of Adidas's translates Yohji Yamamoto's iconic aesthetic (think: "drapey, dark") into an athletic wear context.
Their sneakers are a great competitor to Nike's for a techwear outfit with their unique, otherworldly designs.
Budget Options
Uniqlo, H&M, Zara, Forever 21
This list wouldn't be complete without some more affordable options for the rest of us! They aren't as flashy as other options but offer a great range of form and function to their pieces.
At this price range, you'll often have to make concessions of either design or utility. But if you're creative, or have access to a great tailor, then you can make them work quite well.
Or if you're skilled with a needle, make your own adjustments to truly stand out.
Many of the pieces of these brands are interchangeable and each offer something unique that could add to your outfit.
Uniqlo offers great utility with their Airism and Heattech lines. H&M and Forever 21 also offer their own competitive brands, and sometimes even feature cool techwear aesthetic outerwear that's more affordable than you'd otherwise find.
Zara is the choice for those who care more about aesthetic, and some of their pieces even offer a degree of utility. Keep in mind that you're sacrificing quality though, many of their pieces won't hold up over time and repeated wear.
You can even spot the occasional attempt at techwear at Wal-Mart and Target.
One thing you should keep in mind with budget options is that individual pieces won't fit as neatly into any given outfit. It can still work, but you have to keep the overall outfit you're going for in mind. Or think about how it might fit into an existing outfit (and what alterations you might need).
Think strategically.
Techwear – Live the Future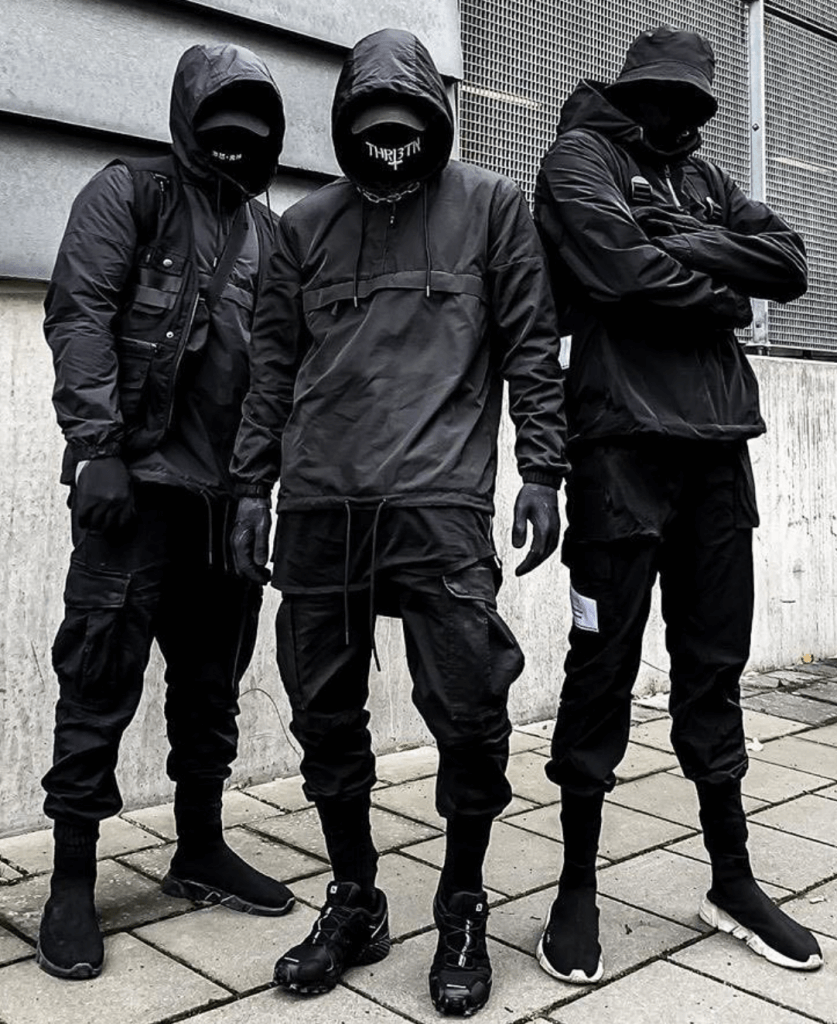 Techwear is an awesome genre that is becoming more popular with every passing year. It's only a matter of time before it stops being its own unique brand and is more widely accepted as typical urban fashion.
So now's the best time to get a jump on the curve and live your favorite sci-fi epic.
Do you feel ready to get into your first techwear look? We want to see your most amazing techwear outfits! Share some of your favorite looks and brands in the comments below.